Urbanization
Safe cities index: How urban security measures improve quality of life
What makes a city safe? The Economist Intelligence Unit's (EIU) Safe Cities Index 2015 ranked 50 world cities across the categories of digital security, infrastructure safety, health security and personal safety.
The results may surprise you. For instance, Japanese megacity Tokyo scored the highest, showing that size apparently does not matter, at least when it comes to safety. URBAN HUB discusses the EIU rankings and why this strong performance by such a large city offers hope that our urban future can also be very safe.
Our cities, our future – Urbanization, a trend which shows no signs of abating, will remarkably change the way we live, work, and interact in our communities.
4441 views
Finding the safest cities in the world
The Economist Intelligence Unit (EIU) has a long and well-documented interest in global cities. EIU reports regularly include the Global Liveability Ranking, the Best City Ranking & Report, and the Worldwide Cost of Living Survey. They also include the annual Safe Cities Index. While not a comprehensive list, the EIU Safe Cities Index 2015 gives us a glimpse of the level of safety in 50 cities around the world.
Using 40 qualitative and quantitative indicators ranging from policy decisions to motor vehicle accidents, the Safe Cities Index specifically examines in-depth the areas of health security, digital security, personal safety, and infrastructure safety. It concludes that making (and keeping) urban spaces safe is a complex task in the digital age.
One question it answers simply is whether cities can grow indefinitely and remain safe. The safest city in the world is a well-known megacity: Tokyo, Japan.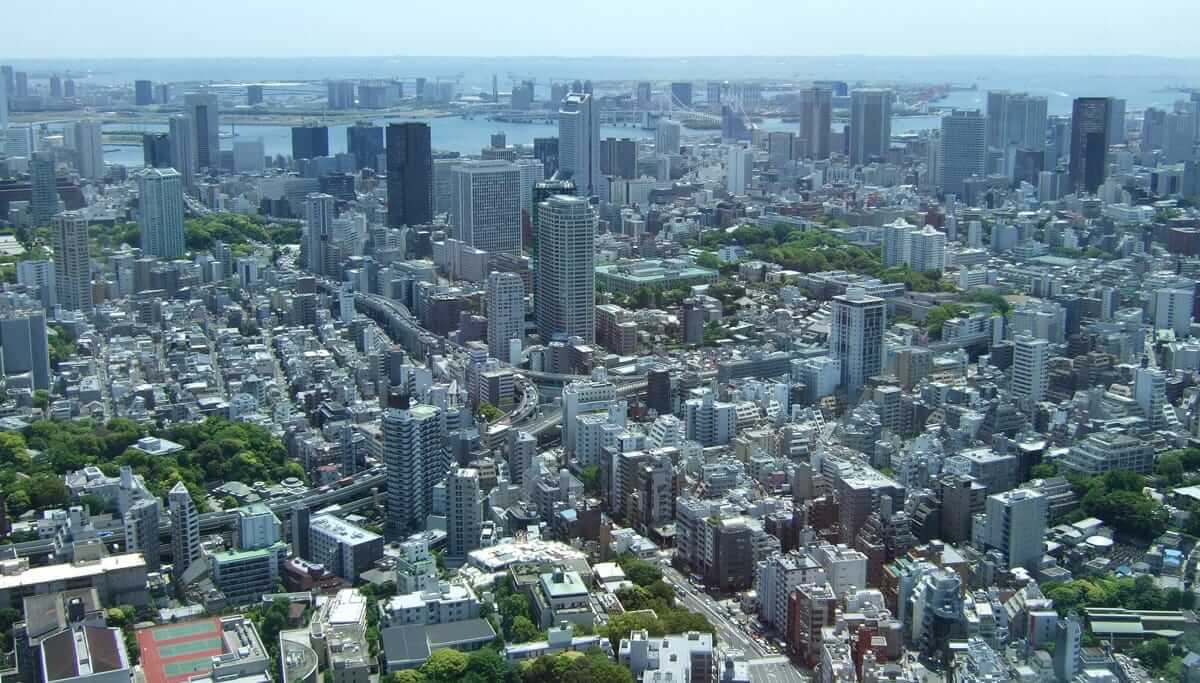 Criteria used in the EIU Safe City Index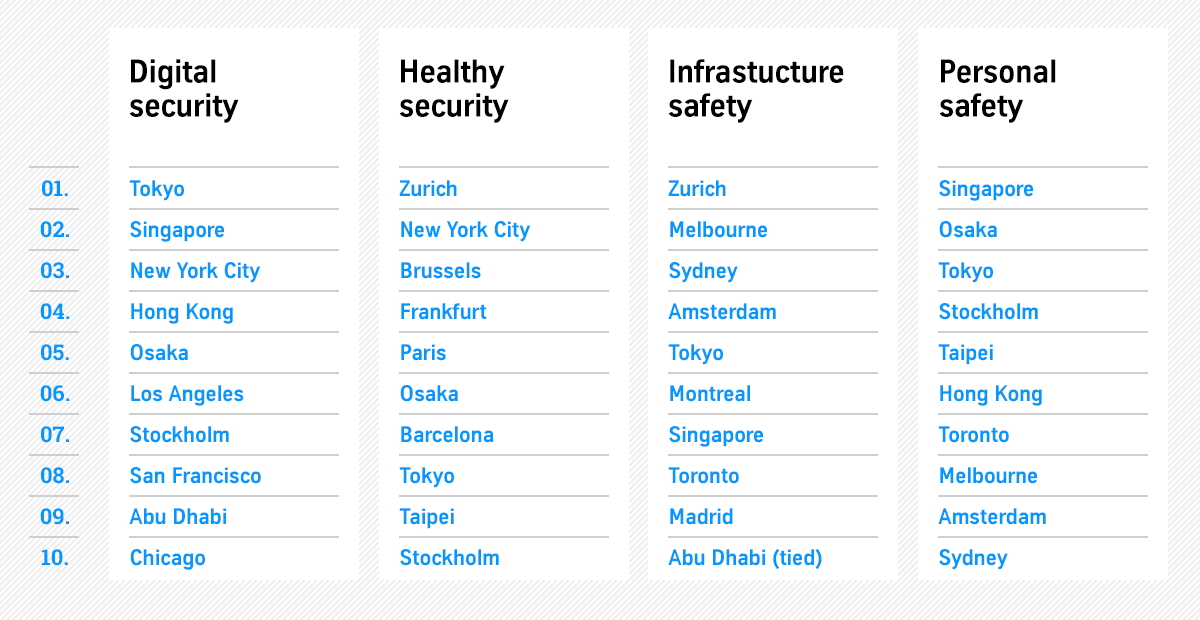 Why is Tokyo ranked at the top?
It may be surprising to learn that the safest city on the planet is also the largest one, with approximately 38 million inhabitants! For despite all those people, Tokyo scores very highly in the category of personal safety.
Of course, Japan is a generally peaceful and prosperous country. And this UN figure refers to the entire metropolitan region of Tokyo, not simply its municipal administrative area. But there are other characteristics that make Tokyo safer than all other cities, even very safe Singapore (No. 2) and neighboring Osaka (No. 3). For instance, Tokyo uses a mix of measures to achieve positive results, ranging from traditional low-tech solutions such as high police visibility to top-ranking digital security. Also, intriguingly, Tokyo ranks near the top in the category of infrastructure safety, despite (or because of) regular earthquakes.
And Tokyo is not about to rest on its laurels. In fact, the upcoming 2020 Olympic Games provide ample incentive to continue improving the quality of life in all areas. Meanwhile, Tokyo proves that a city can grow without sacrificing safety.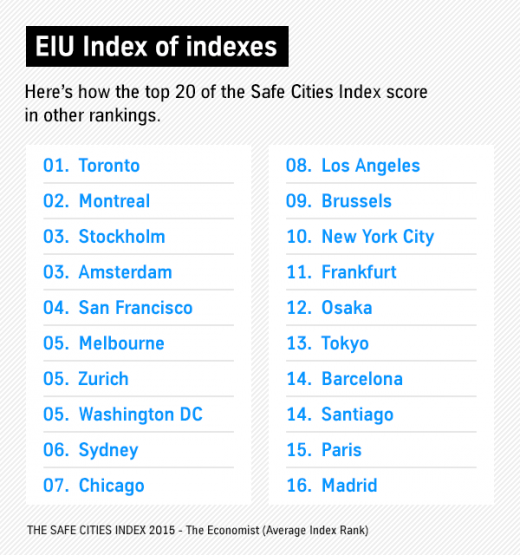 The governor of Tokyo discusses recycling, preparing for earthquakes and the 2020 Olympics, and why people can sleep soundly on night buses.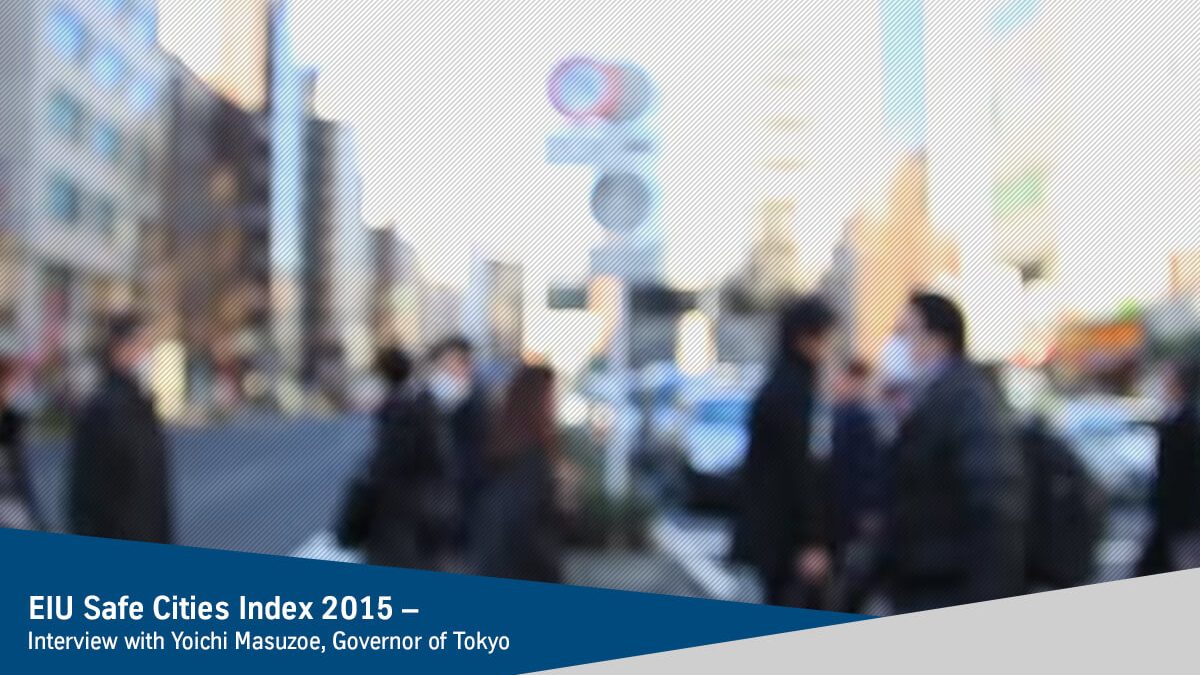 Technology at the frontline of urban safety
Digital security is another reason behind Tokyo's success. Tokyo scores at the very top in the category of protecting itself and its citizens against cybercrime and cyberterrorism. From individual identity theft and online fraud, to malicious pranks and ideologically inspired evil deeds, new vulnerabilities paradoxically appear through our use of the very technology that improves our lives and keeps us safe.
Technology is now integrated into the frontlines of urban life, monitoring and analyzing infrastructure and traffic, criminal activity, the weather and the incidence of disease, often in real time. And because of the ubiquity of this monitoring – best exemplified by the ubiquitous CCTV (Closed-circuit television) cameras – a debate rages between safety and security on the one hand, and freedom and privacy on the other.
The debate is healthy. After all, the future is new territory for all of us. And while it continues, let's take a detour to another way to define urban safety.
"At the time of the Olympic Games, the London 2012 website was subject to over 200m cyberattacks – tens of millions at the opening ceremony. We need to prepare for an even larger scale of attacks and develop systems strong enough to protect our Games system."
Toshiro Muto – CEO of the Tokyo Organising Committee of the 2020 Olympic & Paralympic Games
A different concept of safety: urban resilience
Of course, there are other ways to conceptualize urban safety. One of these is "urban resilience", the capacity of cities to survive and thrive in the face of acute large-scale or chronic systemic challenges, including:
Sudden shocks that directly threaten a city, such as:
Floods, earthquakes, tsunamis
Disease outbreaks
Terrorist attacks
Ongoing stresses that slowly weaken a city over time, such as:
High unemployment
Inefficient or overburdened public transportation system
Regular shortages of food or clean water
Endemic violence
To help cities recognize and better cope with these challenges, groups such as 100 Resilient Cities (www.100resilientcities.org) – "Pioneered by the Rockefeller Foundation" – work to help cities become more physically, socially and economically resilient.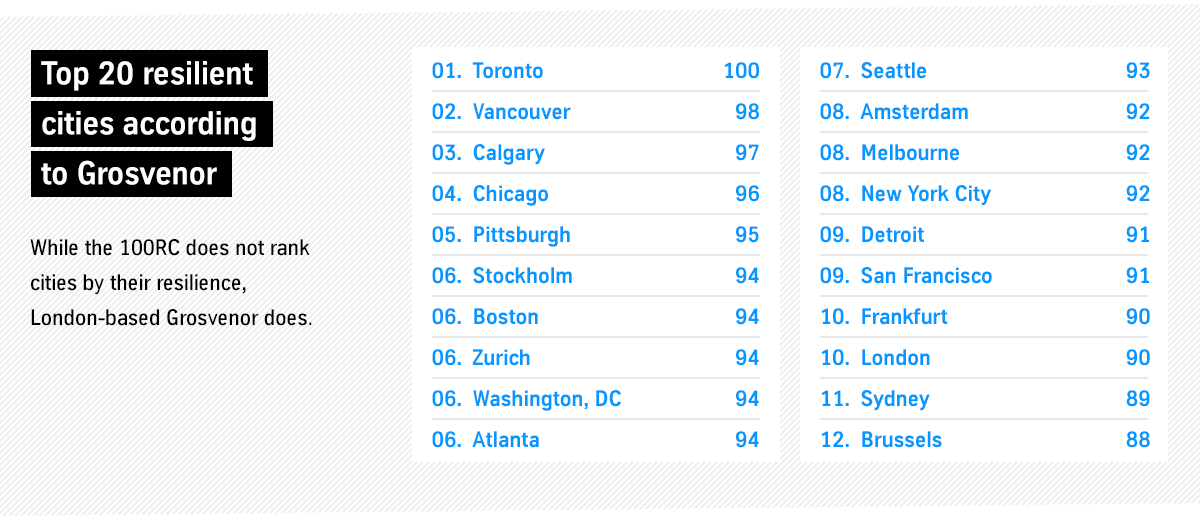 Good governance is the most important element
What makes a city safe is the complex interplay of many factors. While wealth and ample resources are no guarantees of urban safety, safety is closely linked to wealth and the technology that wealth can buy. In the smart cities of the future, technology will increasingly be used to improve and integrate safety and security into every facet of urban life.
But technology is not enough. It is simply a tool, and it needs good governance and the collaborative support of citizens, businesses and governments to ensure that it is used efficiently, effectively, and – perhaps most importantly – benignly.
Keeping cities safe will challenge us all to demand and deliver trustworthy institutions and systems. Only then, can we successfully deploy technology to assist us in creating a secure, common urban future. In the meantime, groups such as the Economist Intelligence Unit will keep telling us how we are doing.