Urban Lifestyle
Water and design merge to bring new architecture to urban waterfronts
Building sustainably on coastal regions is a hot topic, particularly in areas with high-density populations. Urban planning now reflects a need to protect our waterfronts and live in harmony with nature. Cities like Rio de Janeiro strive to reconnect with their waterfronts by revitalizing ports. This affinity with the water is also displayed in recent architecture design. Along waterfronts and coastlines, building and landscaping design increasingly derives its form from water, or organically incorporates water elements, in an attempt to announce the water and celebrate nature. These structures create a beautiful bridge between land and water, and man and nature.
An urban lifestyle for the future –  By first recognizing the impact of our city lifestyles, we can pave the path for sustainable economic development and a brighter, greener future.
39093 views
Where opposites attract
One is solid, the other fluid. The constructed environment and free-flowing water. Two opposites unlikely to mix. Traditionally, the two usually meet in the form of a dam or a construction project that blocks natural access to water. What we're seeing now, however, is a beautiful dialogue between the two.
There are many historic examples of water informing design. Aqueducts, while built for practical purposes, rose elegantly out of the landscape and attested both to the beauty of design and the ingenuity of engineering. Frank Lloyd Wright designed Fallingwater to enhance the tumbling stream rather than eradicate it.
In the last decade, residential architecture  along waterlines has embraced water as an inspiration and not just a force of nature to be reckoned with. But water-informed designs are no longer exclusively domestic. The following examples show organic urban landscaping and buildings from places around the world.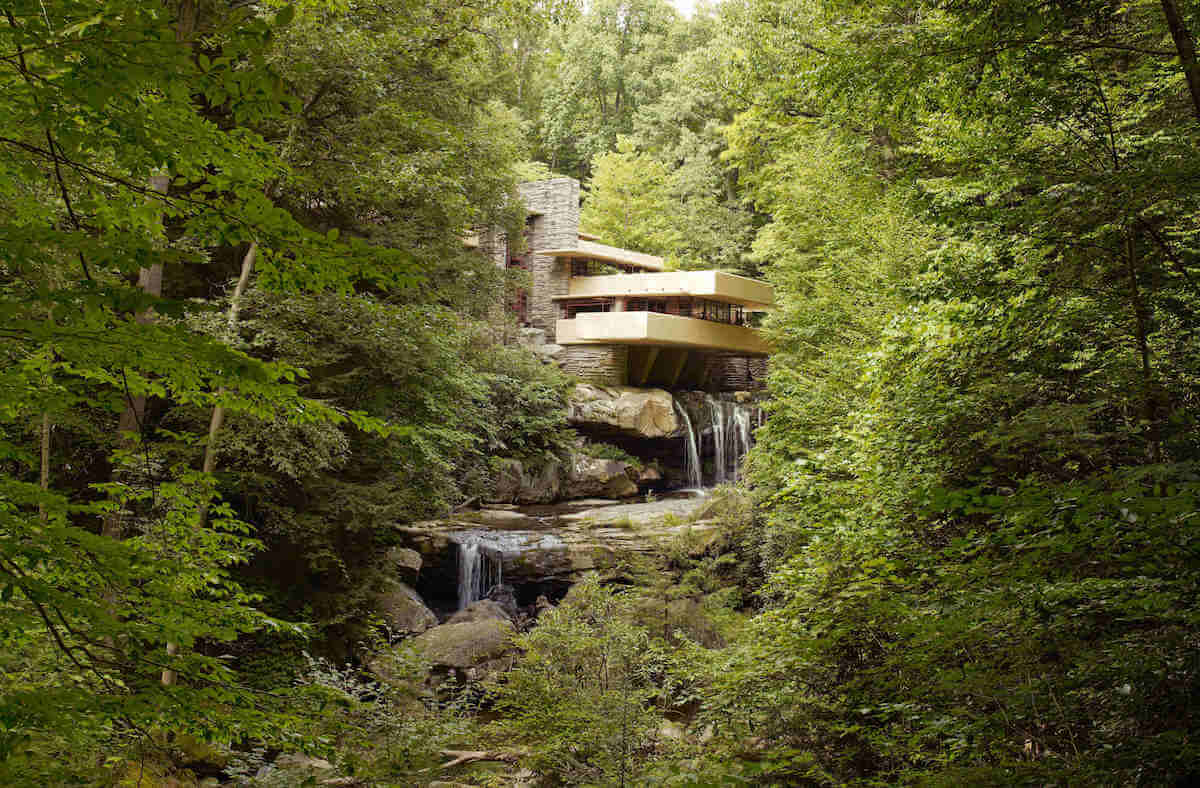 "I think the relationship between architecture and nature is very important – especially now. We have seen in the last ten or fifteen years, that there is more of a concern about the building within nature and with respecting the nature and really announcing the landscape."
Water and building: coming head to head
The last decade has seen an emergence of waterfront architecture in urban centers which actively seeks to rebuild a connection to the water. This also reflects a greater consciousness of our need to support our natural environs rather than build over them.
In Copenhagen, Denmark, the stunning Den Blå Planet, The Blue Planet Aquarium on the water's edge, has sinuous, swirling architecture inspired by the endless motion of water. The whirlpool-like entrance leads visitors down, immersing them in an aquatic world.
The Harbin Opera House in Northern China is seamlessly embedded in the wetlands, with flowing lines that appear sculpted by wind and water. In a city with over 10 million residents, it is a beautiful symbol of both urban modernity and the proximity to an extreme environment.
Another stunning example: the MAAT Museum in Lisbon, Portugal. The shimmering façade is clearly inspired by the rippling of water, and the low scale of the building recalls undulating dunes, thus making the whole structure extremely accessible.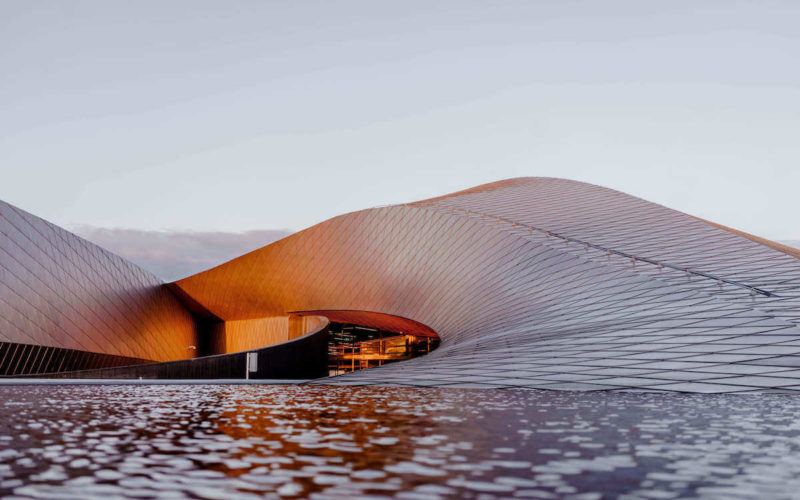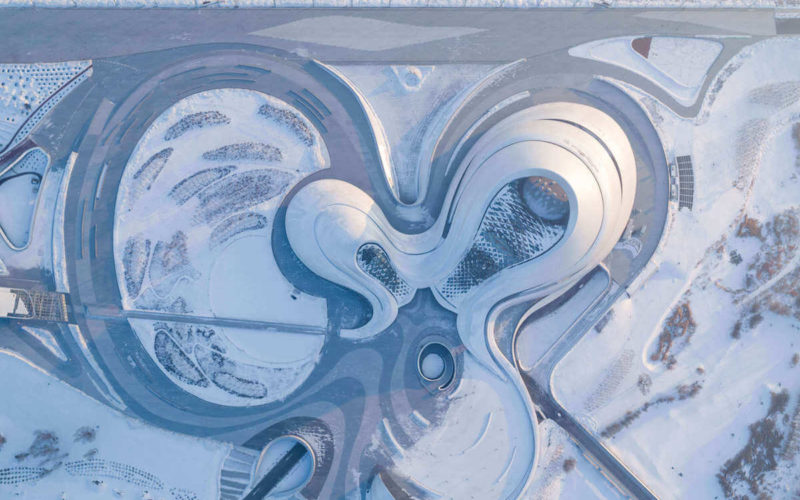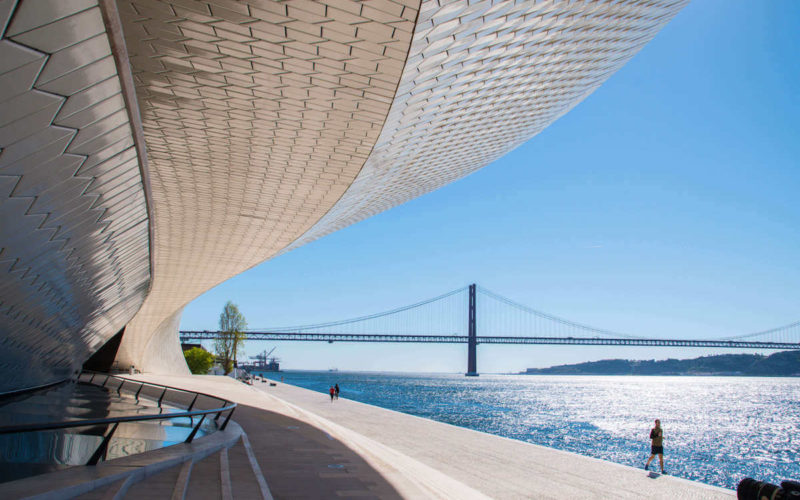 The V&A Dundee in Scotland opens in September 2018. It borrows its lines from the dramatic cliffs found on the country's east coast. Ramparts stretch out over the River Tay like a bridge between river and city, while openings on ground level act like passageways to the water.
Follow nature, don't contain it
Many cities can claim "a river runs through it," but few have parks which meander through the center much like the river. The new urban landscaping around rivers cannot truly return these spots to their natural form. Rather, they can take on a more natural form, offering better accessibility and appreciation of the river.
In Santiago, Chile, designers wanted to design a park that regained a view over the river from various banks. While architectural elements give the new Padre Renato Poblete River Park a modern feel, the random interplay of vegetation and waterways creates an organic experience.
In Velenje, Slovenia, designers also followed a call to reconnect to nature. The original character of the city as a "town-in-a-park" led to creating a landscape which allowed the river to take center stage again. The new Promenada is a series of steps, terraces and platforms at varying heights and depths that draw visitors down to the water's level.
An interesting waterfront renewal design for Tallinn Port, Estonia demonstrates a new break from typical waterfront restoration. The plans for low buildings with soft contours blur the lines between urban space and waterfront. The effect is heightened by street-level water features.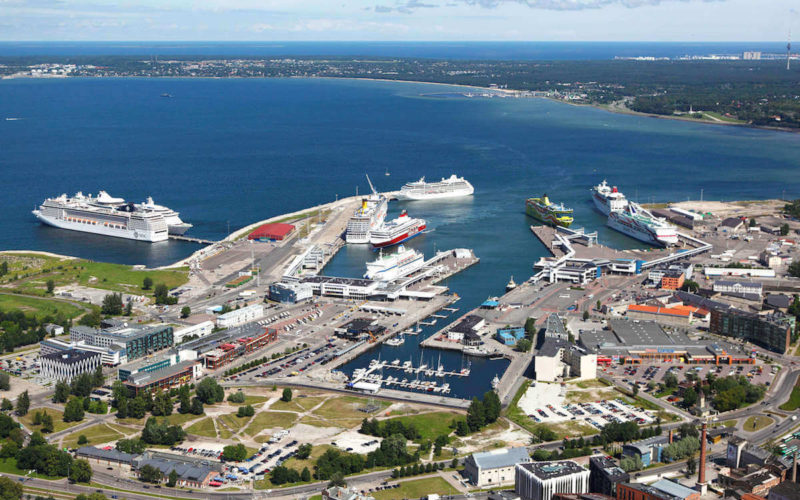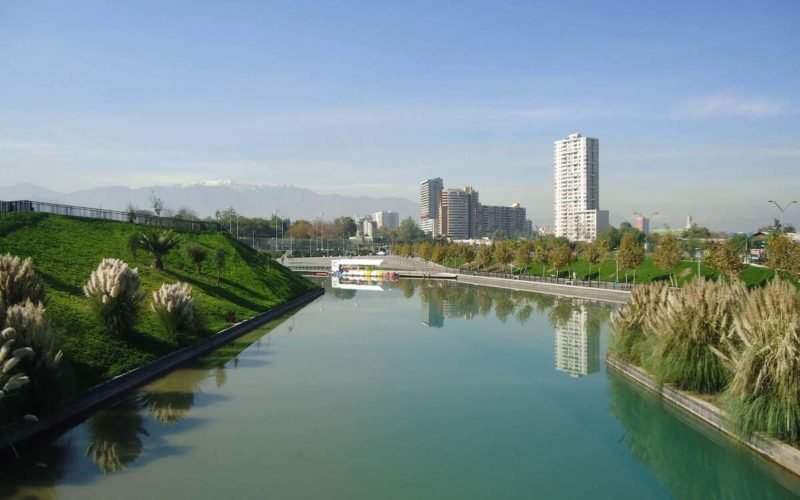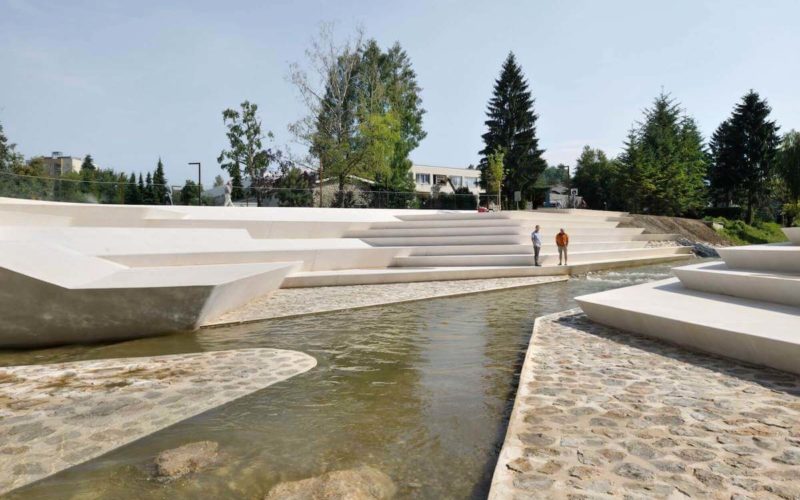 Building and engineering "water architecture"
Whatever the scale of this new water-based design, it reflects an evolving consciousness of the relationship between humans and ecology. Those who choose to find form in nature are now supported by advances like digital technology, computational and fabrication tools, and 3D printing that enable the construction of complex geometries.
As engineering and technology advance, the design of natural, water-based buildings will know no bounds. The next generation of "Acquatecture" buildings is already up and coming. These structures will do more than implement water elements or symbols, but build directly "with" water, like in amphibious housing.