Urban Lifestyle
The Heidelberg Project: how art sparks change in Detroit
Cities are attractive places, and amazing new buildings and spaces are making them even more so. But some cities and neighborhoods also face overwhelming challenges. Detroit is a famous example of how changes in the economy led to unemployment and depopulation. But the human spirit is strong and, to counter Detroit's urban blight, one man used art – the Heidelberg Project – to bring life back to his neighborhood and to inspire cities around the world.
An urban lifestyle for the future –  By first recognizing the impact of our city lifestyles, we can pave the path for sustainable economic development and a brighter, greener future.
6690 views
There goes the neighborhood
By the mid-1980s, Tyree Guyton had had enough. His Detroit neighborhood of McDougall Hunt was deteriorating rapidly and no one seemed to be working to stop it. So, he decided to fight back in the only way he knew how – with art. He began by painting bright polka dots on one of the many abandoned houses where he grew up, on Heidelberg Street.
Thus was born the most famous and fabulous public art exhibition in Detroit – the Heidelberg Project. Collaborating with local adults and children, Guyton's project grew to transform dozens of houses, cars, and streets in and around the neighborhood into strange but marvelous art installations.
Art to the rescue
The Heidelberg project's goal was to improve people's lives through art as well as bridge the divide between urban and suburban areas. It soon became the poster child for grassroots art projects that use local creativity to fight back against economic downturn, budget cuts, and ineffective city assistance.
Using challenges to grow stronger
Despite acclaim from around the world, the Heidelberg Project has also had its share of troubles. For many years, public authorities seemed unsupportive.
Calamity also struck between 2013 and 2015 when numerous structures were destroyed by fire, believed to be the work of arsonists. However, Guyton and his team remained undaunted throughout and continued to seek new partners interested in increasing the scope and impact of the project.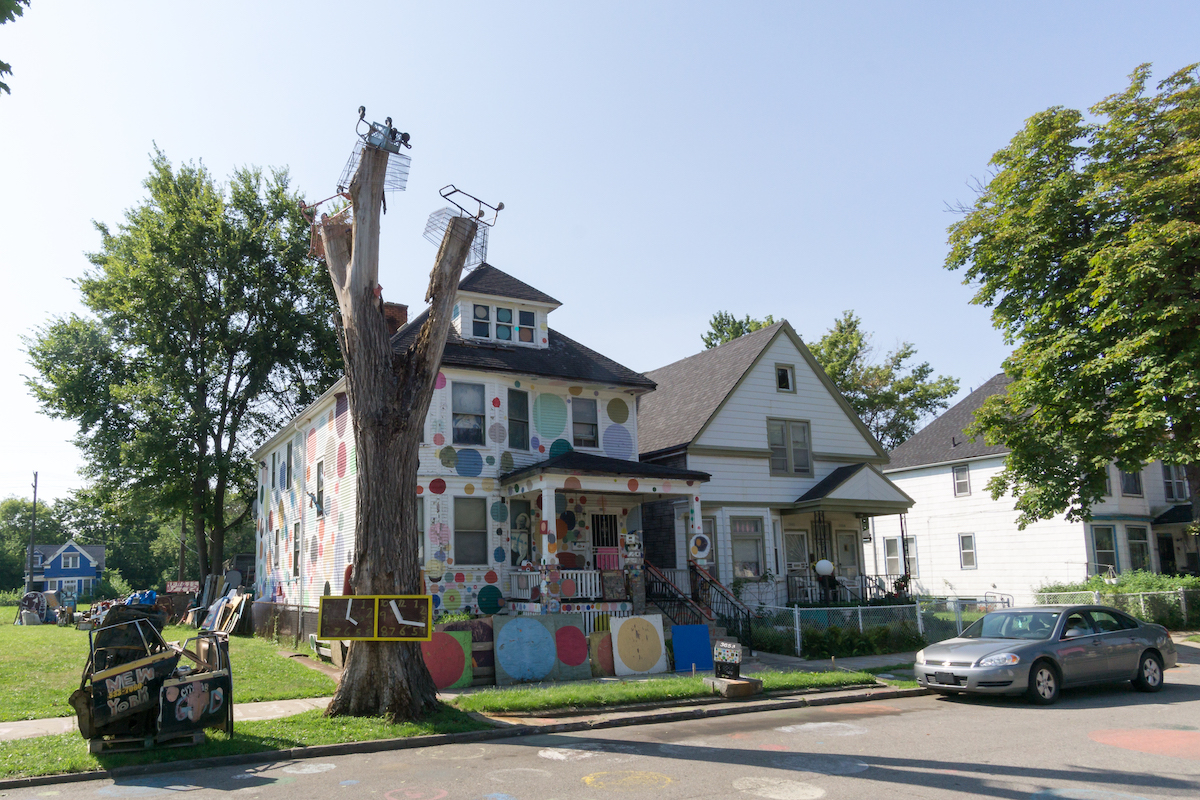 When the public authorities can't help
When public funding is not available, many urban cultural, social, or educational initiatives find supportive and capable partners in the private sector. For instance, in 2014, JP MorganChase pledged $100 million in loans and grants to local charities to aid economic recovery in Detroit. And Habitat for Humanity receives donated material or in-kind gifts from companies such as Home Depot, Dow Chemical, and Whirlpool.
Many charities prefer direct volunteer assistance to cash. Big Brothers Big Sisters actively seeks corporate partners to provide volunteers to help their kids. In a similar way, thyssenkrupp Elevator is helping SOS Children's Villages through Project SEED , which is designed to help economically disadvantaged young people train for, and obtain, good jobs.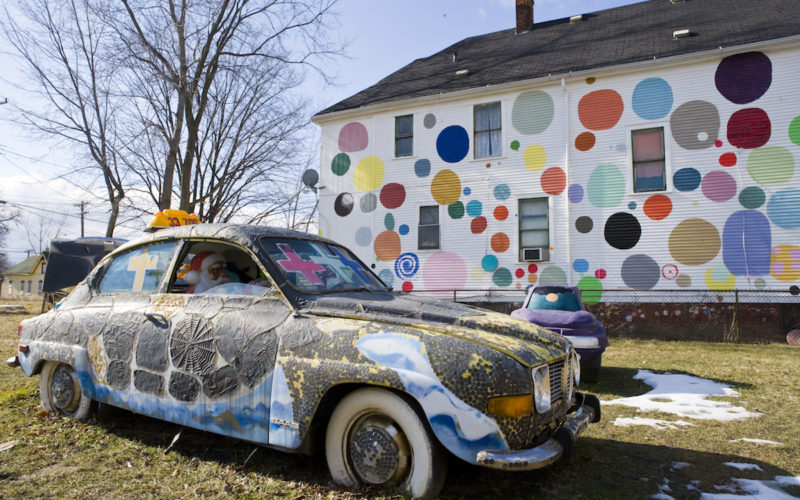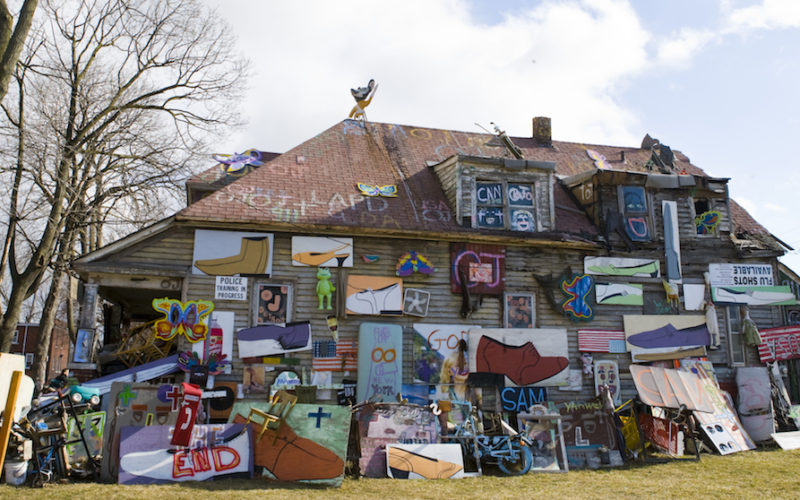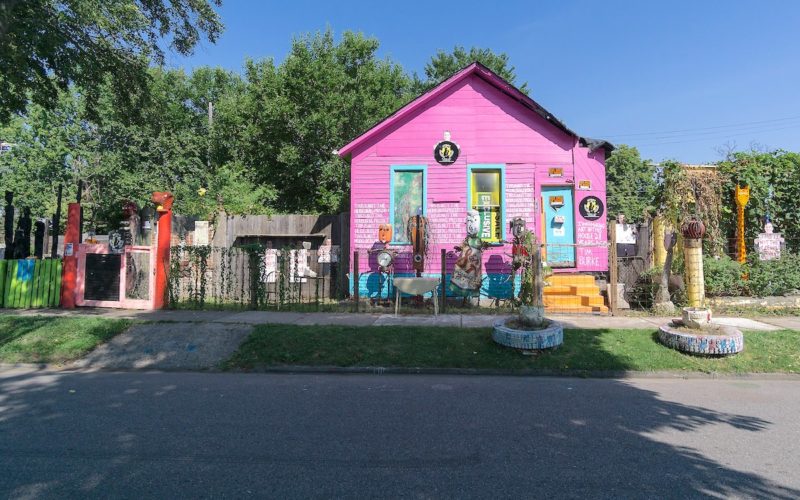 Moving on to Heidelberg 3.0
A good partner makes all the difference, and the Heidelberg Project found one in 1xRun. The art publishing company actually moved to the MacDougall Hunt neighborhood and opened an art gallery, café, and event space.
Funding was also found to build a new three-story headquarters for the project on McDougall Street, and the new location now provides a sense of permanence for the project for the first time in its long history.
The next phase is what Tyree Guyton calls "Heidelberg 3.0." The key here is to transform the neighborhood "from an arts installation driven by one man into a self-sustaining arts and culture village," and help guarantee that the Heidelberg Project continues to be a catalyst and model for urban renewal.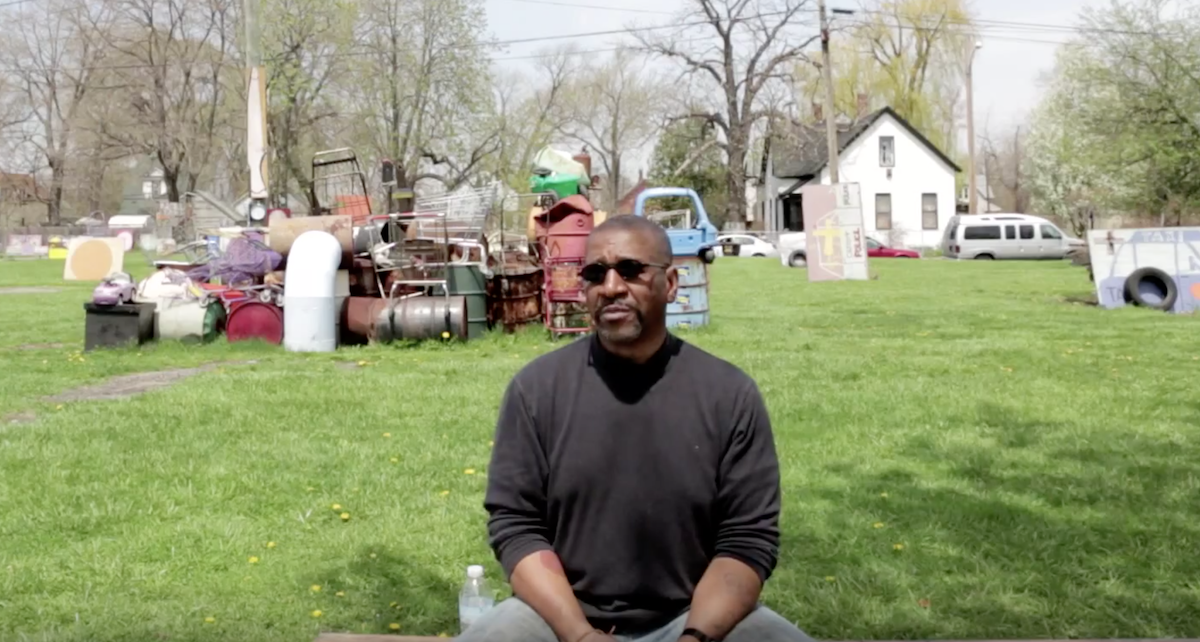 Take a virtual tour of the Heidelberg Project's neighborhood in Detroit. This short video shows some of the ways in which one man was able to transform his decaying urban neighborhood into a global symbol of urban resilience and hope.
Inspiration in a paint can
Tyree Guyton's Heidelberg Project has inspired people to take change into their own hands, particularly in cases where local government action is not available or inadequate. As the Heidelberg Project moves from a one-man installation to a larger collective of artists and to an organization with even greater goals, its focus will continue to be on the magical ability of art to empower people to invest their creative talents in their own city and their own future.
Image Credits:
Polka Dot House, Heidelberg Project, photo by Rainer Halama, taken from commons.wikimedia.org
Car, Heidelberg Project, photo by David Yarnall, taken from commons.wikimedia.org
Painting House, Heidelberg Project, photo by David Yarnall, taken from commons.wikimedia.org
Pink House, Heidelberg Project, photo by Rainer Halama, taken from commons.wikimedia.org
Tyree Guyton Interview, video by Cool Hunting