Urban Lifestyle
Innovative exhibitions immerse visitors in high-tech art
Cities like Venice, Miami, and Kassel have the right idea when it comes to art and urban flair. The Venice Biennale, Art Fair Basel/Miami, and Documenta attract huge crowds of lovers of innovative, modern art. Public artworks, murals, graffiti, and pop-up shows have expanded on at these events, finding new ways to bring art to the cityscape. As in other sectors, the art world also embraces rapid advances in technology. URBAN HUB looks at innovative art spaces and exhibitions fueled by technology that promise a new level of art experiences and attract huge audiences.
An urban lifestyle for the future –  By first recognizing the impact of our city lifestyles, we can pave the path for sustainable economic development and a brighter, greener future.
7954 views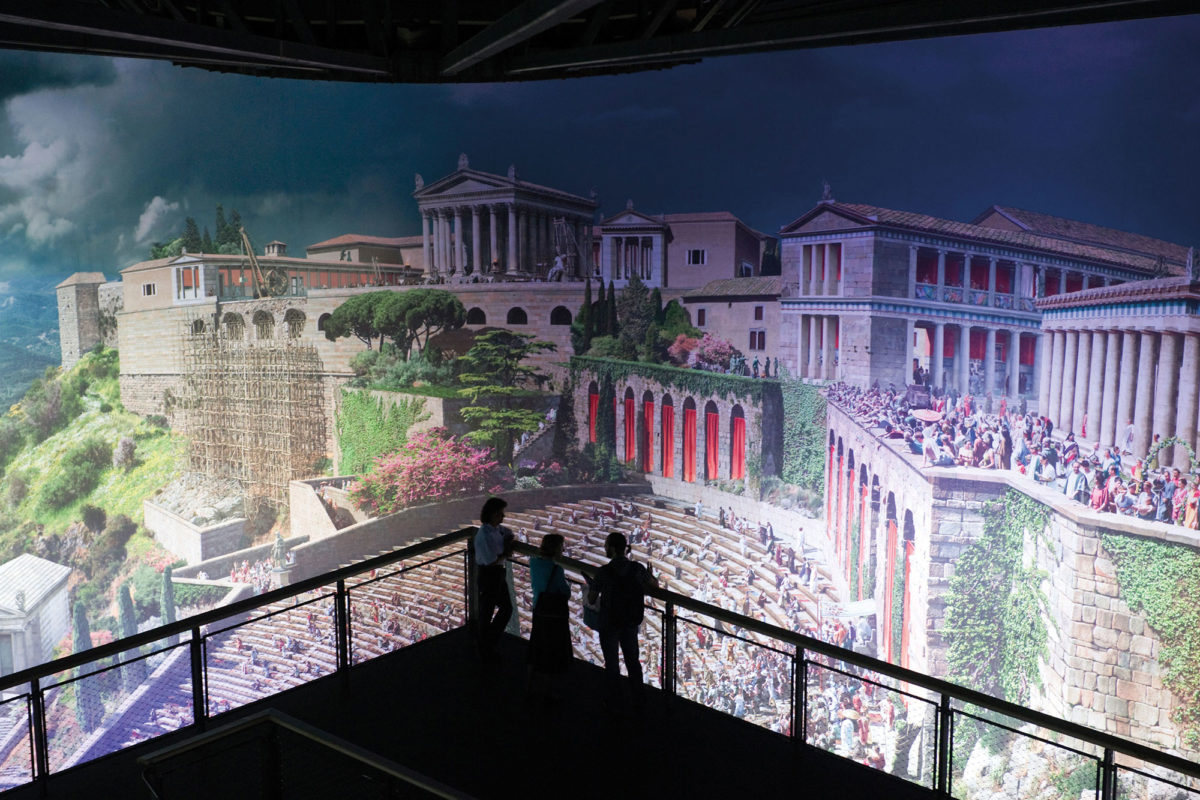 Go back in time at the Panorama 360° Pergamon
Art and technology meet in the big city
Big cities are a draw for tourists, not the least because of the many exhibitions and cultural sites. Art also makes a city more attractive to live in. From outdoor sculptures and public murals to iconic museums, galleries, and alternative spaces, art brings people together. Where art flourishes, neighborhoods prosper.
Art also reflects developments, innovations, and movements. Today, technologies like digital, AI, and VR are being harnessed by a new generation of artists who are putting a high-tech spin on art. They breathe new life into art spaces and attract the next generation of art lovers.
Mixing art and technology can offer new ways to look at traditional art, open possibilities for visitors, or even just passersby, to interact and create highly personalized art, and are leading to new museums and exhibitions sites opening up around the world.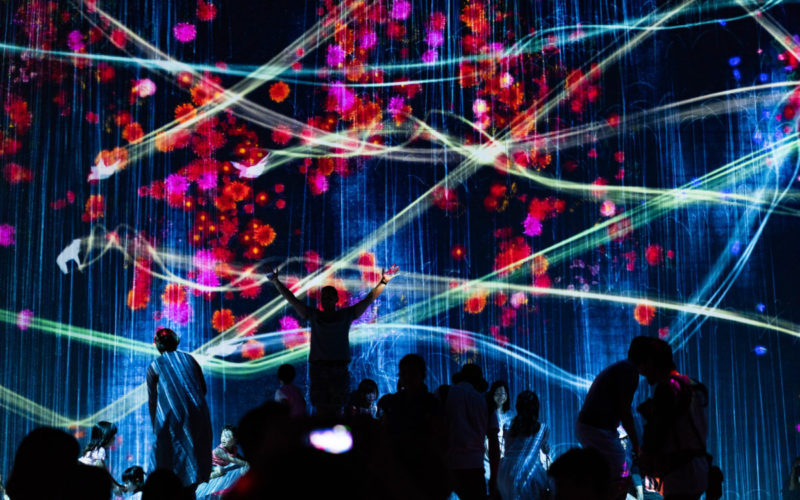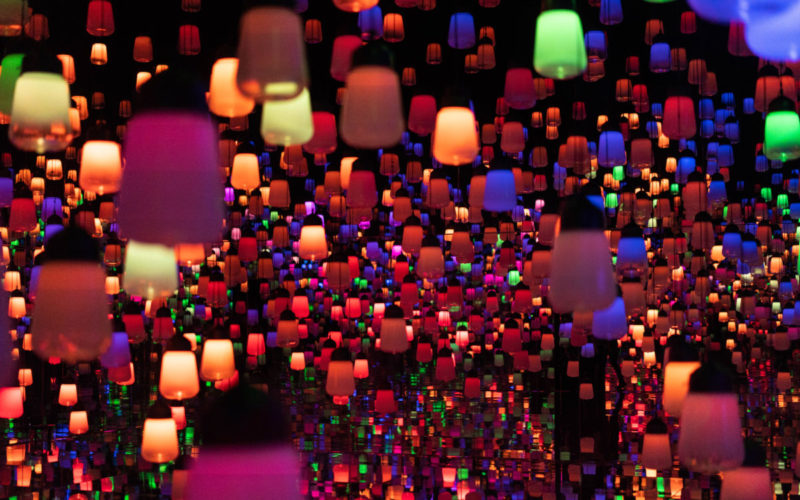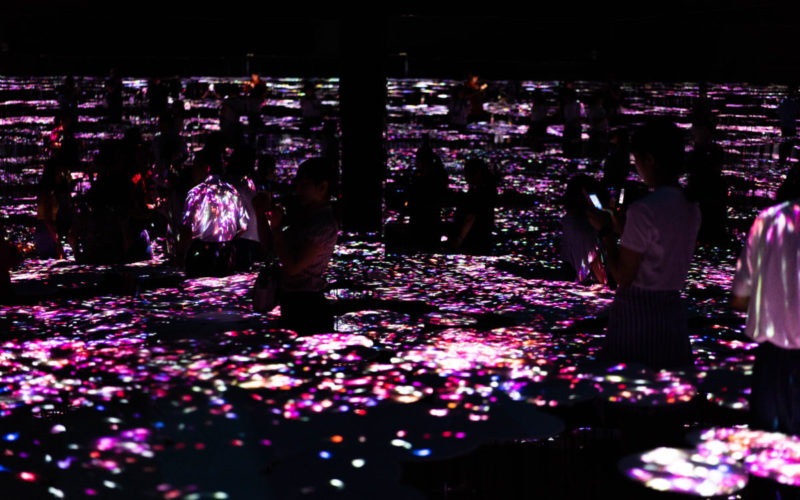 Tokyo's DIGITAL ART MUSEUM mixes high-tech and art
Digital, interactive, ever-changing art
Some of the most exciting new art spaces are grounded in digital technology. Digital art has now led to the creation of museums dedicated solely to this art form. One of the most renowned, and the world's first museum of its kind, is the DIGITAL ART MUSEUM from TeamLab in Tokyo.
The exhibitions created with 520 computers and 470 projectors change shapes and colors by detecting the movements of people. Other works include a landscape of a Japanese rice field that changes according to the seasons. Last year, the museum attracted 2.3 million visitors. The concept has been replicated in Shanghai, and TeamLab plans to open a DIGITAL ART MUSEUM in Hamburg.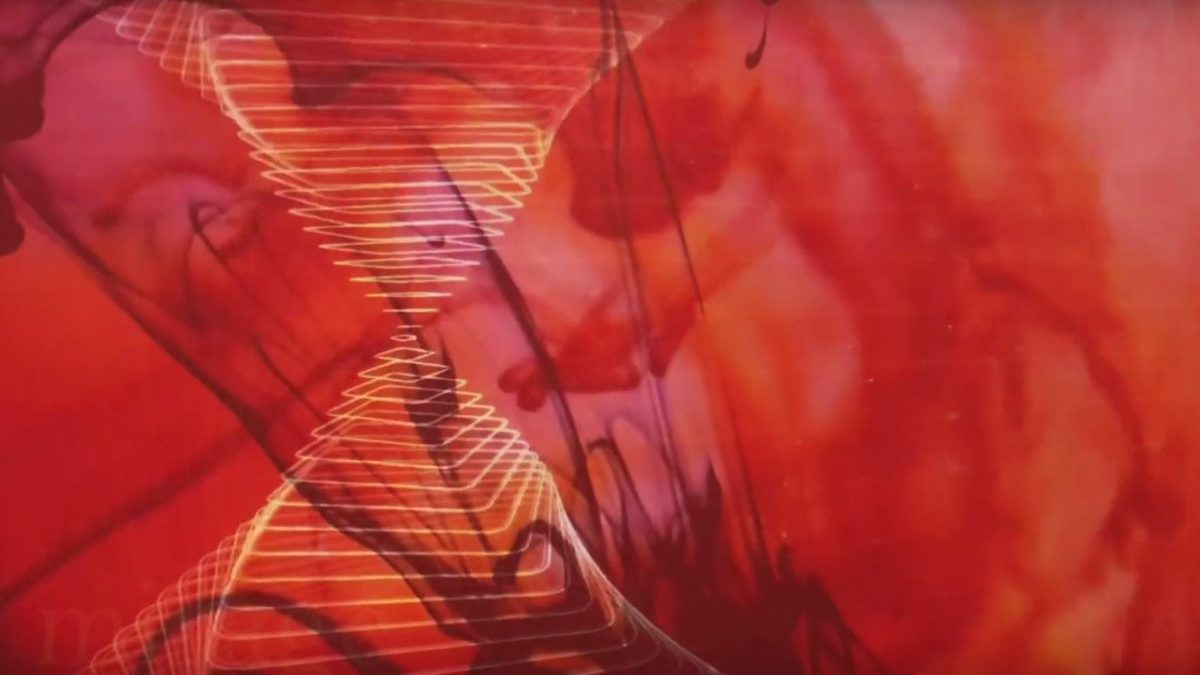 Use all your senses and move with art at the Flutter Art Gallery in Los Angeles
New art to experience past art
Art to younger generations may seem like a static, stuffy pastime. What can artists of a hundred years ago teach "Generation Z"? Plenty, of course, but rather than try and convince skeptics to wander through the Louvre or National Gallery, exhibition designers have created solutions to meet the digital native half-way.
The Atelier des Lumières in Paris presents works with artists like Gustav Klimt and Vincent van Gogh as an immersive experience. 140 video projectors and a room sound system create huge digital exhibitions that span 3300 m² of surface.
ASISI Exhibitions provide a space in Berlin to experience a very different historical epoch. After seeing the remnants of the actual Pergamon Altar in the museum, visitors can cross the street to the Pergamon 360° Panorama. This all-around display depicts the ancient Greek city of Pergamon and allows visitors to imagine the altar in its original location and time period.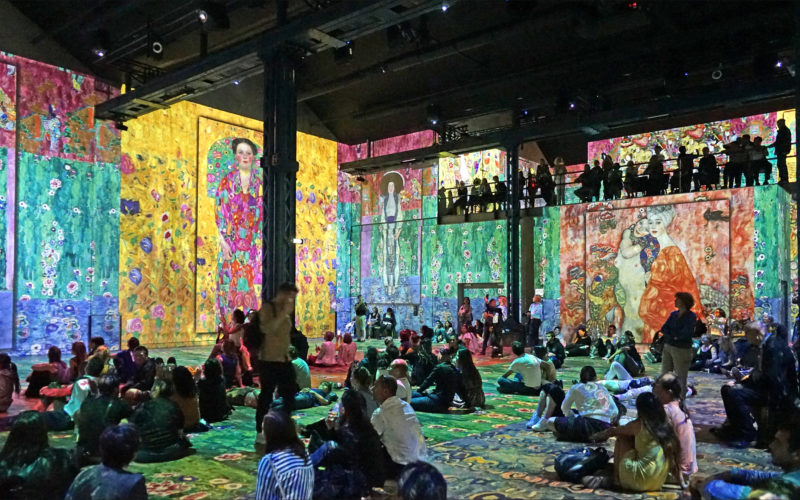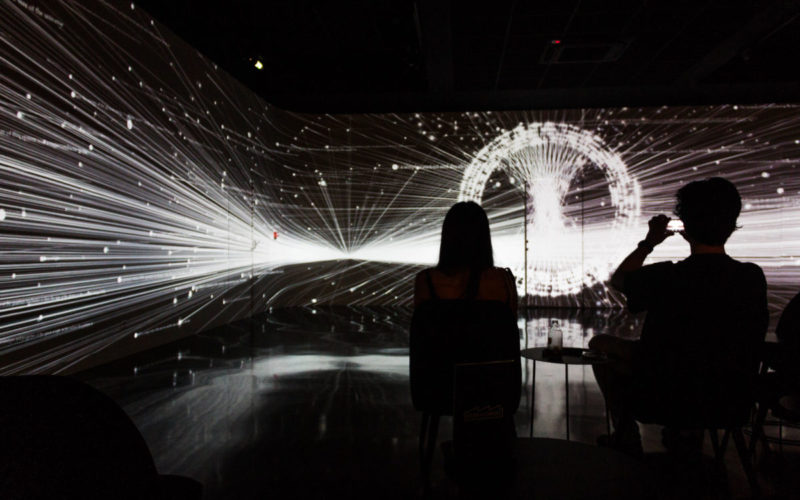 Dive deep into art in at the Atelier des Lumières
Create your own urban art
Other initiatives combine temporary or pop-up sites with leading artists. In the case of FLUTTER, a changing roster of artists is invited to create interactive experiences based on the theme. Artists are encouraged to use new mediums like VR, projection mapping, and ASMR to push the boundaries and concepts of what art can be.
The first exhibition by the initiative was in Los Angeles and offered new possibilities for visitors to interact and co-create. The exhibition also had an altruistic purpose. Each of the immersive art experiences aimed to allow visitors to explore mental health in the social media age. More Flutter exhibitions are planned in other locations in the U.S.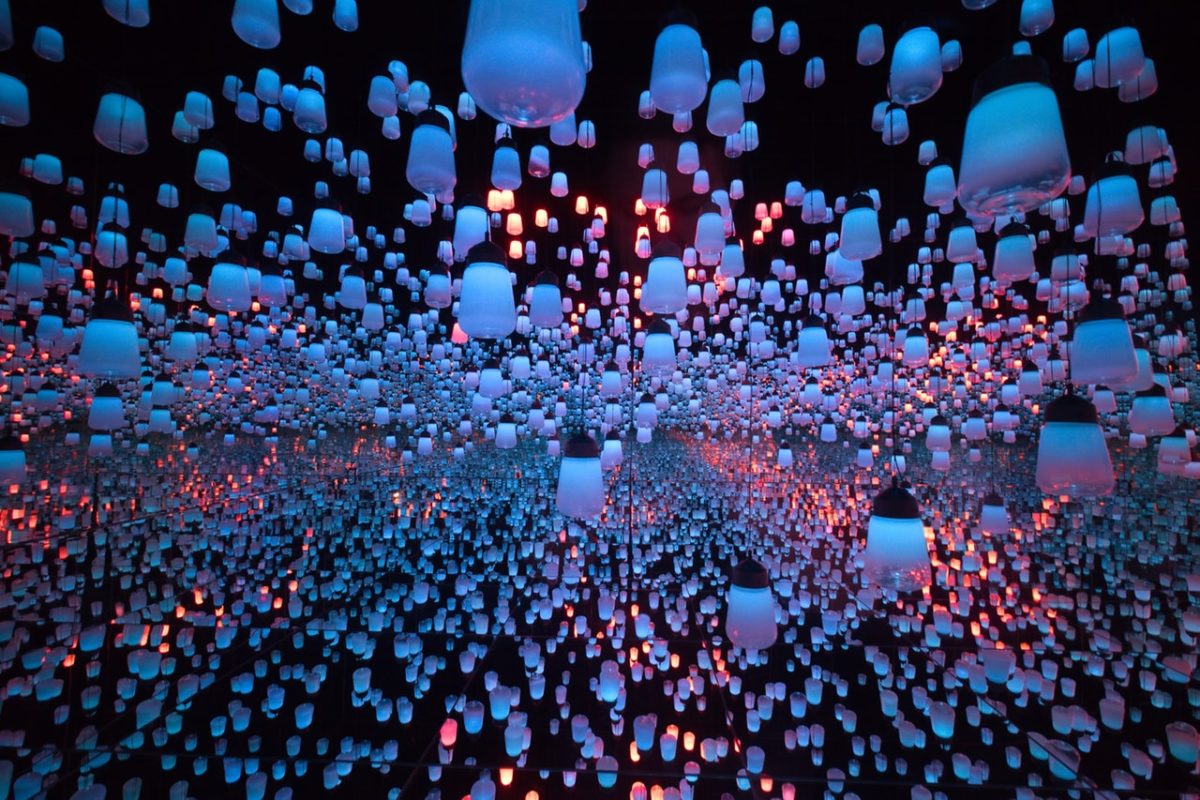 The inspiring art of technology
Pop-up exhibits, global showrooms, information points all are turning to new technologies (digital, VR, immersive/responsive) to raise the bar on presentations and touch new audiences. An exciting example is the EXPO 2020 in Dubai this year where countries will present their most innovative technologies.
The German Pavilion will showcase a Future Energy Lab, Biodiversity Lab, and Future City Lab, all focusing on the EXPO topic of sustainability. One "lighthouse innovation" to be featured prominently will be the MULTI elevator, the world's first ropeless elevator for skyscrapers. To demonstrate just how this innovation can revolutionize urban mobility, a MULTI showcase mixing digital and real elements will draw in visitors.
The pairing of art and technology is destined to evolve and appear in many formats, reflecting the technical innovations and the changing times to capture new audiences.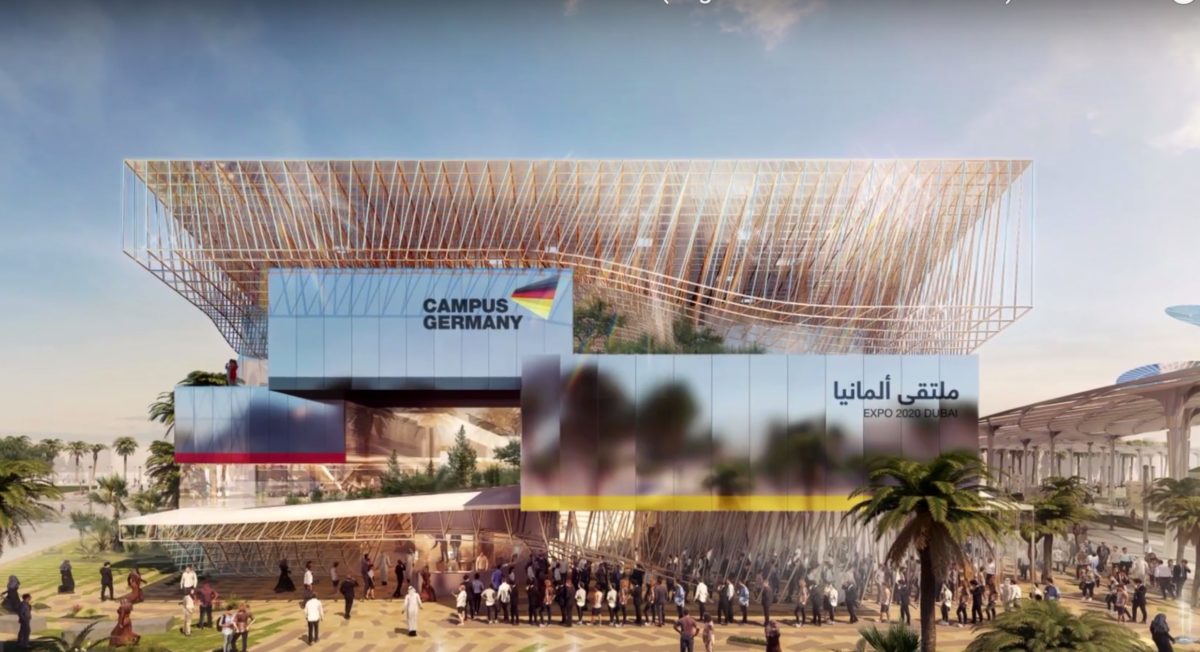 Image Credits
Panorama 360° Pergamon, photo by asisi F&E GmbH, taken from commons.wikimedia.org, Creative Commons Attribution-ShareAlike 4.0 International
Tokyo Digital Art Museum 1, photo by rabbit_akra, taken from flickr.com, Creative Commons Attribution 2.0 Generic
Tokyo Digital Art Museum 2, photo by rabbit_akra, taken from flickr.com, Creative Commons Attribution 2.0 Generic
Tokyo Digital Art Museum 3, photo by rabbit_akra, taken from flickr.com, Creative Commons Attribution 2.0 Generic
Illusion, video by Laia Cabrera & Co.
Klimt at Atelier des Lumières 1, picture by Jean-Pierre Dalbéra, taken from flickr.com, Creative Commons Attribution 2.0 Generic
Klimt at Atelier des Lumières 2, pictures by Caroline Léna Becker, taken from flickr.com, Creative Commons Attribution 2.0 Generic
Klimt at Atelier des Lumières 3, pictures by Caroline Léna Becker, taken from flickr.com, Creative Commons Attribution 2.0 Generic
White Lantern, picture by Evgeny Tchebotarev, taken from pexels.com
Campus Germany, video by expo2020germany