Technology
Work transformation: future of office life, buildings and the end of 9-to-5
With companies like Google and Facebook offering work environments that are actually fun, it's no wonder that more traditional companies are having trouble holding on to their talent. Flexible work hours and spaces, as well as other benefits like sabbaticals and game rooms, are becoming more common as employees move away from a salary-only focus.
Most employees probably wouldn't admit it, but the perceived beauty of their office environment, both inside and out, can greatly affect how they perceive their company. Today's employees consider the old corporate "black, white and gray" every bit as boring as the traditional nine-to-five office grind. It's time to change, and digitization is making it happen.
Using fewer resources for bigger change – What makes the world go around? Innovative technology. And in mobility, building, energy and manufacturing, especially green innovations are changing how people interact with and shape their environment.
4261 views
The long-awaited end of 9-5
As more and more millennials enter the workforce, it's becoming clear they do not wish to emulate the long commutes and nine-to-five office life of past generations. And in our increasingly digital world, there's no reason they should have to.
Companies have always demanded flexibility in their employees, but now workers are seeking some of that same flexibility in return. According to a survey by Deloitte, millennials value work-life balance almost as much as a good salary. Flexible working hours and sabbaticals are just two of the many benefits companies can offer to help their employees live life on their own terms.
Increasingly, people also expect their workplaces to be attractive, often with a design that reflects their own innovative spirit. This can be in the form of a modern office building, but for many it means working where they feel most comfortable: at home.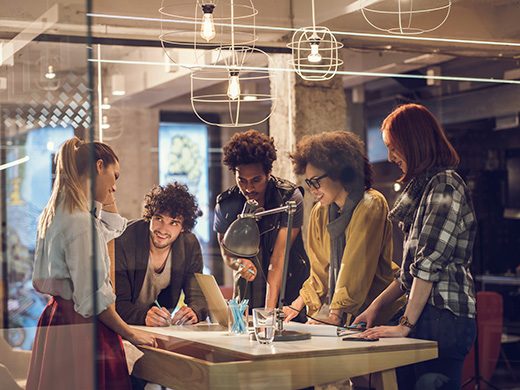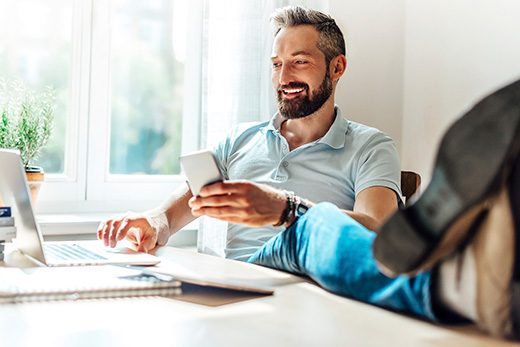 Telecommuting
Telecommuting (or teleworking) is nothing new, but modern technologies have greatly improved the results of decentralized teamwork and management.
Furthermore, allowing more workers to telecommute might help to overcome some of the challenges of urbanization. For example, it enables companies to reduce the physical size of their workplaces, which in turn decreases the number of cars on the streets, easing traffic congestion and cutting carbon emissions.
As these benefits become more apparent, we may start seeing a trend of new residential buildings that offer co-working space to tenants, like the Interlace in Singapore.
ROWE – Results Only Work Environment
Hours don't matter: results matter. That's how things run in a "Results Only Work Environment" (ROWE). An increasing number of organizations are throwing out their punch clocks and working time accounts in favor of systems to monitor the actual productivity of employees.
If two employees do the same amount of work, regardless of who works more hours, shouldn't they receive the same remuneration? It's a difficult concept to get used to at first, but organizations who implement a ROWE environment usually see a big hike in productivity, while at the same time improving the work-life balance of employees.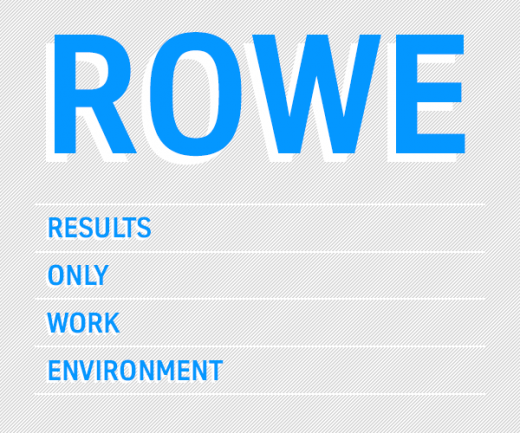 ®
It's not just big tech companies. Find out how Hennepin County's social services agency in Minnesota is using flexitime, ROWE and telecommuting – and improving results at the same time.
®
The future of benefits at work?
| Company | Benefit |
| --- | --- |
| Chope (Singapore) | Bring your dog to work. Everyday. |
| Akraya (USA) | Sends cleaners to employees' homes 2x/month. |
| Siemens (Germany) | Public cafes and restaurants at Munich HQ mean family and friends can easily pop in for lunch. |
| SAS (USA) | On-site doctor's office. |
| Deloitte (USA) | Health insurance for family pets. |
| Yelp (USA) | On-site minibar (for after hours). |
| Aetna (USA) | $300 bonus for getting at least 7hrs sleep every night for 20 days. |
| Rajah & Tann LLP (Singapore) | Free breakfasts, as well as an open bar every other Friday night. |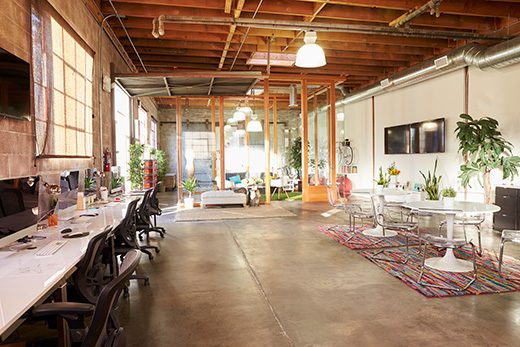 Hot desking and multi-themed office buildings
With more people working from home, the office gains importance as a place for collaboration and teambuilding. And office design should reflect that aim.
With "Hot desking", no one has a fixed workstation, but chooses where to work each day. It's one way to avoid monotony and make each day a little bit different. Creating different themes and designs for the various spaces within a building can be an excellent complement to hot desking. In the end, every corner of the building becomes both beautiful and unique.
At thyssenkrupp Academy in Essen, Germany, people start their day by going to a personal locker to collect a computer trolley, after which they work wherever they please – according to the course of the day, mood, or current project needs. They can pick a spot at a so-called Work Space, Comfort Zone, Innovation Garage or Think Tank. The colorful atmosphere is anything but mundane.
The Work Spaces / Innovation Garages at thyssenkrupp Academy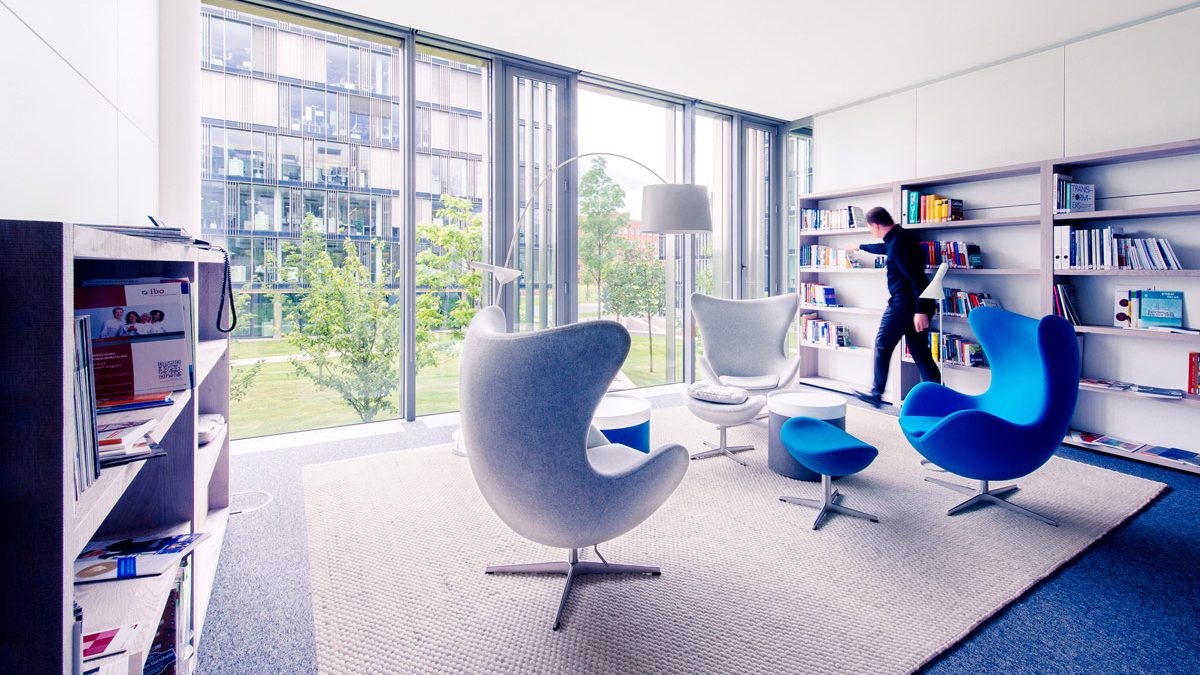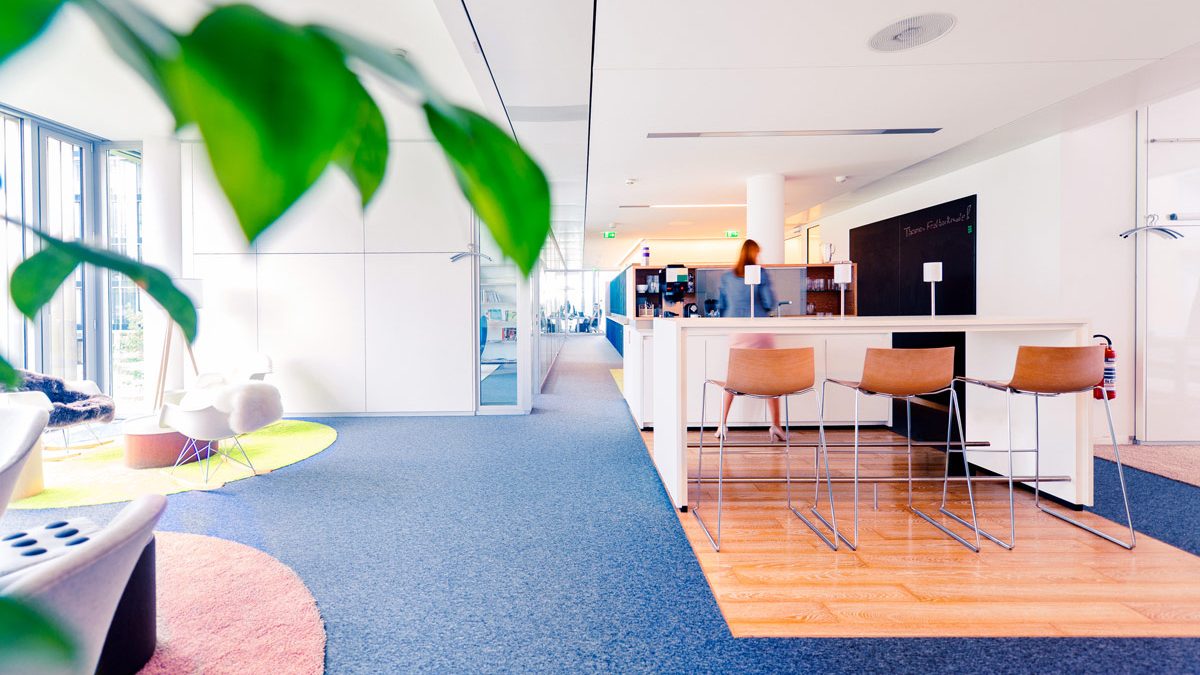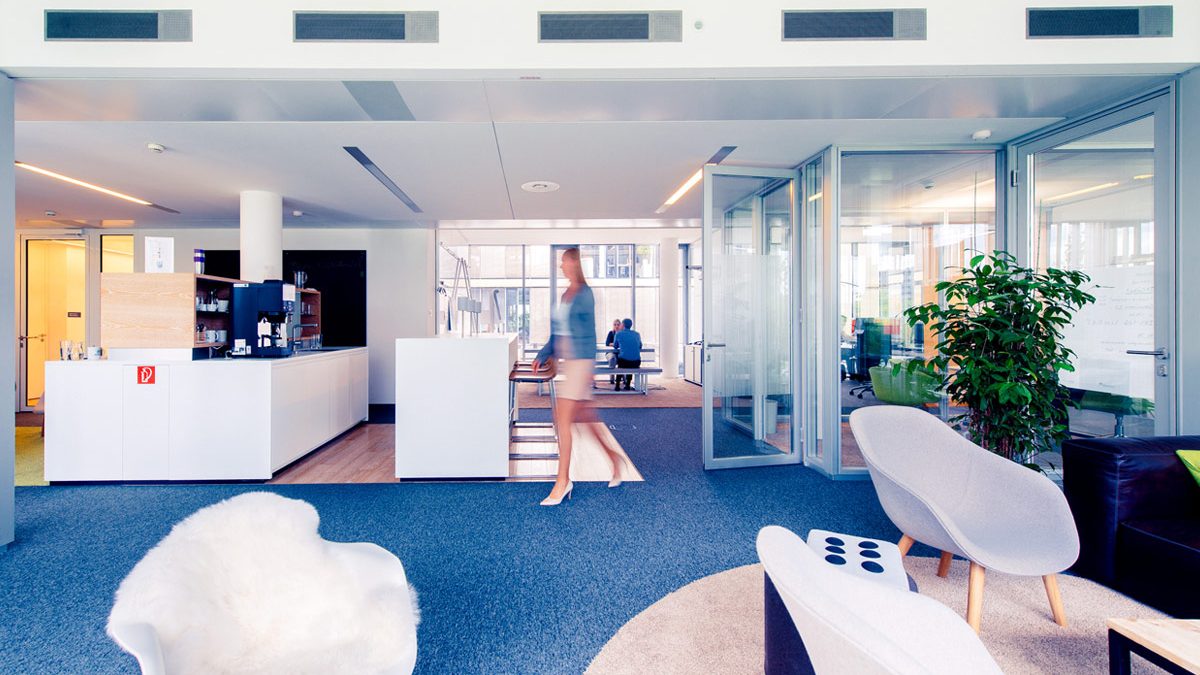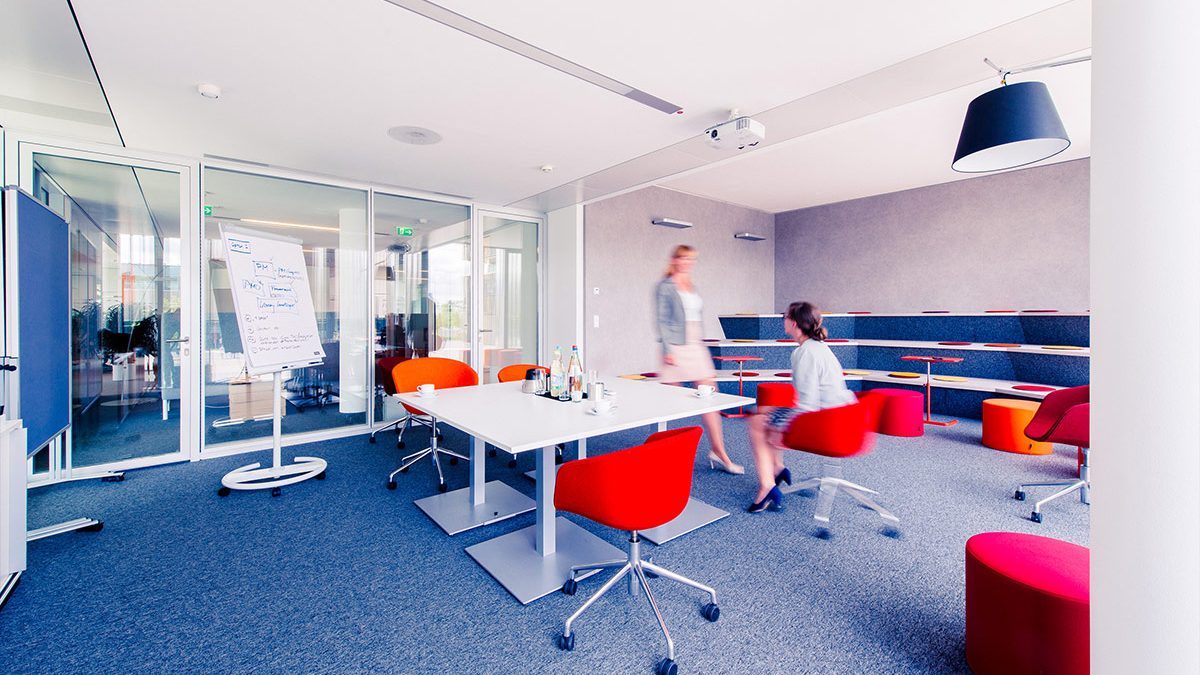 Fun at work = lost productivity?
It's easy to assume that creating a fun work atmosphere could distract people and hurt productivity, but companies have found that creative environments attract creative workers. In fact, a 2008 University of Florida study found that people having fun at work are "more likely to be more engaged in their work, and consequently exhibit greater creative performance".
Whether it's at a pool table, Xbox or darts, the time employees spend socializing and having fun helps to improve the spirit of collaboration, which in the end actually improves productivity.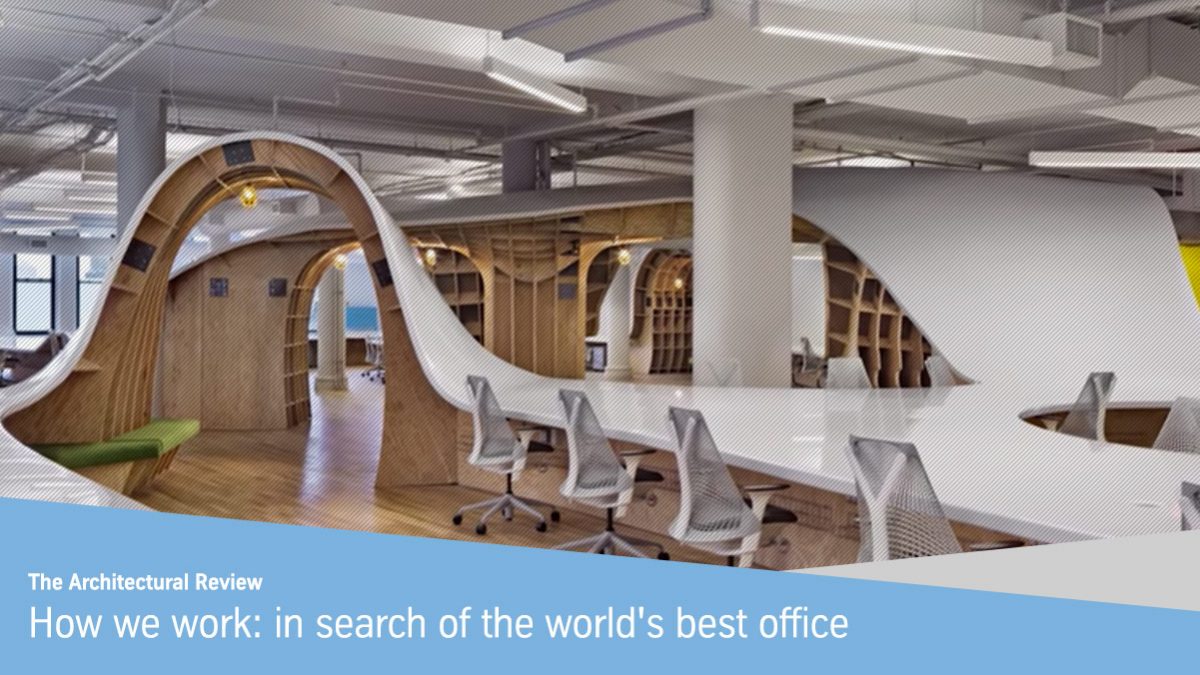 The naysayers
A valid counterargument is that traditional time monitoring systems and office environments have been working well for a very long time. And, granted, there are still many traditionalists who would not feel comfortable in a non-traditional work environment.
This, however, can be construed as an argument in favor of non-traditional workplaces, because it simply proves one fundamental fact: everyone is different.
Non-traditional working practices have emerged out of the desire for more options and different ways of getting things done. While they may never completely replace traditional working practices, they do help create a varied and exciting job market which makes it even more likely for individuals to find their niche.