Technology
Microsoft HoloLens gives elevator technicians a new set of eyes
Buildings continue to rise, bringing elevators to new heights of technical virtuosity as well. Yet, will elevator service rise to the occasion? City dwellers revel in the rush of innovation and pushing the envelope in urban living, but not at the cost of going about their daily lives – uninterrupted.
To keep up with the latest high-tech elevators and soaring structures, the next level of elevator maintenance technology is emerging. Combining digital IoT solutions with a new mixed-reality device, Microsoft HoloLens, technicians can optimize how they prepare for and carry out service, resulting in faster repair times and less downtime.
The effect will be felt by the millions of passengers who rely on elevators every day, giving them new impetus to admire the transformative urban change around them, rather than impatiently checking their watches.
Using fewer resources for bigger change – What makes the world go around? Innovative technology. And in mobility, building, energy and manufacturing, especially green innovations are changing how people interact with and shape their environment.
9591 views
"Our vision at thyssenkrupp is to challenge the elevator industry norm. We want to do better and really push the envelope on mobility solutions, introducing the latest technologies and processes and training technicians to empower them to achieve the best service standards possible."
Andreas Schierenbeck CEO, thyssenkrupp Elevator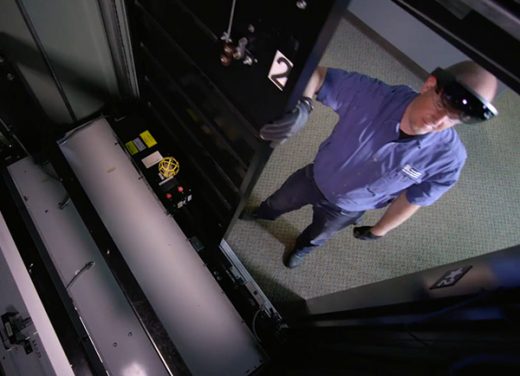 A new chapter opens on elevator service
The cool swoosh as gleaming doors open and close. The possibilities of being whisked to new heights, whether to the top-floor jazz lounge of an old hotel, a job interview on the 55th floor or a straight-shot to the observation deck of One World Trade Center. A story begins.
Or comes to a stop. Luckily, most of us have never been trapped in an elevator. Those scenarios are usually the stuff of films. Yet, many have been inconvenienced by long waiting times and out-of-order elevators. We press the "call" button, but get no response. Suddenly our destinations are no longer attainable. Story over.
Now mixed reality is helping technicians make connections and respond like never before, not only opening a new chapter on modern elevator service but also playing a leading role as the story of highly-mobile urban centers unfolds.
The reality that led to virtual elevator service
Elevator maintenance has long moved away from a lone technician lugging a rusty toolbox up a flight of stairs – a day too late. The digital age has opened a path to pro-active system maintenance. IoT technology captures and analyzes huge amounts of data in real time from millions of elevator sensors.
This control over data combined with expertise in cloud technology, IoT and data analytics led to MAX – a solution enabling real-time prediction of repairs and component replacements. Technicians – a laptop replacing their toolbox – are now the superheroes with knowledge that can move elevators like never before.
"We're beyond excited to see what thyssenkrupp Elevator is creating with Microsoft HoloLens to transform the elevator industry".
Scott Erickson, General Manager of Marketing for Microsoft HoloLens
Watch how elevator technicians benefit from the exciting possibilities created by using Microsoft HoloLens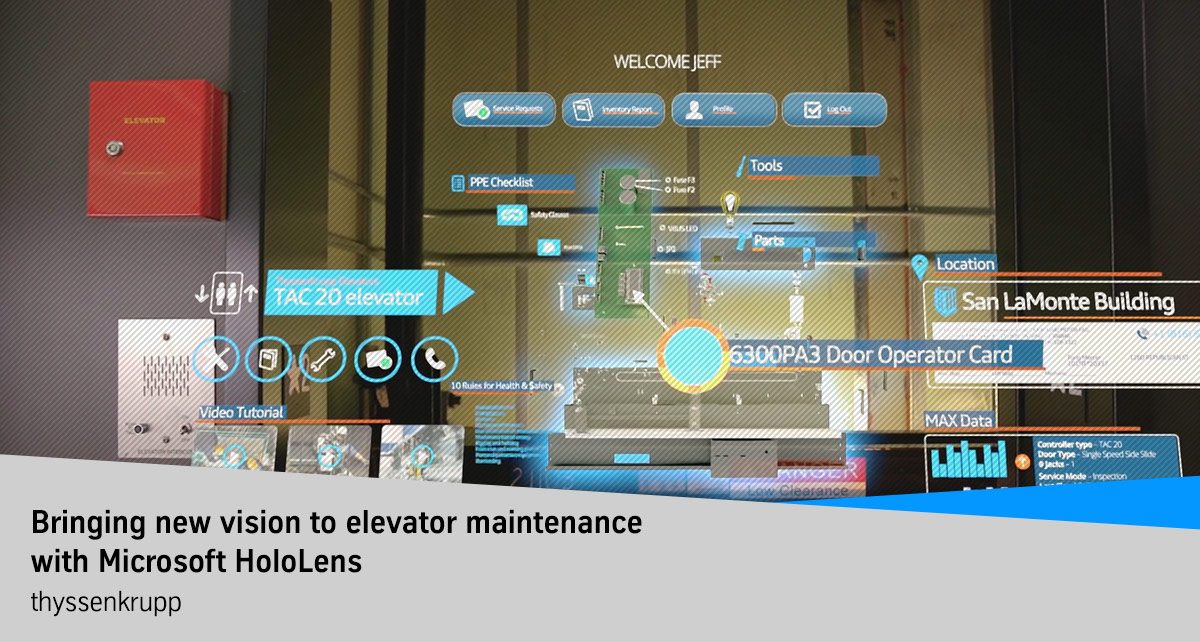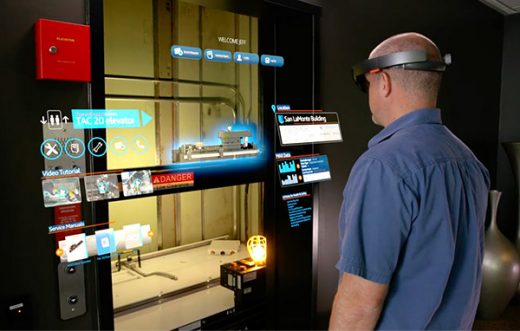 The new face of reliable elevator maintenance
The building manager is anxious – she wants an update. In front of the elevator she finds a technician, a metallic band and shaded glasses partially covering his face, he moves his hands through empty space. Wait – are we in a film? No. This is the real-life story of modern service, coming soon to an elevator near you.
The technician wears Microsoft HoloLens, mixed-reality glasses. This new tool places all the data culled using digital technology directly at the disposal of over 24,000 service engineers. Linked with the Azure IoT-enabled predictive maintenance service MAX, HoloLens will fully bring elevator maintenance services into a new era of optimal reliability.
"Providing technologies that enable our customers to transform their industries – that's what Microsoft is about, and it is great to see this vision come to life with thyssenkrupp and the elevator service industry. Building on the successful launch of MAX with Azure IoT, we're proud to have once again partnered with thyssenkrupp Elevator to bring another great solution like HoloLens to market".
Sam George, Partner Director, Azure IoT of Microsoft
A virtual desktop in the office and on-site
With HoloLens, the work begins even before arrival on site. As soon as the glasses are on, the technician sees from where a service request has come. A 3-D picture of the elevator pops up. Parts can be enlarged and looked at from all angles, so it is possible to immediately visualize and identify problems.
Once on site, the HoloLens displays a virtual desktop with an overview of the task orders, the latest safety alerts and the historical notes on what has happened with the elevator before. And with the laptop a thing of the past, it all happens hands-free, allowing a unique freedom of movement and safety.
Even a video call can be voice activated, so another engineer can remotely view what the technician is seeing on site, and they can discuss a solution together.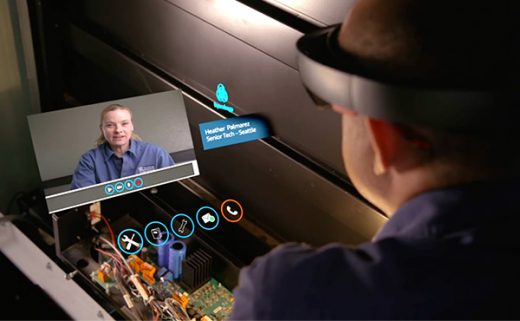 "As the first fully untethered holographic computer running Windows 10, HoloLens has been helping companies and industries innovate in entirely new ways. The work that thyssenkrupp Elevator is doing with HoloLens centers on the use of Skype, available to all users of HoloLens, and has the potential to transform their industry".
Scott Erickson, General Manager of Marketing for Microsoft HoloLens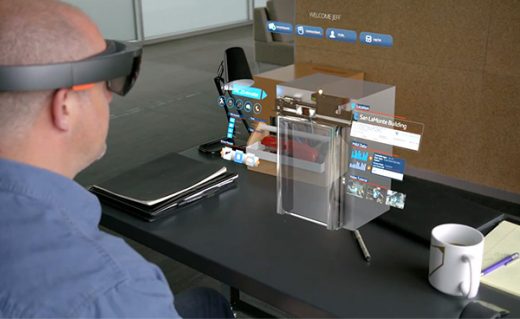 Virtual elevator maintenance – the benefits are real
Given the relevant data available – now presented in the best possible form– the elevator service technician arrives on site prepared better than ever. A well-primed expert minimizes delays, confidently addresses user concerns and delivers unparalleled efficiency. Repair jobs that once took one or two hours are completed up to four times faster.
With this dramatic reduction in elevator disruptions, passengers enjoy the benefits of groundbreaking buildings and emerging mobility solutions without a break in their daily commutes. City dwellers gain confidence in new elevator technology, and ultimately in all the progressive change going on in their building and the city around them.
Excellent service to raise the bar of urban living standards
Everywhere, cities are getting denser – bigger and taller. More than 12 million elevators transport over 1 billion people each day. It is essential to harness technology with imaginative and innovative ideas to keep people moving – without interrupting their individual stories. The elevator industry can play an influential role in keeping cities moving, avoiding delays.
Merging the analytic possibilities of MAX with HoloLens, thyssenkrupp Elevator and Microsoft have discovered a uniquely effective service solution. Now whether in their apartment house or at One World Trade Center, passengers can continue to experience elevators running as they should, safe and comfortable, getting them from A to B in the most efficient way.
"Together, thyssenkrupp Elevator and Microsoft HoloLens are empowering service engineers to do their jobs safer and more efficiently. With Skype on HoloLens, thyssenkrupp technicians can be hands free while on the job, even when making remote calls to subject-matter experts and sharing holographic instructions between users. This enables more flexibility while also complying with safety regulations".
Scott Erickson, General Manager of Marketing for Microsoft HoloLens