Technology
The day-to-day life of an all-rounder elevator service engineer
Being an Elevator Maintenance and Call Out Engineer is no easy task. Just ask Kirsty Green, who works at thyssenkrupp Elevator UK, covering the greater Manchester area in England. Not only does she help out in emergencies and keep elevators fit to lift, she also has to know more than just her company's own equipment. As part of her everyday work, she repairs and maintains elevators made by a wide range of manufacturers, using ITS as a valuable resource.
Kirsty took a break from upgrading an elevator's emergency operation system and talked with URBAN HUB about what she does on a day-to-day basis. She explained the details of her job and the training required, but also had plenty of interesting anecdotes to share about the creativity of elevator users.
Using fewer resources for bigger change – What makes the world go around? Innovative technology. And in mobility, building, energy and manufacturing, especially green innovations are changing how people interact with and shape their environment.
6034 views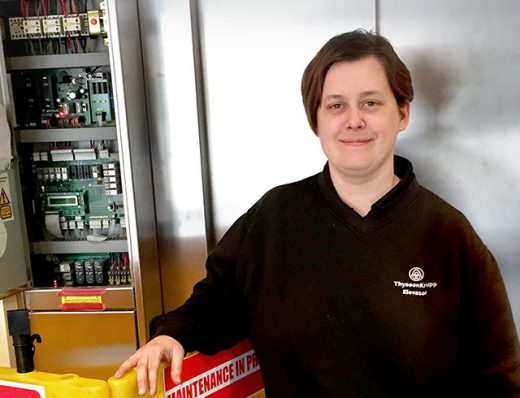 Training, talent and a keen nose
After her studies in engineering, Kirsty Green did an apprenticeship at Otis, where she worked for several years and was one of the first and only women in the field. After a short stint in the railway industry, Green came to thyssenkrupp Elevator in 2013 where she has benefited from training and experience with many makes and models of elevators through the company's internal technical support function, ITS. 
When asked about the necessary skill set, she explained that "You have to rely on sight, sound and smell when analyzing a lift error. And you need the intuition to be able to anticipate what might come next." 
Furthermore, Green highlighted that, in her line of work, it is important to have extensive safety training, such as for the proper handling of high voltage equipment. You also have to be persistent enough to find solutions when faults are not obvious. Another important skill: "It's important to be patient if a customer gets difficult."
On the road with Kirsty Green
On a typical day, Green will start off with a routine maintenance stop along her route, and sometimes she'll need to rectify a breakdown which occurred overnight. After this, Green says: "I'm basically at the whim of my phone."
In addition to scheduled maintenance work, emergency calls sometimes come in that require breathtaking response times, such as for a trapped passenger. As a result, a "typical day" can be full of surprises. The most frequent calls, however, involve issues with doors, an engaged safety gear or safety ropes that have stretched and need shortening.
Her most important companion is her van. "My van is my mobile tool kit; most of my equipment is in that van. My tool bag itself has mechanical equipment like screwdrivers and a few of the most common spanners [wrenches]." She also carries a standard multimeter, as well as a few manufacturer-specific test tools and her personal safety equipment.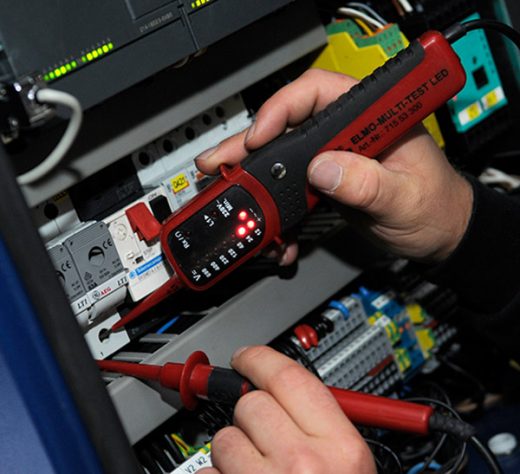 A comprehensive support network
Even engineers like Green – with her depth and breadth of experience – sometimes run into new and unusual circumstances. When she needs assistance in dealing with a new elevator or complex programming issue, she calls up the ITS.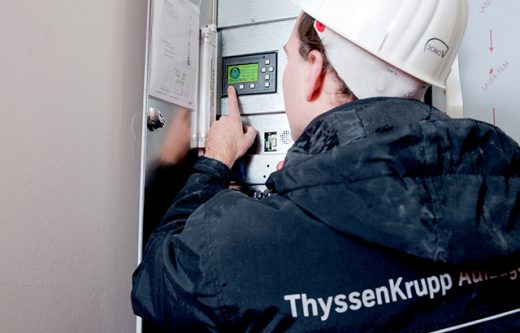 "What I love about working with the ITS is that you're always learning and trying to keep ahead of what's going on, not just with our equipment, but with many types of lifts and escalators". In addition to her experiential knowledge acquired at thyssenkrupp Elevator and Otis, Green has also been trained by ITS to work on KONE, Schindler, Orona, and other manufacturers' elevators. 
"ITS is also an excellent resource center. We can take a faulty drive or board to them, which they'll look at, order replacement parts and fix. They also provide advice and can talk us through any complicated programming issues." 
"99 percent of the time, I'm on my own, however. We can carry out all general tasks independently."
Clever college students
Over her years working as an elevator technician, Kirsty Green has encountered some difficult situations with users. We asked her to share a few good stories. 
"Once we had at least eight students stuck in a lift at their college. It was an older type that relies completely on counterweight, and these kids were messing around jumping up and down, and eventually caused the safety gear to engage." 
"So the lift wouldn't go down because the gear had engaged – as it should – to stop the lift from moving. Plus, eight was too many people, and so they overloaded the lift to the point that it would only go down, yet it couldn't go down because the safety gear was engaged. I called out an ITS technician to come and help get them out, since it was such an unusual situation. We got about half of them out through the trap door in the ceiling, and could then disengage the safety gear to move the lift. In the end, the college got all their names and suspended them."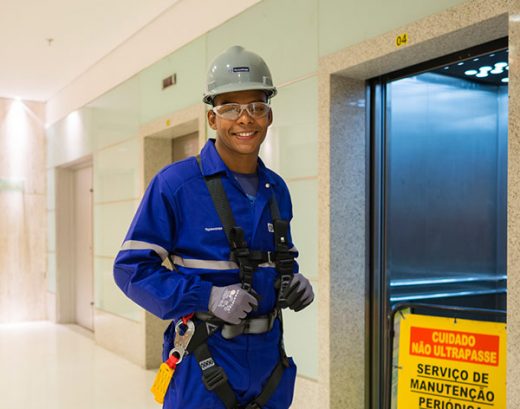 "Once I had a rather aggressive person trapped in an elevator and I was nervous to let him out. I told him that if he wouldn't calm down, I'd call the police and let him wait till they got there. And that got him quiet."
Kirsty Green
Maintenance and Call Out Engineer, thyssenkrupp Elevator UK
Elevator safety around the world
Though Kirsty has experienced a lot of strange encounters over the years, she likes to emphasize that risky situations are rare exceptions: "The first directive of our work is safety. We apply maximum security measures, but unfortunately we cannot fully avoid people consciously ignoring our strict safety measures."
Listen to thyssenkrupp's elevator constructors and service technicians from around the world explain why safety is so important to them…
®
A future in elevator design?
Kirsty Green is currently studying for an additional degree in engineering design. She hopes to be promoted as a technician and eventually move on to research and development. In her opinion, elevator design "needs a woman's touch." But she also believes that her time as a service and repair engineer will provide a new perspective that could help in the development of elevators which are easier to maintain, after all: "many manufacturers assume their lifts will never break down."
The way ahead: technicians or computers?
We also asked Kirsty Green how the job of a service repair engineer might change in the future, with newer elevators and supported by technology like the predictive maintenance program. "At the moment, most lifts are singular. You have to go to the site and see what's going on. Newer equipment is becoming networked. You can dial in and remotely review the processes and even reset the lift. But considering we're still working with lifts that are over 30 years old, there will always be a need for technicians like us."
And the long-term future? Of course, nothing can really replace human instinct, but networked systems can enhance an individual's expertise with supporting data: "Cloud-based status updates and procedural descriptions would certainly help experienced engineers identify and solve problems better and faster. It might even support us in seeing, and even smelling, the equipment. But when it comes to the final detailed work, some things just need hands-on attention."
Green's colleagues at ITS carry out detailed reverse engineering and provide regular training to ensure that service engineers like Green are thoroughly experienced in a wide range of elevator systems. Their goal is to connect the personal capabilities, deep expertise and "investigative serendipity" that are part of their everyday work with smart technologies, thus ensuring high-quality service.
International Technical Services
thyssenkrupp Elevator established ITS as a network of experts providing single-source support for all kinds of elevators and escalators, no matter which manufacturer made them. ITS technicians have to stay up to date on the latest equipment from all major elevator manufacturers – it's not by chance they're some of the most capable and experienced technicians on the market. Visit ITS Website