Technology
Streamlining mobility for people and supplies in hospitals
The sound of incoming sirens signals the arrival of an ambulance. Inside is a pedestrian who has been severely injured by a speeding car. The hospital has been alerted, and staff are waiting at the emergency room (ER) entrance. Meanwhile, up on the fifth floor, the operating room (OR) is being prepared, and banked blood and medications are on their way directly from the basement storage area – via a dedicated service elevator. Up on the roof, a helicopter is standing by, waiting to fly the patient to a special clinic, should that be required.
For hospitals around the world, this is an everyday occurrence. Life hangs in the balance, and competence, professionalism and speed make all the difference. Every link in the care chain must run like clockwork, including the elevators and other internal transportation equipment making sure that everything – and everyone – is in position, and on time. A single mistake can cost someone their life.
Using fewer resources for bigger change – What makes the world go around? Innovative technology. And in mobility, building, energy and manufacturing, especially green innovations are changing how people interact with and shape their environment.
4171 views
®
Re-engineering the hospital
People everywhere need health care, and growing populations mean there is a growing need for doctors, nurses, medicines and facilities. Governments are acting, and the result is a number of initiatives around the world, not least the construction of new hospitals.
Most hospitals these days focus on emergency care, threatening illnesses, and procedures that require specialized personnel and equipment. Organizationally, they resemble health care delivery factories. And, as at any factory, coordination and timing are crucial.
To meet these demands, many of the newest medical centers are integrating the latest in technology, incorporating smart systems, automation, and environmentally friendly devices and techniques. One area of great interest are mobility technologies so vital in keeping the "factory" running smoothly.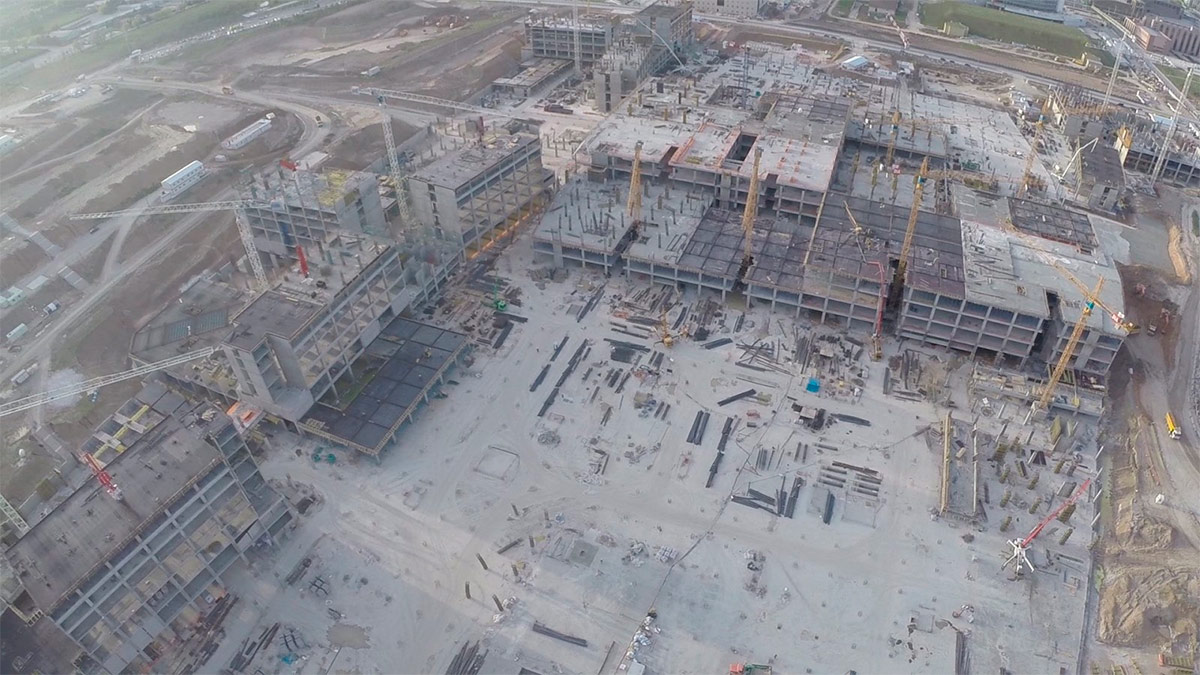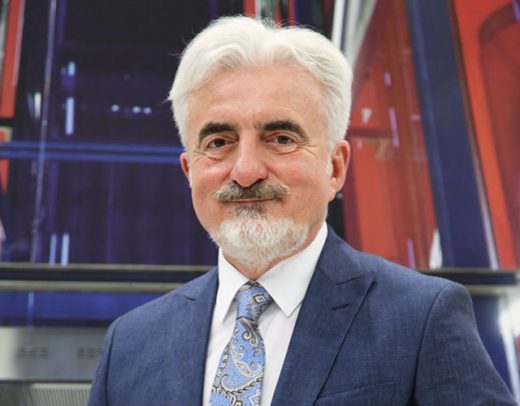 "With 50,000 employees and countless visitors moving around the 1.3 million square meter area, the Bilkent hospital project certainly presents challenges. By working tirelessly with the planners – including two years prior to getting the contract – we were able to tailor mobility solutions that fit this huge space, and that makes us all very proud."
Turgay Sarli
Managing Director, thyssenkrupp Elevator Turkey
Leading the way in health care logistics
Some pioneering hospital projects around the world deserve a closer look. In Turkey alone, 36 new hospital projects are underway, part of a massive effort to better serve the country's growing population, which currently stands at 74 million. Chief among these is the flagship project Bilkent Integrated Healthcare Campus: a nearly 5,000-bed facility. Once completed in 2016, it will be the largest hospital complex in the world. thyssenkrupp Elevators is installing 326 separate mobility solutions at the Bilkent – escalators, moving walkways and elevators – to help people and medicines get to where they need to be.
Utilizing state-of-the-art engineering, these new elevators can recognize a hospital bed as soon as it rolls up. This allows the extra-wide automatic doors to open faster, while a dense curtain of light barriers in the doorway prevents the doors from closing too soon. In addition, the floor of the elevator is precisely aligned with that of the vestibule, so that patients are not jostled as they are rolled on or off. Gentle starts, acceleration and deceleration also assist in smoothing out the bumps.
Meanwhile, in Australia, in the State of Victoria, 17 elevators at the new Bendingo Hospital have been designed for very special passengers: robotic carts. The robots communicate directly with the elevators as part of an automated system used to transport goods between floors. The advantage of this is increased reliability, as well as reductions in operating and personnel costs.
"Elevators in hospitals undergo particularly heavy use. They have many special features and components and must fulfill the strictest hygiene requirements."
Richard Tuckett
Senior Project Manager, thyssenkrupp Elevator Australia
TWIN in London
Completed in 2015, the redevelopment of the centrally located, 21-building Royal London Hospital was one of Britain's biggest hospital redevelopment projects ever. thyssenkrupp Elevators contributed 42 elevators, including five TWIN elevators – the first installation of the technology in a hospital.
In this case, TWIN technology was adapted to site-specific requirements. Larger cabs – with a payload capacity of 2,500 kilograms – can carry up to 33 people, or a patient bed including all necessary medical equipment and personnel. Because the unique technology allows two cabs to travel independently in one shaft, valuable space for patient care was saved. And the planners of the Royal London project were able to incorporate additional elevators without additional shafts, so the large numbers of visitors and hospital workers can now be efficiently moved about the building.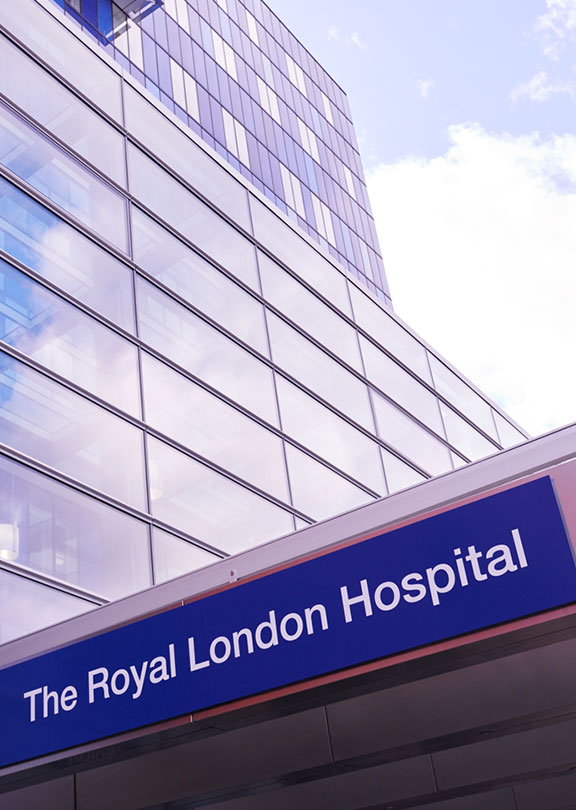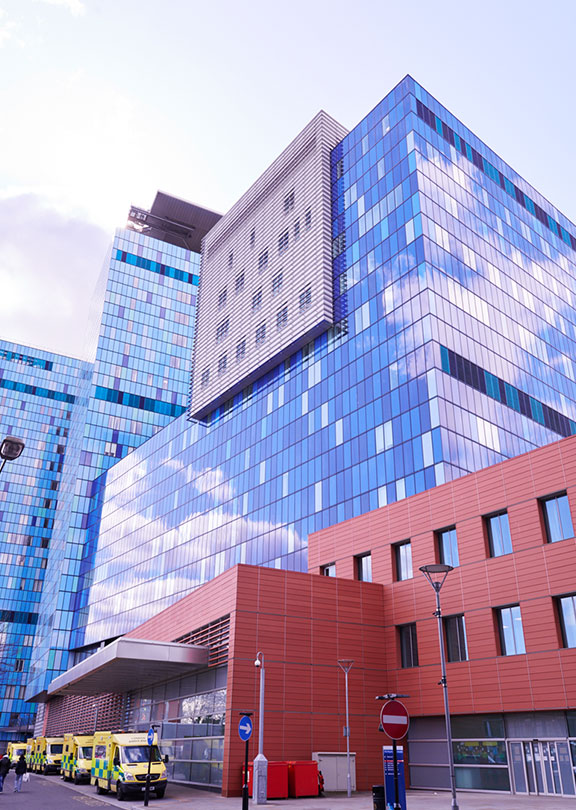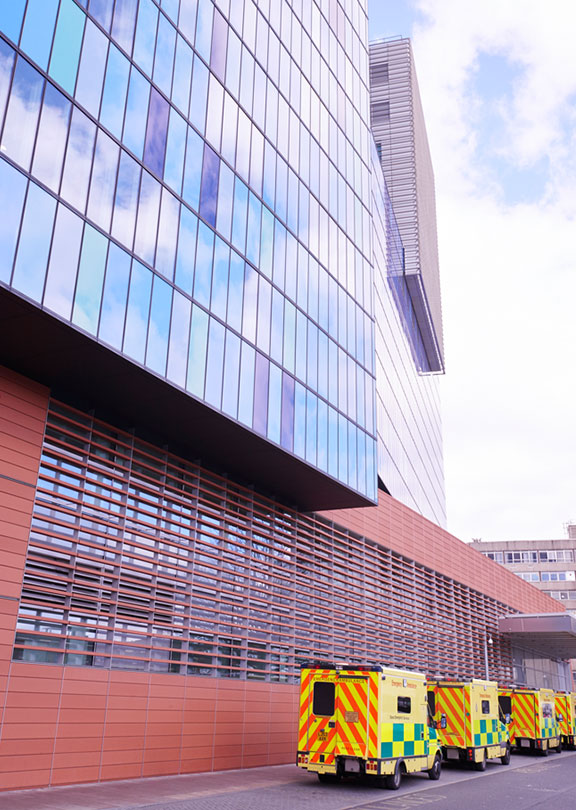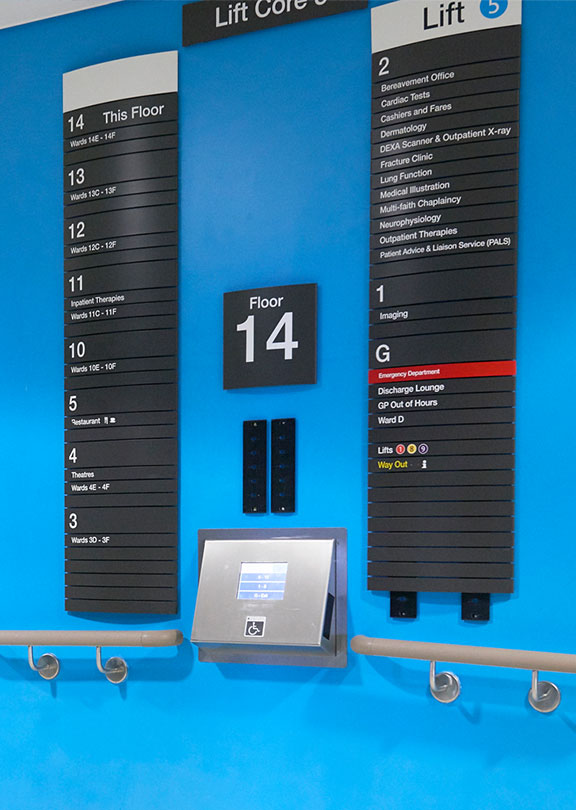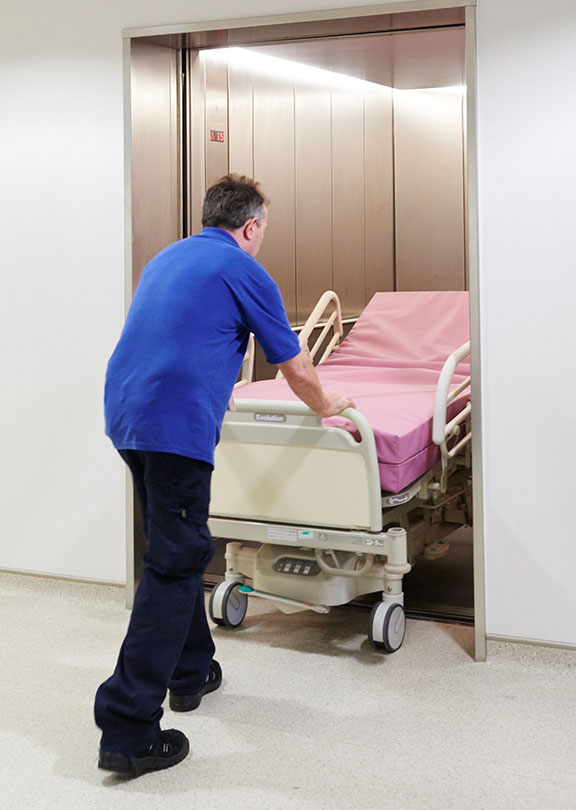 Ready at a heartbeat
Hospital mobility can be a moving story: a dedicated elevator stops only at the ER, the OR and the helideck; a wheelchair platform lift helps an outpatient to the exit; an LCD destination selection control system optimizes elevator availability.
Advanced features and automated functions can also help make the running of a modern medical center safer and more efficient – like a passenger elevator that feeds braking energy back into the power grid, a freight elevator that switches to stand-by mode when not in use, or shaft ventilation that reduces heat loss and energy consumption.
As we move ever closer to the realization of the integrated smart hospital, advanced technology and innovative mobility solutions will be an integral part of keeping it all connected.