Technology
What happens when you press the emergency button in the elevator? URBAN HUB finds out!
Urban mobility solutions like elevators are an everyday part of life for most city residents, and one they rely on without even thinking about it. When the unthinkable happens – getting stuck in an elevator – many don't know what to expect. Yet, everyone recognizes the ubiquitous emergency button! Who's at the other end of the line? Just a computerized voice? Not if the elevator is being serviced by the thyssenkrupp elevator Service24-Center. Then you are in luck, because the "live" team is trained to respond with lightning speed, a cool head, and a reassuring voice, helping passengers know they are in good hands. URBAN HUB looks behind the scenes.
Using fewer resources for bigger change – What makes the world go around? Innovative technology. And in mobility, building, energy and manufacturing, especially green innovations are changing how people interact with and shape their environment.
5654 views
The Service24-Center is always on hand for passengers
The thyssenkrupp Elevator Service24-Center in Berlin, Germany covers many diverse areas, but emergency calls comprise the bulk of their work. The center not only handles calls coming from thyssenkrupp Elevator products but also services elevators by other manufacturers.
Service24 Center handles any emergency call from Germany and Austria. That's thousands of calls every month! However, this doesn't mean elevators are breaking down at alarming rates! Only a small percentage are real breakdowns. The other incidents come from automatized test calls or passengers messing around with the emergency button!
Every day, round the clock, the team responds to elevator situations, guaranteeing a real person on the other end of the line, and no waiting. Unlike other response centers, Service24-Center does not outsource to call centers or rely on automated responses, making its dedication to personalized service unique.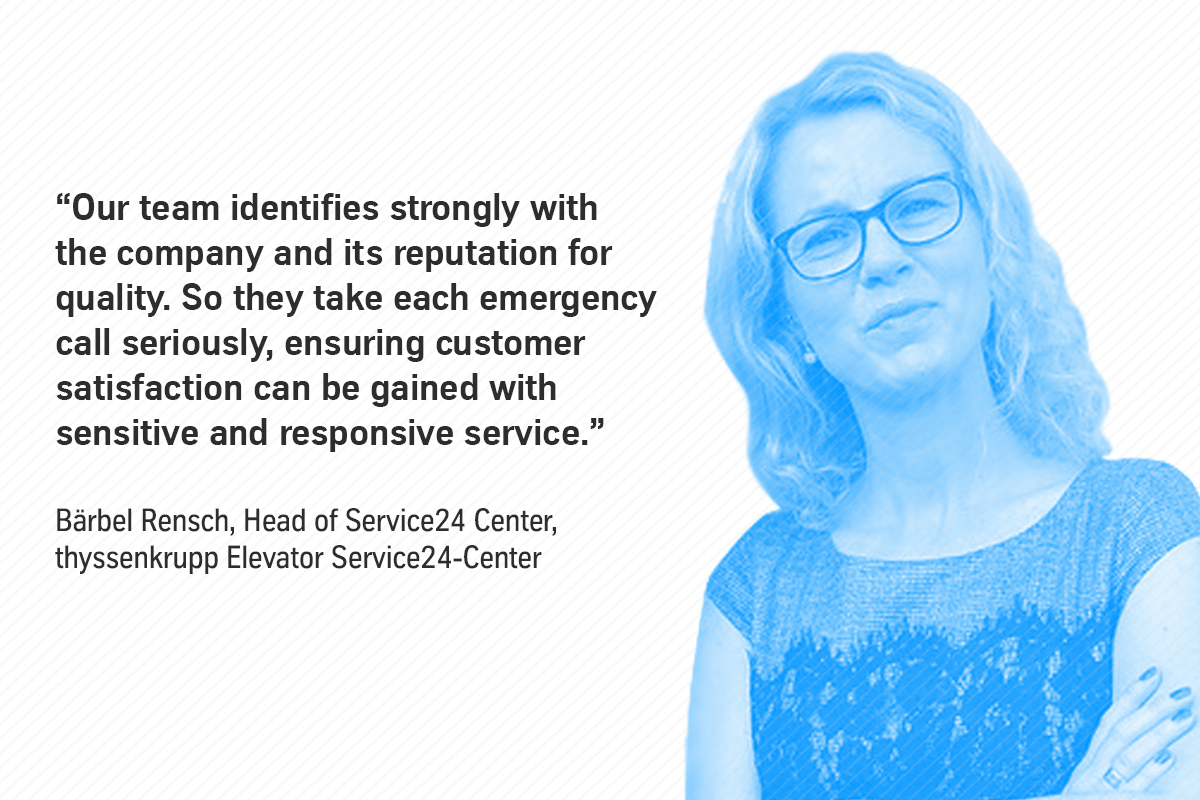 What happens when you press the emergency button?
With elevators serviced by the Service24-Center, when an elevator gets "stuck" and you press the emergency button, the call goes directly to the response team. A pop-up appears on the screen, giving the location and details, for example, and whether the elevator really is experiencing difficulties or if the button was pressed by accident or as a prank!
The Service24-Center employee's first priority is to talk to the passengers and maintain calm. Secondly, a technician needs to be dispatched immediately. The passengers are asked to wait a moment for further details to follow.
Thousands of technicians in the region are on hand so one usually arrives within 20-30 minutes. Once the technician is on the way, contact is resumed with the passengers and they are informed. Passengers are reassured that they can press the emergency button at any time to talk to someone while waiting.
Very rarely, a situation calls for extra attention, like someone with certain health or mobility challenges stuck in an elevator. In these cases, constant phone contact is maintained and an emergency response team from the fire department is called in. No matter what the situation, constant contact and calm under stress are key to providing effective, safe service.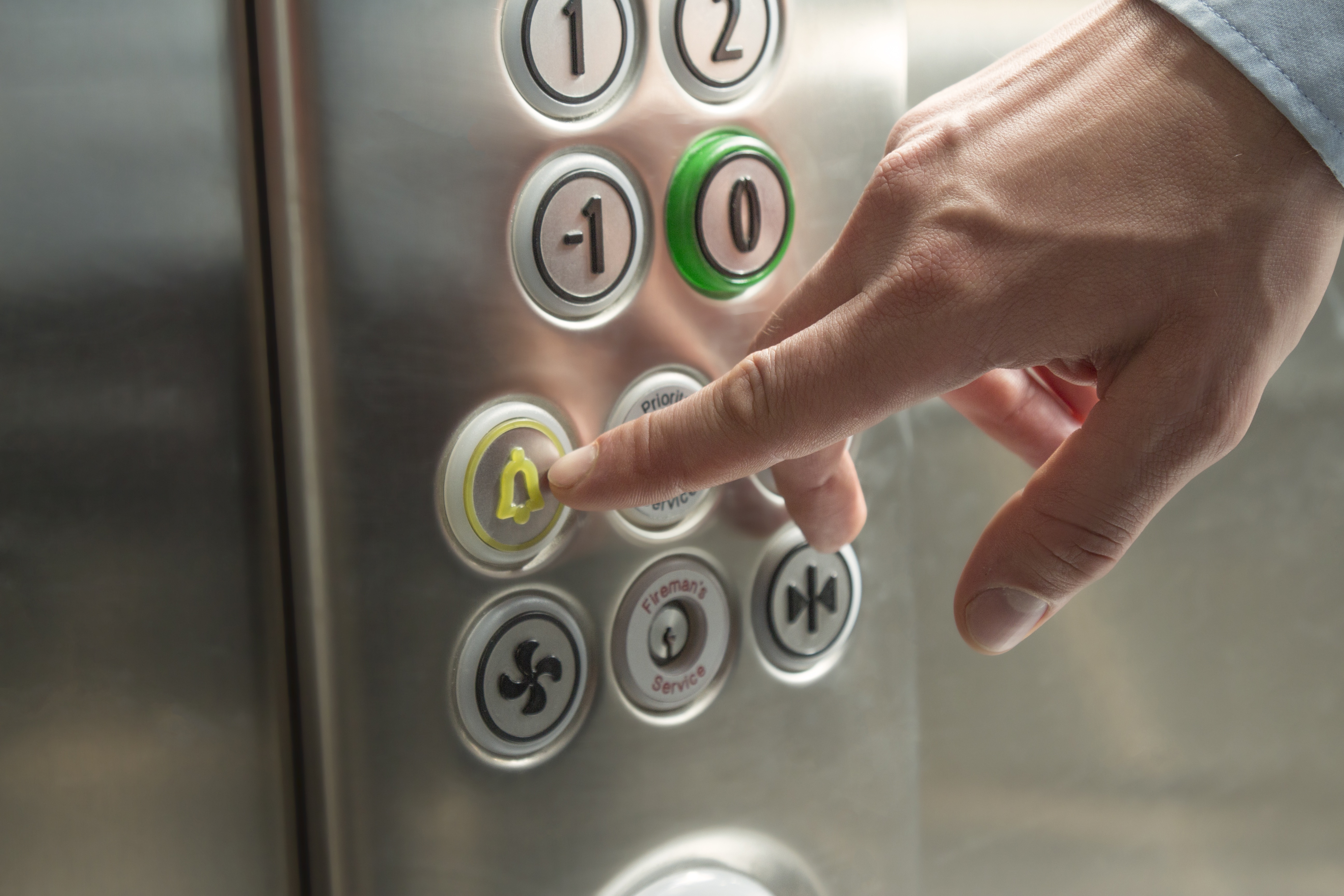 Passengers feel safe with the S24 team
Teamwork means passengers are in good hands
The Service24-Center has grown to nearly 70 employees. The diverse staff consists of both young and experienced men and women who come from a variety of service fields as well as from international backgrounds. One thing they share in common: they all enjoy working in a team and understand the importance of being communicative, service-oriented, reliable, and handling stress well.
The team even requested workshops to improve their skills in dealing with highly emotional situations. They back up one another when a specialized situation arises, like a passenger who doesn't speak German or a child who needs a soothing voice. Other times, going that extra mile is as simple as offering to phone someone's work to say a passenger will be 30 minutes late!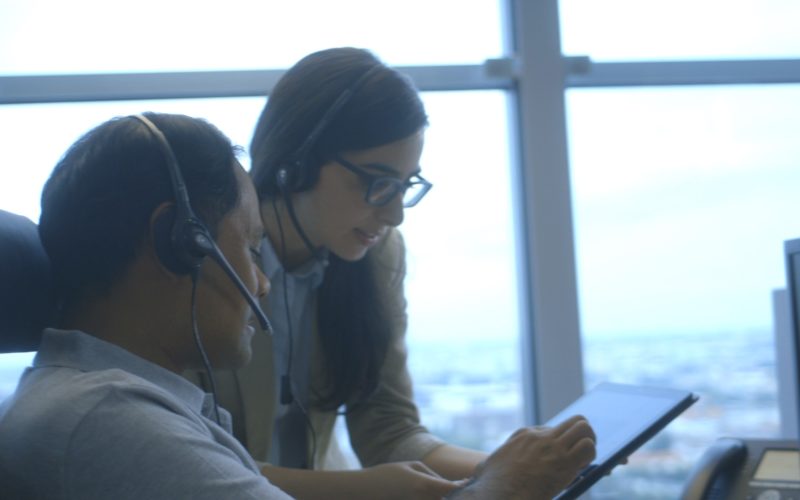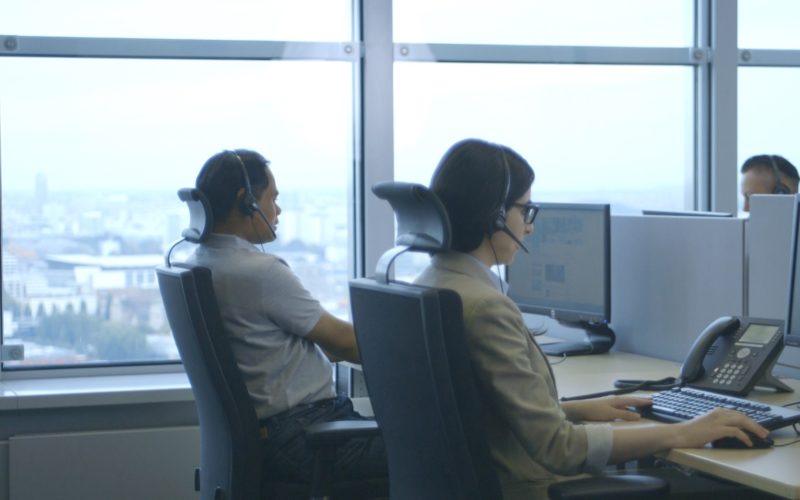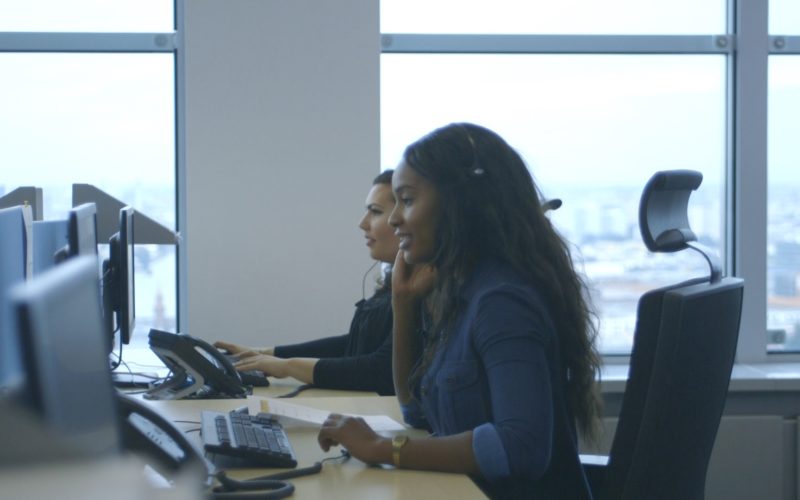 The voices on the other end of the line: S24 team players
Stuck in the elevator: fiction vs. fact
But what if the button doesn't work? Or the phone line is busy? Or the electricity goes out? We all think of the worst-case scenarios, but the Service24-Center team assures that no harm can come to you when stuck in an elevator serviced by them – no matter what the movies show.
The emergency button will work: Every three days, the elevator automatically checks in to be tested. If the system detects that a test hasn't been conducted, a technician is dispatched within hours.
Your emergency call will be taken: Emergency calls "jump the line" ahead of all other incoming calls. If all lines are busy, an alarm goes off in the center, indicating that a desk needs to end a non-emergency call and free up a line.
Your elevator will still be connected in the event of a power outage: All elevators are required to be connected to an auxiliary power generator so even if the building's electricity is out, the emergency button is lit up and the phone line operating.
A final surprising anecdote: men, in particular, panic when trapped in elevators because they are convinced that they will not get enough air. Here, the Service Center can also only send reassurances. Whether one or five passengers, the air vents always work to provide enough oxygen.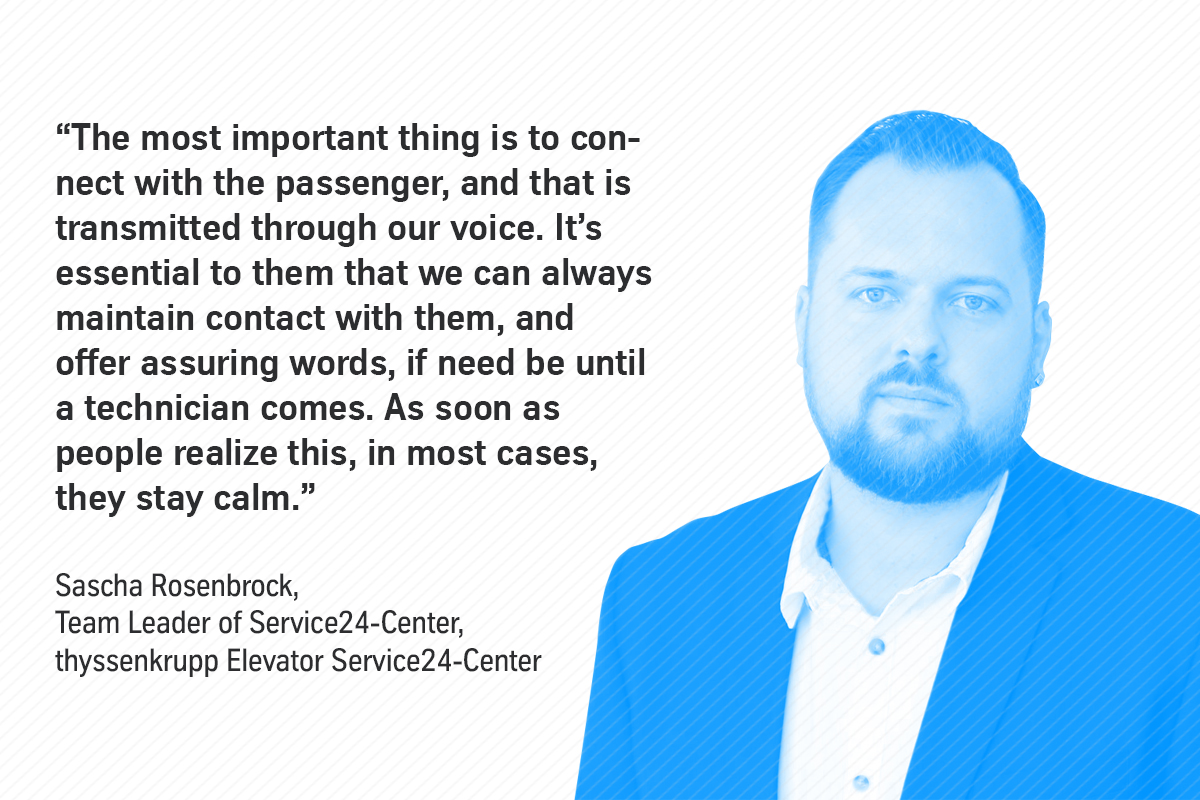 The elevator stories
Service24-Center employees, naturally, have never encountered a situation like those portrayed in films, but they have a few stories of their own:
Like the elderly woman in Dresden who called in a panic. Just to be on the safe side, an ambulance was dispatched as well. In the end, her pet budgerigar ("budgie") had been trapped in the elevator!
In Cologne, a technician arrived to free twelve people from an elevator meant for six!
In Hamburg, a partying couple asked the technician not to rush…they were enjoying their time in the elevator!
In any event, there is never a dull day at the Service24-Center. And more importantly, the team feels committed to providing a versatile service that can meet and reassure all passengers' needs, in the very unlikely event that an elevator does get stuck.