Technology
How US buildings can optimize internal traffic and space utilization
According to the World Bank, nearly 82 percent of the US population already lived in cities as of 2015. Faced with additional factors like general population growth and rising urbanization, cities are taking action to cope with the difficulties of high-density living – but there's still more to do.
We all know about the most common urban stress-inducers, such as traffic, lack of housing, school overcrowding, and public transportation delays. However, there's one aspect we frequently overlook: the effect of increased foot traffic within buildings. And the problem is often exacerbated by slow, unreliable elevators. However, there's a solution.
Using fewer resources for bigger change – What makes the world go around? Innovative technology. And in mobility, building, energy and manufacturing, especially green innovations are changing how people interact with and shape their environment.
3581 views
Urbanization and buildings
Urbanization is taking its toll on buildings. With more people looking to live in cities, property values are on the rise. This is good for building owners, but it also means higher rents for tenants. Urbanization can also mean fully occupied buildings, with elevators operating at their absolute limits. Any disruption for maintenance could mean significant inconvenience for occupants.
If a building has a bad reputation, its value is likely to be affected. In our digital age, unhappy tenants often share their frustrations with a building and it's elevators on blogs and social media.
In fact, outdated elevators so adversely affect quality of life that addressreport.com has added a function to let prospective tenants review the efficiency of a building's elevators before even viewing the property.
How current buildings can cope
Existing buildings cannot add additional elevator shafts, but they can potentially double the number of elevator cabins. The TWIN system, by thyssenkrupp Elevator, puts two independent elevator cabins in a single shaft and thereby transports up to 40 percent more passengers. It's a solution that could virtually eliminate elevator-related complaints.
The solution can also be integrated into a green building transformation project. The elevators can be equipped with an energy recovery system that reclaims energy when the brakes are applied. It can feed about 30 percent of energy utilized back into the building's grid. And to increase efficiency, one of the cabs can stay "parked" during low-traffic periods.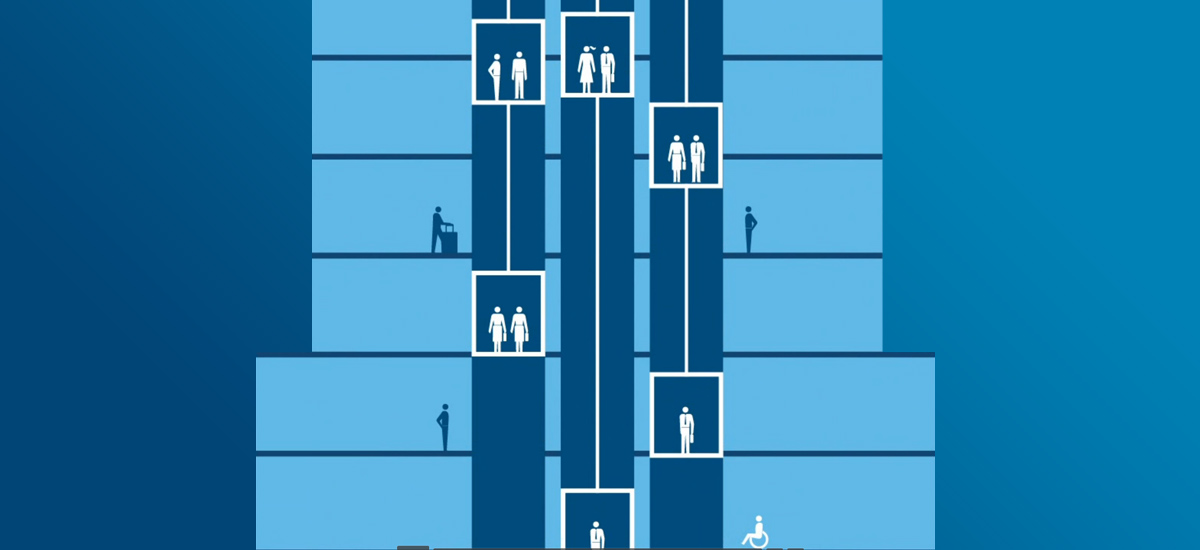 New building case study
The first TWIN in the USA and entire Western Hemisphere will soon find its home in Atlanta, Georgia. The building, called Coda, located in "Technology Square" is going to be a center of joint technical innovation for the Georgia Institute of Technology and private-sector companies.
The TWIN system was selected for this project because it allowed the architects at John Portman & Associates to maximize useful space by reducing the number of elevator shafts.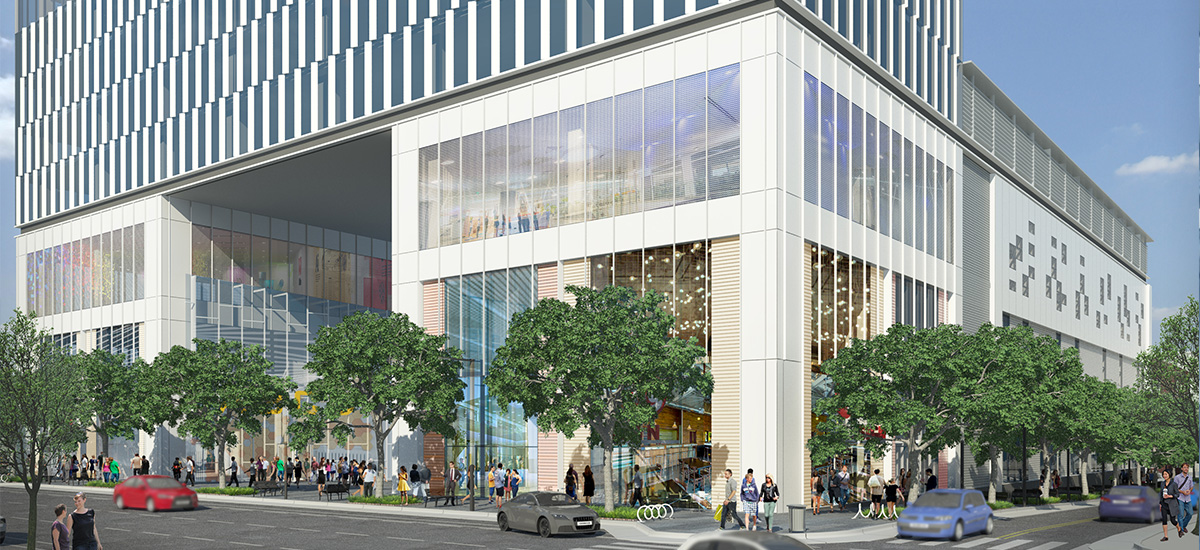 "Coda will be unlike anything in the southeastern US, and its Class T office space will enable collaboration in a unique and groundbreaking way. The mixed-use building will contain many firsts, and we're thrilled to start that trend by being the first building in the US to utilize the TWIN elevator technology from thyssenkrupp."
Ambrish Baisiwala – CEO of Portman Holdings
Elevator codes open doors
Passengers would not trust elevators if it weren't for the rigorous, consumer-protecting safety codes around the world. As a result, innovations must undergo a rigorous approval process before they are permitted in a new market.
Those codes, along with the careful work of manufacturers, have made elevators into one of the safest modes of transportation.
The Coda building in Atlanta will contain the first TWIN system in the United States, but it's surely not the last. After all, the technology has proven its merit in buildings around the world. It is anticipated that code authorities in cities across the United States will follow suit, and thereby make a significant difference for the countless people who live and work in tall buildings.
®
TWIN elevators, proven around the globe
| Building with TWIN | City | Country |
| --- | --- | --- |
| Coda at Georgia Tech (planned) | Atlanta | USA |
| European Central Bank | Frankfurt | Germany |
| CMA Tower | Riyadh | Saudi Arabia |
| Mercury Tower Lot 14 | Moscow | Russia |
| Trumpf headquarters | Seoul | South Korea |
| Korea Investment & Security Headquarters | Seoul | South Korea |
| Rabo Bank head office | Utrecht | The Netherlands |
| Skyoffice | Dusseldorf | Germany |
| Rain Square | Perth | Australia |
| United Tower | Jeddah | Saudi Arabia |
| Hyundai Capital Building | Seoul | South Korea |
| BMW Group Headquarters | Munich | Germany |
"For architects, the biggest advantage of the TWIN system is that it requires fewer shafts and thus saves a lot of space. In the Trumpf Building in Seoul, we were able to maximize space efficiency in the floor plans."
Prof. Regine Leibinger – Barkow Leibinger Architekten, Berlin