Smart Mobility
Unusual urban pathways: elevating and embellishing how we get from A to B
New architecture rises up and out as well as over and under, radically transforming our urban spaces. So why not raise the game for pathways as well? Cities are exploring elevated walkways and bike paths, or turning sidewalks into spaces that bring benefits beyond getting you from A to B. URBAN HUB takes a walk down some of the most unusual of these new pathways and assesses how they seek to improve urban comings and goings.
Keeps people moving to better solutions – People fed up with congested cities, are innovating smart mobility with new mobile technologies and intuitive apps which integrate public transportation, better infrastructure, and car sharing.
8565 views
Urban biking: the sky's the limit
Cities have long recognized the benefits of making way for non-motorized mobility, increasing public transportation, and redesigning streets to provide wider bike lanes. But is it enough?
The answer is clearly no, and architects are proposing radical solutions. Several years ago, Norman Foster debuted his idea for London. The Skycycle consisted of 220 km of bike lanes above railway lines but was scrapped due to safety and budgeting concerns.
In China, a big bike path did successfully get off the ground. The Xiamen Bicycle Skyway connects five neighborhoods and three business centers. Commissioned to decrease traffic congestion, the 7.6 km-long elevated bike path provides access to bus stations, malls, and public buildings.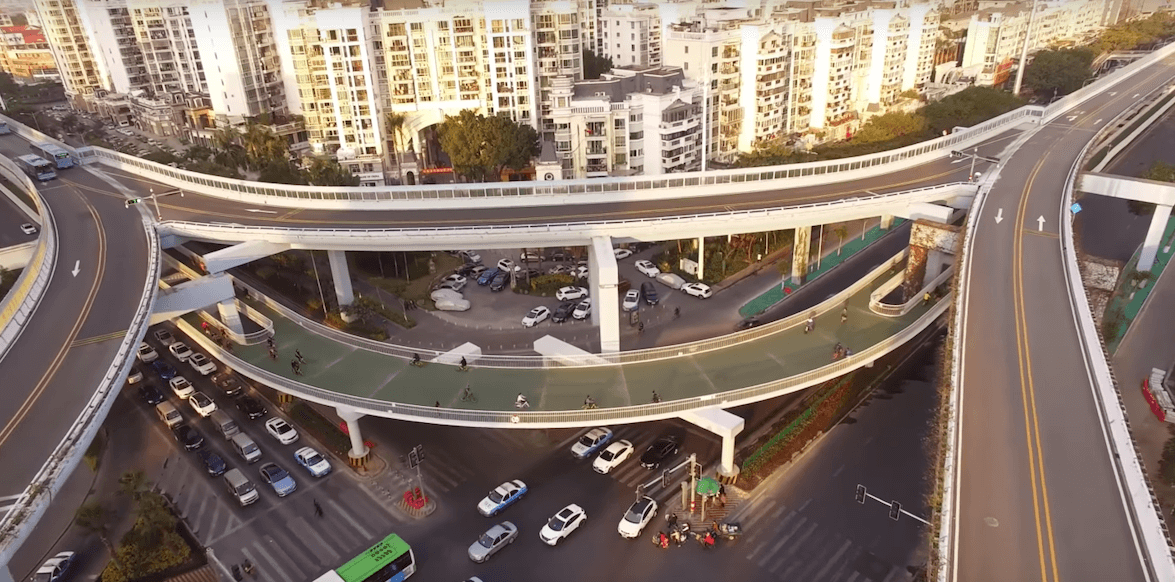 A step in the right direction: pathways for good
Green-minded urban planners can use every precious step of space to create new paths to sustainable living. A U.K. company created recycled rubber tiles that convert the pressure of footsteps into kinetic electricity. Recycled rubber also provides a good alternative to concrete because it is flexible, and the gentle surface encourages walking.
Other experiments include painting sidewalks with a substance that absorbs UV light during the day and glows at night. Even walkable solar panels are being tested. Los Angeles is taking it all a step further by white-coating the asphalt to prevent overheated urban microclimates.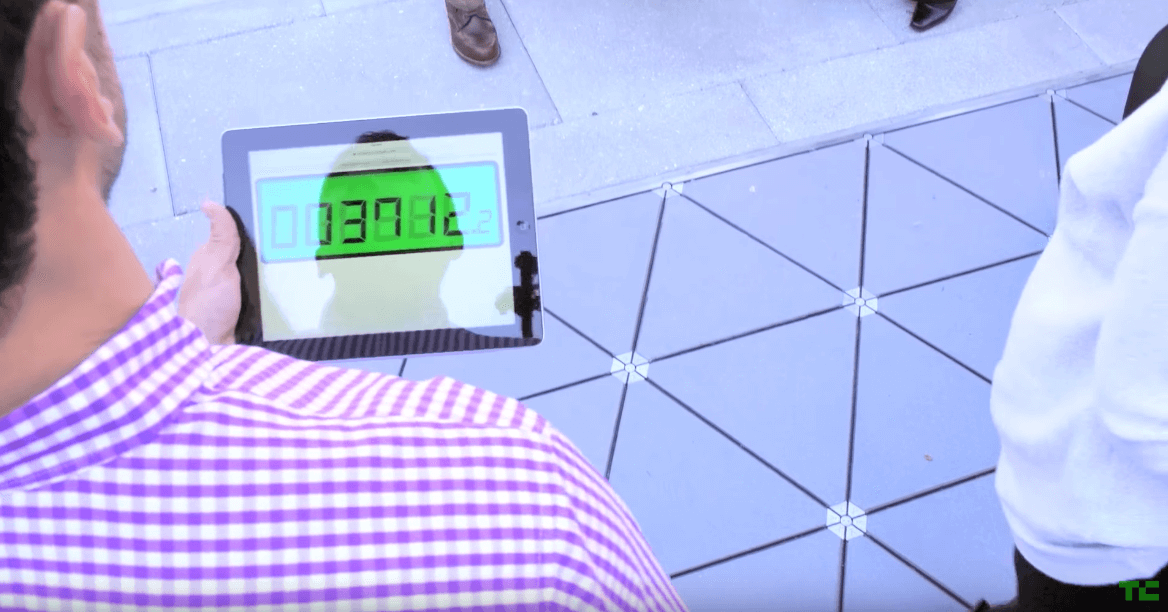 Eyecatchers: leading the eye to urban beauty
Pathways challenge architects and planners to raise the bar on design and inventiveness. In Changsa, China, a red ribbon-like bridge brings a smile. In Holland, concrete seats convert into stepping stones during floods. In Lyon, an underground tunnel combines nature, art, and car-free passage.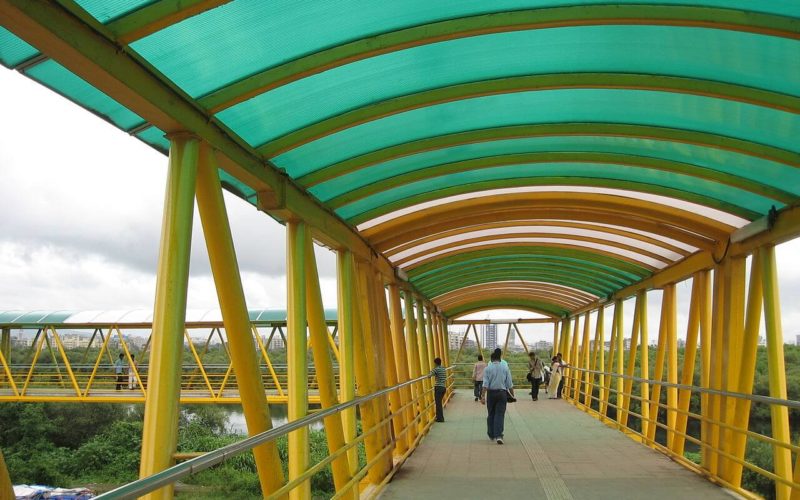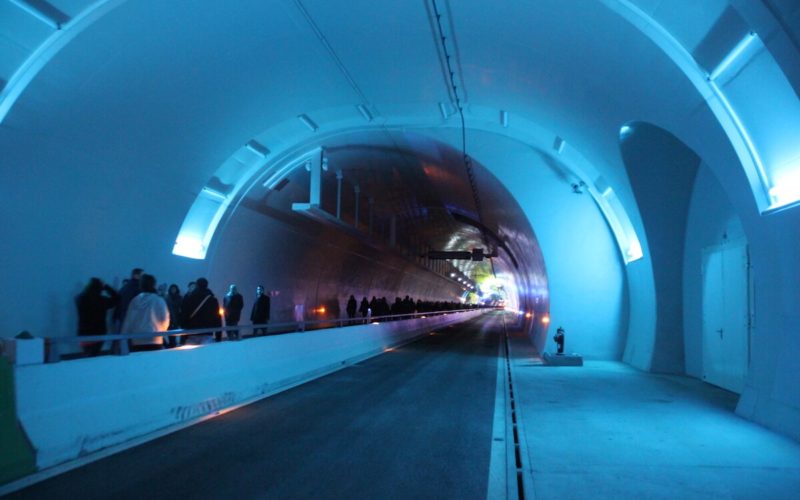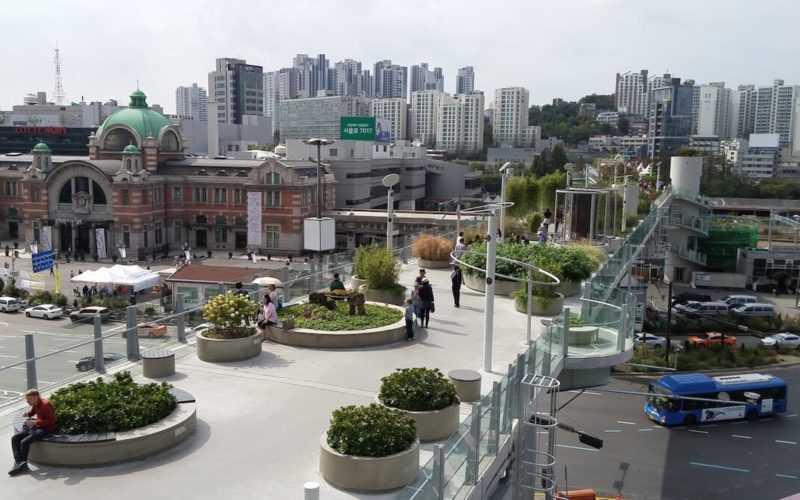 A sidewalk with a view
In Mumbai, India, 60% of traffic is pedestrianized, but there is literally no room on the streets. An elevated walkway, dubbed the yellow caterpillar, gets walkers up off the streets and on to safer ground. In Seoul, the city converted a highway overpass into a 1-km green walkway over traffic.
As ideas for elevated walkways and bike paths emerge, planners need to plan in access for all, including ideas like ACCEL.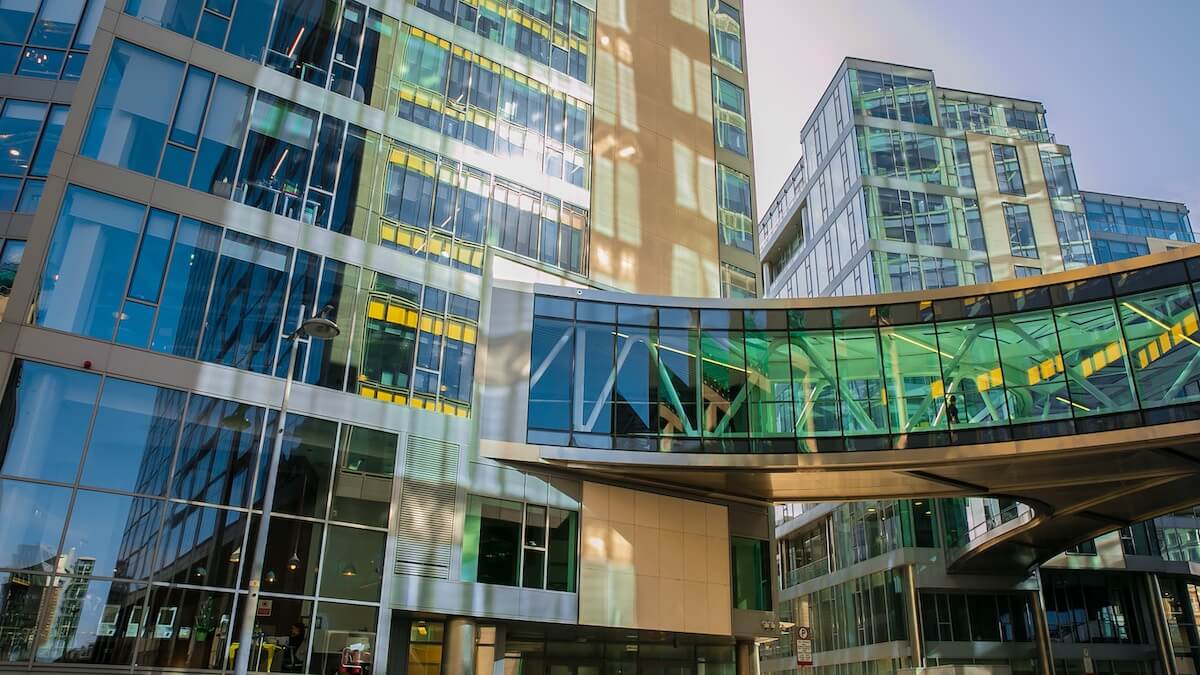 On equal footing: towers and walkways
In the 1970s, skywalks earned a bad reputation as eyesores and dead ends. Today, skyscrapers are increasingly connected by skybridges. With better designs now, the concept of walking from building to building, even street to street, without ever touching ground is again attractive, and necessary.
The High Line now connects to Hudson Yards, New York City's building megaproject that combines living, working, and mobility from underground stations to roof-top parks. And top-end technology like TWIN elevators ensures quick access to all levels.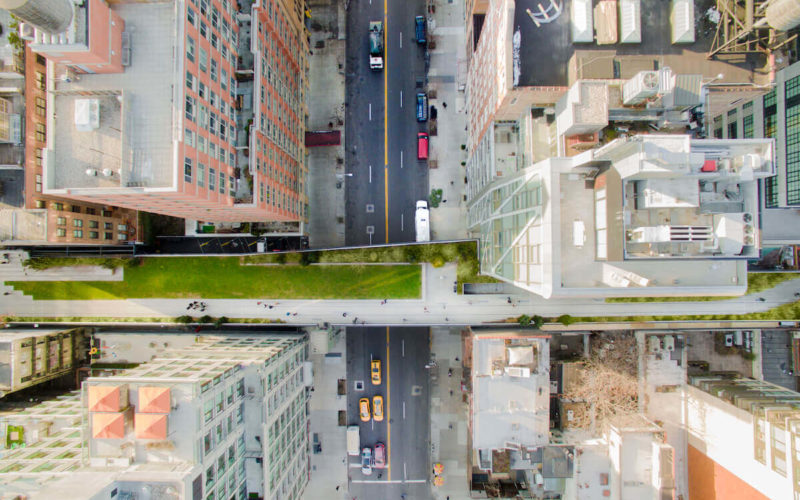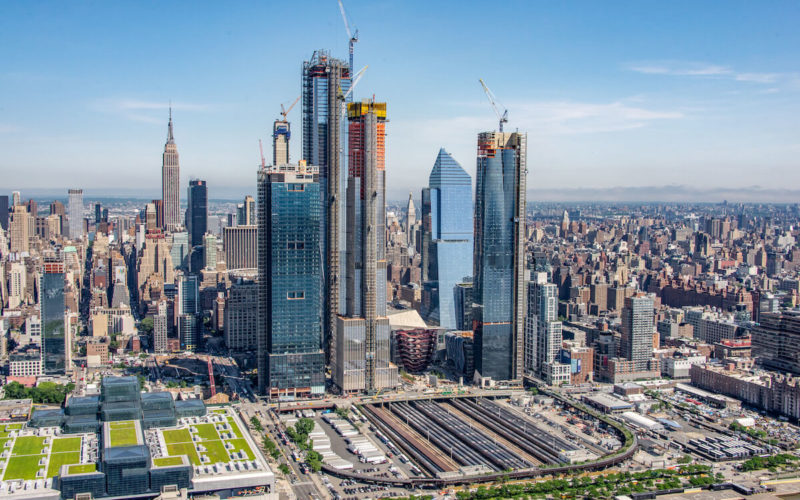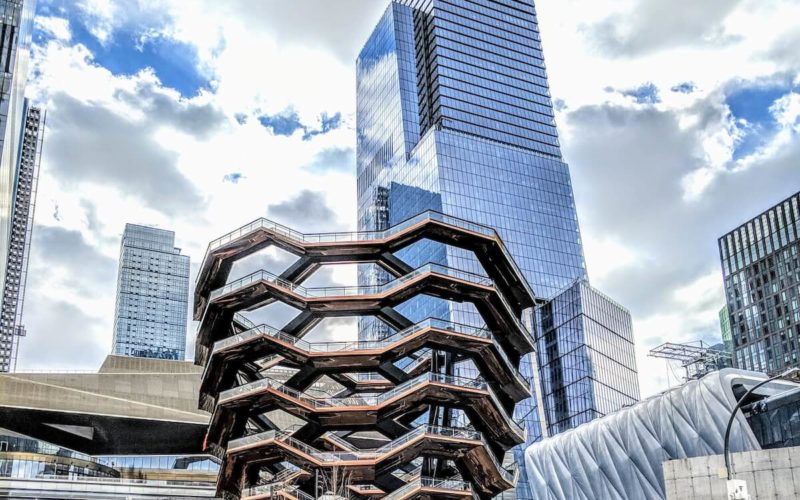 Elevated city living
The idea of raising the bar on pathways has taken off. Increasingly, architects and city planners present proposals that envision city life on many levels. So, the next time you're out, look down or up and appreciate how in-step your city is with unusual pathways and new changes in mobility.
Image Credits:
Elevated Cycling Path China, video by Dezeen
Power with Pathways, video by TechCrunch
Mumbai, photo by Nichalp, taken from commons.wikimedia.org, Creative Commons Attribution-ShareAlike 3.0 Unported 
Lyon, photo by Tibidibtibo, taken from commons.wikimedia.org, Creative Commons Attribution-ShareAlike 3.0 Unported 
Seoul, photo by Christian Bolz, taken from commons.wikimedia.org, Creative Commons Attribution-ShareAlike 4.0 International
Skybridge, photo by Stephen Bergin, taken from unsplash.com
NYC Vessel, photo by James Morehead, taken from unsplash.com