Smart Mobility
Moving walkways: accelerated urban mobility on foot
We've all hopped on one to get to a flight on time: moving walkways. Increasingly, however, urban planners are exploring how moving walkways could make inroads into other areas and places of our urban life. URBAN HUB takes a closer look at some ideas for greater use of moving walks to improve urban mobility and offer a greener alternative to more common forms of urban transportation such as the car, bus, and subway.
Keeps people moving to better solutions – People fed up with congested cities, are innovating smart mobility with new mobile technologies and intuitive apps which integrate public transportation, better infrastructure, and car sharing.
6612 views
The moving walkway
The moving walkway has been accelerating mobility for travelers for decades. It is most commonly in airports, which are rapidly evolving into microcosms of cities. They ensure fast passage to gates and throughout the entire complex and are integral to any effective airport design.
There was a time when the moving walkway captured the public's imagination. The Domain Express in Sydney is one of the world's longest "travelators." Opened in the 1960s, it is 207 meters long and located under the business district. The Domain Express heralded a drive for futuristic technology in other cities. As far back as 1924, Atlanta envisioned a "Transit System with Sub-Surface Moving Platforms", but it was not to be.
Only recently has the moving walkway begun to explore new territory again. Urban mobility strategists are reexamining the benefits of expanding the moving walk to a much larger and urban scale. The benefits: easing sidewalk congestion, helping the mobility challenged, providing "feeders" to other forms of transport, and a new possibility for an eco-friendly mass transit system.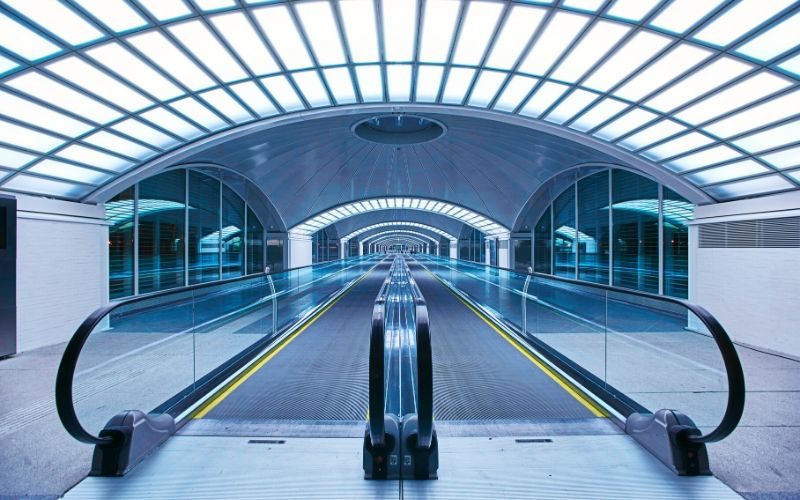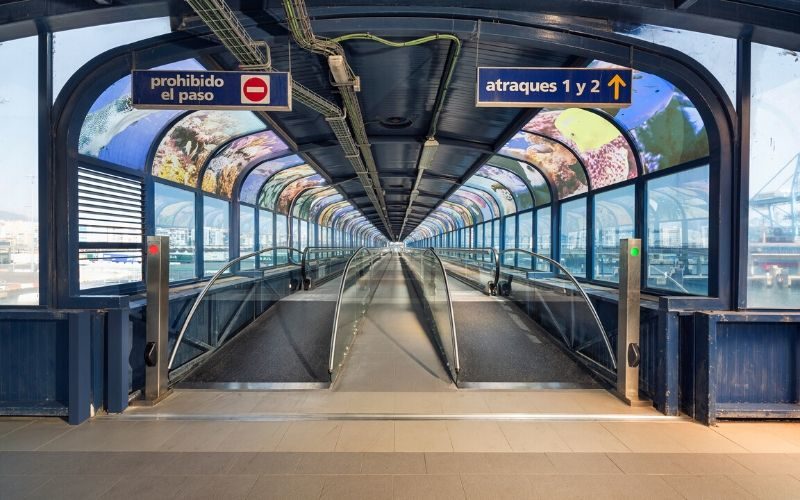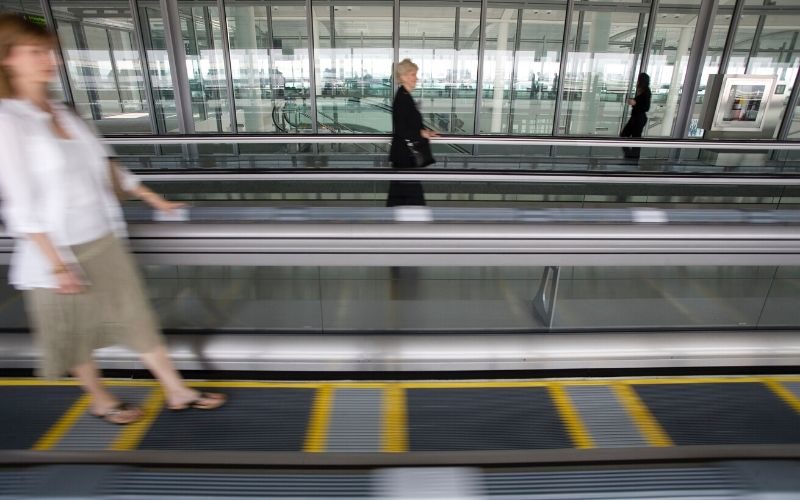 Moving walkway transit system
As urban populations boom, the challenge of how to move people through the city grows in urgency. All agree that the solution lies in finding alternative, diverse modes of urban transport. Researchers at the Swiss Ecole Polytechnique Federale de Lausanne explored the plausibility of introducing an above ground moving walks mass transit system.
The study determined that with today's technology, 7,500 pedestrians per hour can be moved. Passengers would move between 6 and 10 miles an hour, faster than typical rush hour traffic. Moving sidewalks (in both directions) would fit in one lane of automobile traffic, leaving the "real" sidewalks and bike paths to continue as usual, and pushing out reliance on the car.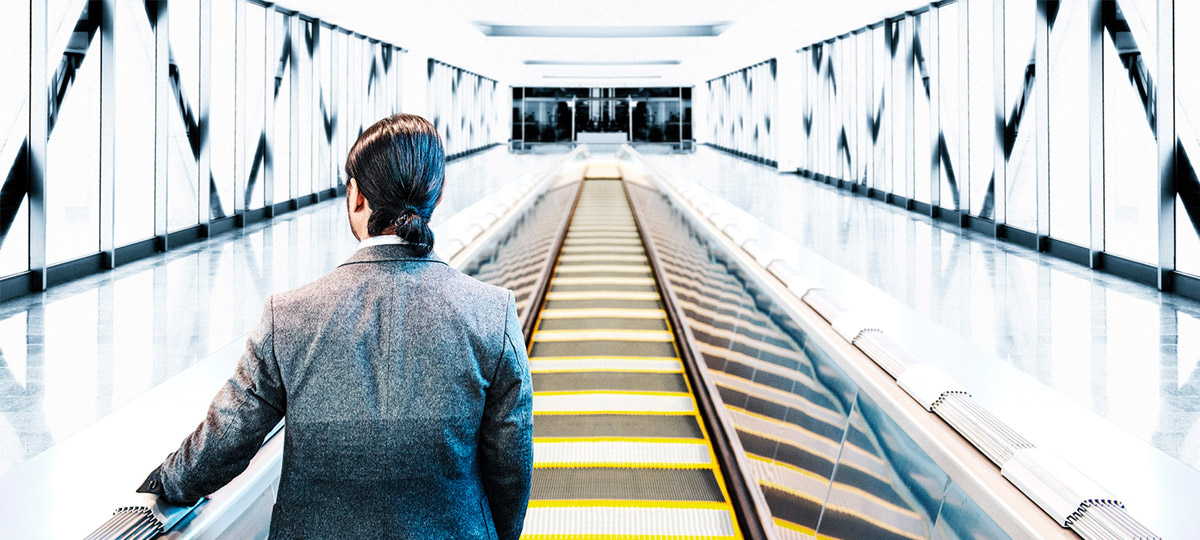 Take the moving walkway downtown
Technology for moving walkways continues to evolve, ensuring new levels of speed, adaptability, and safety. Yet, challenges remain in terms of cost, installation, and adapting to outdoor conditions. Some urban mobility planners are thinking of moving the sidewalk up – or down. There already exist ideas to divert congested pedestrian traffic to unused tunnels.
One proposal by an architecture firm suggested replacing London's Circle Line with three different lanes of moving walks. Each lane would move at a different speed ranging from 3 mph to 15 mph (5 to 25 km per hour). Similar schemes have been floating around for decades, so it doesn't seem likely at the moment that London will move quickly on this one.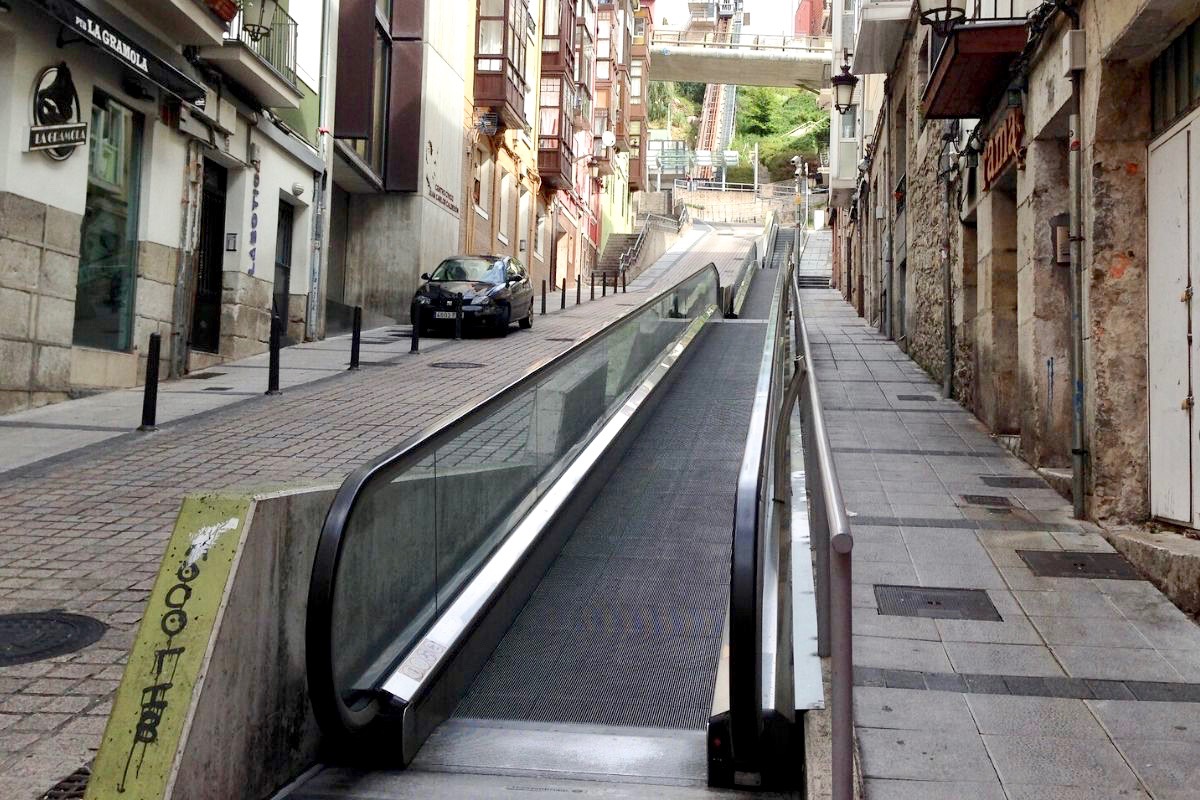 Take a ride on the moving walkway in Santander, Spain.
Hop on, hop off
Outdoor moving sidewalks already exist in places like Santander, Spain. Here, they don't replace one form of transportation but facilitate easier access to the funicular.
A unique example found in Vitoria, Spain looks like a work of art. Seven thyssenkrupp Elevator moving walks interlink to help older residents and tourists traverse the steep streets to reach the upper area of the historic district.  
High-tech systems like ACCEL can also provide accelerated access to metro stations from the suburbs, acting as feeder points into public transportation hubs, or helping cover the so-called "last-mile" not reached by average public transportation stops or stations. ACCEL eliminates waiting times by ensuring a continuous flow and generates time savings of 70%.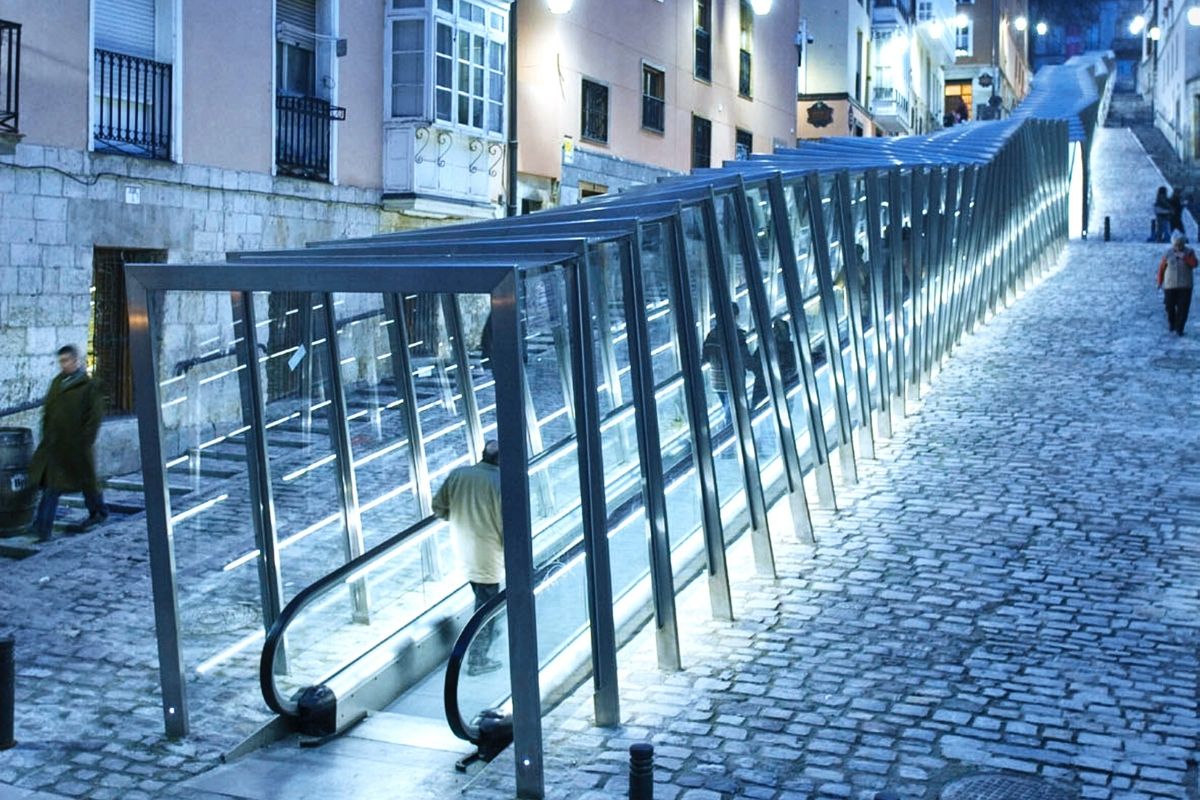 Seven moving walks "going up" in historic Vitoria, Spain.
Innovation for more pedestrian-friendly cities
While investing in improved public transport schemes and more green alternatives like car shares and on-demand bus services is important, it's also time to start thinking about solutions that support pedestrians getting through the city. What could be eco-friendlier than a moving walkway?
Accepting moving sidewalks on a large mass-transit scale will certainly require a paradigm shift, yet it's a solution worth further developing. A continuous flow of people with no bottlenecks or waiting for buses or trains to arrive would be a dream. Plus, with more people afoot, city centers will become more vibrant and greater attention paid to promoting public spaces.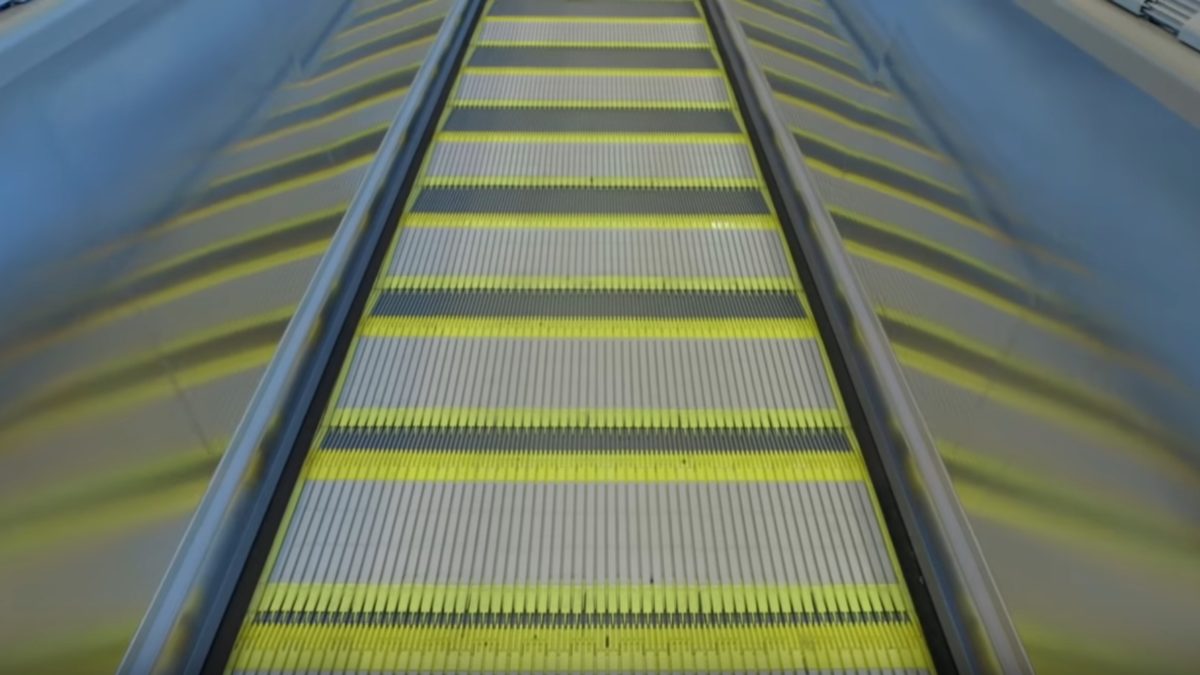 Watch how innovative solutions can facilitate and accelerate urban mobility.