Smart Mobility
Building bridges to improve infrastructures and economies
Think of a city and very often the image of a bridge will come to mind. Venice, London, San Francisco … we're probably seeing the same picture. But have you ever considered what role they play in our daily lives and how they are much more than a means of crossing an obstacle?
Keeps people moving to better solutions – People fed up with congested cities, are innovating smart mobility with new mobile technologies and intuitive apps which integrate public transportation, better infrastructure, and car sharing.
8195 views
New York transformed as economic leader
Bridges come in all shapes and sizes and play a major role in uniting communities and enhancing everyday life. For example, the Brooklyn Bridge made New York City the leading economic city in the United States.
It transformed Brooklyn into a borough of the city and, within 15 years of its opening, increased Brooklyn's population from 580,000 inhabitants to 1 million; many of whom could commute quickly to New York City on the narrow island of Manhattan.
Today over 137,500 vehicles drive the bridge daily and over a million people walk or bike across the Brooklyn Bridge annually.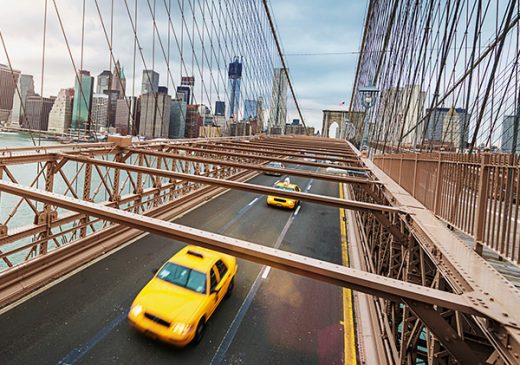 China leading the way
When it comes to size, China is leading the way. In 2011, the Qingdao Haiwan Bridge became the world's longest sea bridge. At 42.6 km long, it is nearly 5 kilometers longer than the previous record-holder, the Lake Pontchartrain Causeway, in Louisiana, USA.
Costing $8.6 billion, the bridge links Qingdao city in China's eastern Shandong province with the Huangdao district. The former is considered as the national tourism city of China and Huangdao is a suburban region which is moving towards becoming the next booming economic region. And the bridge is, therefore, is a great asset for tourism and trade.
In fact, six of the world's longest bridges are located in China. The longest, at 164,800 meters, is Danyang Kunshan Grand Bridge, which connects Beijing and Shanghai.
The high-speed railway system it carries greatly benefit leisure and business travelers. For example, the travel time over the 152-kilometer stretch of Ningbo to Jiaxing has been cut by over a half, from 4.5 to 2 hours.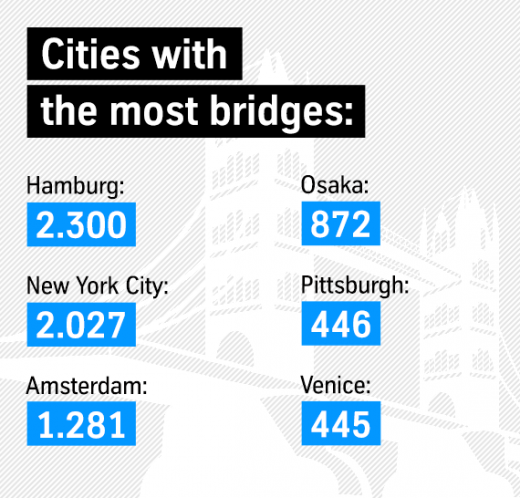 Sea crossing – multiple regional benefits
Another marvel in Asia which will offer significant benefits is the Hong Kong – Zhuhai – Macao Bridge (HZMB). It is a 38-kilometer sea crossing linking the Hong Kong Special Administrative Region, Zhuhai (a city of Guangdong Province), and the Macao Special Administrative Region.
The main bridge will be a dual three-lane carriageway and it will be of great strategical importance to the economic development of Hong Kong, Macao and the Western Pearl River Delta region.
As well as significantly reducing transportation costs and time – from 4.5 hours to 40 minutes – it will enhance Hong Kong's position as a trade and logistics hub and help businesses to expand their operations in the mainland.
The connectivity created by the bridge will also benefit various sectors, such as tourism, finance and commerce, in the region.
Connecting Europe, Asia and investments
The First and Second Bosphorus Bridges, as they are commonly known, are suspension bridges spanning the Bosphorus strait in Istanbul, Turkey; thus connecting Europe and Asia.
For the first four years, pedestrians could walk over the original Bosphorus Bridge, reaching it with elevators inside the towers on both sides. However, no pedestrians or commercial vehicles are allowed to use the bridge today
The second one is actually called Fatih Sultan Mehmet Bridge and a third, Yavuz Sultan Selim Bridge, was recently completed. The new bridge is the widest suspension bridge in the world, at 59 meters, and the longest spanning one with a rail system.
Istanbul is aiming to become a significant global center of finance and business and the latest transport connection is encouraging new investment in the region.
It is anticipated the new bridge and the interconnected rail and air infrastructure that is being created will be highly significant in achieving Turkey's ambition to become one of the 10 biggest global economies by 2023.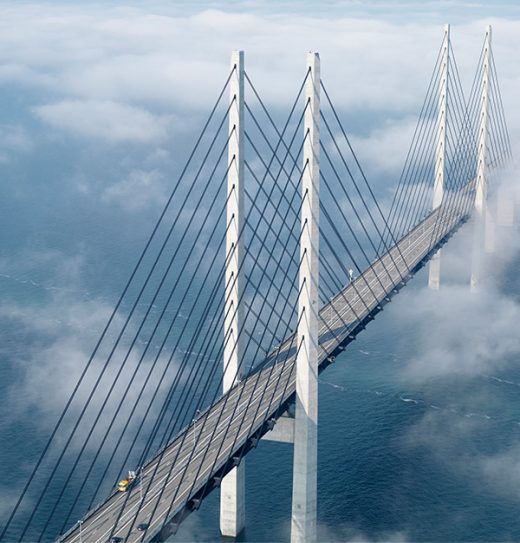 Bridging divide between two countries
The Øresund Bridge is an approximately 16-kilometer long road and rail link between Sweden and Denmark.
It connects Copenhagen to Malmö fostering economic growth and cooperation for both cities. The link consists of three sections, a bridge, an artificial island and a tunnel, and the bridge accounts for half the length, with a railway and motorway running on separate levels.
A data cable also makes the bridge the backbone of internet data transmission between central Europe and Sweden / Finland.
The bridge has provided a foundation for stronger and more extensive cooperation regarding economy, education, research and culture between Sweden and Denmark.
And, since the Øresund Bridge opened, in 2000, the Danish economy has received a substantial financial injection totaling more than €4 billion from Swedes who, with the easy bridge commute, can now take jobs in Denmark..
In turn, the Swedish economy has gained by saving expenditure on unemployment benefits. In 2010, this saving was calculated at nearly €175 million.
New bridges built to ease congestion
The ever-increasing growth in demand and vehicular traffic places constant strain on city bridges, leading to new bridge-building developments. The Queensferry Crossing is a road bridge under construction in Scotland costing some $1.7bn.
It is being built alongside the existing iconic Forth Road Bridge which was designed to carry up to 11 million vehicles each year but is currently crossed by 24 million. The new bridge will carry motorcycles, cars and heavy goods vehicles, while public transport, cyclists and pedestrians will use the existing bridge.
On a smaller scale but equally important is a new bridge opened earlier this year in Ho Chi Minh City, Vietnam. The Rach Chiec Bridge, which represented an investment of more than $38 million, connects a hi-tech park with seaports and residential areas and was built to boost socio-economic growth and ease traffic congestion.
Pool bridge – connecting high-rise city dwellers
A new, unusual bridge will allow residents of two high-rise housing blocks to join together in a swimming pool!
The transparent 20-metre-long suspended swimming pool bridge is being constructed in Surat, India, 12 stories up with no visual barrier between the edge of the pool and the city beyond.
These bridges act as more than leisure facilities. They deliver strong social benefits by connecting city dwellers who might otherwise be isolated in their high-rise homes.
Similar swimming pool bridges are also being constructed in London and Singapore where urban living is literally going sky high.
The examples included here illustrate some of the different roles that bridges play in our daily lives and how they are much more than a means of crossing an obstacle. In a future issue, we will explore tunnels and how they, too, open new opportunities and routes for improvement.