Smart Mobility
Connectivity in India – Mumbai goes mega for mobility
Mumbai is the most important commercial and financial urban center in India as well as the capital of its Bollywood film industry. And, like many other megacities around the world, it faces significant challenges. At the heart of these challenges is Mumbai's rapidly swelling population. This often overwhelms the city's infrastructure and restricts its capabilities to provide its citizens with services, such as the ability to easily move from place to place. But massive government efforts are now addressing this issue and dramatically improving connectivity for "Mumbaikars."
Keeps people moving to better solutions – People fed up with congested cities, are innovating smart mobility with new mobile technologies and intuitive apps which integrate public transportation, better infrastructure, and car sharing.
9218 views
Growth spurts and growing pains
Limited in size by the waters of the Arabian Sea, the island city of Mumbai is easily one of the most densely-populated cities in the world, with roughly 29,650 people per square km. It is also one of the largest: the city itself is home to approximately 13-14 million people, rising to 22 million for the greater metropolitan area.
With an already swelling population, Mumbai's continual rapid growth makes things even more challenging. According to the World Bank, 500 families move to Mumbai each day. And, although many other cities are faced with similar challenges, few are dealing with it on the same scale as Mumbai.
Take 90 seconds to follow the traffic as it flows through Mumbai from 5:30 a.m. to midnight. Data scientist Will Geary developed TransitFlow as "a free and open-source software tool for visualizing (…) transit frequency around the world!"
Making the connection with infrastructure
One obvious way to deal with the situation is to build newer and better infrastructure. For instance, Mumbai currently has the world's greatest number of skyscrapers (including supertall buildings) under construction. Once completed, those will provide mixed-use space  for homes, offices, shops, and more.
Better transit connectivity in Mumbai is also a priority for Indian Prime Minister Narenda Modi. For several years, the national government has been implementing a sweeping modernization of the economy. Huge sums of money have been pouring into everything from digitalization and smart cities to job training for youth. So, how is Mumbai improving mobility? Read on.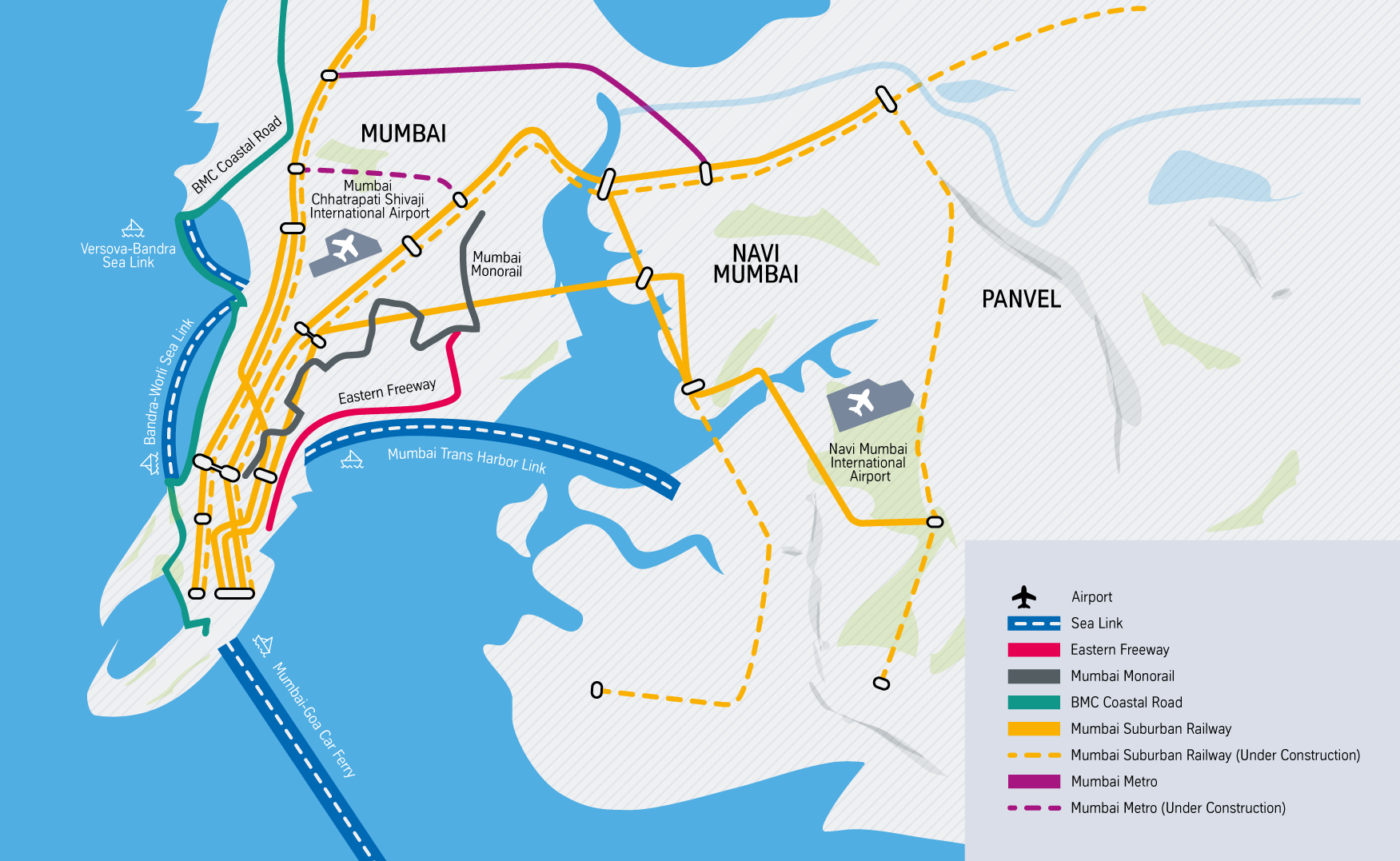 Air connectivity – a new airport in a new satellite
Mumbai's Chhatrapati Shivaji International (CSI) Airport is the second-largest airport in India. But it's not big enough for Mumbai! So Zaha Hadid Architects is designing a new, second international airport for the area. When completed in 2020, it will have an annual capacity of 60 million passengers.
The airport will be located in Navi Mumbai, a planned suburb on the mainland to the east of Mumbai. Begun in the 1970s, the population of the suburb today is over one million. Already popular with high-tech companies, commuters, and young people for its clean, well-planned, and cosmopolitan character, the new airport will concretely confirm that Navi Mumbai is part of what makes Mumbai great.
Water links – bridges, ferries, and seaport
To make the new airport in Navi Mumbai more accessible to Mumbai proper, another megaproject is underway. The 6-lane, 21.8 km Mumbai Trans Harbor Link (MTHL) will be India's longest sea bridge once completed in 2021/2022.
Another long-discussed sea link project is also now moving forward. Estimated to be fully operational by 2023, the Versova-Bandra sea link (VBSL) will carry eight lanes of traffic for 17 km, linking two points on the western side of Mumbai.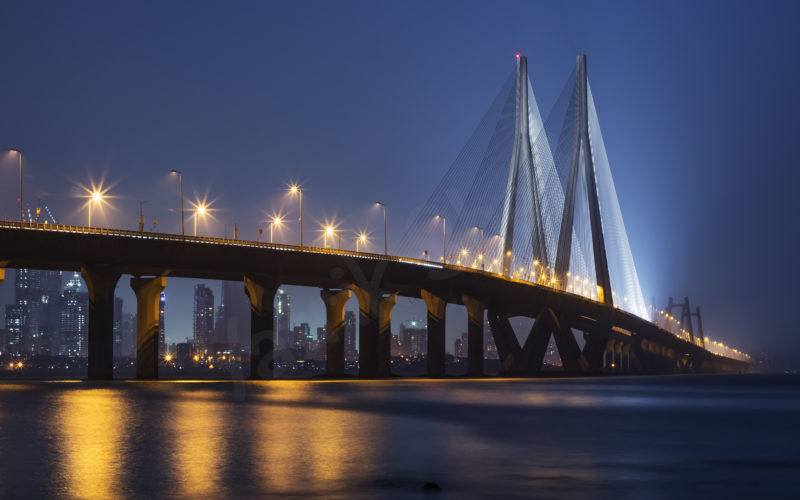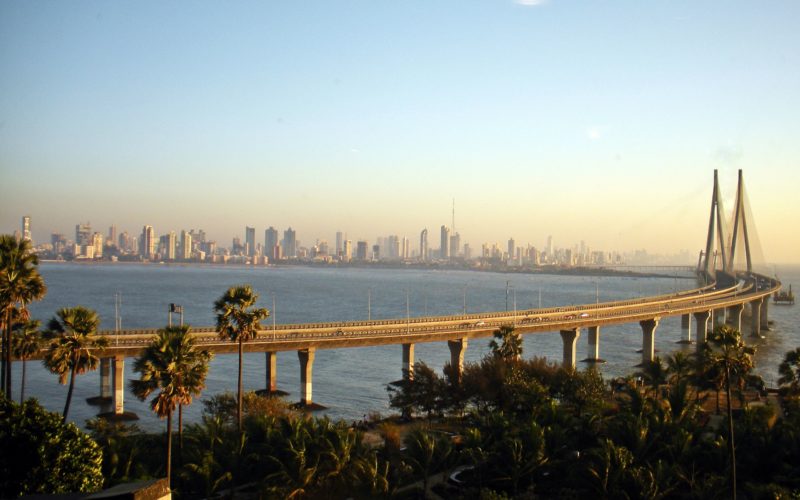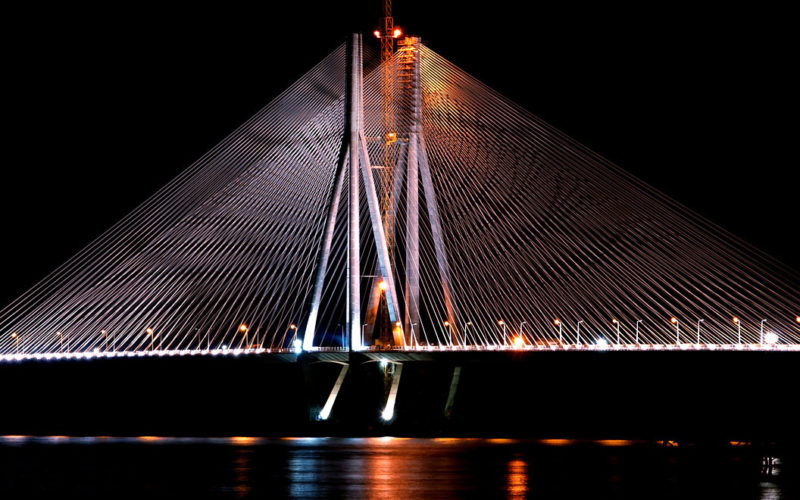 Mumbai also has two of India's most important seaports: the natural deep-water Mumbai port and the Jawaharlal Nehru Port at Navi Mumbai. But surprisingly, ferry service in this coastal city is not extensive. That may be changing as the few ferries currently operating are joined by the city's first "Ro-Ro" (car ferry) service as well as the new Mumbai-Goa long-distance coastal ferry.
Road mobility – completing the chain
All of the sea links are part of a greater plan that is designed to more seamlessly connect greater Mumbai. Another part of this plan is developing the road system. The Eastern Freeway streamlines the trip between the southern and eastern parts of the city. It includes elevated highways, overpasses, and tunnels along its 16.8 km path.
On the western side of Mumbai, the planned BMC Coastal Road will make use of newly reclaimed land, bridges, and tunnels to connect the south with the west via the Bandra-Worli Sea Link. Eight lanes, including two dedicated to the municipal buses, will travel roughly 29 km. This project is expected to be completed in 2022.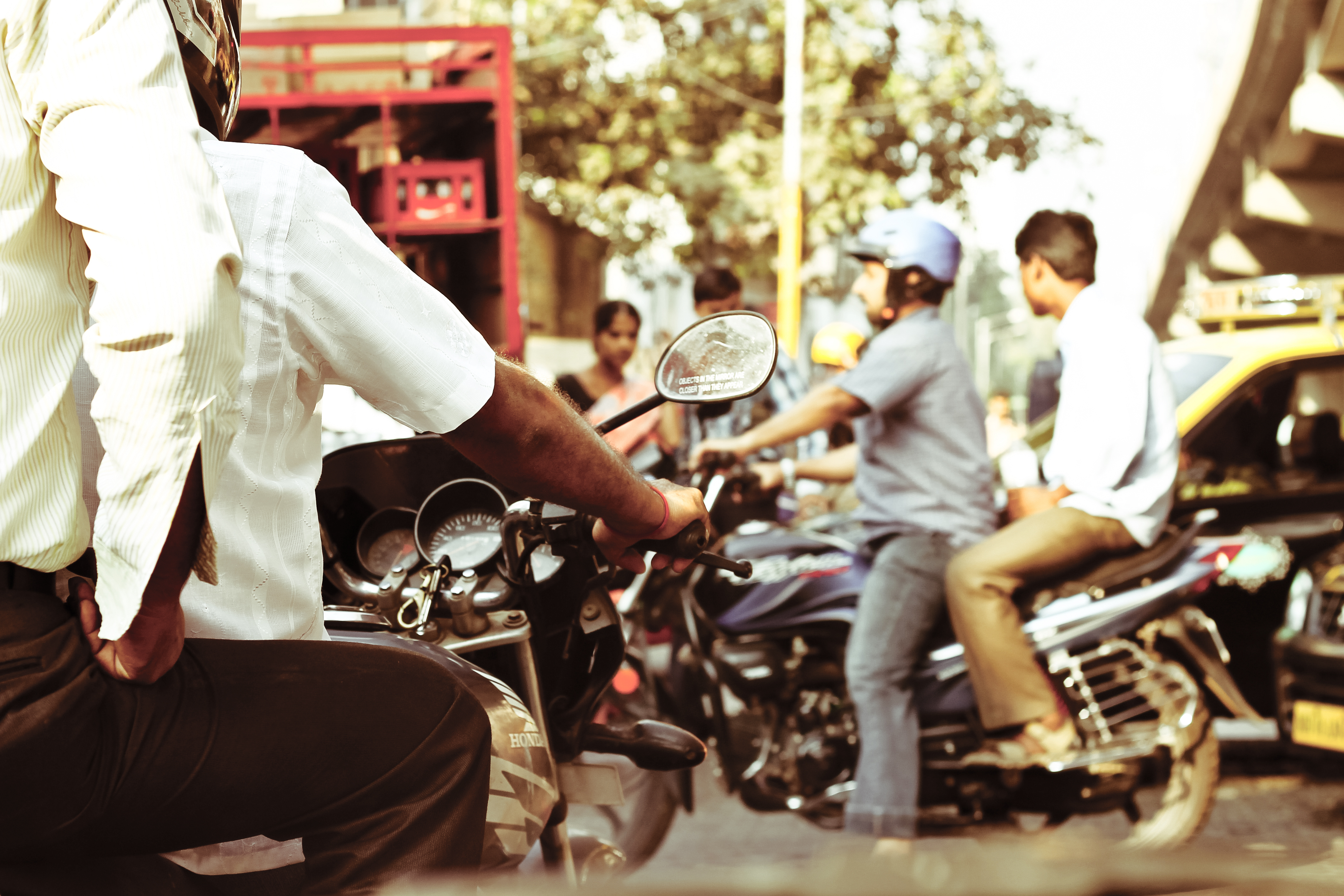 Riding the rails – the backbone of Mumbai mobility
Founded in 1853, the Mumbai Suburban Railway is the oldest commuter line in Asia. Spreading along 465 km, the "Local Train" is used by 8.5 million commuters every day. Now this crucial component in Mumbai's mobility system is about to be expanded to provide additional access to the outskirts.
Not only will this railway enlargement help but the new metro system expansion will as well. Mumbai Metro opened in 2014 with one 11.4 km elevated line. Three new lines are currently under construction, which will help better connect greater Mumbai when completed between 2020-2021. Four additional lines have been approved for future expansions.
For the railway and congested streets, these new metro lines will make a huge difference! This is in addition to the Mumbai Monorail. One monorail line opened in 2014 and a new line, currently under construction, will add 10.6 km to the existing 8.9 km line.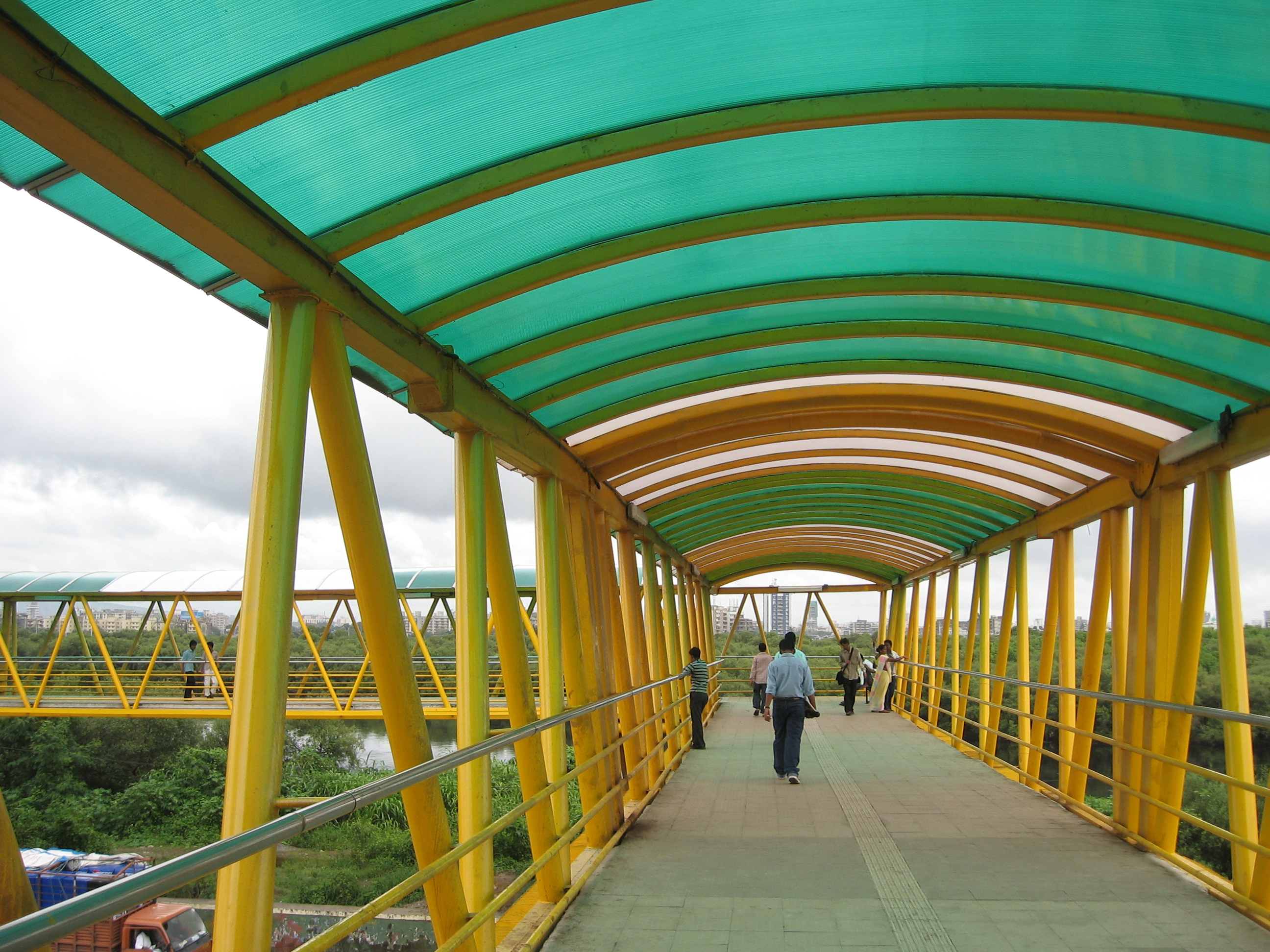 Movement of the people – pedestrian traffic and bicycles
While walking is a popular mode of transportation, there is again a problem with space. One answer is an extensive elevated walkway system. Technically not part of the current megaproject boom, it is worth mentioning simply because of its uniqueness. Built by the Mumbai Metropolitan Region Development Authority (MMRDA) to connect major transit hubs with common commuter destinations, the 36 "skywalks" cover 17 km. It is the largest such system in the world.
Some people hate the skywalks, especially the shopkeepers and street vendors who remain at street level. Other people are critical of the lack of access to the high platforms or cite safety concerns due to too little on-site supervision. But others love them: The skywalks provide new open public space in a city without much to spare.
For a city of its size, Mumbai has very little bicycle traffic, and they have traditionally been seen as a low-status form of transportation. However, the popularity of recreational cycling among young and aspirational urbanites in Europe and North America has been having an effect. "Green wheels along blue lines" is a project to build a 39 km bike path along an above-ground water pipe.
A funny, slightly hair-raising race by three messengers to deliver lunch to a local shop-keeper.
Too much or not enough, but clearly something for everyone
With all of this activity, there must be some dissenting voices. And so there are. Criticism of various projects ranges from corruption, environmental impact, issues of land ownership and rights, the disruption of established communities, and the dislocation of poor people.
Not surprisingly, given all the roads and bridges being built, some people argue that too much of the work is centered around the automobile and geared to the needs of wealthier citizens. But everyone agrees that there is something for everyone in Mumbai's huge investment in mobility.
The World Bank produced this short video a few years ago. In addition to discussing upgrades to the suburban rail system, it gives an excellent overview of some of the challenges facing Mumbai as it attempts to upgrade its mobility infrastructure.
Many cities are like Mumbai
Mumbai is currently engaged in a massive retrofit of improved mobility onto its high-density built environment. By building better urban connectivity, the city is improving quality of life for its citizens and solidifying the city's prospects for the future.
Some cities are planned from scratch, but most are built in fits and spurts, with additions retrofitted in, under, over, and around existing structures. As new needs appear, old needs fade away, but it is important for all cities to remain open, flexible, aware, and visionary. Cities that can adapt to change are those that prosper. Where there is movement, there is life!