Cities
Toronto teams up with Sidewalk Labs to create its first smart neighborhood.
Smart city technology remains a driving force of urban development. Many cities have successfully incorporated Internet of Things technology and digitalized certain features of their infrastructure. Others have tried to build a smart city from scratch, achieving mixed results.
Sidewalk Labs, the urban innovation arm of Alphabet, Google's holding company, has embarked on a development project in Toronto. Announced in 2017, Sidewalk Toronto will rise from the waterfront as the ultimate smart city environment and a lab for urban innovation. Urban Hub finds out what makes this smart project stand out from the rest.
Smart inside and out – In many ways, the smart city concept is simply good urban planning that incorporates both advances in digital technology and new thinking in the age-old city concepts of relationships, community, environmental sustainability, participatory democracy, good governance and transparency.
11561 views
A bright idea: the brand-new smart neighborhood for Toronto
For years Toronto has been mulling over what to do with its waterfront. In 2017, Toronto issued a Request for Proposals to find a solution that would tap into the social and economic possibilities and to build a neighborhood for the future that embraces all of the city's residents.
Enter Sidewalk Labs, whose focus is urban innovation through smart cities. They had been on the look-out for some time for the perfect location to create their vision of a smart city.
It was a meeting of two minds with similar passions. Toronto, a thriving hub for the tech industry and start-ups, is no stranger to promoting an economy based on cutting-edge innovations. Once selected by the city to be its partner, Sidewalk Labs committed $50 million USD to the first start-up phase of joint planning.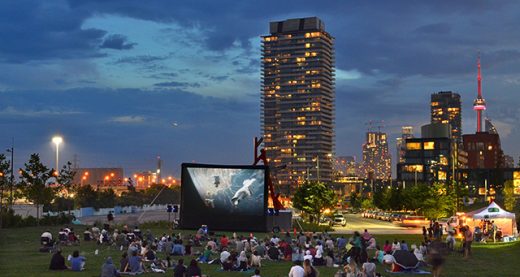 The nuts & bolts
The overarching project, called Sidewalk Toronto, plans to begin in the Quayside, a 50,000 square foot tract of waterfront located just southeast of Downtown Toronto. If this first development goes well, it will expand into the Port Lands, a vast peninsula of reclaimed land the size of downtown Toronto.
The vision for Toronto's waterfront leaves no stone unturned. This urban development project promises to provide an example of how future cities can be built. Sidewalk Labs plans to build a city "from the internet up", but it also wants to promote a continuous cooperation between community and urban planning. Technology rules, but it should always serve the people first.
The 50 million USD plan? At the heart of it lies a digital network that will overlay the entire physical infrastructure. With optimal interconnectivity, Sidewalk Toronto neighborhoods can deliver unmatched people-centered smart services, sustainability and mobility. Add to that a new modular building concept, and we may just have a blueprint for the city of the future.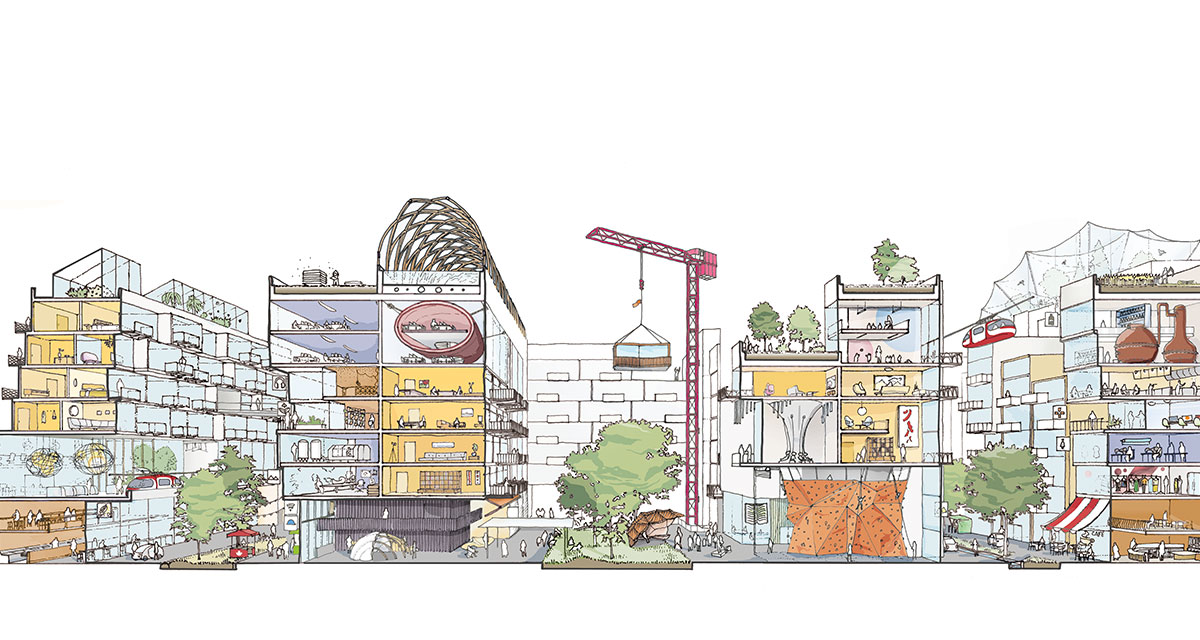 Sidewalk Labs' smart city – progress never ends.
Firstly, a data-collecting, Wi-Fi-beaming digital infrastructure complete with sensors and tracking cameras will serve as a unified source of all comings and goings. A centralized platform manages it all and includes a mapping application to record the real-time location of everything from self-driving cars to food carts.
Residents contribute to this mass of data via a personalized portal with which they can send updates ranging from crowd levels to the sunniest café spot. Sidewalk Labs' data scientists then pore over the details to follow what's working and fine-tune what's not, constantly adjusting to find the most efficient, and most productive course of action.
A work of progress that never sleeps! Those following Sidewalk Labs' plans and vision are delighting in some of the scenarios. An unusually hot day? Awnings automatically unfold to offer extra protection. No bus at the stop? A taxi robot is already on the way. Leaky pipes? The sensors have picked it up before you and called the plumber.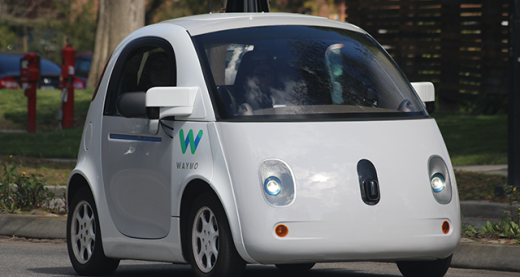 Hop in – but not behind the wheel.
Autonomous driving promises to be one of the most likely upshots of this massive digital overlay. Out with the private car and in with people-centered street designs and transit options! The goal is for less than 20% of Quayside residents to own a car.
A fleet of taxibots and self-driving buses will get people from A to Z. An automated network of robot vehicles will go above and beyond…and below. Sidewalk Labs envisions underground channels for automated trucks to carry out services ranging from deliveries to garbage disposal.
No matter what the mobility solutions, the road will be paved for non-conventional means of transport like ridesharing, as well as cyclists and pedestrians. The digital network will support this using adaptive traffic lights and sensing technology that gauges air-pollution levels and prioritizes movement on foot and two-wheelers.
Sustainability is smart too
But who or what is going to power all of this digital technology? Electricity doesn't grow on trees, but Sidewalk Labs wants to ensure it does "grow" on rooftops. A smart city must harness new technology to create sustainable-positive energy systems.
The neighborhood would have its own micro-grid. The goal is 10% on-site power generation, which would be achieved by covering 50% of all roof space with photovoltaic coverings. A thermal grid will also contribute by drawing energy from the neighborhood's waste heat and local cooling.
Efficient and environmentally-conscious disposal of waste also contributes to a high standard of sustainability, and that is not forgotten in the plans for Quayside. Solid waste and recycling will be shuttled to a central point locally, and from there shipped off-site for processing. Organic materials will go to an anaerobic digester to possibly produce fuel.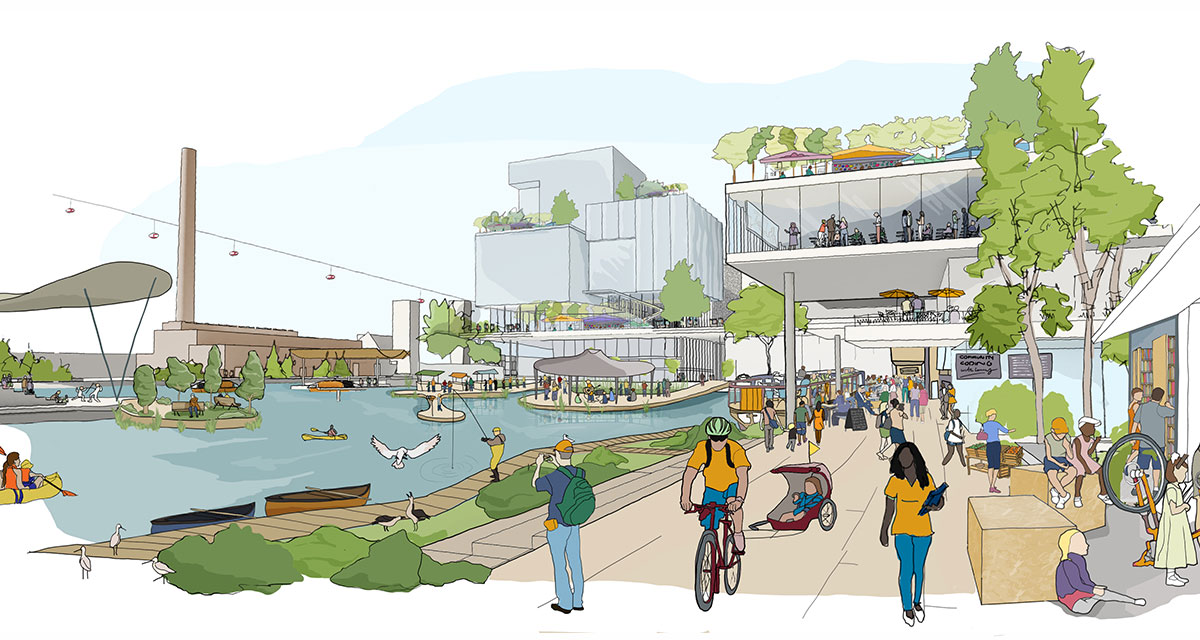 Build it and they will come… and reuse it.
Building materials of the past often resulted in environmentally-unfriendly effects, while building technologies were too inflexible, considering only their short lifespan. Tearing things down and rebuilding them over and over again is "old" urban development.
Sidewalk Labs proposes "loft" buildings with reconfigurable modules that grow and adapt to the current occupants or needs of the city. Office, production and residential spaces can all reside in one building made of a standard exterior shell, but with flexible interiors.
Early images of plans show an appealing mix of styles, which would use recycled materials and timber in place of steel, ranging from modular high rises to home clusters built with the passive house technique. Construction would be faster, generate fewer costs, and breathe new life into the "old ways" as our needs and the population change.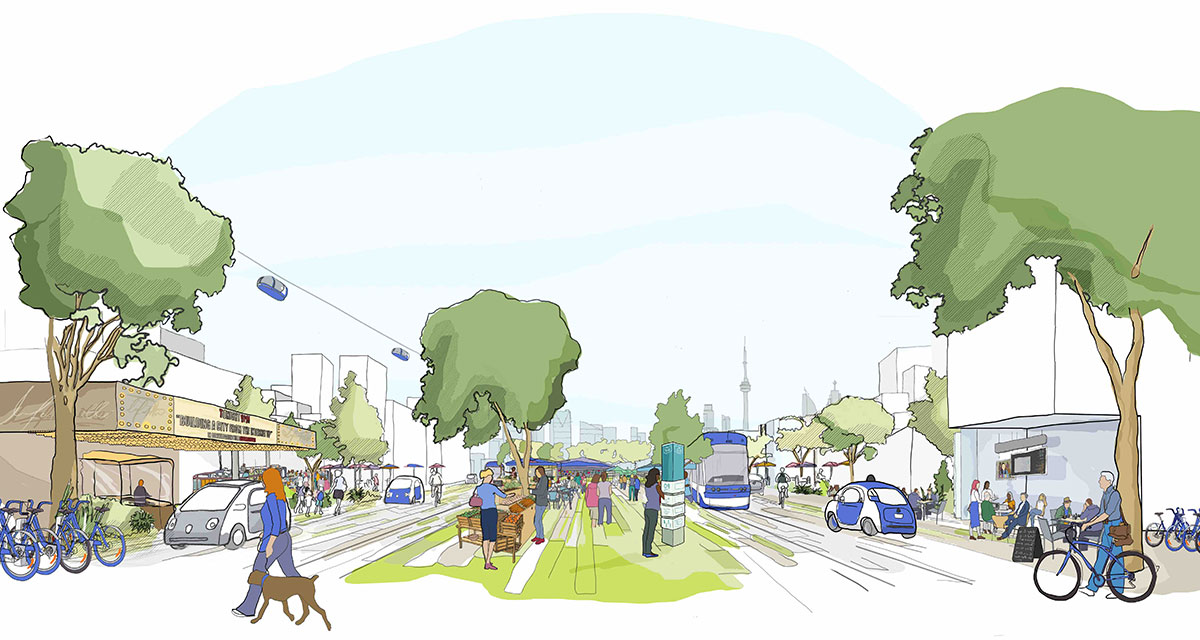 High-tech community building
While the Quayside and subsequent Sidewalk Toronto projects are being built from the internet up, planners and the city of Toronto are keen to emphasize they understand that a great city or neighborhood cannot be built from the top down. Technology is intended to enhance the community and not replace it.
Residents have expressed concerns of exclusivity (haven for the rich), economic viability and privacy. Both Toronto and Sidewalk Labs insist they are putting measures into place that will put the people in charge of their city, and that smart cities can remove barriers that normally stop progress.
The master-plan for smart. A plan for success?
Alphabet, via Sidewalk Labs, joins a long list of dreamers, architects and city planners aiming to build master-planned cities from Brasilia to Songdo to Masdar. Alphabet also represents a new player in the field of urban planning: the tech company. Tech companies have delivered the new smart technologies for the city, but never the full package.
Recently, a subsidiary of Bill Gates' investment firm Cascade Investment LLC, purchased land in Arizona to build a smart city. Is this a new trend in urban innovation? More likely we will continue to see partnerships between cities and tech firms on more contained projects, such as Cisco, Sprint and Think partnering with Kansas City, USA, to create a smart city corridor.
As Sidewalk Toronto unfolds, it will be compared to Songdo and Masdar City. Projects that haven't quite lived up to the dream. Critics suggest that plans for Sidewalk Toronto don't include anything truly new, it is simply the scale and number of smart technologies that differs. But Sidewalk Labs counters, it is the first truly holistic plan and in the making for over ten years.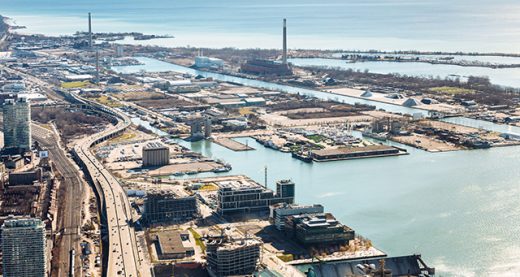 The Quayside – a smart city on the move
As Toronto and Sidewalk Labs continue to move forward with innovative plans, many will be keeping a close eye on the development of plans and which visions come to fruition and which will whither on the drawing board. URBAN HUB will certainly be following its progress!
2018 will be devoted to long-range planning and extensive community consultation which will lead to the creation of a Master Innovation and Development Plan that will form the basis for starting development. Sidewalk Toronto feels certain the project will be a big draw for new ideas and become a global hub for industry of smart urban innovation.