Cities
Porto Maravilha, Brazil. Transforming an industrial relic into a jewel in the crown
Rio de Janeiro's Porto Maravilha – "Marvelous Port". One of the city's oldest urbanized sections, the harbor area symbolizes the ups and downs of beautiful Rio. Historically an engine of economic growth and symbol of Rio's maritime heritage, it has experienced a decline since the 1970s due to a reduction in port activities and a highway turning the area into a thoroughfare.
Porto Maravilha became a classic case of urban decay – once striking buildings were decrepit, and nearly one million square meters of living and office space stood empty. Several years ago, plans to reverse the port's fortunes set into motion Brazil's biggest urban renewal project ever. The progress already is starting to uncover a new jewel in Rio's crown.
Smart inside and out – In many ways, the smart city concept is simply good urban planning that incorporates both advances in digital technology and new thinking in the age-old city concepts of relationships, community, environmental sustainability, participatory democracy, good governance and transparency.
4344 views
Rewriting Porto Maravilha's future
Determined to reverse the port area's downward spiral, Rio's leaders envisioned a new story for its future. In 2011, the city was planning celebrations for its 450th birthday in 2015, so what better time to give Porto Maravilha – still many travelers' first point of entry into the city – a facelift.
Together with the Brazilian government, Rio allocated funds to the renewal of the city's public services and transportation system to be supplemented later by private investors interested in helping renew the port area's commercial, educational and cultural offerings.
By intensifying and blending the uses of this historic port area, public and private investors are working together to produce sustainable urban living that boosts quality of life.
(Image) Plans to awaken a sleeping beauty from years of neglect.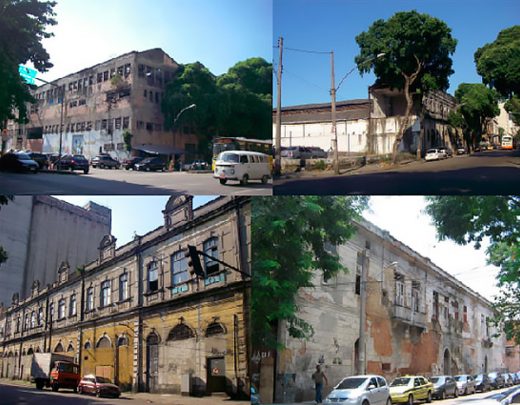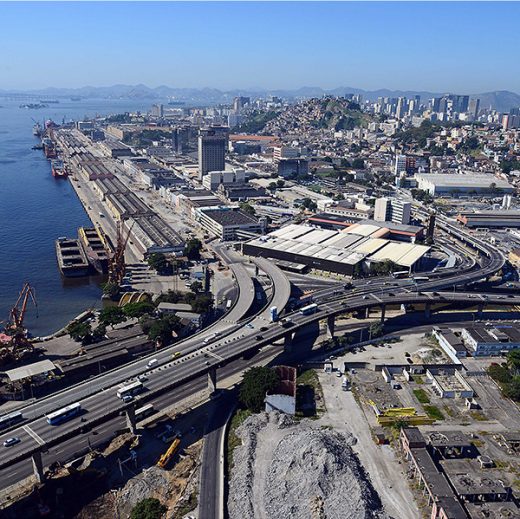 Plans for a new Porto Maravilha
This massive urban renewal project covers 5 million square meters or 1,120 football fields, and includes existing industrial spaces, historic residential areas and an aging transportation network. The plans aim to combine sustainable urban redevelopment with a multi-modal transportation system without neglecting the port's architectural heritage.
The first revitalization phase focuses on modernizing the infrastructure such as sewage, drinking-water access, telecommunications and street lighting. In addition, 15,000 new trees will be planted, helping reduce noise and air pollution. Social housing and new educational endeavors will contribute to re-populating the area four-fold, returning to the harbor area much needed vitality.
The harbor development's second phase focuses on a progressive urban mobility model which gives pedestrians and public transportation "the right of way". The construction of a four-kilometer-long tunnel and the removal of the unsightly elevated Perimetral highway open the door for innovative mobility solutions.
(Image) Only a bird's-eye view covers the size of this port renewal.
Be inspired by a virtual depiction of Porto Maravilha's urban renewal unfolding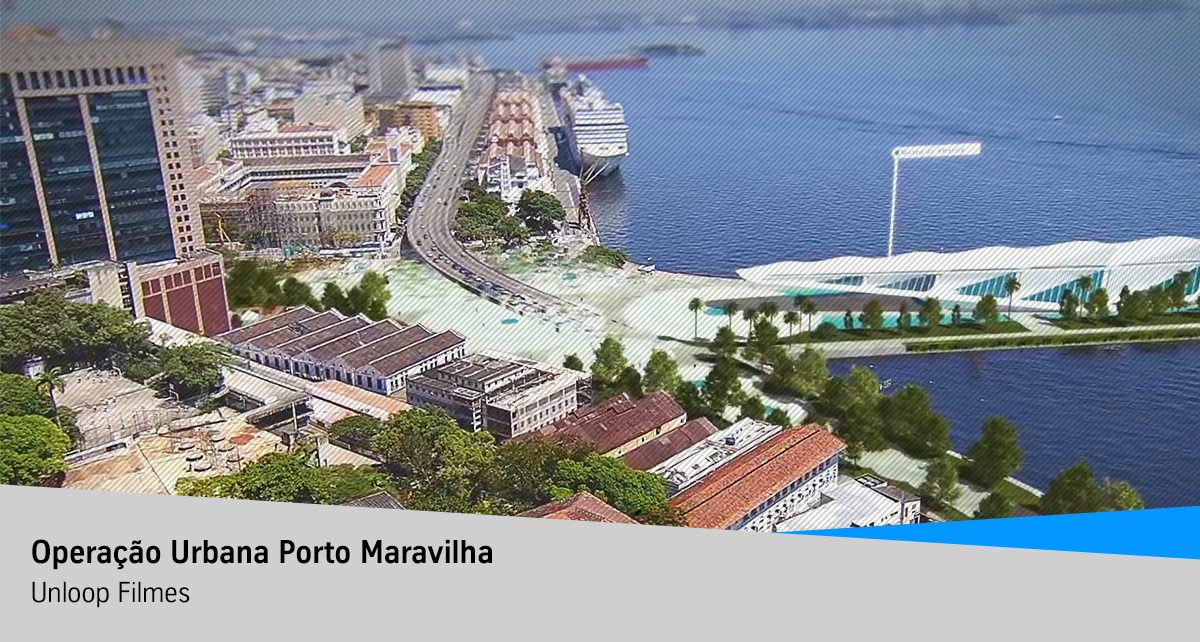 Innovative urban mobility leads the way
Make way for pedestrians, cyclists and sustainable public transportation! There's something for every kind of commuter in revitalized Porto Maravilha. The construction of an express automobile tunnel and the Binário Avenue will increase flow capacity by 27%, but more importantly, free up space for new mobility solutions.
Pedestrian or "leisure" commuters can enjoy 650,000 square meters of pollution-free sidewalks. Bikers will glide along 17 km of new "ciclovias". The 28 km of Light Rail Transit will be integrated with several transport systems, such as subways and ferries, creating a network which reaches all points of the city.
This extensive re-modeling will help contribute to repopulating area, and provide easier access for residents from other neighborhoods. It will also integrate the cultural facilities and new business and educational ventures popping up throughout the harbor area. 
(Image) New mobility keeps visitors and residents "in the green"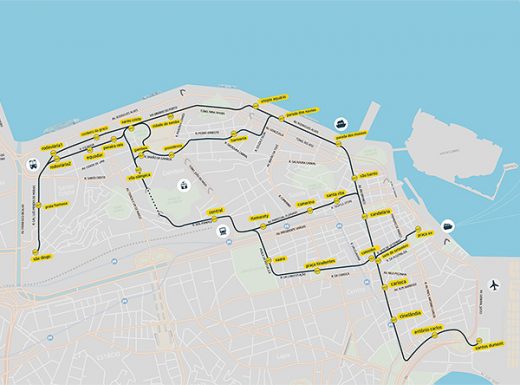 The changing face of Porto Maravilha
Following on the heels of the port's infrastructural redevelopment, cultural, educational and private institutions are also making their presence felt. Large museums like the Museu de Arte do Rio de Janeiro and the Museu do Amanhã a Santiago Calatrava with its futuristic design have already opened their doors.
New buildings seek to mirror the city's example of sustainability, while honoring local architecture. The AquaRio aquarium revitalized the Brazilian Storage Company (Cibrazem) warehouse, and aims to be a model of conservation, for example, by recycling discarded materials. Even the thyssenkrup "Evolution" modern elevators contribute, providing an energy saving of up to 30%.
"It makes us proud to be part of another project that contributes to the redevelopment of the city of Rio de Janeiro's port area and fosters mobility and urban integration. It is wonderful to imprint our brand in such a visionary project".
Cleber Serdeira, thyssenKrupp Elevator technician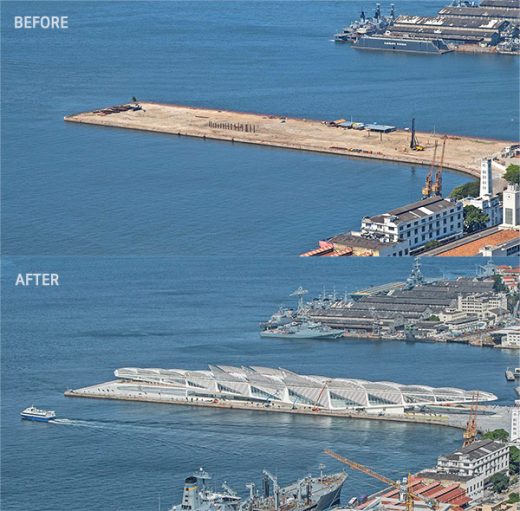 Feeling the ripple effect in Rio
Changes to Porto Maravilha been long coming, and many have debated whether they benefit all in the city, or were even confused by the sheer magnitude of the renewal project and how it would impact them. Now Rio is feeling the "ripple effect".
Positive changes can already be felt in Porto Maravilha and in adjoining districts. With much of the infrastructure work complete and a portion of the high-tech light rail in operation, not only Porto Maravilha is seeing a boost in private investment. Start-ups and co-working spaces are also moving to nearby downtown areas, like Ilha do Fundão.
With the harbor regeneration's focus on collaborative, holistic solutions, the ripple effect is expected to continue spreading, and the port area will be a jewel in the crown of Rio's sustainable urban development success.
(Image) An urban transformation one has to see to believe.