Cities
The urban space race: New York City makes room to grow with Hudson Yards redevelopment
The challenge facing many large, older cities is finding space. No one wants to tear down beautiful old landmarks, but yesterday's buildings don't always provide the higher density required for jobs and homes in modern cities. Some cities repurpose sites formerly devoted to manufacturing or warehouses. New York City had one of those. The only problem was that there was also a functioning and vital railroad storage and transit yard right in the middle of that area. What to do?
Smart inside and out – In many ways, the smart city concept is simply good urban planning that incorporates both advances in digital technology and new thinking in the age-old city concepts of relationships, community, environmental sustainability, participatory democracy, good governance and transparency.
28433 views
Building on a rooftop
The solution was obvious: Build a roof! Or two: the 11.3-hectare neighborhood is being built on two platforms, which also cover the busiest rail yard in the US, with 30 active train tracks and four rail tunnels.
Of course, supertall skyscrapers need more support than that; so 300 caissons of 1.2-1.5 meters in diameter extend from the bedrock up through the rail yard roofs. These foundations are anchored 6-24 meters deep in the ground, and placed between the tracks to allow uninterrupted rail traffic.
What 25 billion dollars can buy
But that was just the beginning. On top of those platforms and foundations, about 1.7 million m2 of new and redeveloped space has been growing. It's the largest private development in US history and costs about USD 25 billion.
The megaproject consists of two phases, with the first phase completed in the spring of 2019. The basic goal was to create more space for the New York economy to expand, and to make better use this prime waterfront part of west-side Manhattan. Municipal planning and support were crucial: the city invested heavily in the infrastructure around the development.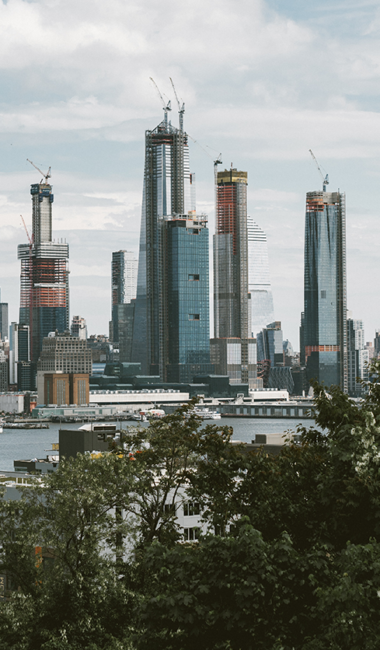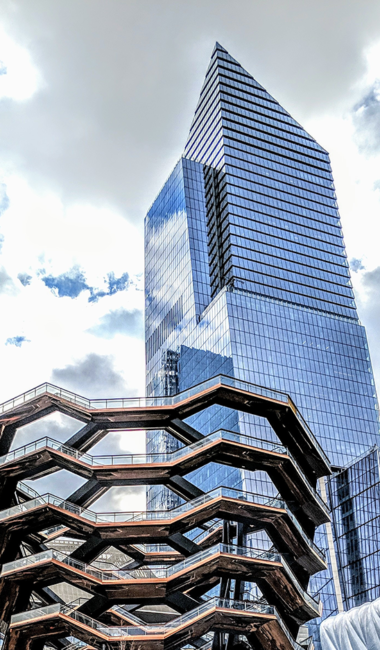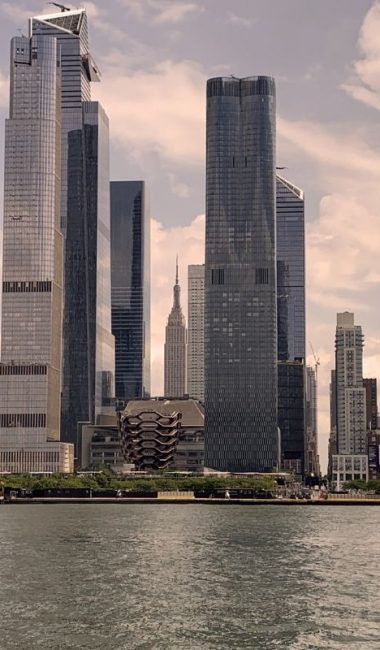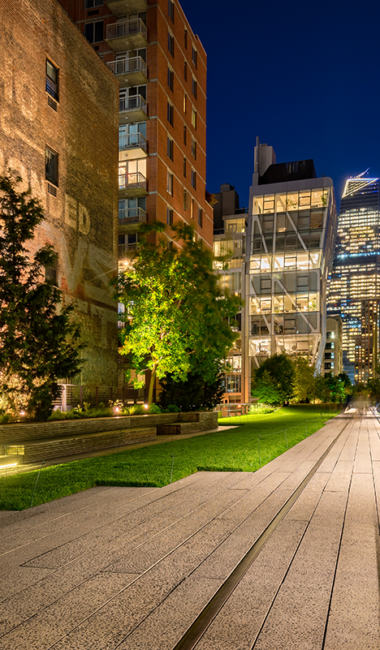 Integrated connections
Municipal investment included extending the No. 7 subway line to connect Hudson Yards. This also meant building a new subway station – the first in New York in 25 years.  The popular High Line, an elevated pedestrian park, was also extended to loop around the western side of the development.
Within the project buildings, the developers opted for fast and efficient mobility solutions, including the space-saving TWIN from thyssenkrupp Elevator. TWIN is the world's only elevator system with two independently operating cars in one shaft. It makes its New York debut at Hudson Yards.
"We ran numerous traffic studies to demonstrate that TWIN would provide building owners and tenants with significant construction-cost savings and a more efficient use of floor space."
All-inclusive urban living
Attracting employees and the future of work were key to selling the idea of Hudson Yards to the city and investors. A well-planned city-within-a-city allows people to live, work and play in one place, which especially appeals to younger people with unconventional work schedules and modern lifestyles.
So Hudson Yards features 4,000 residences, office space, recreational opportunities, over 100 shops, restaurants, cafes, and a public school. It's not just a mixed-use development. Hudson Yards is designed so that no one ever really has to leave, because everything is already there.
The neighborhood goes digital
The convergence of smart cities with smart homes is on full display in Hudson Yards. New York University's Center for Urban Science and Progress packed the neighborhood with data-collection devices, and cleverly designed the system to easily accommodate new and future technologies.
In addition to digitally linked sensors monitoring air quality, noise, traffic, heat, and water and energy usage, opt-in mobile and in-home apps help collect data about users' health and activities. Critical systems use predictive maintenance tech like MAX from thyssenkrupp Elevator, which reduces downtime by half. At Hudson Yards, even the soil has embedded sensors.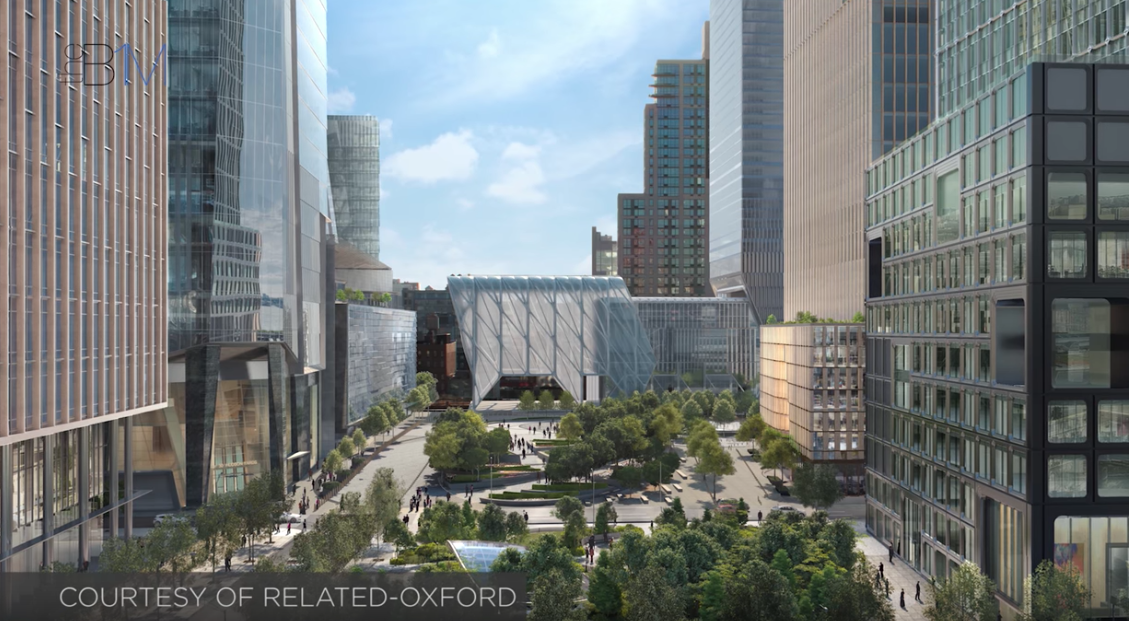 Preparing for the future
Smart also describes many of Hudson Yards' sustainability features. An onsite micro-grid and super-efficient gas-fired turbines reduce greenhouse gases and provide resilience against outages. TWIN elevators cut electricity usage by half, and smart lighting automatically adds additional savings.
38 million liters of rainwater is recycled annually, and pneumatic waste disposal chutes have replaced garbage trucks. Building management systems are efficiently IoT-connected, and it is not surprising that Hudson Yards boasts the first building in New York with LEED Platinum certification.
The space in between living and working
Half of the ground area in Hudson Yards has been devoted to outdoor public space. Over five hectares include parks, gardens, playgrounds and plazas, as well as a unique new center for the performing arts: The Shed. These spaces also seamlessly connect with both the High Line park and the riverfront.
Public art is everywhere, but none is as massive as Heatherwick Studio's Vessel, the centerpiece of the public square at the heart of Hudson Yards. This 16-story monument cost USD 150 million, but offers a unique (and free) urban journey by way of its ramps, elevators and 2,500 stairs.
Growth begins with imagination
As New York City discovered in Hudson Yards, cities have plenty of room to innovate and grow. Fixed borders and existing structures are challenges – but they are not problems. All it takes is a bit of imagination.
In this case, building a new platform was all it took to both protect existing infrastructure, and to find room for an entirely new smart, sustainable and connected neighborhood. In New York's creative quest for more space, they rediscovered the vast potential of the multi-level city.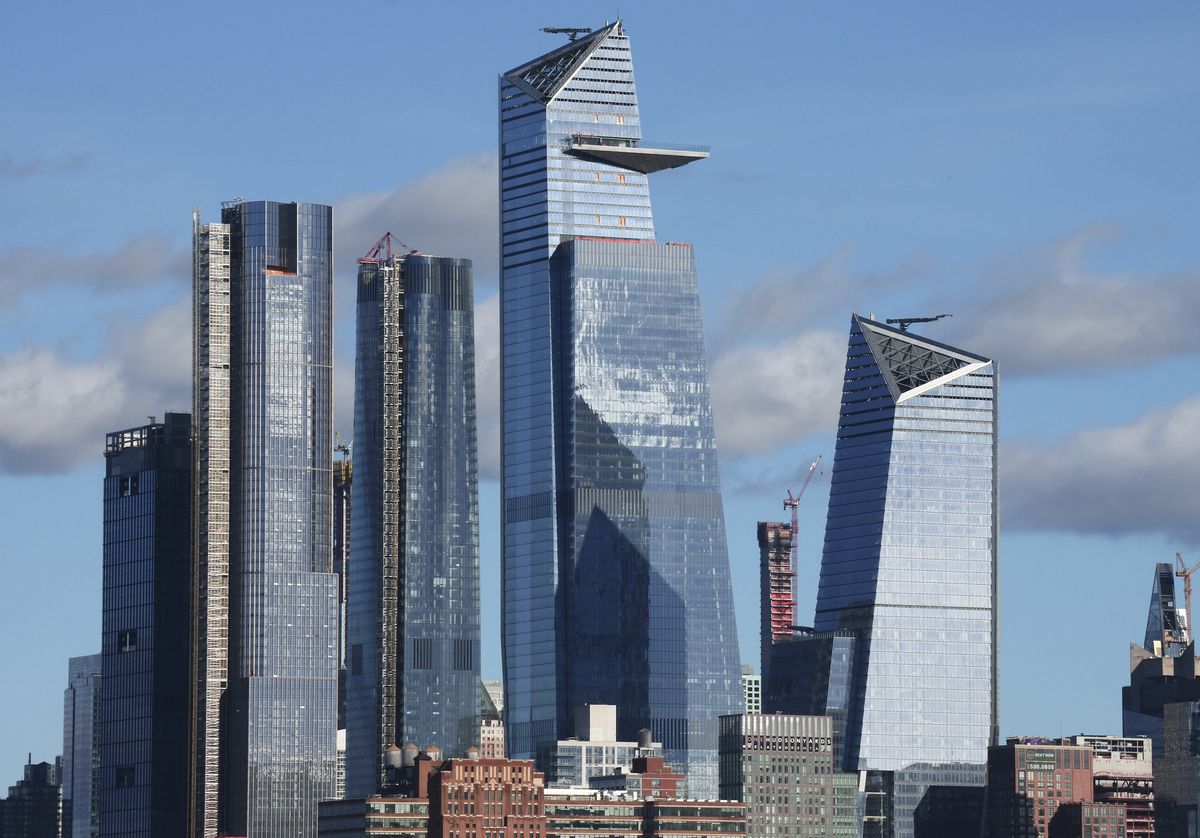 Starchitect firms add sparkle to Hudson Yards
Kohn Pedersen Fox (KPF) provided the overall design, as well as designing 10 Hudson Yards (268 m.) and 30 Hudson Yards (386 m.), which features the highest (and breathtaking) outdoor observation deck in NYC. 15 Hudson Yards (278 m.) was designed by diller scofidio + renfro and the rockwell group, while SOM designed 278-m 35 Hudson Yards. Here are some more:
The Shed – designed by diller scofidio + renfro, and features mobility solutions from thyssenkrupp Elevator.
50 Hudson Yards (308 m.) – designed by Foster+Partners and set to open in 2022, with 40 energy-saving TWIN elevators.
55 Hudson Yards (240 m.) – designed by KPF, it links the new No. 7 subway line with 27 state-of-the-art thyssenkrupp elevators.