Cities
Hong Kong – the city of constant change & moving mega projects
To those who've only experienced the "Pearl of the Orient" through pictures of the Hong Kong skyline, the city appears to be a dense maze of static skyscrapers. Those images, however, fail to convey all the movement going on: from goods, people, and money to the constantly changing cityscape. And, today, Hong Kong continues that trend as a city of record-breaking mega projects, many of which are focused directly on improving connectivity within the city, the Pearl River Delta, and to the world.
Smart inside and out – In many ways, the smart city concept is simply good urban planning that incorporates both advances in digital technology and new thinking in the age-old city concepts of relationships, community, environmental sustainability, participatory democracy, good governance and transparency.
22164 views
From fishing village to global financial center
After centuries of a quaint existence as a Chinese fishing village, things started to get more exciting for Hong Kong as it became a haven for pirates in the late 18th to early 19th century. But at the end of the first opium war in 1842, the British took control of Hong Kong and it developed into an internationally important port city. And it has retained this status ever since China regained sovereignty over the Pearl of the Orient on July 1, 1997.
Today's Hong Kong is still all about movement: the movement of goods, people and, money. In fact, much of the wealth and goods that pass between Asia and the West flow through this international financial center. So naturally, the city's most important mega projects, such as the Hong Kong-Zhuhai-Macau Bridge or the Guangzhou–Shenzhen–Hong Kong Express Rail Link, are squarely focused on improving the flow people and goods.
Hong Kong Quick Facts
Population (2018): 7,448,900
Land area: 1,108 km²
Density: 6,777 ppl./km²
Public transport usage: 90% of population

Connectivity – a secret to success
"Isolation" is a word commonly associated with islands. But not with Hong Kong Island. The city owes its centuries of continuous success to its many connections – from a port fortuitously located in the Pearl River Delta to its airport, consistently ranked among the world's best. And let's not forget the myriad of road and rail connections, many of which are quite new.
In fact, the entire Pearl River Delta megalopolis, which Hong Kong is located in, has been striving to reach true potential through better connectivity between the cities of Hong Kong, Macau, Zhuhai, Shenzhen, Foshan, and more. And the investment in infrastructure is paying off: If the Pearl River Delta was a country, it would be a member of the G20.
In such an economically powerful region, it only makes sense to put investment capital into projects that improve the flow of people and goods to, from, and within the region. And that's precisely what many of Hong Kong's mega projects are doing.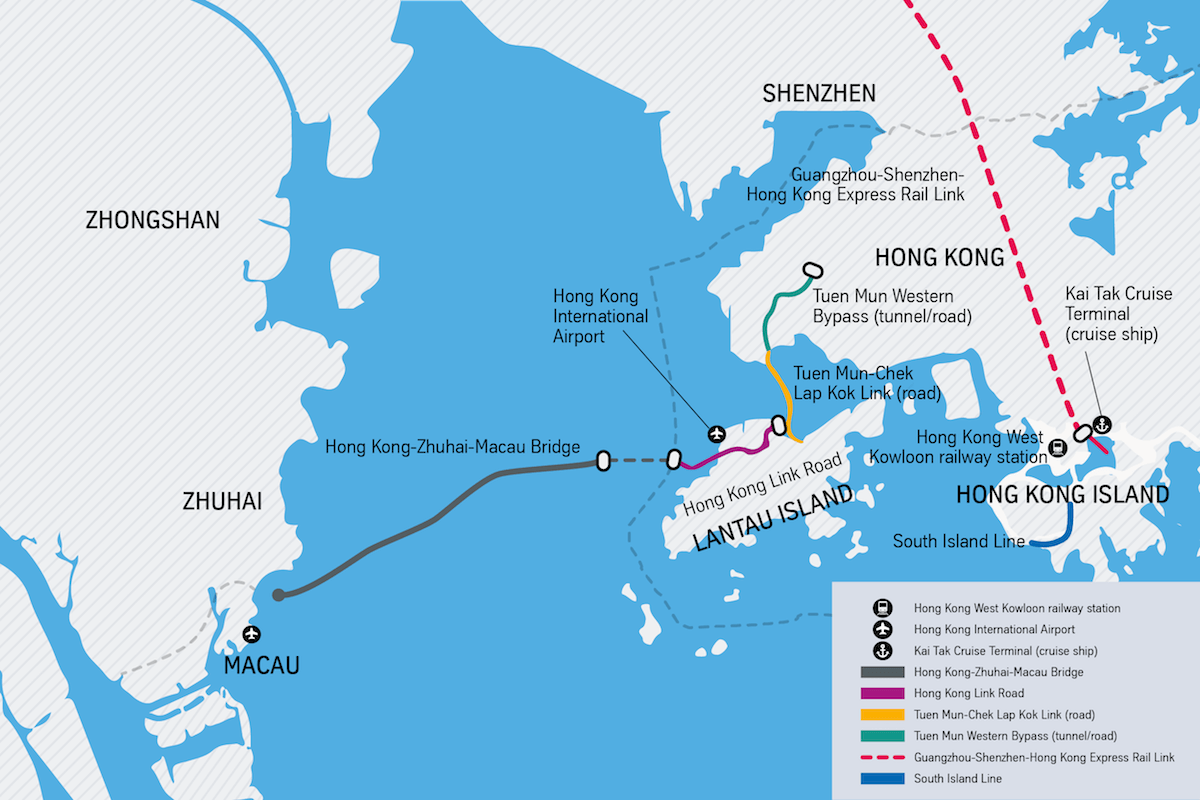 The city of mega projects
In Hong Kong, mega projects are all about the transportation infrastructure.
Within Hong Kong Island, the city invested billions into the South Island Line to cut travel times from the north to south of the island from over one hour down to 15 minutes. Other planned additions to the MTR rapid transit network, such as the Sha Tin to Central Link and the South Island line (West), are mega projects in their own right.
Hong Kong International Airport is planning a major boost for the city's winged connectivity. Not content to relax after being rated one of the world's best airports many years in a row, HKIA is expanding into a three-runway system by adding an additional runway and airport facilities on reclaimed land.
The Kai Tak Cruise Terminal is a luxury cruise ship terminal located at the now defunct Kai Tak Airport. The 184,000 m2 facility has helped to ensure that more tourists spend their time and money in Hong Kong since it was opened in 2013.
Major road projects are also underway. The Tuen Mun-Chek Lap Kok Link will connect the Northwest New Territories to the Hong Kong-Zhuhai-Macau Bridge (HKZM Bridge, discussed further below) with a 5-kilometer-long undersea tunnel. The Tuen Mun Western Bypass will also improve mainland China's connectivity to the HKZM Bridge.
Of course, we haven't forgotten the Hong Kong-Zhuhai-Macau Bridge and the Guangzhou–Shenzhen–Hong Kong Express Rail Link – two of the most significant mega projects in Hong Kong, the Pearl River Delta, and the world.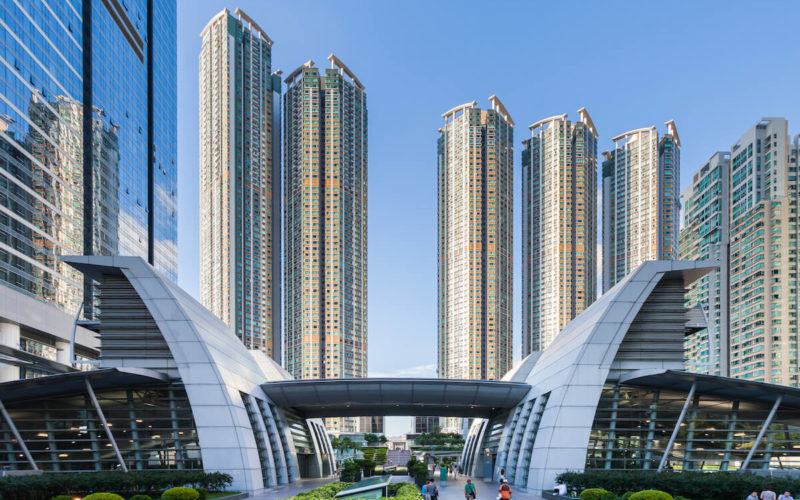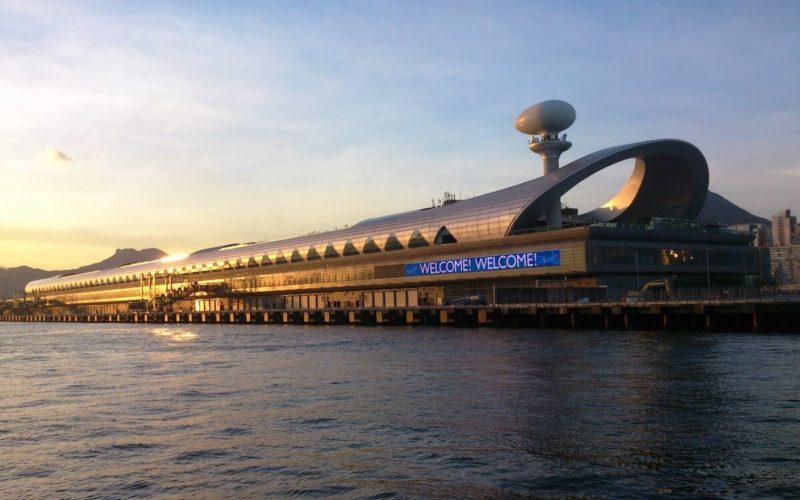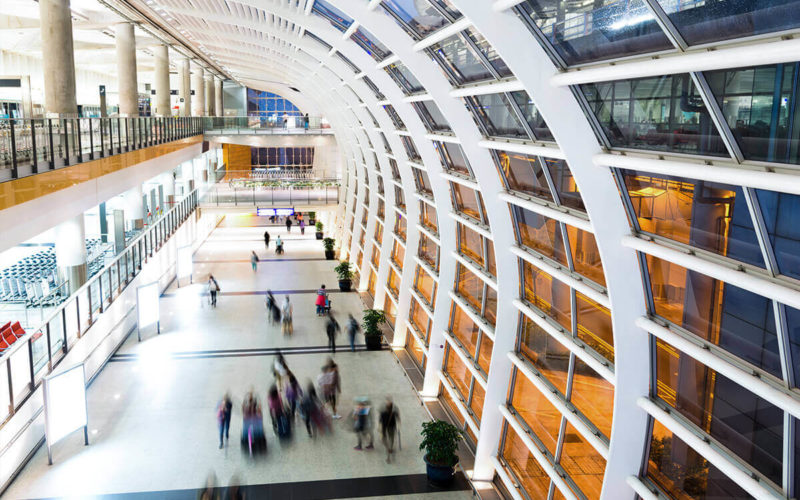 Hong Kong-Zhuhai-Macau Bridge connects a megalopolis
Without overstatement, we can safely say that the Hong Kong-Zhuhai-Macau Bridge is one of the most significant engineering achievements of all time. The project comprises of a 55-kilometer bridge and tunnel system that includes 3 cable-stayed bridges, an undersea tunnel, and several artificial islands.
Opened on 26 October 2018, the bridge now provides better connectivity in the Pearl River Delta – one of the world's most populous megalopolises. Busses, trucks, and cars can now drive between Hong Kong and Macau/ Zhuhai in about an hour, a trip which used to take over four hours.
The artificial islands at the port and border-crossing facilities, as well as at the entrances to the tunnel portion of the bridge, posed significant challenges both in terms of engineering and materials planning. The harsh marine conditions required materials that are very resistant to corrosion. Stepping up to that challenge, thyssenkrupp Elevator provided highly durable and corrosion-resistant escalators and moving walks for the Zhuhai Port on the artificial island of the Zhuhai-Macao Boundary-Crossing Facilities.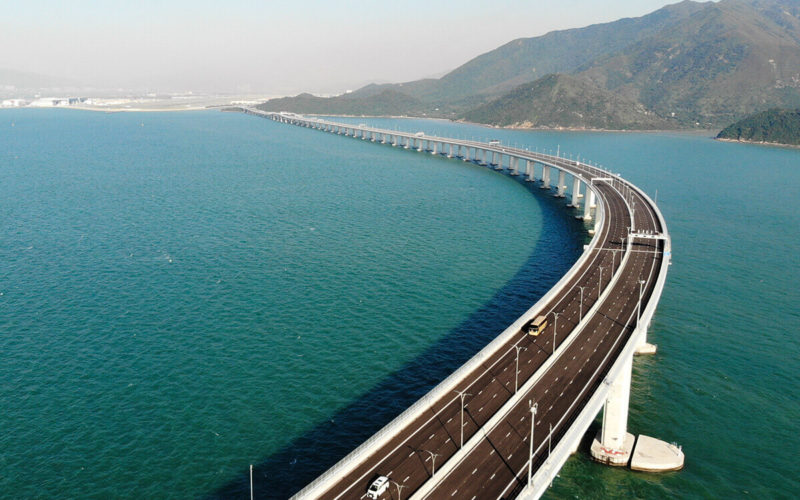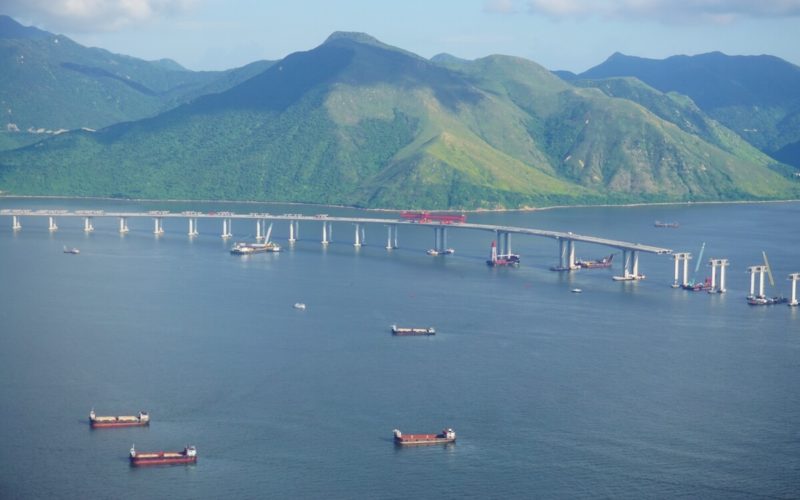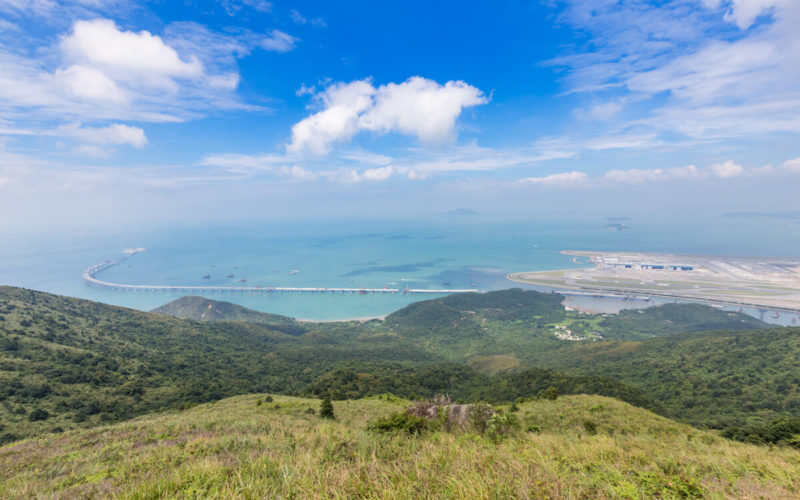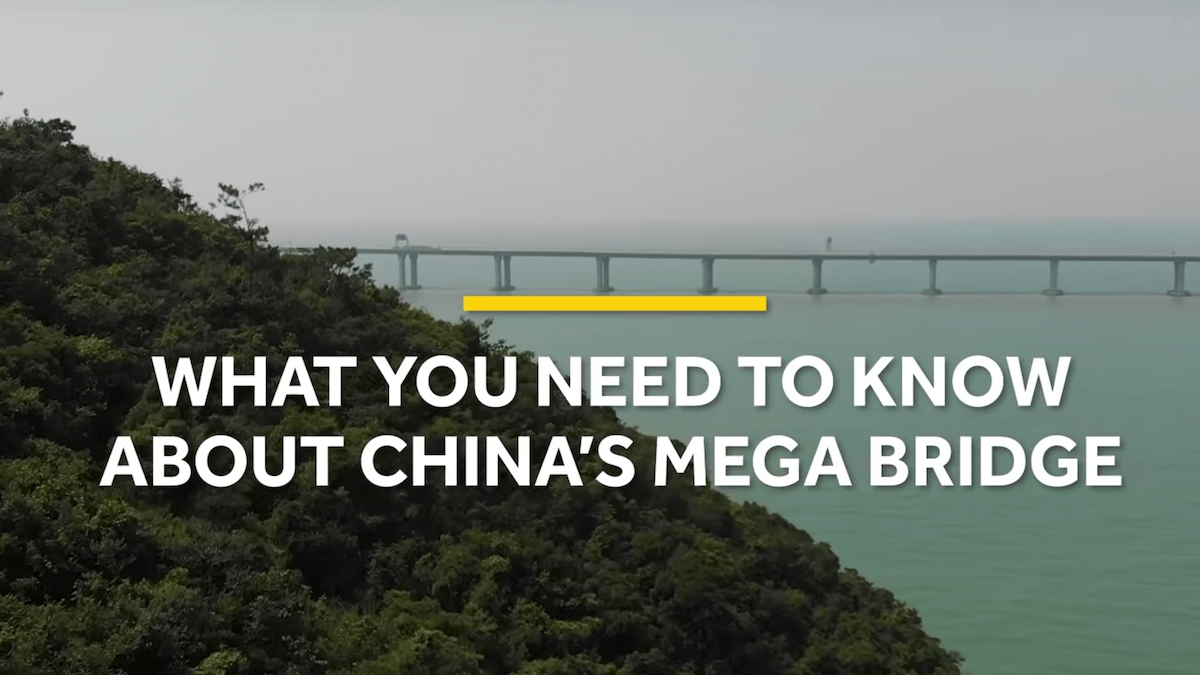 Guangzhou–Shenzhen–Hong Kong Express Rail Link & West Kowloon terminus
Completed in 2018, the Guangzhou–Shenzhen–Hong Kong Express Rail Link connects Hong Kong to Beijing via Guangzhou and Shenzhen, reaching operating speeds of up to 350 km/h.
The crowning achievement and terminus of the line is Hong Kong West Kowloon railway station. Certainly the most impressive architectural gem of the project, it is the world's largest underground rail terminus.
With over 400,000 square meters of usable space located underground, the Hong Kong West Kowloon railway station provides a public rooftop park and channels plenty of natural sunlight down to even the lowest floors, all of which are accessible via energy-saving escalators from thyssenkrupp Elevator.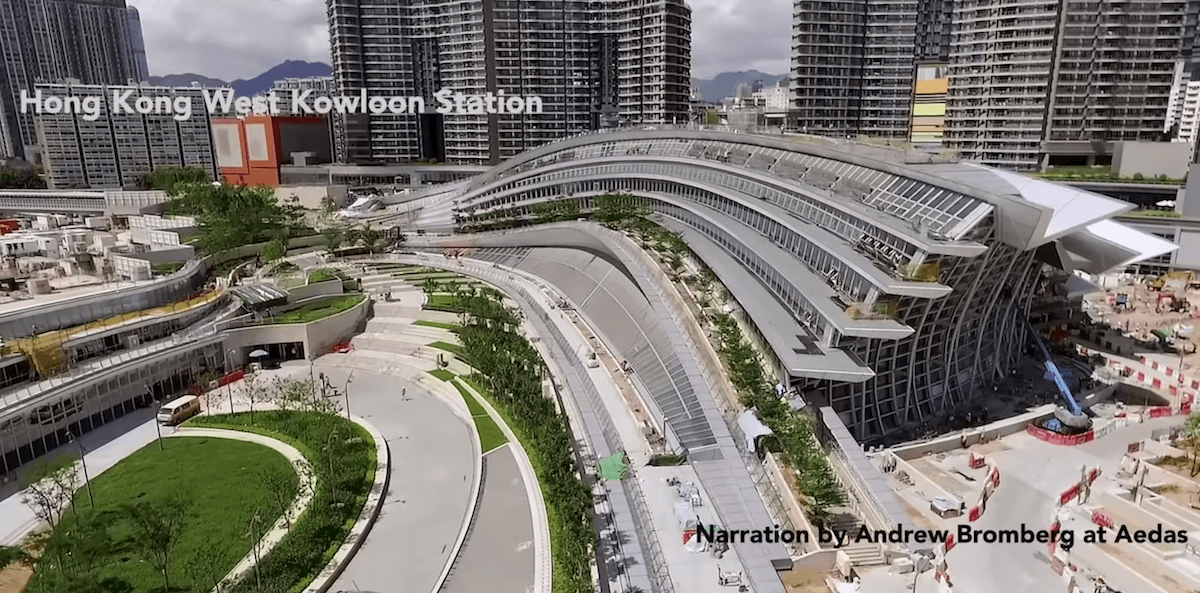 An insider's look at the architecture of Hong Kong's West Kowloon Station
A modest proposal – More high-rise connectivity
While Hong Kong is making great strides in improving its international, regional, and local connectivity, it is overlooking one incredible opportunity to improve connectivity for people within the city, namely building-to-building connectivity.
As perhaps the most dramatic and striking case of vertical urban development, Hong Kong could benefit immensely from more connections at the upper levels. Sky bridges or even the new "Hanging City" concept could herald the introduction of a new urban realm at great heights, while connectivity solutions such as MULTI or drones could make building-to-building travel safe and efficient.
thyssenkrupp Elevator's 2019 Leadership Conference was held in Hong Kong where the experts in urban mobility explored and discussed its latest mobility solutions and game-changing applications.