Cities
Hiroo Mori on vertical garden cities-within-a-city – and the future of Asian urban design
The Mori Building Company played a key role in Tokyo's post-war reconstruction and transformation. By combining industrial technology, modern ideas, and a singular vision, the company was able to create new solutions specific to the challenge, with impressive results. Hiroo Mori talks with URBAN HUB about some of the ideas the company has put into practice in Japan and other fast-growing Asian cities. He also discusses some of the main factors influencing the future of cities.
Smart inside and out – In many ways, the smart city concept is simply good urban planning that incorporates both advances in digital technology and new thinking in the age-old city concepts of relationships, community, environmental sustainability, participatory democracy, good governance and transparency.
20297 views
The idea of the Vertical Garden City
Mori's key development concept is the "Vertical Garden City." The idea is simple, but elegant. The vertical garden city essentially concentrates the density of population, services, and amenities into tall buildings, which opens up more of the surface area for public-use green space.
Many growing cities still have low-density areas categorized by small parcels of land with single-story or other low-rise structures which can be integrated into a single development. Depending on the area, one or several high-rises can then be built, transforming a horizontal community into a vertical one.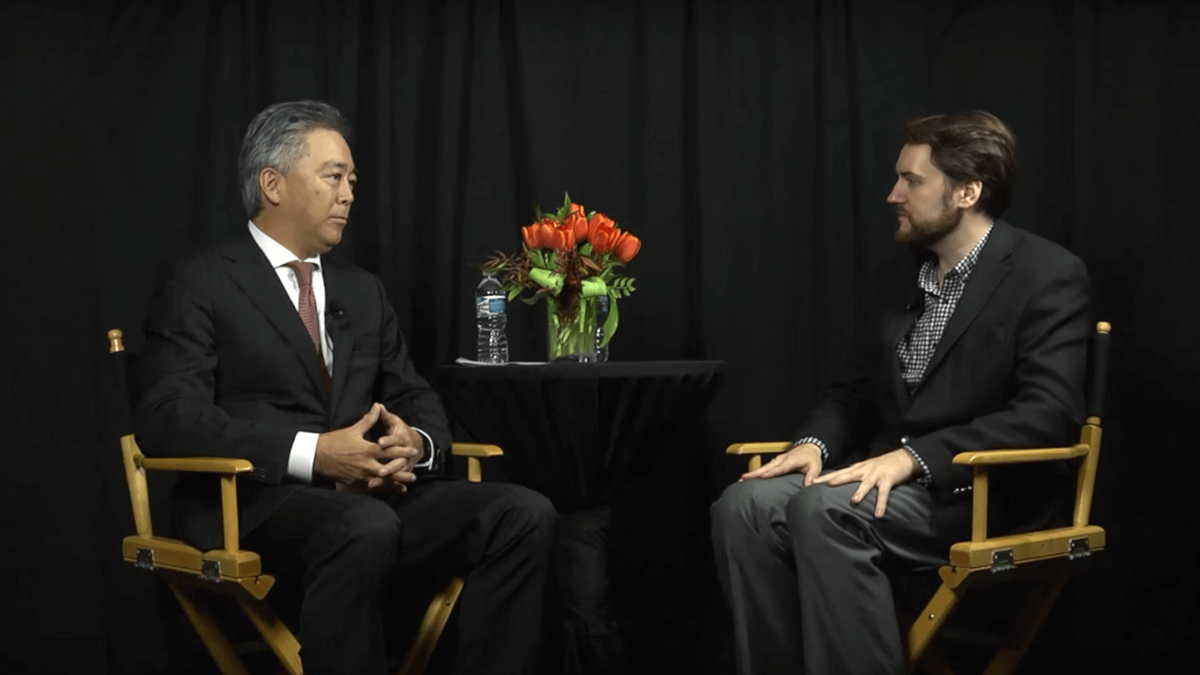 Company-founder Minoru Mori was a visionary who was able to put his ideas and dreams for Tokyo and urban development into practice. Listen to Hiroo Mori discuss the life, ideas, and legacy of Minoru Mori in this 10-minute video.
Creating a city-within-a-city
The resulting "city-within-a-city" reconfigures and redefines the traditional neighborhood. Hiroo Mori: "Roppongi Hills consists of not only an office tower, but also some 800 residential units, more than 200 shops and restaurants, a contemporary art museum, an observatory, a megaplex theater, a hotel, a TV station, a membership dining club, and even a school."
Collaboration is important to create such a development, so trust is key: "Before Roppingi Hills was built, the company worked for 17 years with approximately 400 landowners, eventually forming the Roppongi Hills Residents' Association."
The old community thus evolves into a new community, and may even become stronger through the process. "The bond between the landowners and the company continues to be reinforced. It's now over 30 years since we first met, and the Residents' Association continues to grow."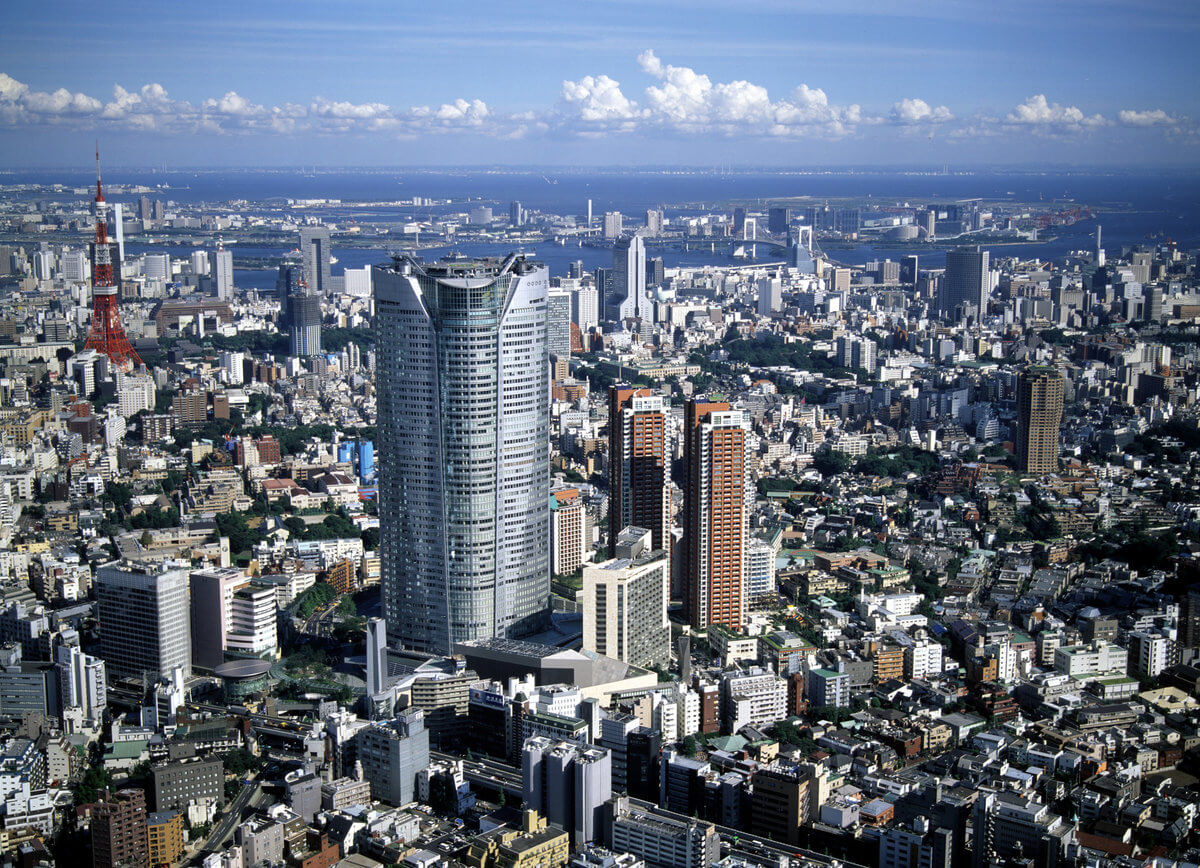 The big picture: Urban design
The key to successful urban design is to nurture something that goes beyond the built environment. In a way, the Mori Building company doesn't actually construct buildings so much as create one-stop, all-inclusive urban neighborhoods – the structural building blocks of any city.
According to Hiroo Mori, the goal is to "create cities and nurture cities." The principle of bringing homes, workplaces, and recreation together in one mixed-use place creates a safe and comfortable space for human contact. This in turn fosters community and economic activity.
"From the design stage, we think about how people gather, live, and work in the city. Our town management practices offer various opportunities for people to get connected. Town management creates and maintains a cohesive feeling for the overall community and makes everyone feel 'this is my place'."
"Moving into the next 20-30 years, I believe cities in general will continue to develop based on three key issues: population, environment, and technology."
Good design as competitive advantage
Good urban design also contributes to an overall urban strategy. For instance, "Tokyo faces fierce international competition. To attract global corporations and creative people, Tokyo needs to keep maintaining its strengths such as economic size and stability as well as addressing its weaknesses such as the connections with other international cities."
Cities in a "growth" phase such as Shanghai or Jakarta are advised to focus on the physical development of their urban space. "Maturing" Tokyo, on the other hand, is better off focusing on "nurturing cities over time even more than developing new buildings."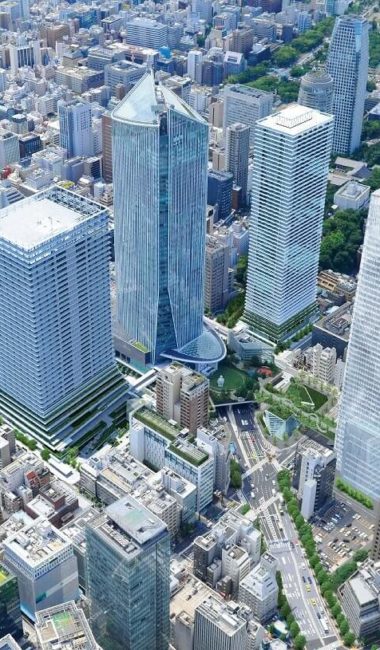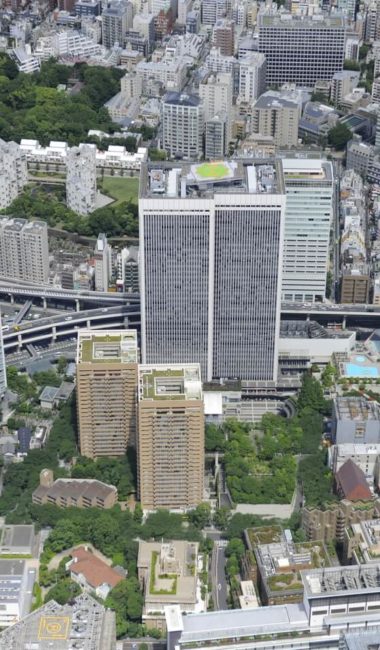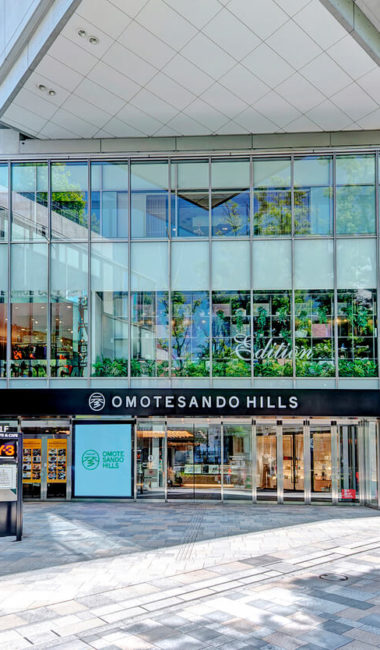 Signature projects in Tokyo: The Mori model is most evident in Tokyo, the world's largest megacity. (ARK Hills, Roppingi Hills, Omotesando Hills, Toranomon Hills)
Shanghai – creating a symbol of new economic power
The Mori company has also been active in other Asian countries. Most notably, it developed the 101-story Shanghai World Financial Center (SWFC), which recently received the prestigious CTBUH 10 Year Award.
"For the city of Shanghai, this iconic building symbolizes the city's emergence as a global financial capital and the arrival of China on the world stage. The boldness of the tower's design allows the Shanghai World Financial Center to endure as an indelible feature of the city's skyline."
Good construction technique is part of the appeal. SWFC "introduced the latest technologies to ensure extremely high levels of safety in case of earthquakes and strong winds by combining three systems: the external mega-structure, the core wall in the center, and the outrigger trusses that connect these two structures."
The idea is to create a building so safe that people will seek refuge in it in times of disaster – not run away. And SWFC also includes a number of advanced sustainability features, such as energy-saving, double-deck elevators. The four double-deck elevators in the Shanghai World Financial Center combine high speed with low energy consumption.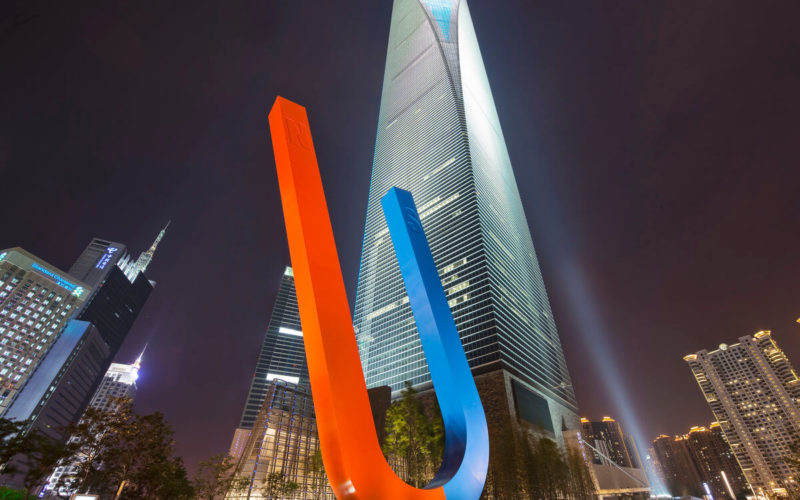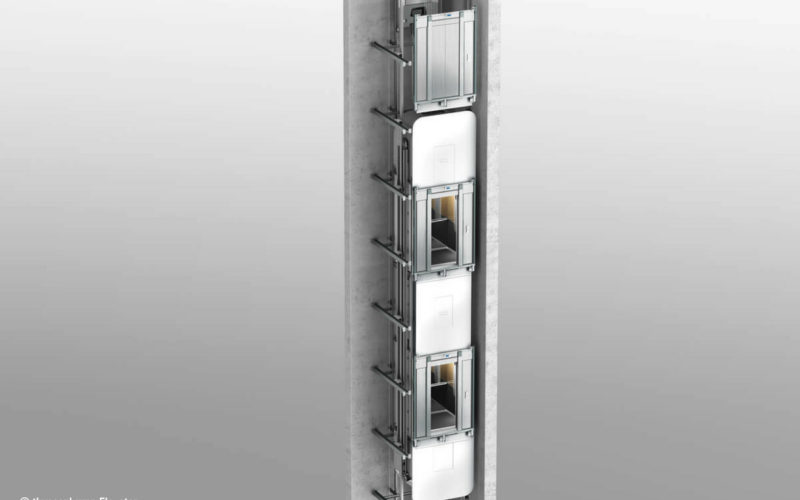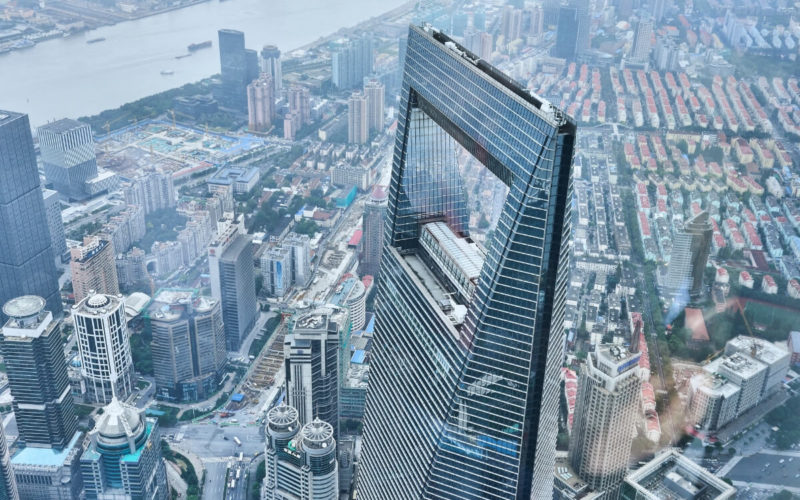 Populations and the future of cities
Hiroo Mori honors the past, but he always keeps his eye on the future of cities. People are central to this. So, "at their base, cities are collections of people. Providing residents with the best possible urban environment, and ensuring that cities remain attractive places to live and work, is paramount for a city's future success."
"Globally, there are cities facing the challenges of low-fertility and an aging population. They will have to develop adequate services for the elderly, while balancing a need to entice new residents. This is quite similar to what many Japanese cities, Tokyo included, will be dealing with in the coming decades."
Technology, transport, and urban development
Another important factor influencing the future of urban development is technology. "New technology is already having an immense impact on the daily life of the average individual. Cities will need to adapt to fit around, as well as integrate, technology in order to obtain maximum benefits."
"We are now seeing new forms of work, of transportation, and of entertainment which will change the way people interact with each other and the urban environment. Be it through on-demand automated vehicle lanes, or outdoor teleconferencing venues using AR, the nature of urban space will continue to change."
For instance, "The MULTI rope-less elevator is a unique idea because there are no restrictions on the direction of movement of the elevator car, which will lead to increased variations in the construction plan."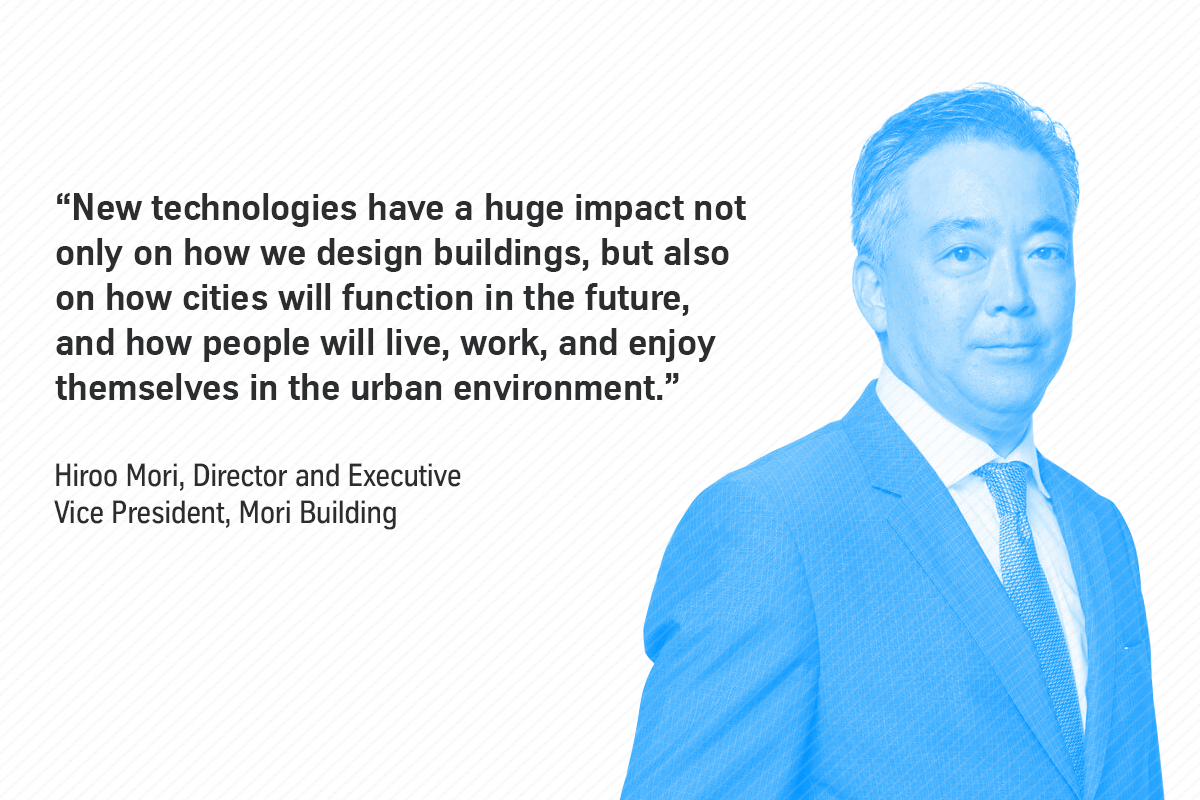 Redeveloping urban land and ideas
The Mori model began in post-war Japan, but is now being deployed in China and other Asian cities. In Jakarta, for example, the company is building a new development around a 59-story office tower. Meanwhile, the model continues to evolve in Japan as well.
Although the model is based on static ideas, the practical application of those ideas is highly dynamic. As new challenges and technologies appear, the Mori model continues to adapt and will provide new versions of Vertical Garden Cities, city-within-a-city, and cutting-edge urban design.