Cities
City portrait: Doha aims high with the best that money can buy
Slowly but surely, the massive new Lusail Iconic Stadium is taking shape. In 2022, this 86,000-seat venue will host the opening ceremonies (and final match) of the world soccer championship. With a retractable roof, state-of-the-art green cooling technologies, a moat, and shaded, solar-generating parking lots, this stadium offers nothing less than the best. That's also a good way to look at Doha, the rapidly expanding metropolis where the new stadium is being built. Long considered nothing but a younger sibling to nearby Abu Dhabi and Dubai, Doha has been growing up fast, and may soon surpass them both in stature!
Smart inside and out – In many ways, the smart city concept is simply good urban planning that incorporates both advances in digital technology and new thinking in the age-old city concepts of relationships, community, environmental sustainability, participatory democracy, good governance and transparency.
7684 views
Doha – the dynamic capital of a dynamic country
Lusail Iconic Stadium and many of the other buildings going up in the country are in preparation for the 2022 games. But much of the immense amount of construction going on is simply due to the dynamic nature of things in the tiny state of Qatar, of which Doha is the capital city.
According to both the IMF and the World Bank, Qatar is the richest country in the world per capita. While wealth fuels the country's development, its direction and destination is a breath-taking vision: to improve every aspect of national life while creating for itself a niche as an international go-to spot.
Doha is main stage for the performance of Qatari aspirations.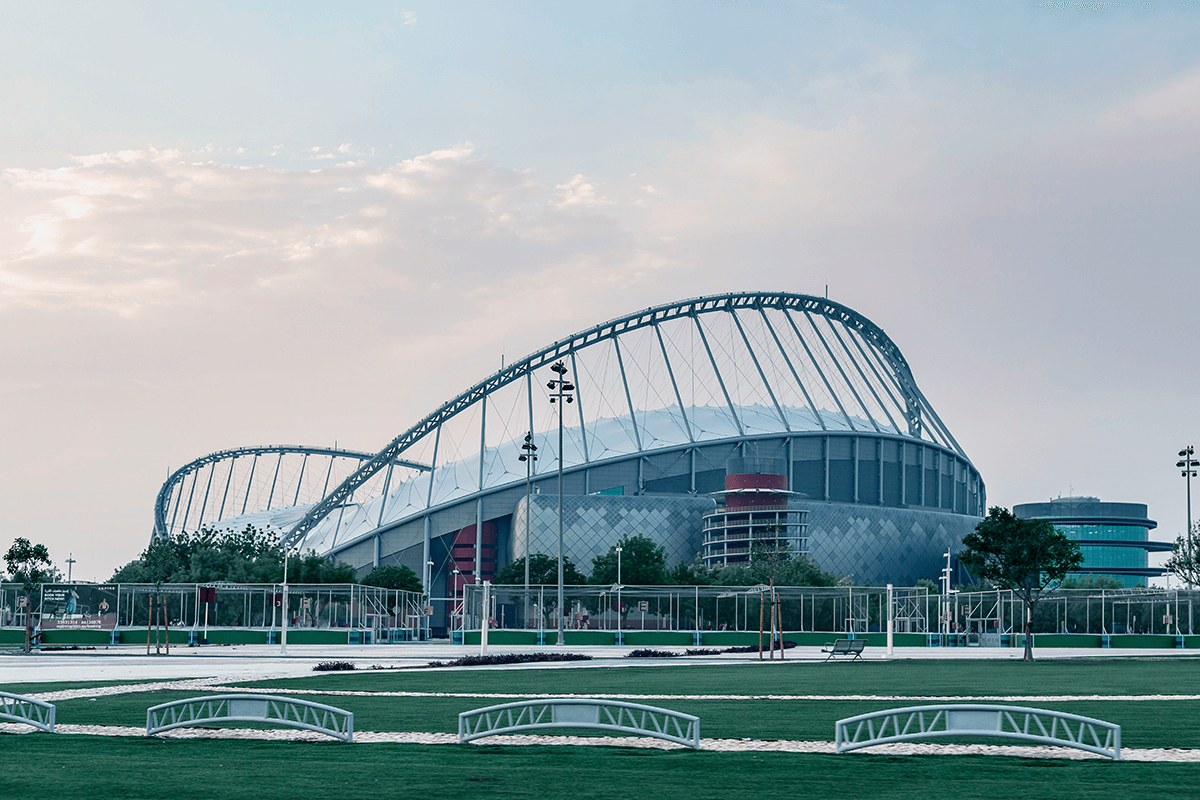 Building the foundations of soft power
Art and culture are top priorities in this ongoing development. Opened in 2008, the Museum of Islamic Art rose instantly to iconic status. This was partly due to the man who designed it. The world-renowned I.M. Pei proved more than capable of producing an architectural masterpiece, and a fitting repository for the largest collection of Islamic art on earth.
Another example is the new National Museum of Qatar. Jean Nouvel was inspired by the petals of the desert rose to create this futuristic display of giant interlocking disks. And Pritzker Prize winner Alejandro Aravena is designing the Art Mill, the new museum of contemporary art.
As one might notice, many buildings in Doha seem to be the work of world-famous architects – so-called "starchitects". It's true: the impressive Qatar National Archive was designed by Allies and Morrison, and the stunning Qatari National Library was designed by Rem Koolhaas of OMA.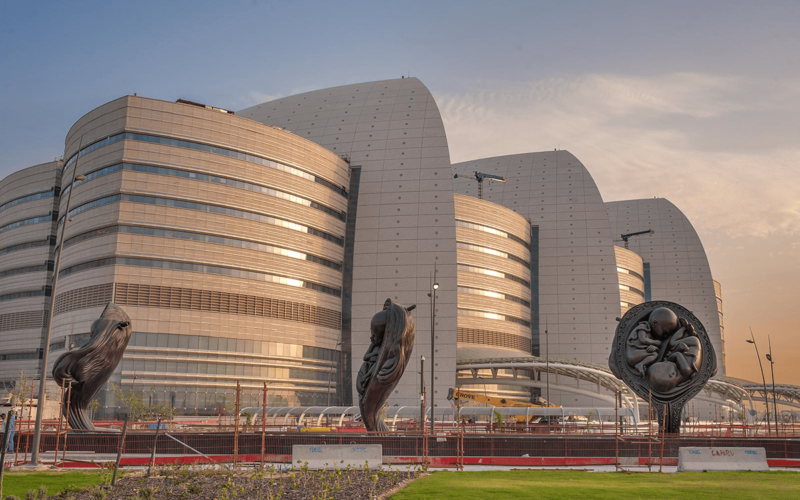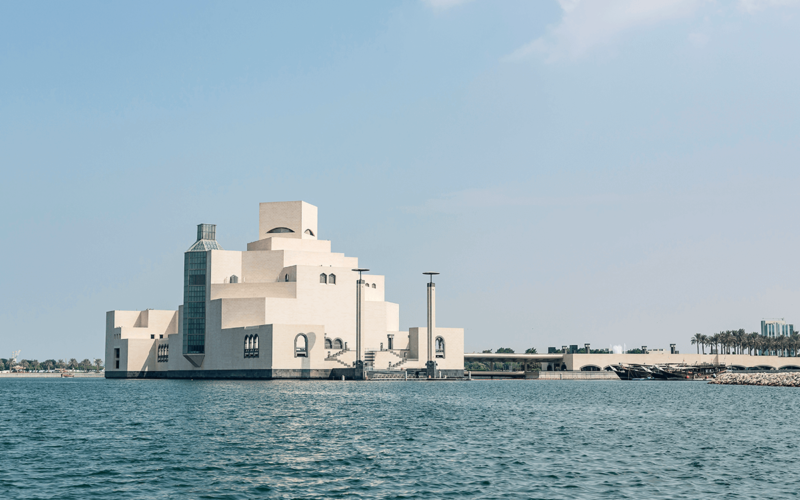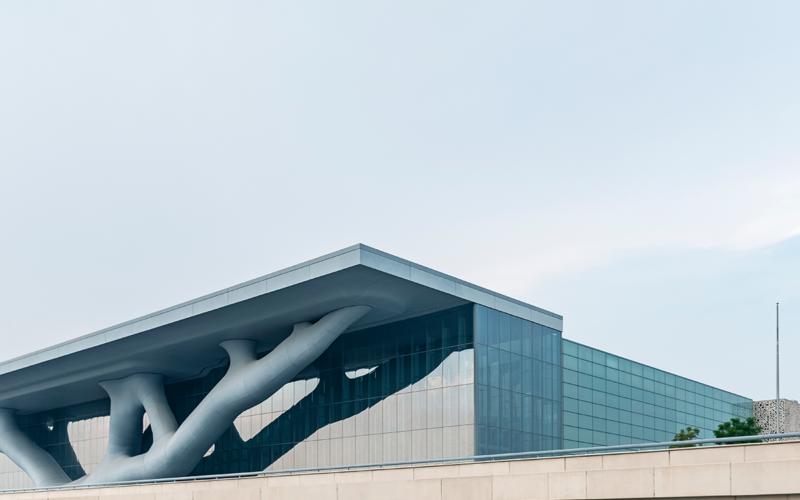 Building the infrastructure – one megaproject at a time
Many of the developments already mentioned are huge and recent. But that's the thing about Doha – so many projects are. Take the Hamad Medical City, for example. This 227,000 sq. m. complex includes three hospitals and a research center. It opened in 2017.
Or consider the scale and ambition of Education City. Launched in 1997, the project now encompasses 14 sq. km., with facilities for everything from elementary to post-doctoral education and pure research. Many major, "name-brand" universities have a campus here, including Georgetown, HEC Paris, Northwestern, Texas A&M, University College London, and Cornell.
Doha hosts an astounding number of completed or ongoing megaprojects in other areas as well, including its huge new water reservoir megaproject. Another example is the still under-development Sharq Crossing, three bridges interconnected by subsea tunnels, and designed by yet another starchitect: Santiago Calatrava.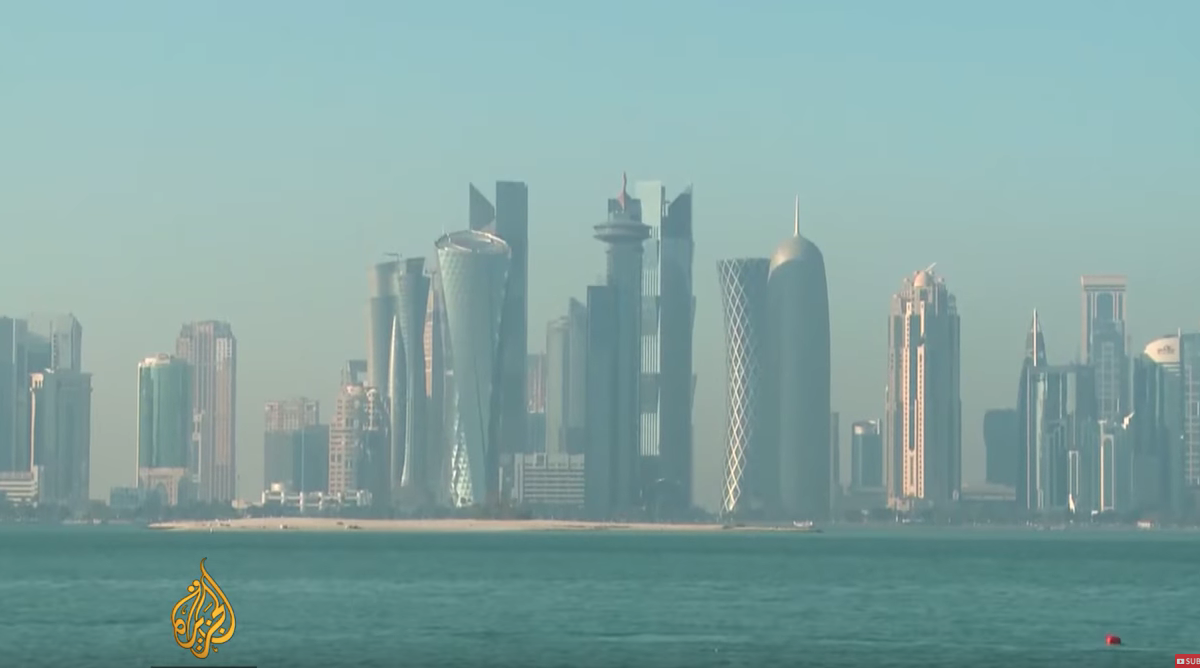 Stretching from desalination plants in Doha to other urban centers in the north, a string of five mega-reservoirs is nearing completion. Each reservoir has a capacity of nearly 400 million liters of water. Together, they form the largest such reservoir system in the world.
Building relationships – domestic mobility and global connectivity
Many of the megaprojects involve mobility and transportation – by land, sea and air. For example, construction of an ambitious urban rail network is well underway. Components include a bus rapid transit system and the long-awaited Doha Metro, which will eventually stretch 300 km. over four lines and nearly 100 stations, including the central station of Msheireb.
Not yet five years old, Hamad International Airport is already expanding capacity to keep up with rising numbers of visitors – now nearly 40,000,000 each year. They are assisted in moving about the giant airport by nearly 400 elevators, escalators and moving walks provided by the mobility specialists at thyssenkrupp Elevator. Many passengers understandably travel with the national carrier, Qatar Airways: "Airline of the Year" in 2017.
Just south of Doha, the sprawling 26 sq. km. Hamad Port is the world's largest greenfield port. It opened in 2017. To the north of Doha, the Ras Laffan Port is the largest artificial harbor in the world, as well as the planet's largest LNG export facility. Like most other things in Doha, mobility is mega!
Building popularity – sport & 2022
But the megaproject at the top of everyone's mind in Doha is all the building related to the 2022 world soccer championship games. At least seven new stadiums are being built throughout the country.
Naturally, many of these are being designed by starchitects, such as the Al Wakrah Stadium (Zaha Hadid Architects). And these are pre-designed for an easy transition to their post-2022 service-life. For example, the Ras Abu Aboud Stadium (Fenwick Iribarren Architects) will be built from modified shipping containers, which will allow the entire stadium to be easily taken apart and reassembled at a new location after the close of the games.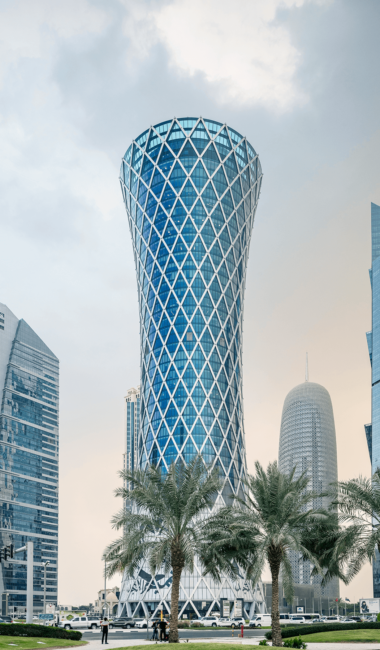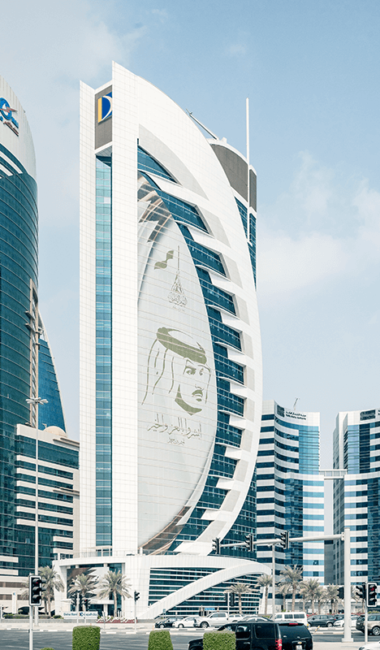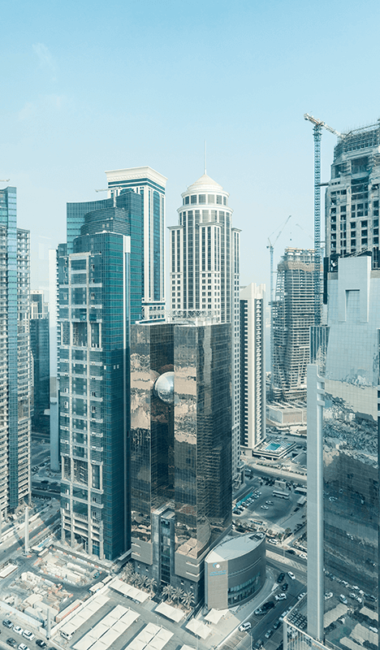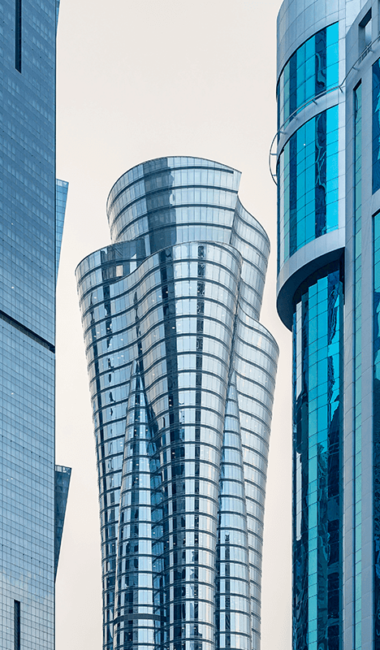 In the case of one new stadium, an entirely new Doha suburb of 250,000 is being built to go along with it. With a projected price tag of USD 45 billion, Lusail City is a 38 sq. km. greenfield project that will incorporate cutting-edge smart and sustainable technologies.
The Lusail Iconic Stadium lies at the center of this urban mega-development. With a roof that appears to float over the stadium and unobstructed spectator views inside, the new stadium is also designed to use the best in environmental technologies to keep visitors comfortable in the high heat. Mobility solutions from thyssenkrupp Elevator give a technological boost as well as cooling the tempers of sports fans rushing to find their seats.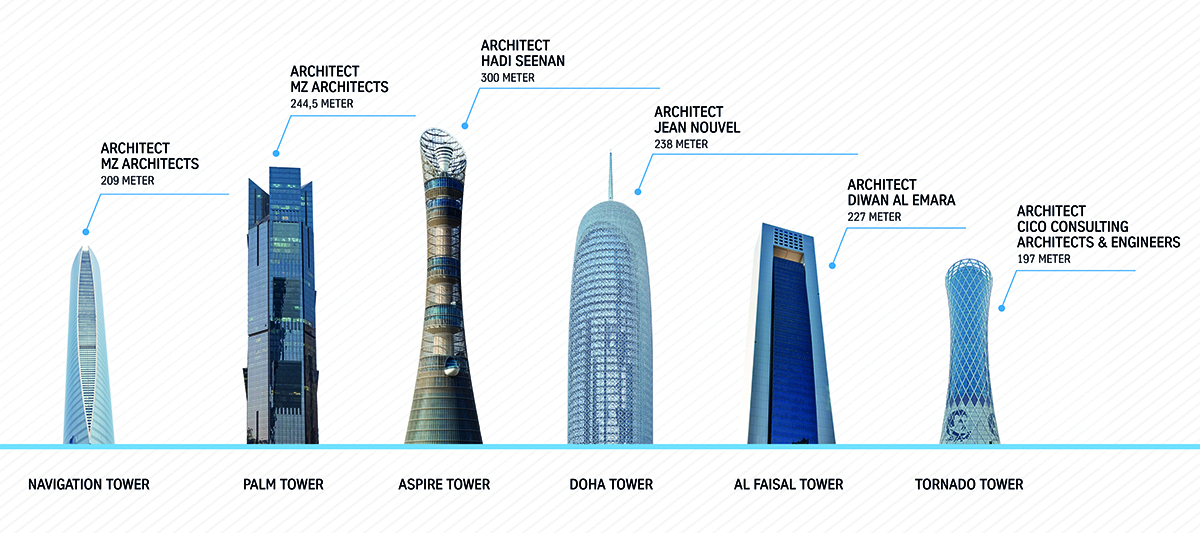 Build it, and they'll come
This oasis of high culture also hosts major global diplomatic and political events, such as the World Trade Organization's (WTO) Doha Round of global trade negotiations and the 2012 United Nations Climate Change Conference. In addition, it is the home of a major international news organization, the state-owned broadcaster Al Jazeera.
All of this gives further proof that the endgame for Doha is to become a leading global city. In that competition, they have already made it to the final round.