Cities
Dense urbanization made livable: on tour in beautiful Singapore
How can a nation that's half the size of London hope to deal with its ever-growing population? With only about 700 km2 of land on which to build, Singapore is physically restricted in all directions except up and down. And nobody wants to live underground.
Although Singapore is nowhere near the biggest or most densely populated city in the world, it also faces some major demographic challenges in the years to come. Fortunately, the government's policymakers are keen on "considerate" developments that keep citizens, the environment and even innovative architects happy. URBAN HUB tours the city's impressive buildings and architecture, and looks into its unique approach to urbanization.
Smart inside and out – In many ways, the smart city concept is simply good urban planning that incorporates both advances in digital technology and new thinking in the age-old city concepts of relationships, community, environmental sustainability, participatory democracy, good governance and transparency.
13307 views
Big city fun without the stress
Singapore definitely has all the flair of a big city: tall buildings, museums, majestic parks and an active nightlife. But despite that, it is exceedingly safe, and really easy to get around. Trains are always on time, and taxi rides cost little more than US$20.
Also: travelers do not have to deal with long lines at the airport; a nearby island resort can be reached via bridge; and there are numerous parks and gardens that don't cost a thing to visit. Simply put, it's a big city that actually manages to be both exciting and relaxing.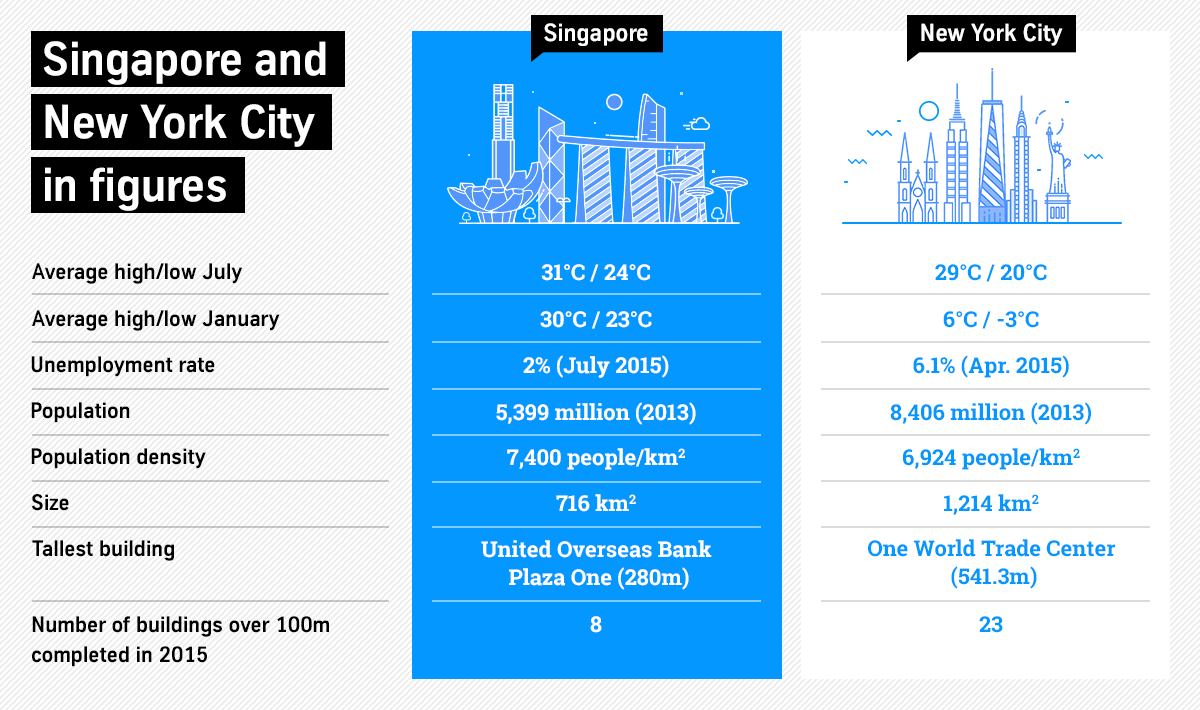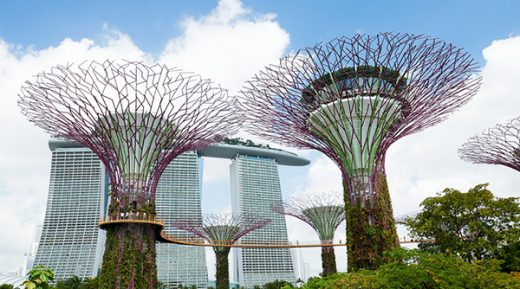 A garden of architectural flowers
What really strikes visitors, however, are the city's stunning architectural gems. But considering that not everyone can travel there to see the sights themselves, URBAN HUB sent a photographer around to some of the most interesting sights.
Despite all its vertical development and construction, the city puts a lot of effort into staying green. In fact, the virtually jam-free expressways are lined with flowers and meticulously cared-for trees. And many of the city's architectural highlights are also global high points of green innovation.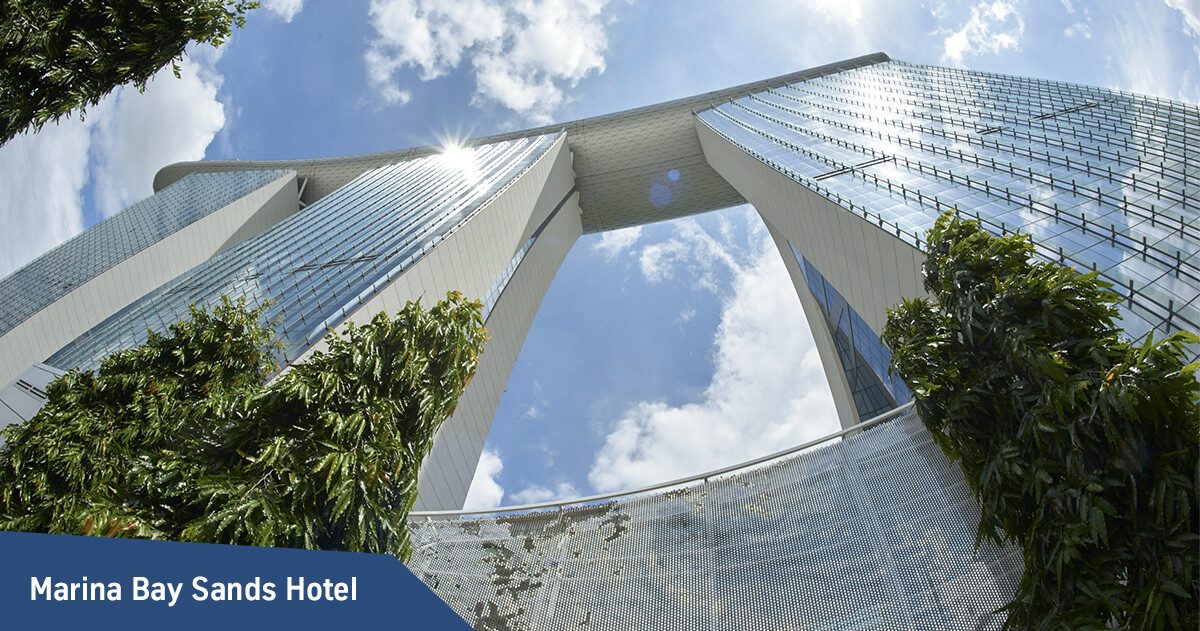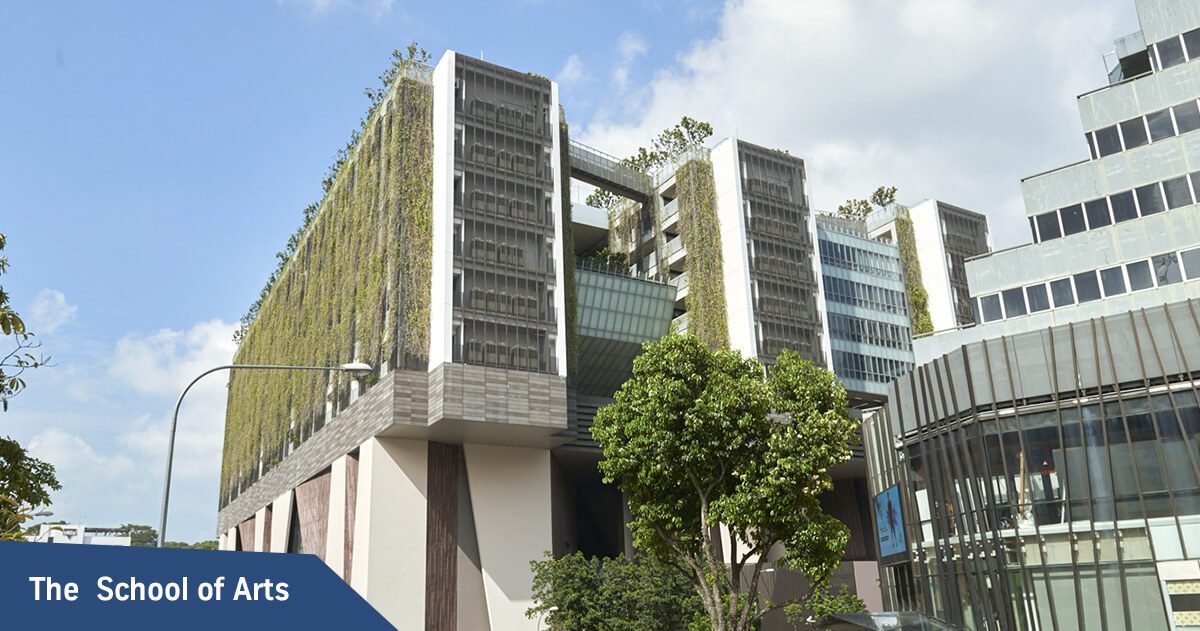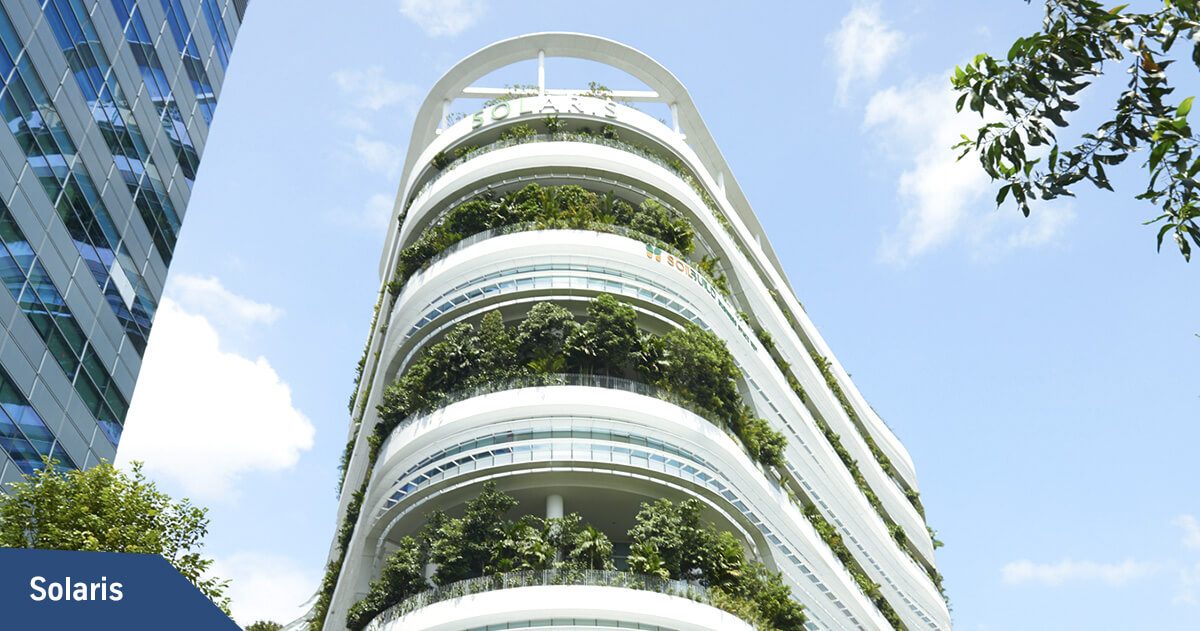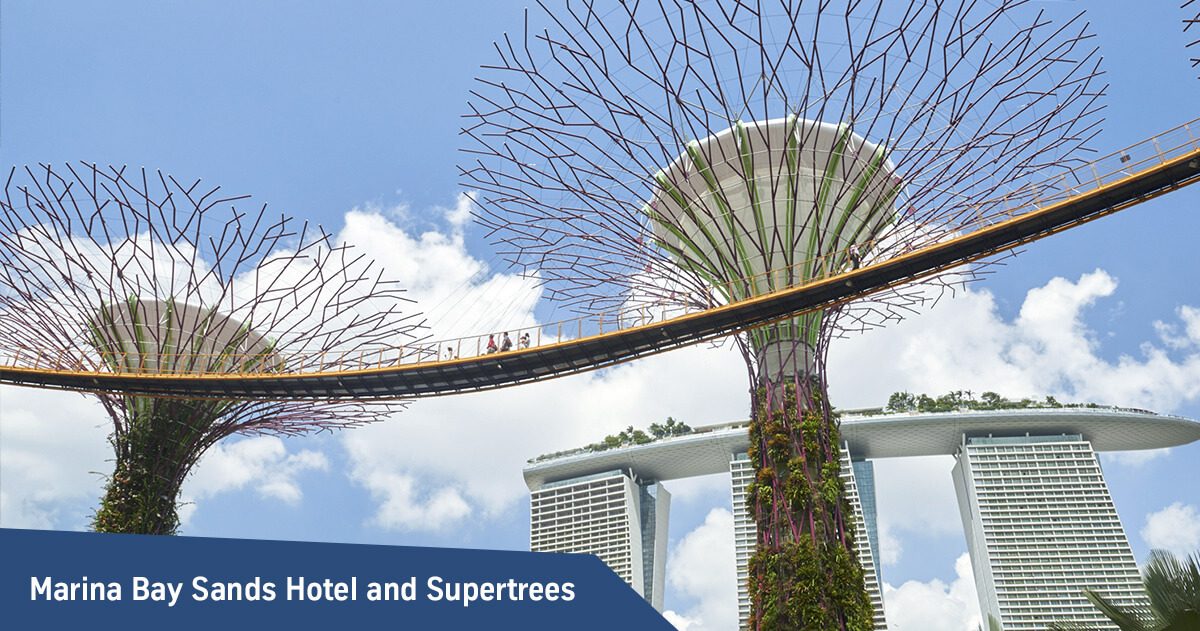 Citizen involvement
One might expect citizens' needs to be overshadowed by the rise of tall buildings, but that's not the case. The government in Singapore believes in harmonizing construction projects with citizens' needs and expectations, such as by relying on people-public-private partnerships or by creating a fund to support "quieter construction".
Citizens – on their own initiative – actively contribute, such as by setting up public gardens. They are at the core of what makes Singapore such an agreeable place to be: if you set a package of tissues or a pen down on a seat in a hawker's area, you can be sure that no one will take your seat while you go to buy food at a hawker's stand. In Singlish, the local English-based creole, it's called "to chope" – a highly recommended experience for tourists.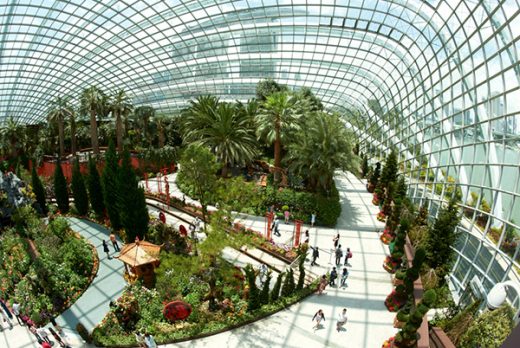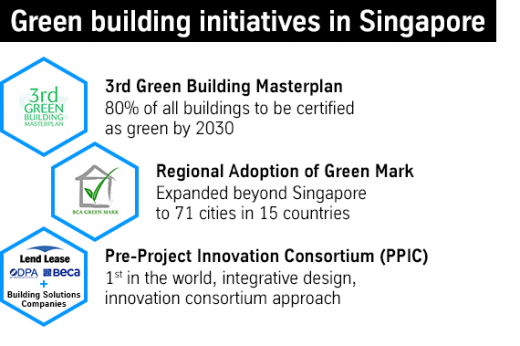 Government involvement in sustainability
Singapore didn't get its image as a "garden city" by chance; its policymakers had to work hard for that. The government has set up numerous programs and incentives to further its green agenda. There's the Environment Technology Research Programme, the Green Vehicle Rebate scheme, the Innovation for Environmental Sustainability Fund, and more.
The following infographic highlights some of the principles Singapore follows to make the city a worthwhile place to live, ensuring development that meets commercial, demographic and environmental needs.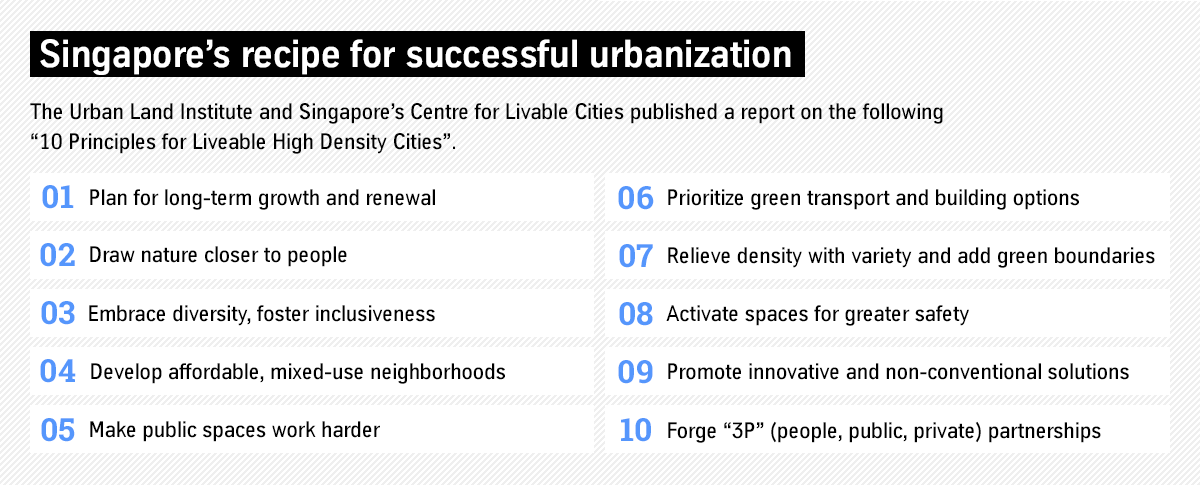 A Petri dish of urban innovation
International scholars, professionals and organizations frequently look to Singapore – or go there – to seek inspiration or learn from practicable examples of successful urbanization practices.
At the 2015 International Conference of the Council on Tall Buildings and Urban Habitat in New York, several speakers looked to Singapore for case studies and examples. Moshe Safdie and Jaron Lubin from Safdie Architects, for example, looked at Sky Habitat (Singapore) as an example of mixed-use buildings which ensure increased outdoor space for residents.
Private organizations are also attracted to the local urban prestige. For example, 400 leaders of thyssenkrupp Elevator got together in Singapore from 23-25 February 2016. They discussed knowledge gained in Singapore, as well as smart city technologies, the evolution of tall buildings and big data.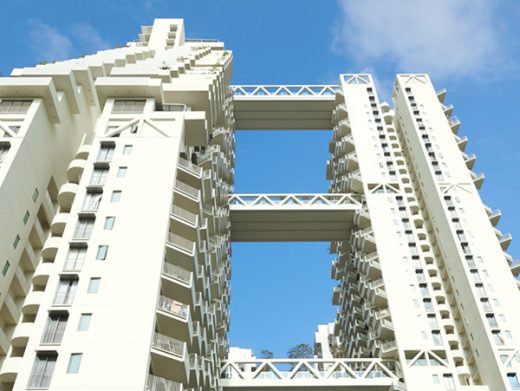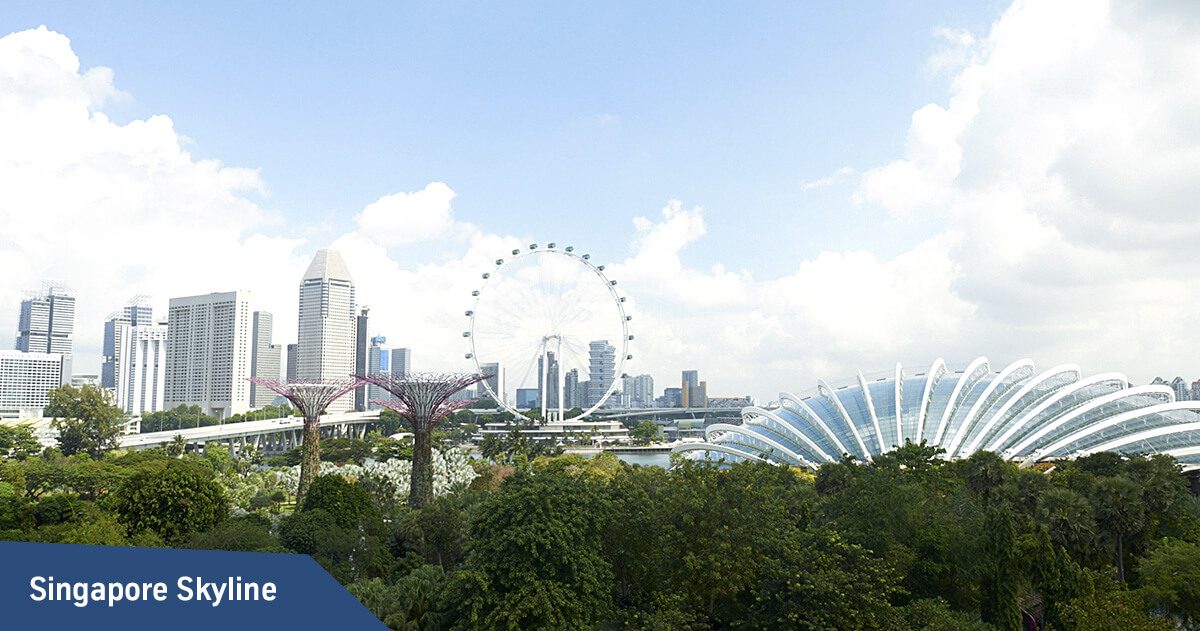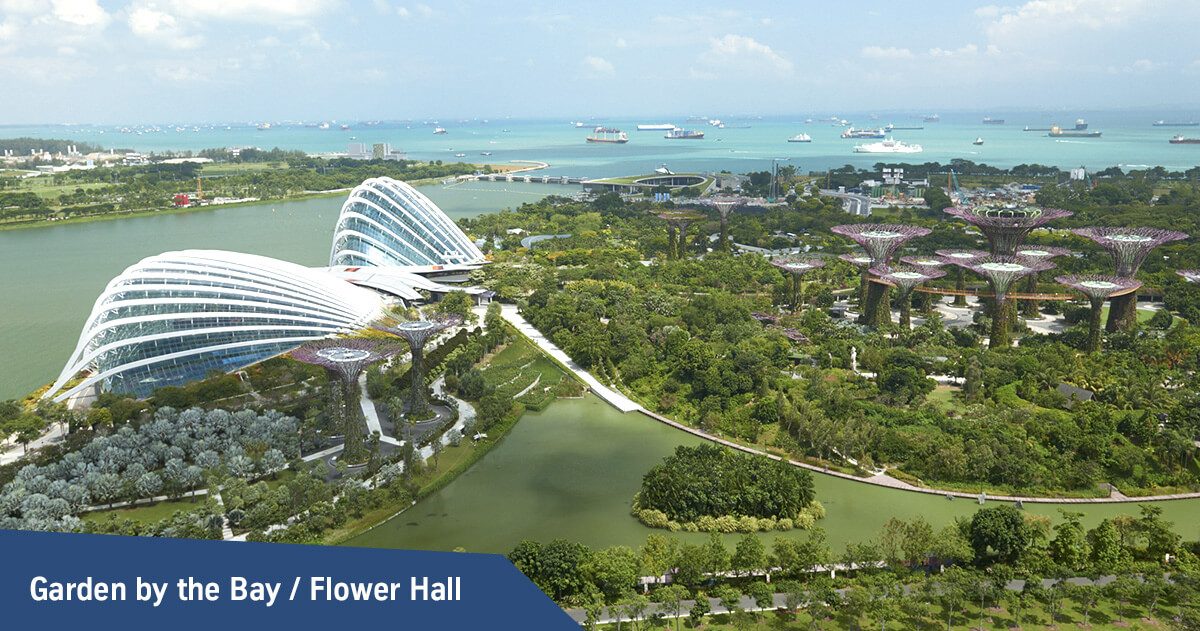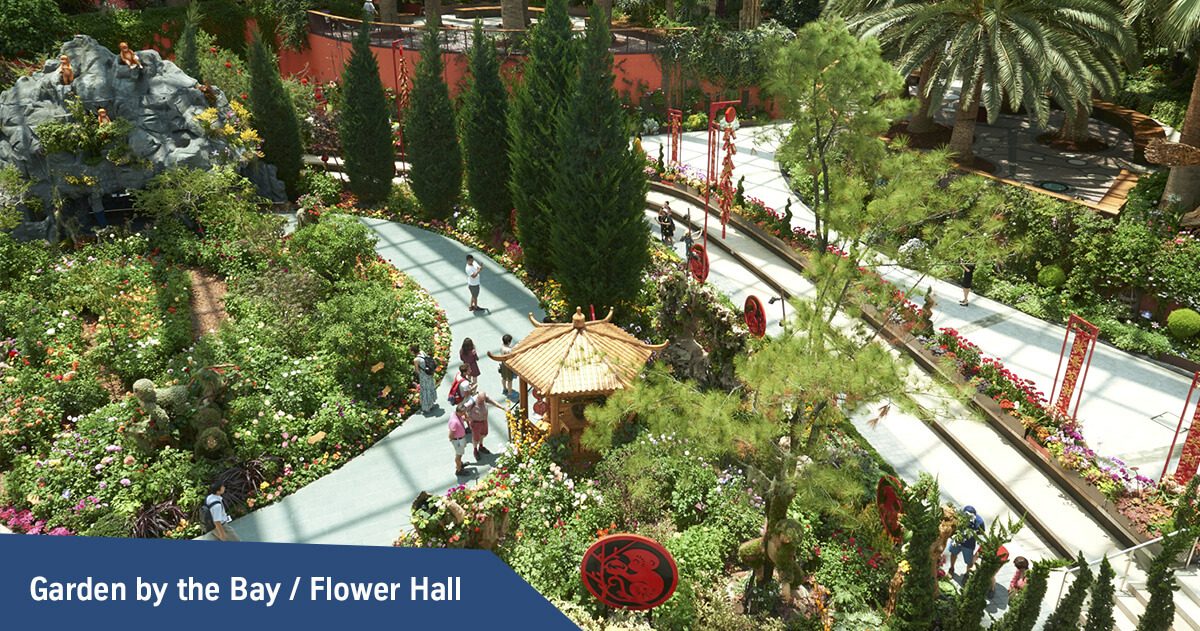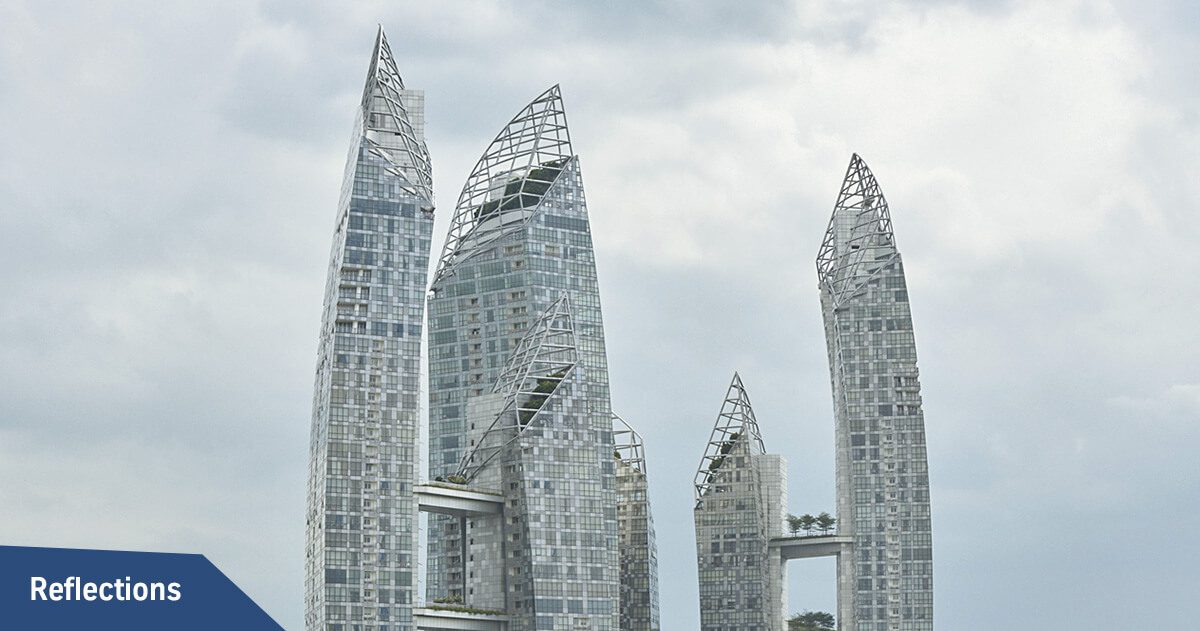 Citizens come first
The government of Singapore, according its Land Use Plan (Jan. 2013), envisions the city as "well planned and sensitively designed with [the] citizens and communities at its core," – even with what will be a larger population in 2030. URBAN HUB will continue to watch the developments unfold as this innovative city-state takes on the challenges of urbanization.