Buildings
Unveiling secrets in the design of the elevator Test Tower in Rottweil
Every building has a story. So what's the story behind Rottweil's elegant elevator Test Tower and why is it "dressed in white"? After all, if it were just a utilitarian concrete structure, it could still carry out all its testing functions. But the architects and the future building owner chose to intimately consider the surrounding environment and local people.
URBAN HUB spoke with one of the project's lead architects, Dr. Werner Sobek, who explained how he conceptualized an elegant, 246-meter tower for a historic town whose tallest structures were previously ancient church spires. What was his approach? To make it beautiful, and give something back to the community.
Beacons of urban sustainability – Today's urban city planning creates future beacons for cities which convey the new messages of sustainability, green choices and living responsibly.
4751 views
The brainchild of teamwork
Certainly many technical details had to be considered in the design of a tower whose primary purpose is to test and validate next-generation elevator technologies. But in addition to those requirements, architects Dr. Werner Sobek and Helmut Jahn – on behalf of Züblin – won the tender for the test tower due to the sheer elegance and structural ingenuity of their design.
Dr. Sobek, both a structural engineer and an architect, has been working together with Chicago-based architect Helmut Jahn since 1993. They collaborate via telephone, fax and email, and have learned to communicate complex details with just a few words and a sketch.
For Dr. Sobek, it has always been important to actually visit the future site of his designs: "I went to see Rottweil and the surroundings in order to get an idea of how to fit a tower within that environment, in a way that would make a valuable contribution. It is a major responsibility to design a structure that is going to stay there for a very long time."
"When we came up with the idea of a concrete cylinder enveiled in white that would also be an enrichment to the city, I was fully committed to the project."
Dr. Werner Sobek
Architect and structural engineer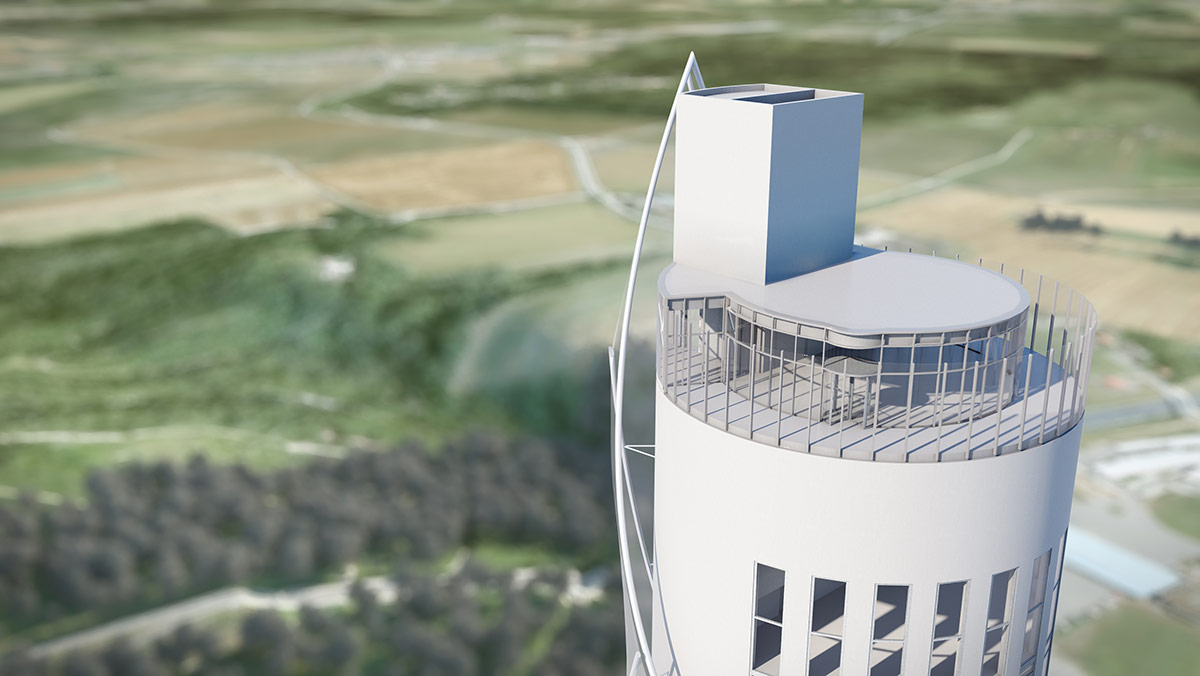 Prof. Dr. Dr. E.h. Dr. h.c. Werner Sobek
Dr. Sobek is an architect, consulting engineer, proof engineer for all fields of structural engineering, and holds numerous professional licenses.
As a successor to architect Frei Otto and structural engineer Jörg Schlaich, Werner Sobek heads the Institute for Lightweight Structures and Conceptual Design (ILEK) at the University of Stuttgart.
From 2008 until 2014 he was also Mies van der Rohe Professor at the Illinois Institute of Technology in Chicago. In addition, he is founder and president of various non-profit organizations such as aed and SIS.
Dr. Sobek profile image copyright (c) A.T. Schaefer, Stuttgart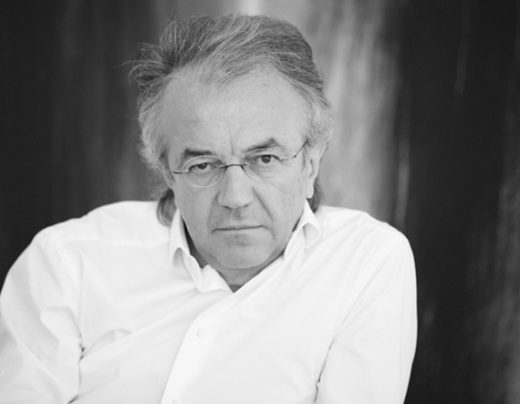 Design with a purpose
"An architect's job is to enrich the built environment by making a valuable contribution," explained Dr. Sobek, "but this tower is also a scientific and technical experiment." In fact, it's an experiment being carried out as an enterprise/university partnership and located near to four major universities and over 10,000 students.
Apart from elevator testing, a major part of this "experimentation" is the tower's outer shell. Gradually transitioning from opaque to transparent as it ascends, the white fiberglass shell is attractive, but also helps reduce building sway by dispersing the forces of wind. Further, this shell shades and protects the concrete from the irregular stresses of solar heating and cooling. A polymer coating (PTFE) contributes anti-stick properties that ensure the tower stays clean and retains its color almost indefinitely.
Sustainability is firmly rooted in the design. The structural benefits of the shell help to reduce the consumption of concrete, thus decreasing the building's overall embodied energy (i.e. the total energy that goes into construction). Considering that the global production of concrete generates more carbon emissions than international aviation, this is an important example of how design can drive environmental protection.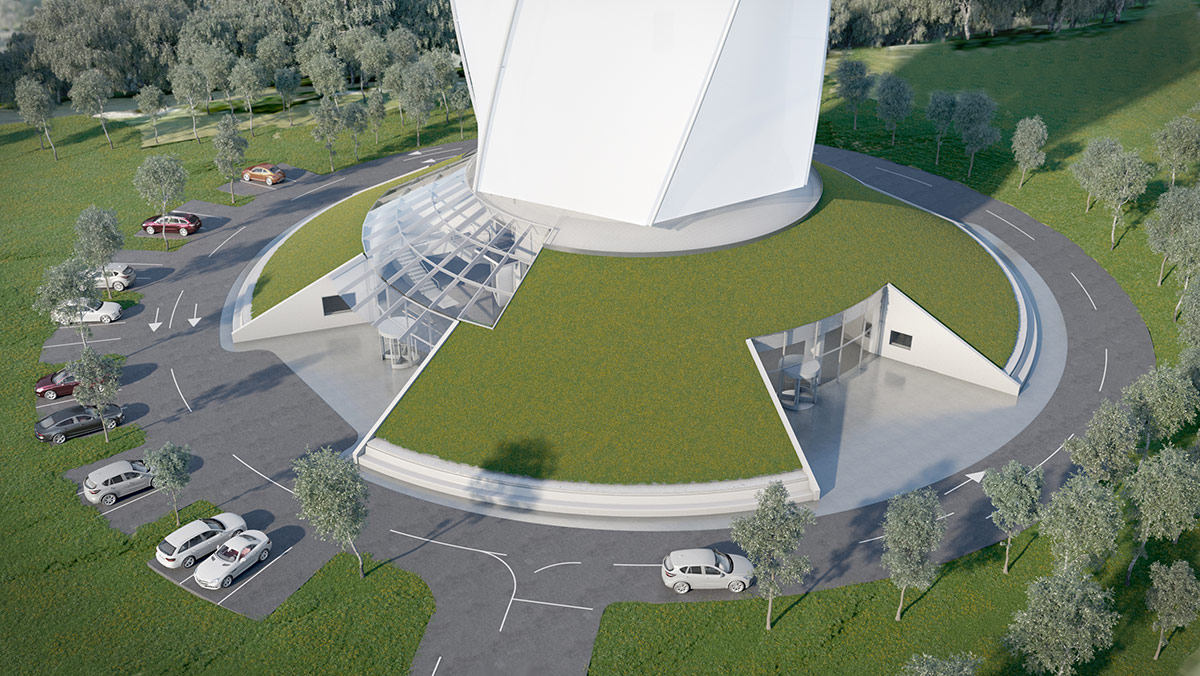 "At the end-of-use, the fiberglass membrane, steel support structures and concrete can all be easily dismantled and recycled."
Dr. Werner Sobek
Architect and structural engineer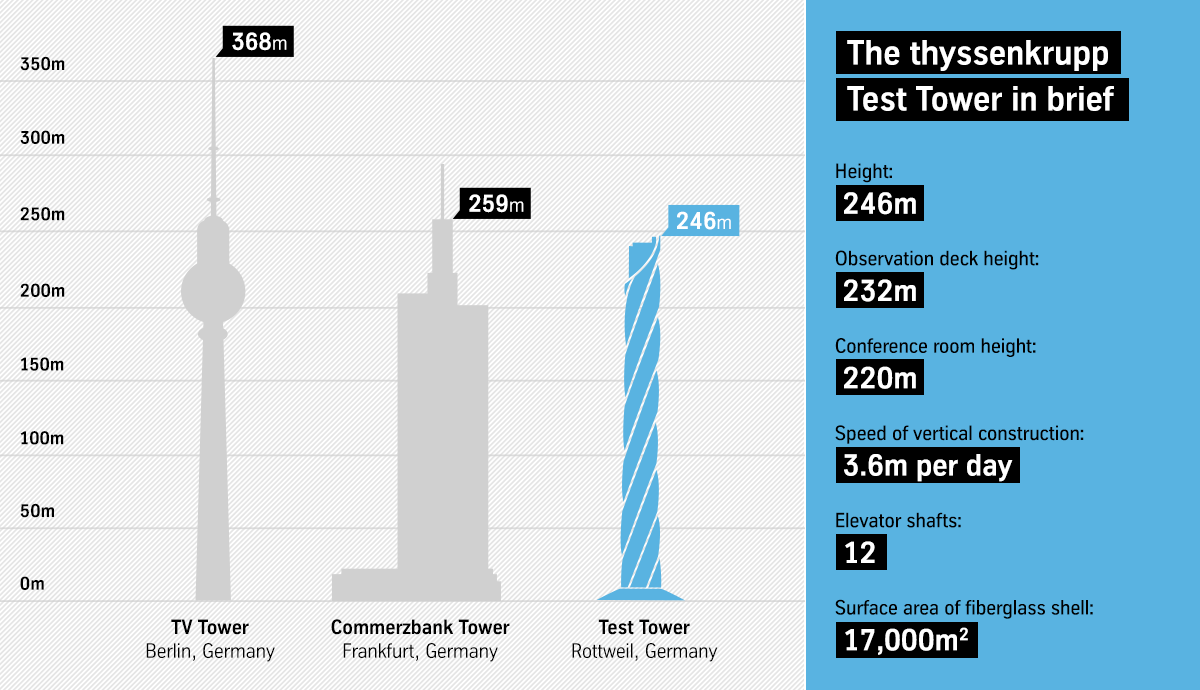 Serving commercial and community needs
The tower, located at a respectful distance from the historic city center, will even serve a useful purpose for the community: it will become Germany's highest observation deck with a 360-degree panoramic view.
Not only will the observation deck provide locals with a new view of their city and surrounding region, it will help draw tourists and be a boon to the local economy.
This feature, however, required the architects to consider different factors in their design: separate entrances for the public, company technicians and facility services, as well as separate elevator shafts for the observation deck, office and conference rooms and testing facilities. Fortunately, all these elements came together in what appears to be a simple and minimalist design.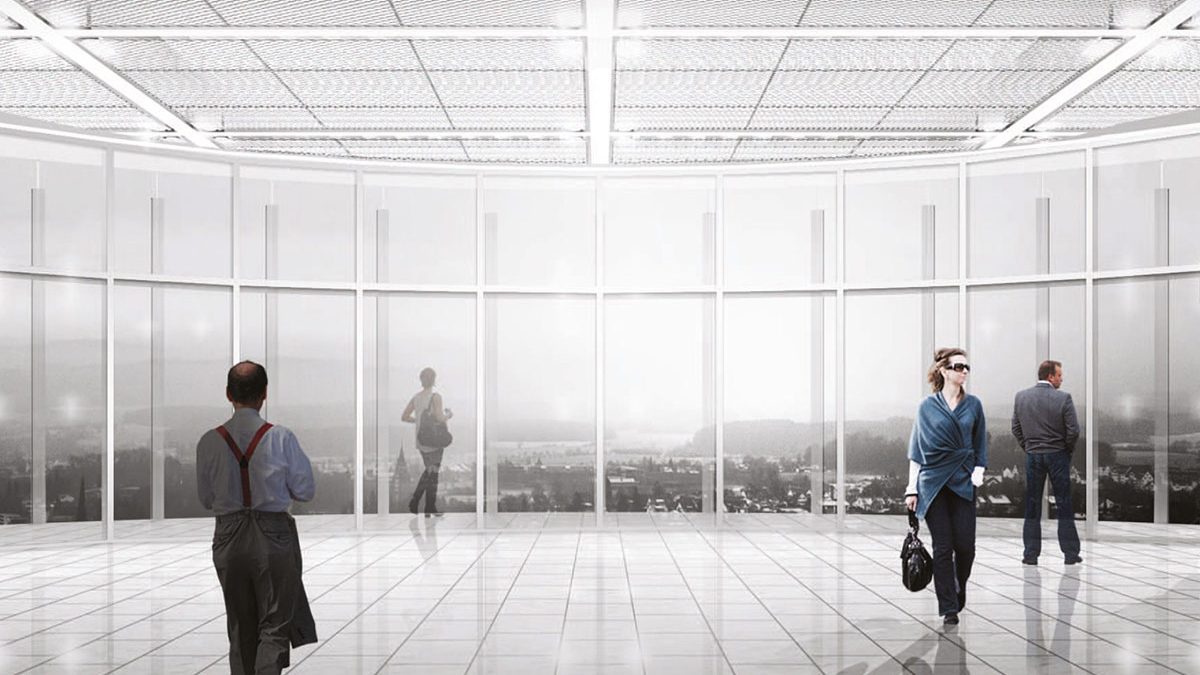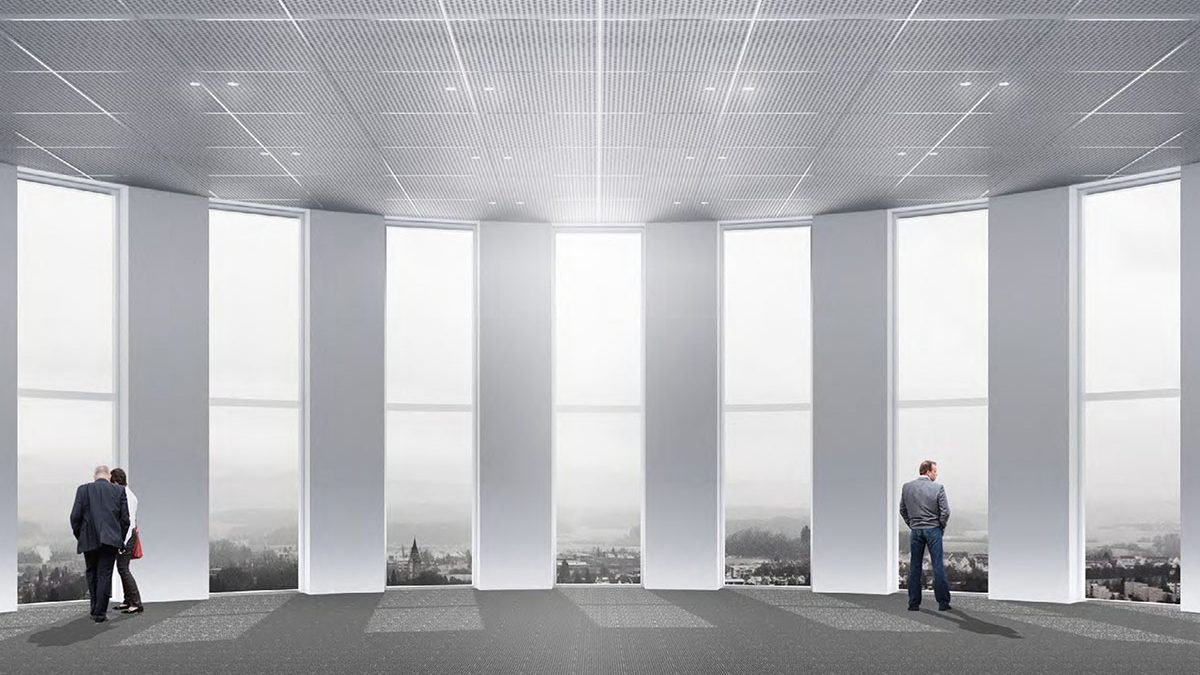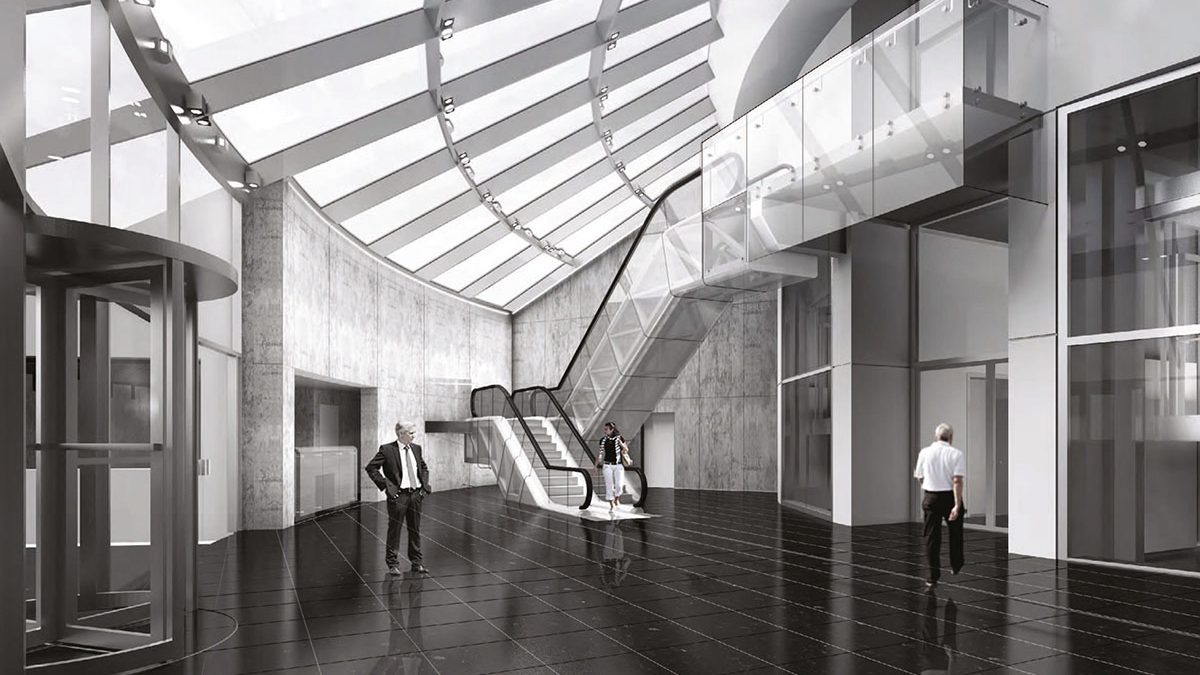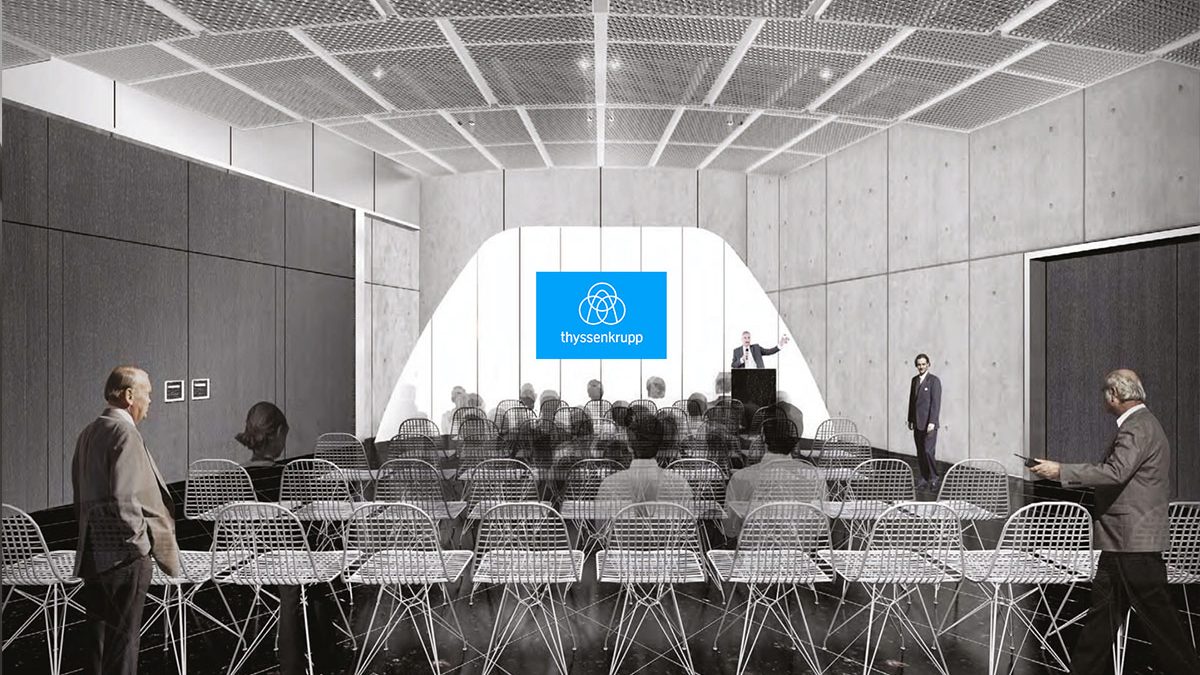 The future of cities and architecture
When asked about his vision for the future of urban spaces and architecture, Dr. Sobek explained the concept of an "electric city." According to Sobek, it is already possible to combine technologies such as photovoltaics, smart grids, e-mobility and sustainable construction in order to build new city districts that are not only self-sufficient energy-wise, but can also provide the energy for a neighboring district of older buildings.
Sobek could not provide specific details, but hinted that such a project is already well underway. The only hurdle to the wide-scale adoption of this concept is the political will that could make it happen.
Concerning architecture, Dr. Sobek was enthusiastic about the possibilities offered by the MULTI elevator concept in terms of vertical transportation, drastically reduced elevator footprints, and minimal user waiting. "I even recommended MULTI for two skyscrapers in Moscow, but I was too fast since the technology wasn't available yet."
"Sustainability has always been at the heart of what we do. It means living up to our responsibility for the generations to come."
Dr. Werner Sobek
Architect and structural engineer