Buildings
The daily commute redefined: life in a smart building
Who would want to live a building that caters to your every need? What about getting out in the open, seeing some green or visiting the city? Now more than ever before, building designers are taking user happiness and fulfillment into consideration – and the possibilities are incredible.
Fast-forward 4-5 years into the future and meet Aviana, a single working mother of 3-year-old twin girls. She accepts a new job along with an apartment subsidized by the company. She moves into a modern, high-rise complex with multiple towers, green spaces and really fast connections: to work, the kindergarten, supermarkets, even downtown.
Beacons of urban sustainability – Today's urban city planning creates future beacons for cities which convey the new messages of sustainability, green choices and living responsibly.
3207 views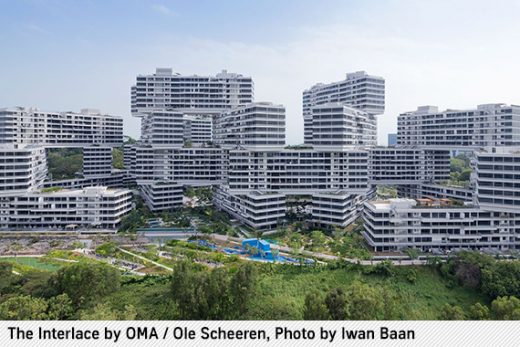 More time for living
When she thinks of the hassles she used to put up with, Aviana is happy she moved. No more struggling to get her twins and several bags of groceries up several flights of stairs; no more racing to the kindergarten and back the other way to get to work – all of which amounted to a few hours wasted every day.
Today, Aviana and her kids are having a good morning – her new norm. She takes the time to read to them, and they enjoy breakfast overlooking the city. "Look", Aviana says, "some of your friends are already playing outside at the kindergarten."
Upways, downways and sideways
"Can we take our bikes, mommy?"
Of course they can. They won't take up much room in the elevators. With the two children in tow, Aviana leads the way down the hall to the "local" elevator. After a few stops, they switch to the building's "circle line" – a two-way express elevator circuit.
There are two special elevator doors that open every few seconds to let people on and off – but nobody pushes any buttons. Aviana and the girls hop on the "down" elevator.
Every time the doors open during their quick trip, the twins announce the floors: "30th floor, all aboard! 10th floor, all aboard!" At the ground floor, the elevator does something different: It starts travelling horizontally. "This Molly ella-lator is funny, mommy".
"MULTI elevator," Aviana corrects.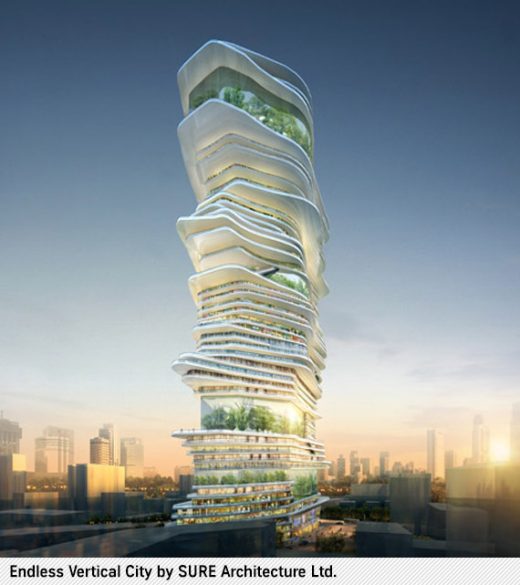 No more street crossing
Next they reach the "central station" where various MULTI elevator lines meet. People come from one building, and quickly catch a ride to the next. Aviana could do the same to go to work, but first the kids need to get to the kindergarten.
This central station and the kindergarten are located in the mall – a major shopping destination that attracts people from all around the region. It's very convenient: Aviana can get her groceries and roll the shopping cart all the way to her kitchen.
The walk to the kindergarten and back – kisses included – takes just a few minutes, and Aviana's back on her way to work. The trip is similar: She hops on a MULTI line, travels first horizontally, then vertically, she gets out and takes a more traditional elevator just a few floors up to her office. What used to take an hour is accomplished in under 15 minutes.
Urban living: a walk in the park
Aviana can't imagine going back to her old job and apartment. There are just too many perks. Sometimes from her office window, she sees her girls playing in a beautiful green playground. After work, she can go jogging through the skybridge park – which spans several rooftops – and then pick up her girls.
When friends and family visit, she takes them up to one of the rooftop parks, the mall or the multi-screen cinema. If she has more guests, there's a hotel just a quick elevator ride away. To get to other parts of the city, she and her guests can rent eco-friendly e-bikes or ride an elevator down to the ACCEL station – a rapid moving walkway that gets them to the metro, and downtown, in minutes.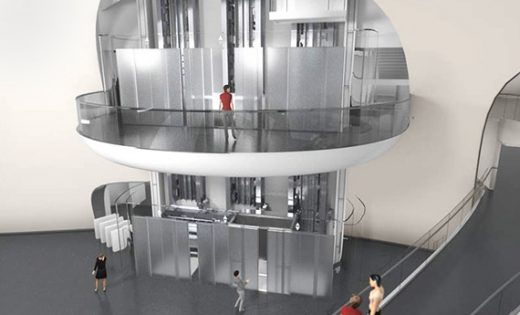 The unseen magic
Behind the scenes, there is a massive network of data that uses analytical and predictive technologies to make sure everything runs smoothly and things get fixed before they break.
The elevators, for example, use a system called MAX. Sensors collect data on the machines and send it to the cloud where it is continuously analyzed and anomalies revealed. Maintenance engineers show up well before problems occur. Since moving, Aviana has never seen an "out of order" sign – a phenomenon her daughters will grow up never knowing.
Most of all, Aviana and her girls are happy about all the extra time they have to spend together – and all the opportunities they have for fun, fulfillment, and memory-making.
The future of buildings and elevators
 MULTI – the world's first ropeless, maglev-powered, multi-cabin elevator travel vertically and horizontally.