Buildings
Smart buildings today – and tomorrow
What exactly are smart buildings? We don't mean buildings with touchscreen walls, holographic butlers and robotic security guards, although those things are certainly smart too. Smart in the building sense means using energy and resources efficiently, as well as integrating automation technology to maximize user comfort and building functionality. Basically, smart buildings are there to provide enjoyable, green and high-tech environments that enable users to live and work more productively.
Current building design competitions often feature visions of far-fetched, fantastical skyscrapers – too unrealistic to ever actually get built. But what will buildings really offer in the future? Many factors may influence the future of smart buildings, and current green building certification programs like LEED (Leadership in Energy & Environmental Design) are certainly one of those factors.
Beacons of urban sustainability – Today's urban city planning creates future beacons for cities which convey the new messages of sustainability, green choices and living responsibly.
5499 views
Imagining future tall buildings
Over the past years, building design competitions have rewarded concepts that defy gravity and do not consider the structural limitations of available materials, such as one recent design for a floating skyscraper.1
In their article "Imagining the Tall Building of the Future"2, Josef Hargrave and Ralph Wilson of Arup (United Kingdom) introduced several possible innovations based on current technologies, such as façades that purify surrounding air, parks on skybridges, public transport integration, photovoltaic paint, and self-healing concrete. And this is no sci-fi.
Many of these smart visions address environmental concerns, and one voluntary certification organization is leading the way in sustainable design.
Taking the LEED
LEED (Leadership in Energy & Environmental Design) is an independent green building organization that certifies best-in-class building practices. LEED-certified buildings prove that 'environmental' and 'economical' are not mutually exclusive descriptors.
The LEED green building certification system was introduced in 2000 by the U.S. Green Building Council to recognize outstanding projects and encourage green practices. The market demand for green buildings is on the rise, and LEED can provide property owners with visible proof of their efforts, thereby increasing the prestige of their buildings.
Monica Miller is the Sustainable Design Manager for thyssenkrupp Elevator in the USA, as well as a LEED Accredited Professional. She sees LEED as an important catalyst for green innovation: "Early adopters pave the way by showing the economic benefits of certification. This, in turn, leads to more wide-spread adoption and the spread of spin-off initiatives in other markets."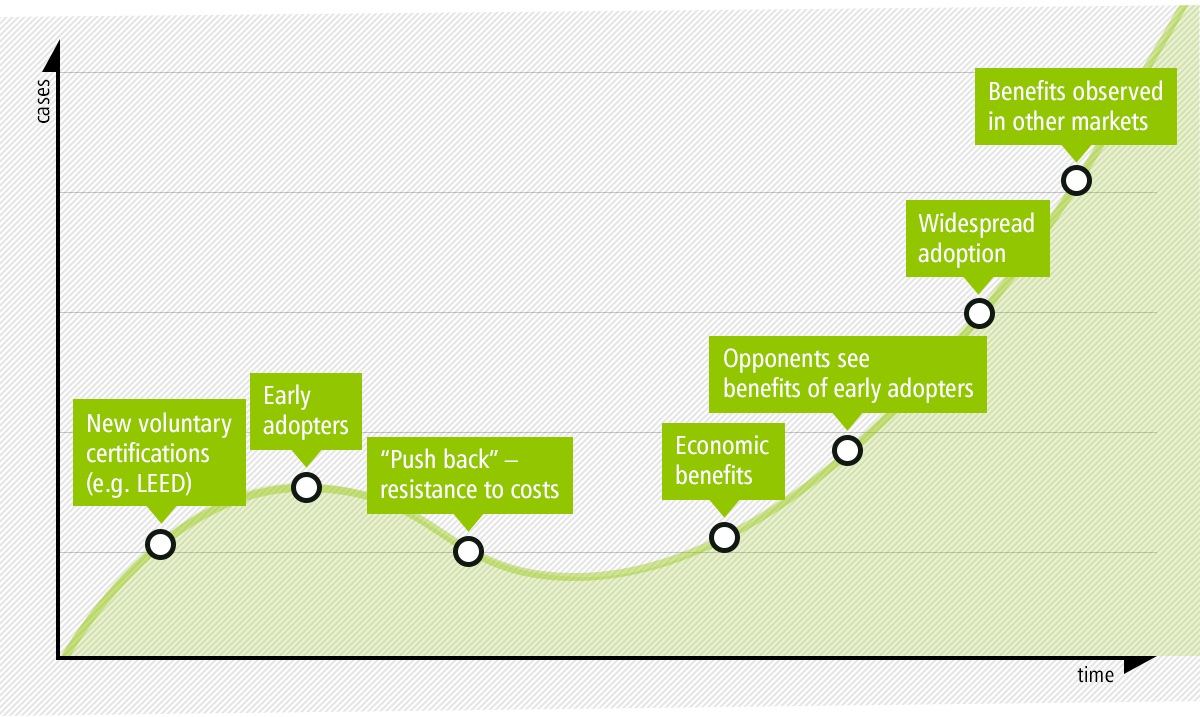 LEED in practice
The Fraunhofer Center for Sustainable Energy Systems in Boston is seeking LEED Platinum certification. Not only will the scientists working inside be investigating innovative green building technologies, the historic restoration project itself boasts window solar panels, heat-absorbing and releasing walls and energy-generating elevators donated to the project by thyssenkrupp Elevator.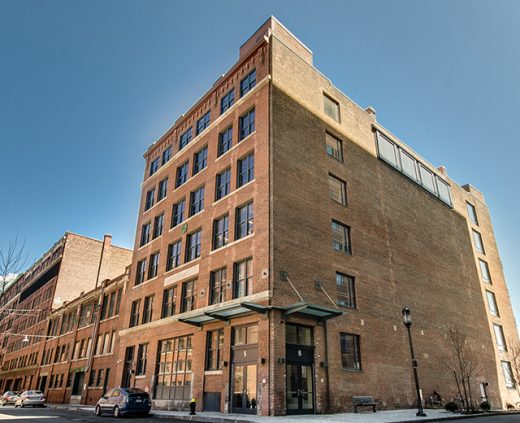 Another example of improving energy efficiency is the City Creek Center in Salt Lake City. The first indoor-outdoor mall in the US makes use of a retractable roof to regulate the temperature. This allows to convert sections of the mall into outdoor mall – reducing energy drain for cooling and heating. For the overall concept – with water running through, populated with plants and live trouts – the center achieved LEED Gold certification and has been dsitinguished as America's best retail development in 2013.
Some companies seek to promote LEED practices not just through the certification of buildings, but by training their employees to become LEED experts, such as the 200+ LEED Green Associates at thyssenkrupp Elevator who can help clients navigate the complexities of certification.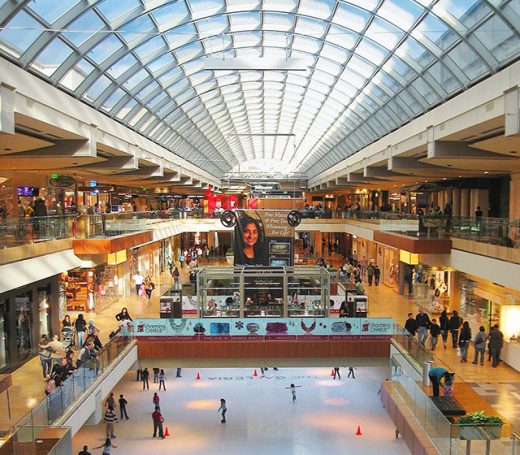 LEED certification of Middleton elevator factory
thyssenkrupp Elevator's manufacturing facility in Middleton, Tennessee is the first elevator manufacturing site globally with a LEED certification for existing operations and maintenance. The facility was originally built in 1969 and continued to operate throughout the certification process. Updates to the factory include an advanced BAS (Building Automation System) including remote monitoring on the HVAC systems, no potable landscape irrigation, automatic lighting and motion sensors, as well as the ability to lessen energy use at the facility should the state of Tennessee need more power.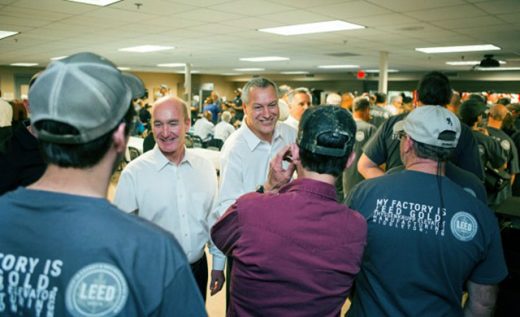 LEED at its best - Top examples of LEED projects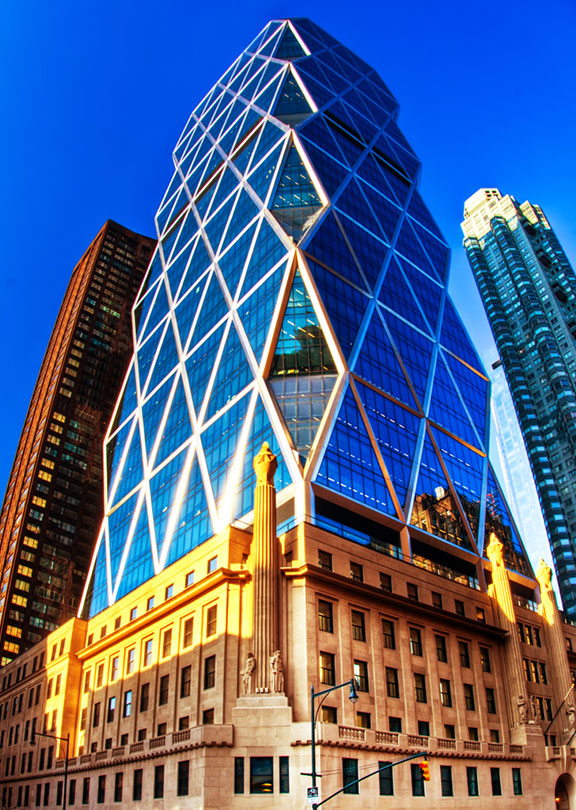 Hearst Tower, New York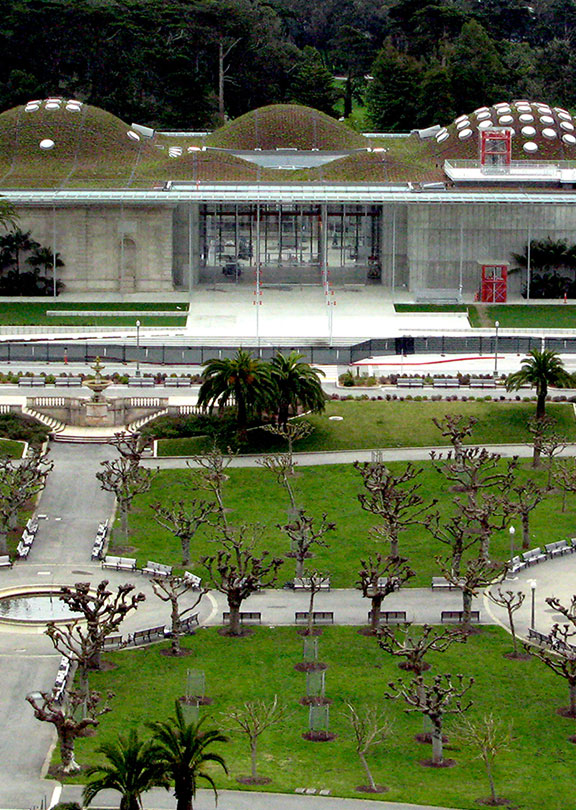 California Academy of Sciences, San Francisco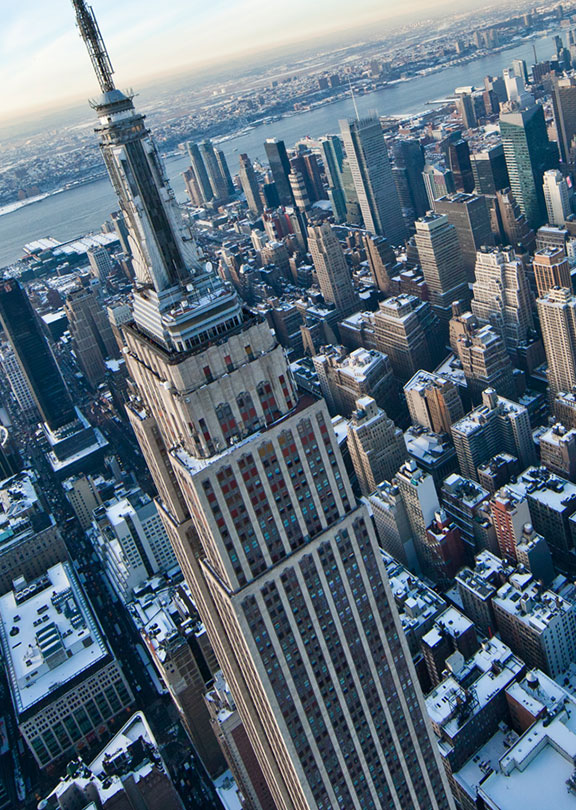 Empire State Building, New York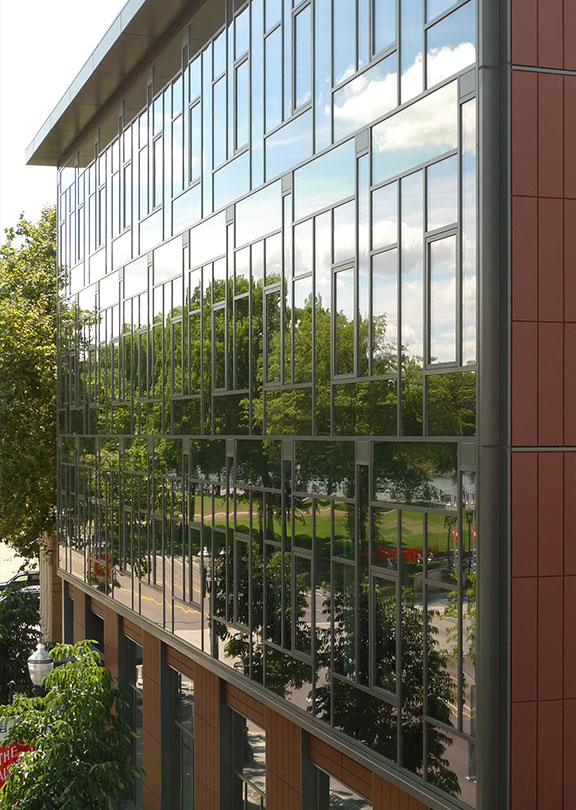 Mercy Corps Headquarters, Portland
Giving more than you take
While LEED is a major step forward in green building, there are other initiatives that go even further. The Living Building Challenge, for example, is a building certification program and advocacy tool that defines the most advanced measure of sustainability possible today.  One of the requirements is "net zero energy" or better.
Net zero energy does not imply that the building is completely detached from the grid. Instead, net zero energy buildings use resources very efficiently and produce more clean energy than what they take.
The International Living Future Institute started the Living Building Challenge in 2006 to encourage the construction of buildings that actually give back to the environment instead of merely reducing harm. To pass evaluation, buildings must be operational for 12 months to prove they really generate as much or more energy than they consume.
While there were not any net-zero-certified skyscrapers as of February 2014, the lessons learned and knowledge gathered is certain to spill over to taller buildings in the future. And URBAN HUB will be watching.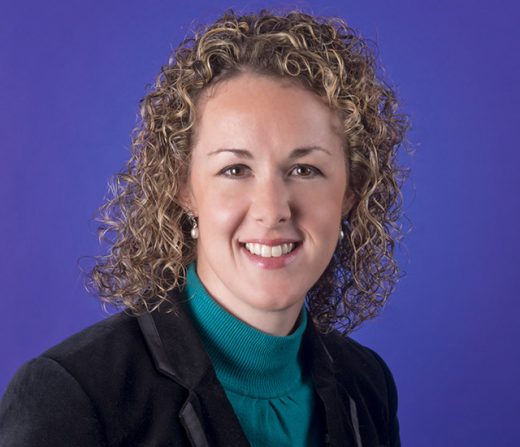 "As we move forward, we're going to see more and more buildings that reach for a higher standard than even LEED."
Monica Miller
Sustainable Design Manager, thyssenkrupp Elevator Americas
®
LEED has been criticized as only rating projected performance, which means some certified buildings actually perform worse than expected. LEED's new Dynamic Plaque addresses this issue, providing instant feedback on current performance.
LEED Dynamic Plaque from IDEO on Vimeo. (Attribution-ShareAlike 3.0 Unported (CC BY-SA 3.0))
Credits
1 Boake, Terri Meyer Boake (2014), 'Closing the Gap between Fantasy and Reality: Pushing Current Technologies Into the Future', CTBUH Journal 2014 (III)
2 Hargrave, J. & Wilson, R. (2013), 'Imagining the Tall Building of the Future", CTBUH Journal 2013 (III)
Images of 'Top examples of LEED projects':
Image 1: Photograph "Empire State Building New York City" by Flickr User Anthony Quintano, Attribution 2.0 Generic (CC BY 2.0)
Image 2: Photograph "California Academy of Sciences" by Flickr User Peter Kaminski, Attribution 2.0 Generic (CC BY 2.0)
Image 3: Photograph "Mercy Corps Headquarters" by Flickr User Tom Byrne, Attribution 2.0 Generic (CC BY 2.0)
Image 1: Photograph "hearst" by Flickr User Rian Castillo, Attribution 2.0 Generic (CC BY 2.0)