Buildings
Rising in the East – Asia leads the way in supertall skyscraper construction
"Supertall" skyscrapers are sprouting up all over the world, especially in Asia (including the Middle East). In cities like Bangkok, Beijing, Doha, Dubai, Hong Kong, Kuala Lumpur, Mumbai, Shanghai, Singapore and Taipei, the number of tall buildings is large, and growing. Currently, 9 of the top 10 tallest buildings in the world are in Asia, as well as 17 of the top 20, 26 of the top 30… and the list goes on. 
Beacons of urban sustainability – Today's urban city planning creates future beacons for cities which convey the new messages of sustainability, green choices and living responsibly.
10002 views
How did buildings get so tall?
Since the 1960s, tall buildings have used a structural system that combines a concrete core with a tubular frame to achieve height and maximize floor space. New materials, new forms of construction design, and new digital tools have made building to greater height even more feasible.
Buildings above a height of 300 m are called "supertall" skyscrapers. They're tall, but even taller is the newest breed of skyscraper: those over 600 m in height. These are called "megatall" buildings.
Why does Asia love tall buildings?
Asia is the right place at the right time. Cities and countries are all unique, but every large city in Asia seems to combine enough of the ingredients necessary to drive expansive vertical growth. Some of these characteristics include: a large population, rapid urbanization, massive economic expansion, great wealth accumulation, spatial constraints (e.g. Hong Kong, Singapore), and/or a growing desire to exploit the sustainable, space-saving advantages of high-density living.
Add to that the natural human desire to advertise one's success and throw in a bit of architectural vision and ambition, and it's obvious why Asia is leading the way in building up.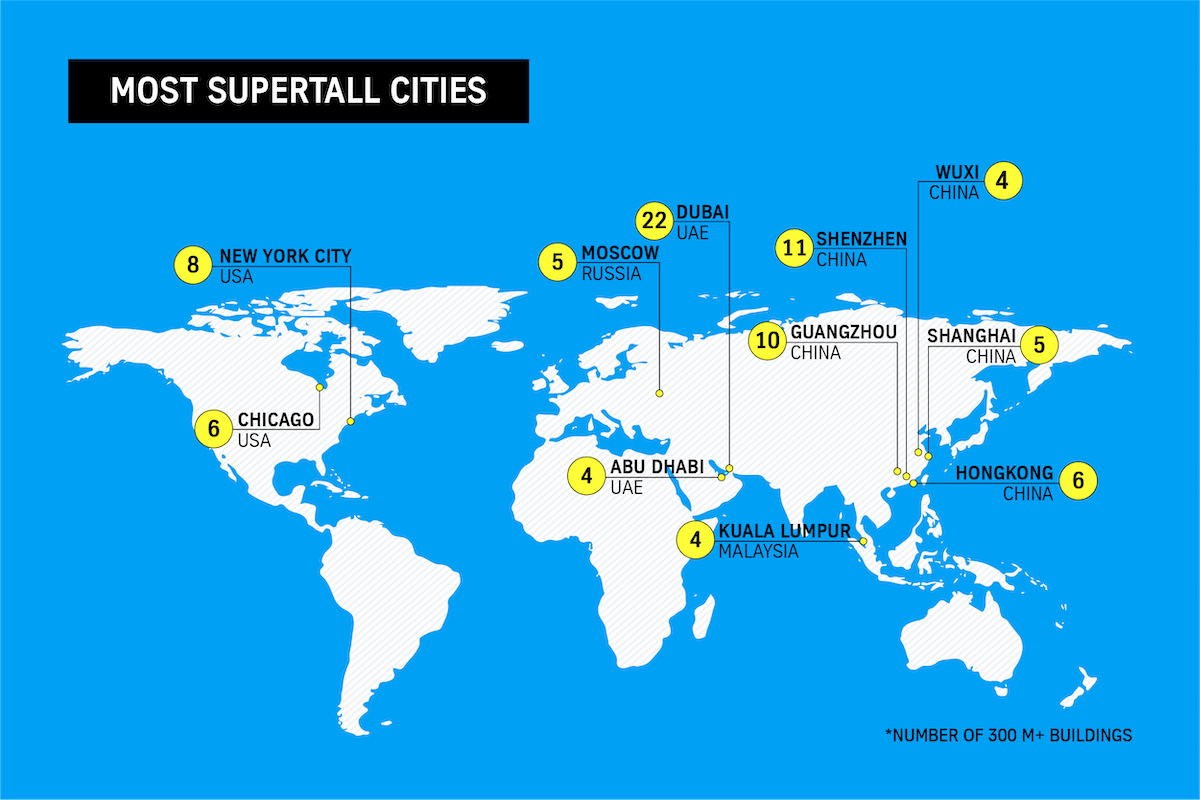 Supertalls in Asia
With 116 of the world's 144 "supertalls", Asia provides lots of great examples. Completed in 2012, the 328.6-m Keangnam Hanoi Landmark Tower is the second tallest building in Vietnam. And the 300-m NBK Tower in Kuwait City houses the new headquarters of the National Bank of Kuwait.
Meanwhile, in Seoul, the 338-m Parc 1 Tower A will become the second tallest building in the city when it opens in 2020. 28 TWIN elevators (two independently moving cars in one shaft) move people through its 68 floors at speeds of up to 7 m/s. Space- and energy-saving TWINs also helped the 385-m PIF Tower in Riyadh to achieve LEED Gold certification.
Supertall plus – 400+ m buildings
22 of the world's 26 buildings greater than or equal to 400 m in height are in Asia. A good example is the 492-m Shanghai World Financial Center (SWFC). It's the 10th tallest building in the world, and winner of multiple awards, including the coveted CTBUH 10 Year Award.
SWFC employs four double-deck mobility solutions from thyssenkrupp Elevator to smooth out internal traffic flows along its 101 stories. Elsewhere in China, the new 438-m Wuhan Center Tower uses high-speed elevators from the same company – nothing but the best for one of the "next 15 megacities."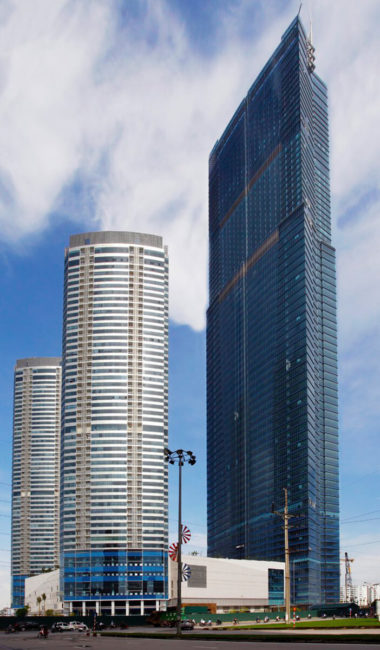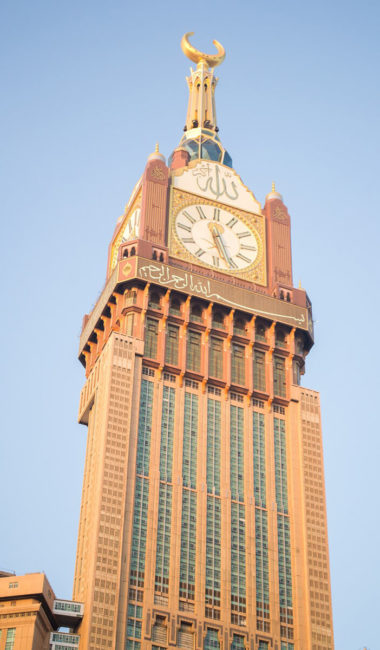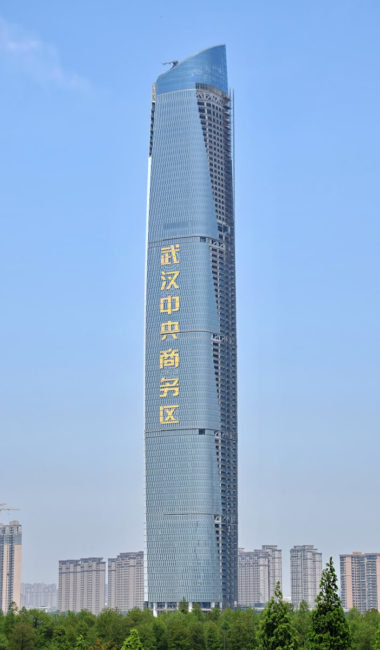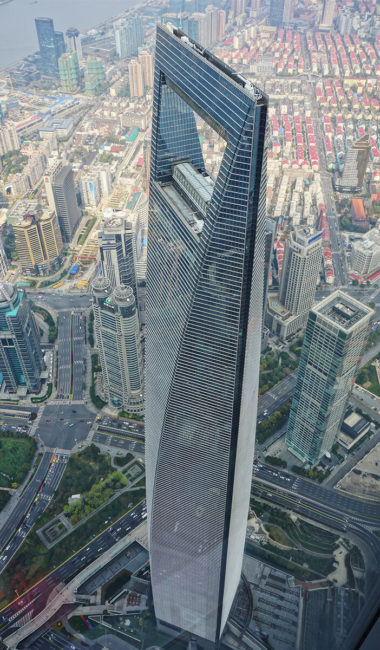 Megatalls: Pioneering the space above 600 m
All four megatalls (≥ 600 m) in the world are in Asia, as well as the only two free-standing megatall towers. Roughly ten more megatalls are either under construction or scheduled to begin construction in 2019. One of the existing megatalls is the Makkah Royal Clock Tower, where special mobility was provided by thyssenkrupp Elevator.
In addition, there are at least three planned so-called "kilotalls" – buildings of at least a kilometer in height. Jeddah Tower looks to be the first, scheduled for completion in 2021. The proposed Sky Mile Tower in Tokyo would be the first mile-tall skyscraper (1700 m). If built, it will clearly need to use innovative and flexible mobility solutions.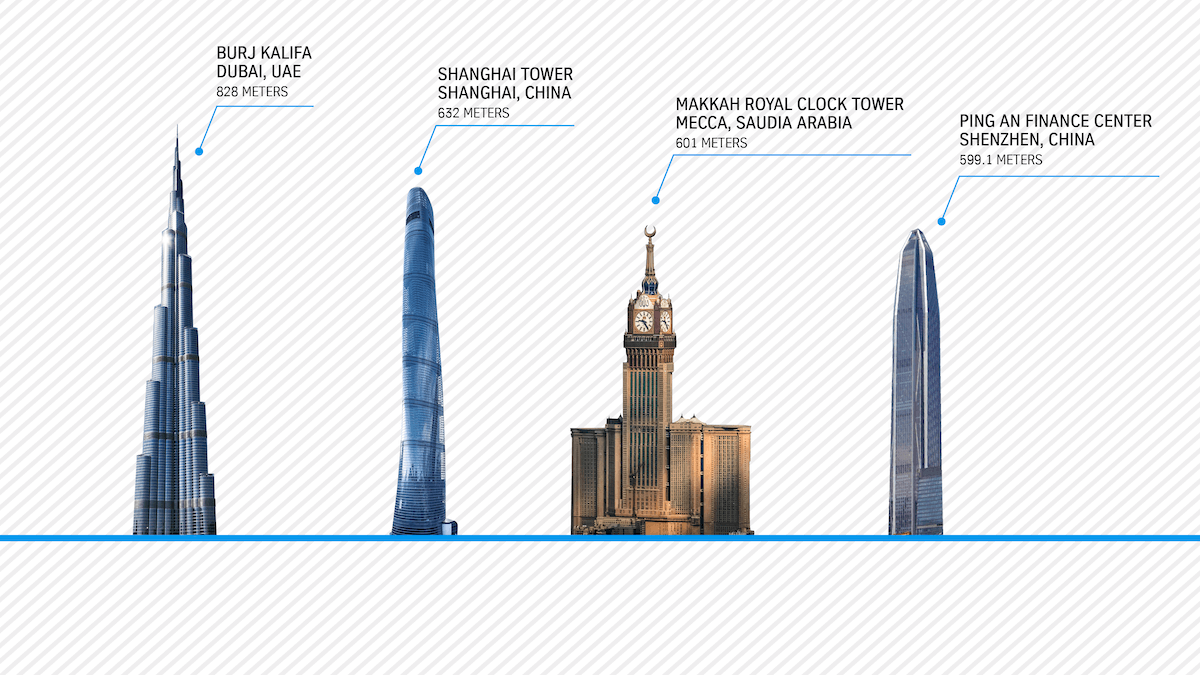 Tall buildings answer the question of space
High-density living is the economical and sustainable solution to the megatrend of massive urbanization and the challenge of urban sprawl. Skyscrapers make high-density living possible, and optimize the use of scarce and valuable ground space. But space on the ground is not the only issue. Floor space within buildings is valuable, too. And the higher you go, the more space is traditionally needed for the elevators that make high-rise civilization a reasonable proposition.
That's why so many tall supertalls use space-saving systems like double-decker elevators or the flexible TWIN system. And that's another reason why the revolutionary MULTI system is exciting architects around the world. Because it uses maglev technology instead of rope or cable, buildings no longer need additional elevator shafts to serve the top floors – no matter how tall we eventually build them!