Buildings
Incredible architecture: What makes these 10 CTBUH Award nominated buildings so special?
These buildings all stand out, whether through beauty, originality or intelligent design. But what do they all have in common? Each of the ten buildings listed below has been honored as an award finalist at the Council on Tall Buildings and Urban Habitat (CTBUH) Tall + Urban Innovation Conference. But what makes them all so special?
Beacons of urban sustainability – Today's urban city planning creates future beacons for cities which convey the new messages of sustainability, green choices and living responsibly.
42196 views
Marina One, Singapore
Four mixed-use high-rises join together to form a green heart: a multi-level public space complete with a rich diversity of tropical flora. Designed by ingenhoven architects in collaboration with landscape architects Gustafson Porter + Bowman, this Singapore complex is designed for living and working in a dense environment while keeping close to nature.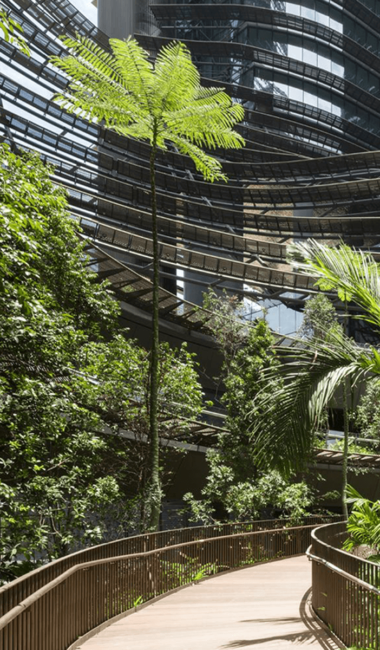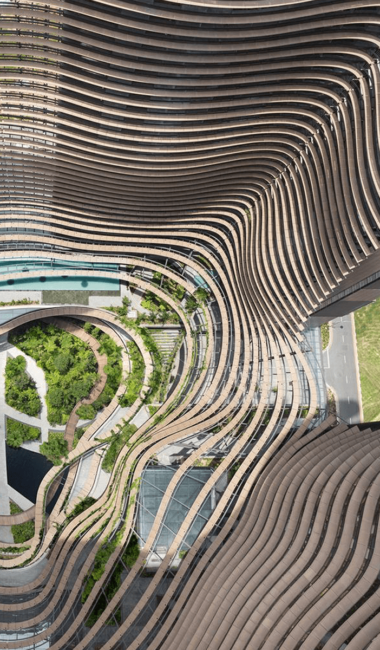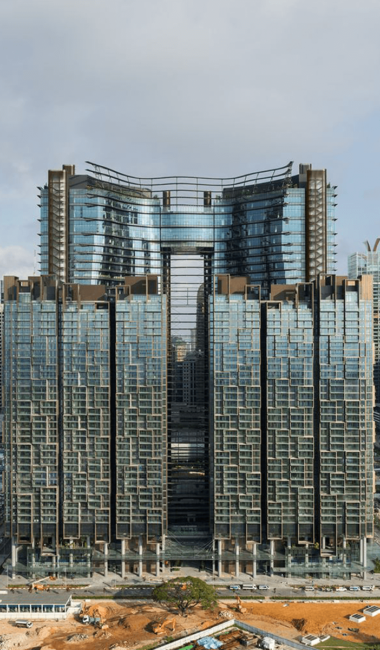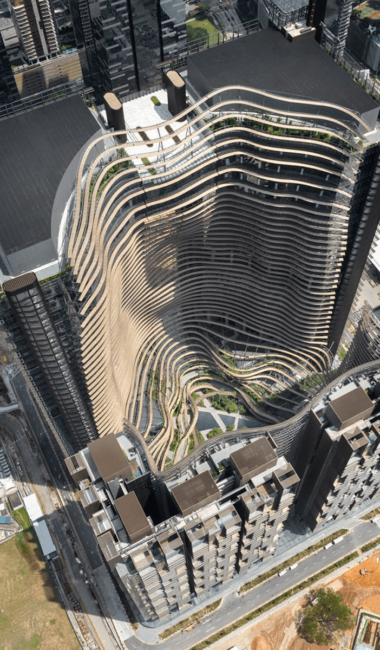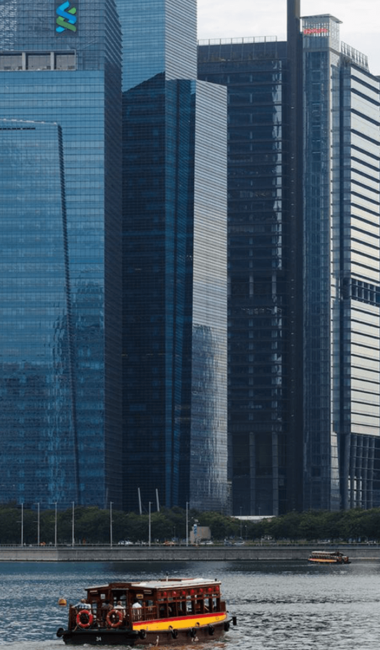 The heart of the structure is a quiet, lush green sanctuary.
Lotte World Tower, Seoul, South Korea
This 123-floor, 555-meter (1,820 ft) supertall building also tapers, but elegantly upwards to be South Korea's tallest – and one of the top ten globally. Kohn Pedersen Fox Associates (KPF) use inspiration from traditional Korean arts including porcelain, calligraphy and ceramics to design this stunning mixed-use structure. Also loaded with solar and wind energy and water reclamation features, the building boasts the world's highest glass-bottomed observation deck – half a kilometer up!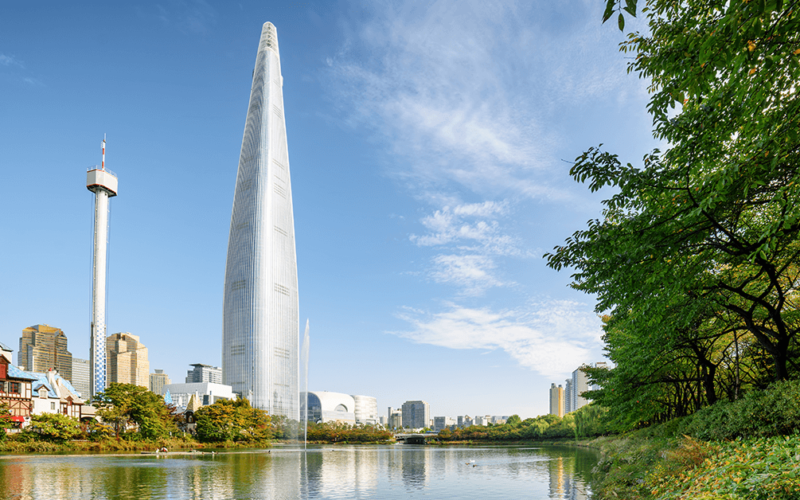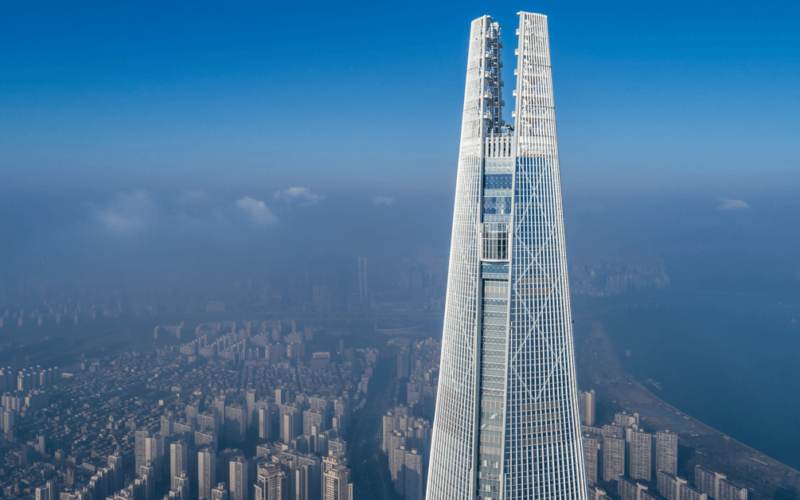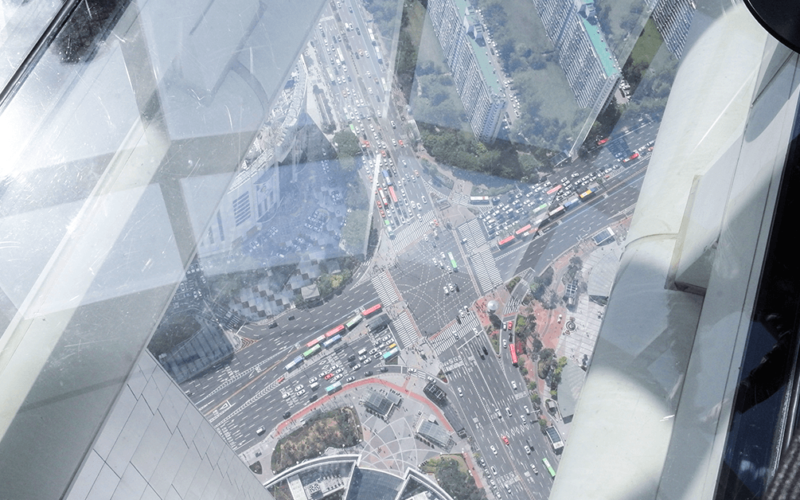 Brock Commons Tallwood House, Vancouver, Canada
The incredible secret of this 53-meter student housing structure is simple: it's made out of wood. Not entirely, some parts, like the foundation and the elevator core, are concrete. But the superstructure uses five-ply, cross-laminated timber (CLT) floor slabs supported by glue-laminated columns with prefabricated steel connections. As befitting a university building, the structure also incorporated sensors to measure shrinkage, moisture in CLT, as well as wind and seismic effects. Designed by Acton Ostry Architects (AOA), it is currently the tallest engineered-timber building in the world.
Shanghai World Financial Center, Shanghai, China  
This 494.3 m (1,622 ft) building has been a landmark in Shanghai since its opening in 2007. The mixed-use building, also built by KPF, is still inspiring builders today. Its distinctive design includes numerous safeguards against the lateral load of storm winds and earthquakes. These include a large trapezoidal opening near the top to reduce the wind load, two tuned mass dampers (TMD) on the 90th floor to minimize swaying, and a thick concrete foundation with over 2,000 steel pipes anchoring the structure to a depth of 80 m (260 ft). The 97th floor (part of the 6-floor observatory) resembles a glass-roofed skybridge – and is to be reached via 44 of the world's fastest double-deck elevators.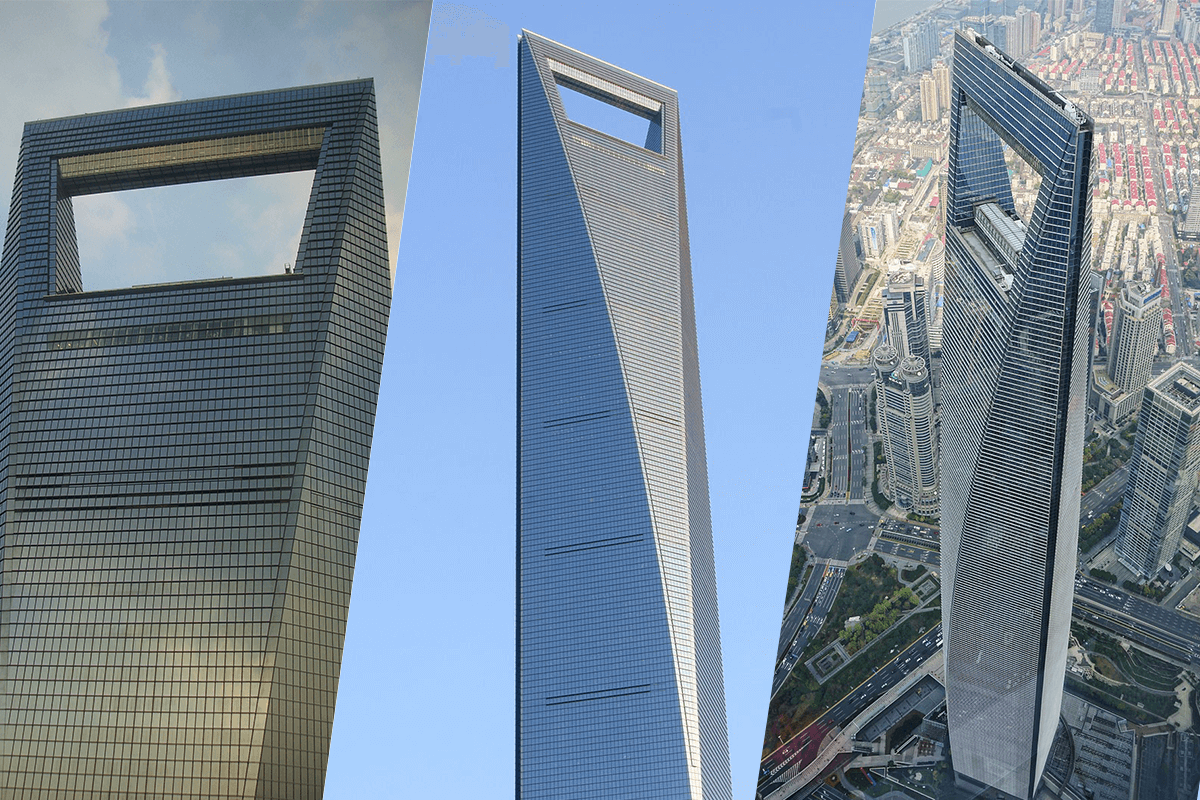 A city within a city – linking the heavens and the earth.
56 Leonard Street, New York City, USA
According to the architects – Herzog & de Meuron – this 250 m (821 feet) tall structure is "a vertical glass expression of sculpted surfaces, cantilevers and sparkling glass". The 57-story building seems to cascade downwards over differently sized floors to a specially commissioned work by sculptor Anish Kapoor at the base. The floors literally stick out, aesthetically and directionally in a way similar to the block structures created in the game of Jenga.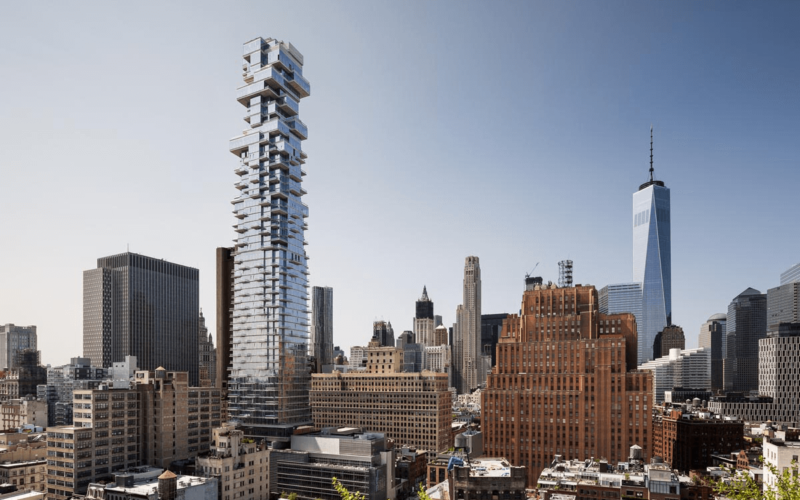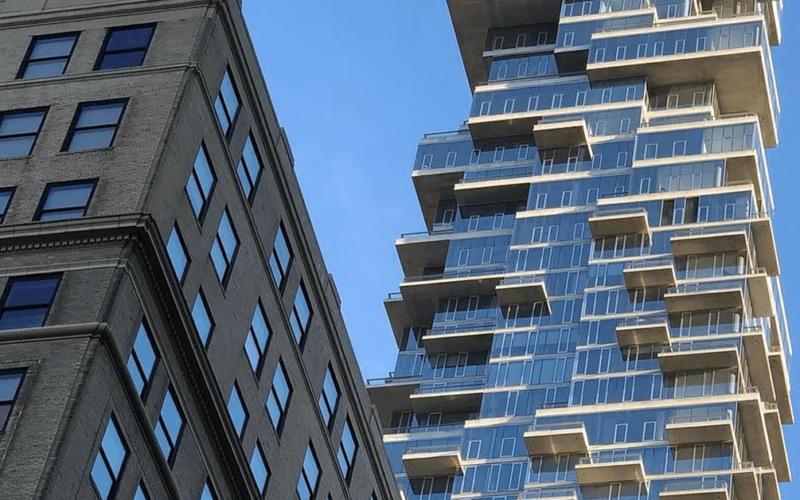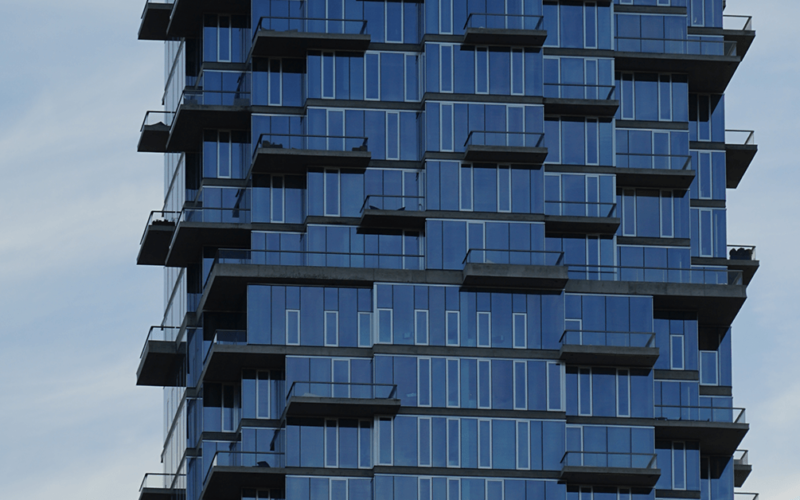 The eye-catching new luxury condominiums in Tribeca, NYC.
150 N. Riverside, Chicago, USA
For many years, the empty space squeezed between the Chicago River and roads and railways was considered "undevelopable". But Chicago architects Goettsch Partners, and their engineers, Magnusson Klemencic Associates, came up with an interesting solution. They designed a full-sized 54-story structure that tapers to an exceptionally small base. LEED Gold-certified and loaded with structural and design delights, the unique structure also left ground space for a new park and a river walk – hence it is also known as "the tuning fork".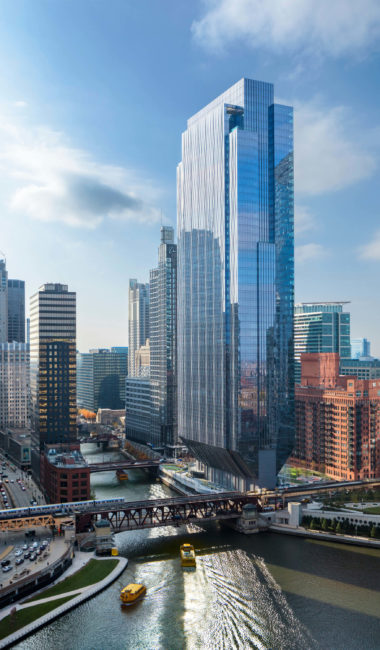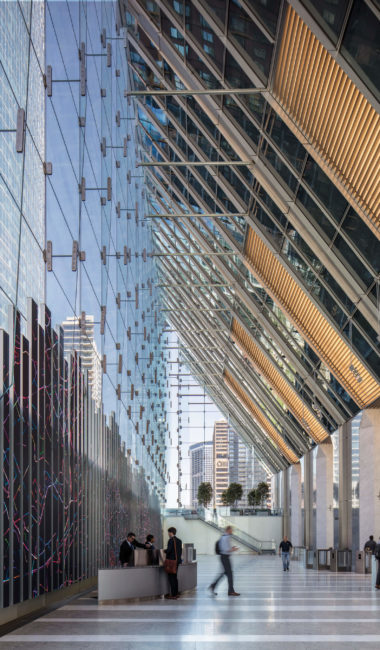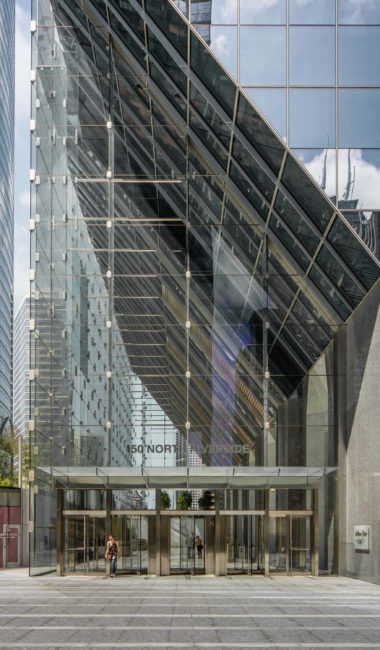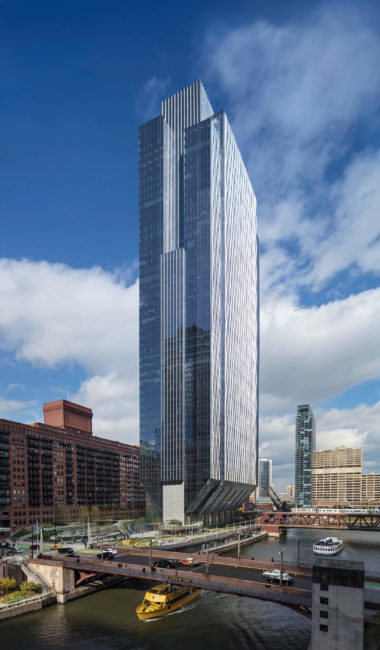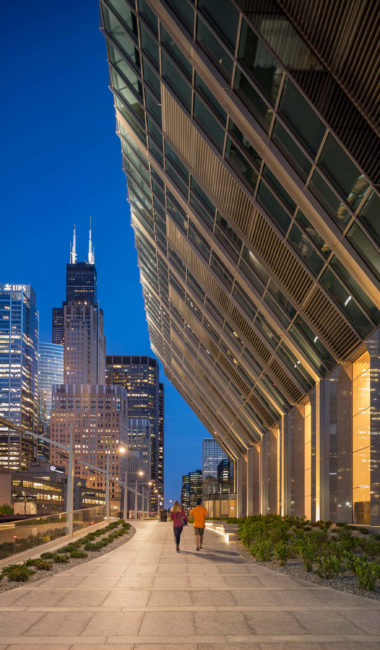 A building that is clearly on the "cutting edge" of design.
Tencent Seafront Towers, Shenzhen, China
Designed by NBBJ, this building uses three multilevel skybridges to connect two towers (39 stories and 50 stories). The primary use of the structure is as the global headquarters of the internet giant Tencent, and its design reflects that. The building is designed to facilitate movement and connectivity, as well as provide for the needs of company employees through such amenities as a basketball court, a running track, a swimming pool, and rooftop gardens. In addition, integrated energy-saving technologies reduce carbon emissions and energy consumption by 40%.
Connecting the horizontal with the vertical is the plan.
Chaoyang Park Plaza Complex, Beijing, China 
Blurring the limits between the natural and the built environments, these two asymmetrical office towers are the centerpiece of a large complex at the edge of Chaoyang Park, often called Beijing's "Central Park".
The MAD-designed 26- and 27-story buildings intentionally evoke the linear furrows of mountain rock and are inspired by traditional Chinese landscape paintings. Not only do these striations look impressive, they also form part of an energy-efficient ventilation and filtration system, part of why the buildings are also LEED Gold-certified.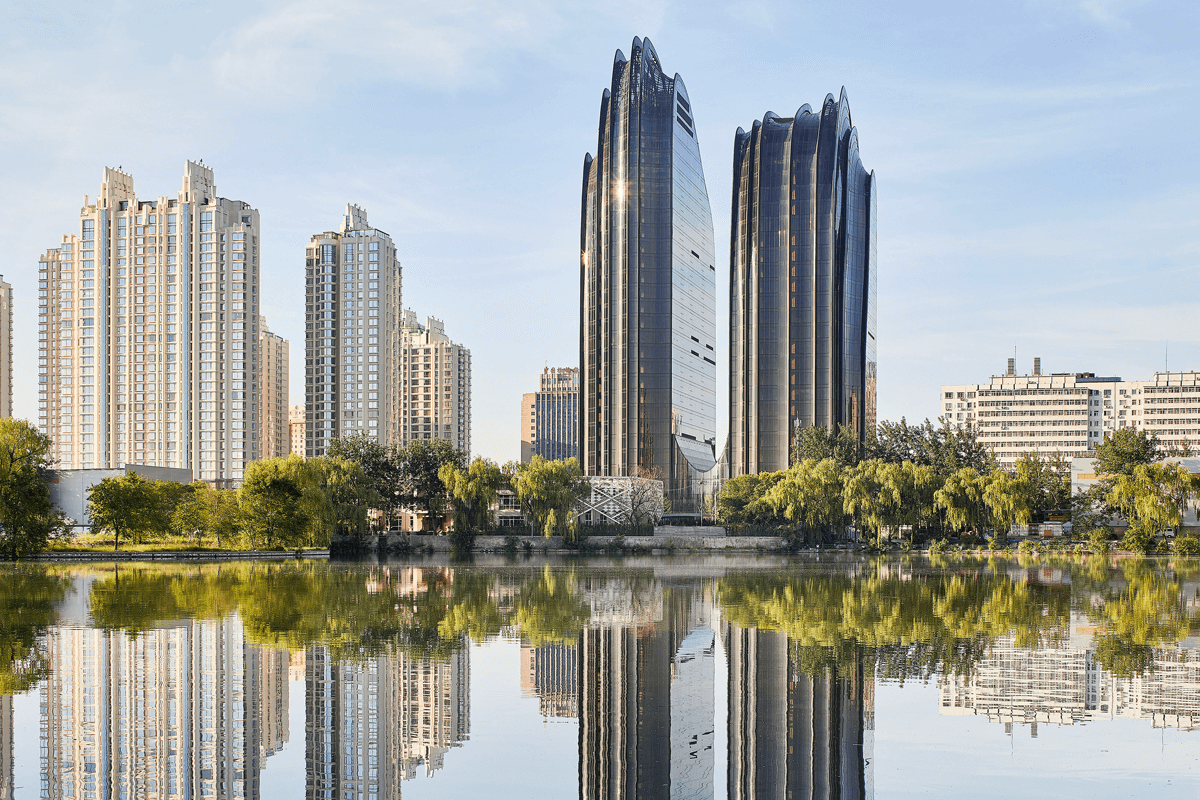 Answering the call of nature with new technology and design.
Oasia Hotel Downtown, Singapore
The WOHA-designed "Living Tower" uses a red aluminum mesh cladding to cover the entire exterior with 21 species of plants and flowers. The four structural cores are relegated to the corners of the building, leaving large areas open for additional, interior biodiversity and natural ventilation, as well as four open-sided sky gardens. The 190.15 m (623 ft) tower incorporates both office and hotel space, as well as public space on the ground floors. The design intentionally reflects the specifics of the climate of Singapore and provides a new model of skyscraper architecture for the tropics.
Planting the seeds for a new model of tropical architecture.
"Office of the Future" 3D printed building, Dubai, United Arab Emirates
It's not one of Dubai's many skyscrapers, but for a building that was "printed" it's pretty impressive. The world's largest 3D printer (6 m/20 ft high, 37 m/120 ft long, and 12 m/40 ft wide) used an additive concrete technique to produce the building components. It took 17 days, with an additional two days for assembly. The result was an interior space of 250 sqm (2,691 sq ft), and the "world's first fully functional 3D printed building". Several design firms worked on the project, including Syska Hennessy, Gensler, Thornton Tomasetti, and Killa Design.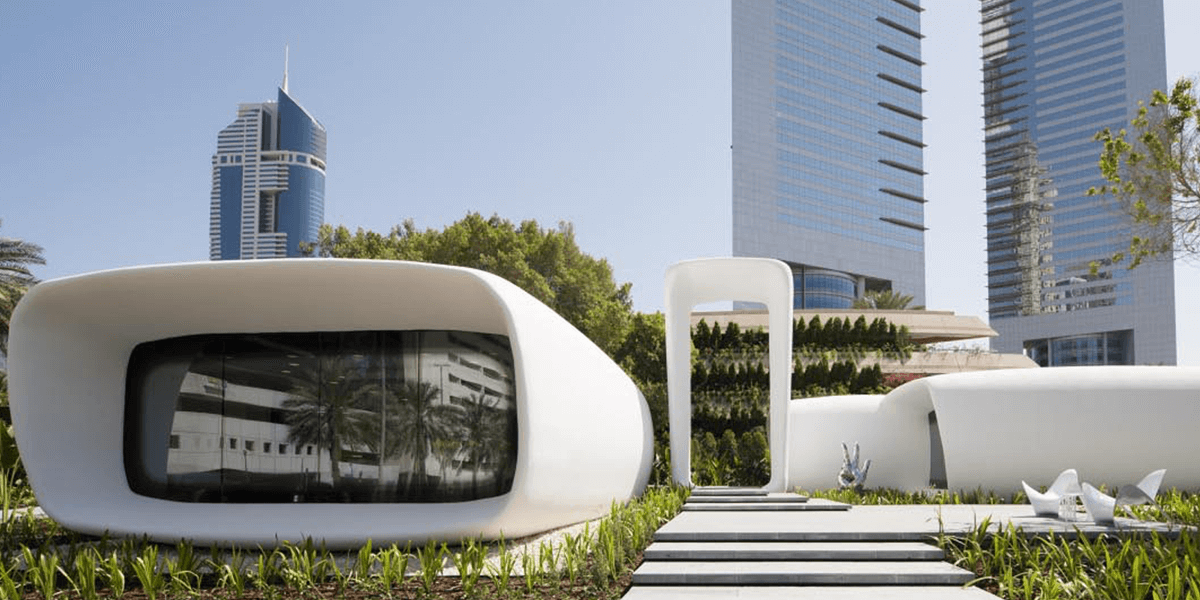 Additive construction techniques are on display in Dubai.
Who declares the winners?
The CTBUH Award nominations recognize projects and individuals that have made extraordinary contributions to the advancement of tall buildings and the urban environment, and that achieve sustainability at the highest and broadest level. They're all special, in other words. The buildings highlighted in this story offer only a glimpse.
But it's not just buildings that are honored. Products that make buildings safer or more sustainable are also nominated, as are those which open new doors to architectural design. MULTI is nominated in the category of Innovation, both for its space and energy-saving footprint, as well as for its unique linear motor technology that allows multiple cars to move in a single shaft both vertically and horizontally – without cables.
The CTBUH Awards will be given out in May 2018. Good luck to everyone!
Image Credits:
American Cooper Building, credit to Max Touhey
Marina One, photo by HGEsch, Hennef, credit to Ingenhoven Architects
Lotte World Tower, photo by efired, taken from istock.com
Brock Commons Tallwood House, video by naturally:wood
Shanghai World Financial Center 1, photo by Gerbil, taken from commons.wikimedia.com, some rights reserved
Shanghai World Financial Center 2, photo by Ferox Seneca, taken from commons.wikimedia.com
Shanghai World Financial Center 3, photo by Ferox Seneca, taken from commons.media.com
56 Leonard Street, credit to Alexico Group
150 N. Riverside 1, photo by Tom Rossiter Photography, credit to Goettsch Partners, Inc. 
150 N. Riverside 2, photo by Tom Rossiter Photography, credit to Goettsch Partners, Inc. 
150 N. Riverside 3, photo by James Florio Photography, credit to Goettsch Partners, Inc. 
150 N. Riverside 4, photo by Tom Rossiter Photography, credit to Goettsch Partners, Inc. 
150 N. Riverside 5, photo by Lester Ali Photography, credit to Goettsch Partners, Inc. 
Tencent Seafront Tower, video by nbbjdesign
Chaoyang Park Plaza Complex, photo by Hufton + Crow
Oasia Hotel Downtown, video by WOHA Architects
"Office of the Future" 3D Printed Building, photo by WAM, credit to Killa Design