Buildings
Futuristic corporate headquarters – building statements around the world
It can't be denied: big companies really like to make strong statements with their corporate headquarters. They are an expression of a company's style, vision, and ethics. These buildings count among the most unique and intriguing structures of our modern times, designed by top names in the world of architecture.
In this article, we explore these gems of modern architecture, looking at who is making them, why they are making them, and what the common design features are. Of course, we also consider the perspective of employees who work inside these new castles of commerce.
Beacons of urban sustainability – Today's urban city planning creates future beacons for cities which convey the new messages of sustainability, green choices and living responsibly.
4982 views
Beyond the box
It's hard to imagine a modern company with a new corporate headquarters based on the tired old model of a tall rectangular box. When it comes to the shape for these new buildings, there's only one rule: anything goes.
Some headquarters are sprawling, like the proposed 2.8 million square foot ring of the new Apple campus in California. Some are tall, like Tower 1 of the Petronas Twin Towers (452 ft tall), which houses the home offices of Petronas Oil. Others, like the adidas headquarters "Laces" in Herzogenaurach, Germany, are inspired by the company's products, in this case featuring crisscrossing walkways that resemble shoelaces.
Many companies find their homes in the world's tallest skyscrapers, but now, rather than reaching for the sky, some are getting shorter and longer: meet the "landscraper," the media's name for Google's new European headquarters in London.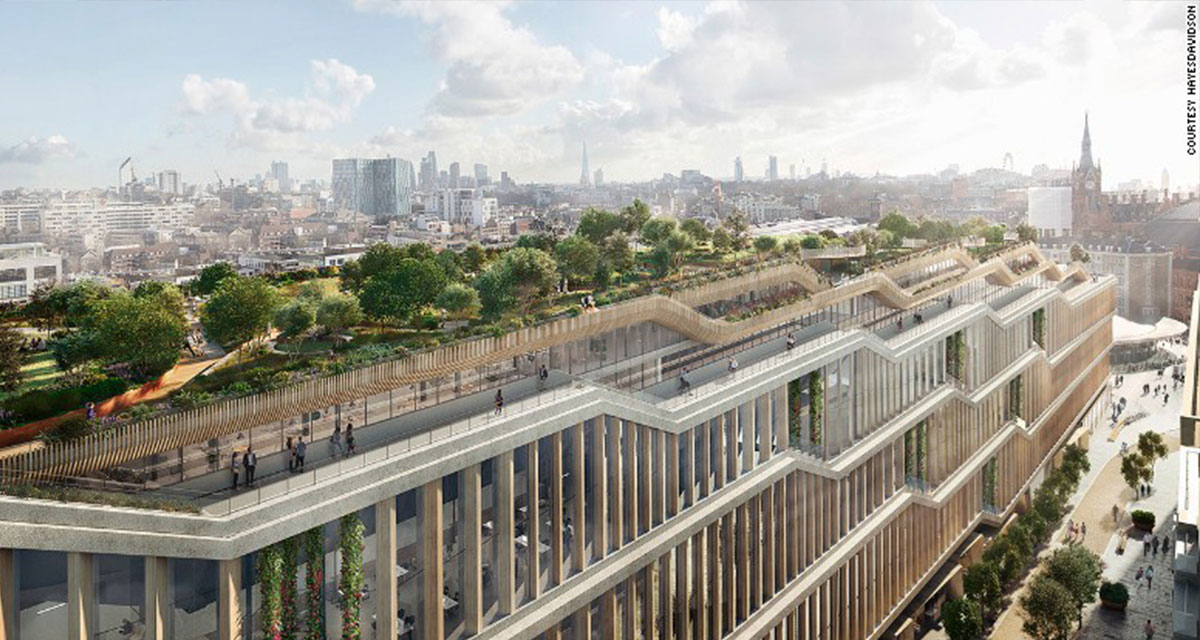 What do they offer employees?
Yet what does all this dazzle do for the employees who work there? A lot. When a company puts its best face forward, it helps employees build a strong identification with it. A building can effectively symbolize what the company does and what it believes along with encouraging employees to work harder to embody those core values.
An innovative corporate headquarters can also provide an engaging atmosphere that works to boost employee motivation and productivity. Some companies even make the workplace fun. Acuity (an insurance company!) has an indoor Ferris wheel at its headquarters in Scheboygan, Wisconsin, USA.
Many modern headquarters feature world-class fitness and wellness centers, as well as places to eat, be creative, or even sleep. You may have already read Urban Hub's article on workplace satisfaction, which also lists the many perks offered to employees working in buildings like these ones.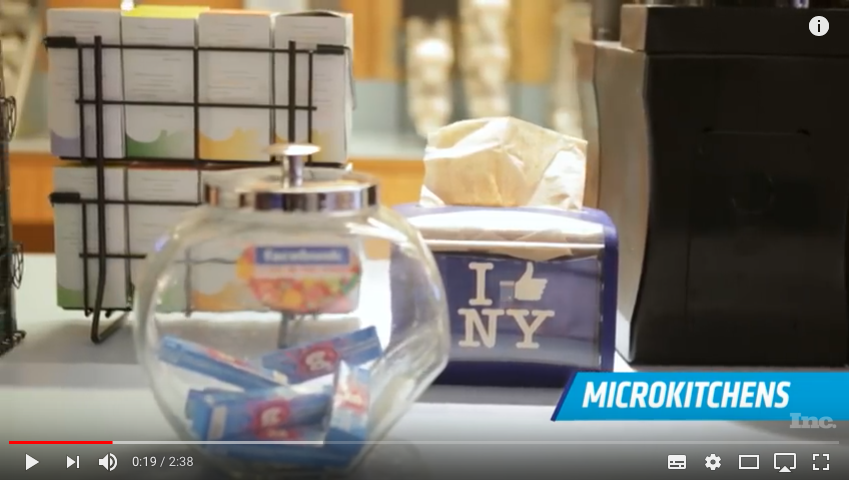 Where, what, and why?
The attraction of futuristic corporate offices has spread well beyond the high-profile headquarters of Silicon Valley tech giants. Large companies around the world have come to understand that the design of their headquarters reflects – and showcases – their corporate values and culture.
It's critically important to paint a good picture of one's company at the place where one's most important partners come to visit. People are more apt to do business with a company if they see it has style, is successful, and treats its people with the respect they deserve. Cookie-cutter monoliths, on the other hand, do not leave that kind of impression.
Granted, diversity is probably the most common feature of modern head office designs. Nevertheless, the table below lists some of the most common features, followed by three interesting examples.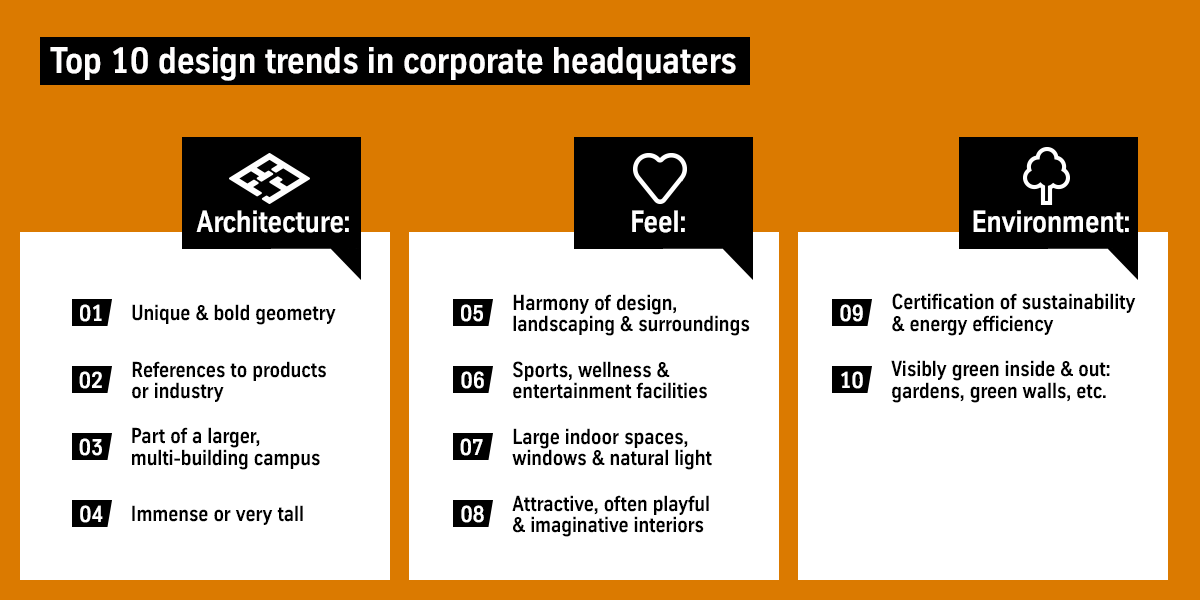 At King's new HQ, Candy Crush Saga comes to life
King, the company behind Candy Crush Saga, found plenty of inspiration for its new headquarters in Stockholm in its own popular cartoon game. Architects divided the 1940s-era building into distinct landscapes for office space, meeting rooms, or relaxation and play areas with names like Magic Forest, Treasure Island, and Deep Sea, all borrowing game elements and characters for decorative touches.
Airbnb HQs combines local and global
In keeping with its reputation for bringing a local touch to global travel, Airbnb expanded its HQ in San Francisco to include spaces with a cultural theme. A Brooklyn-themed foyer welcomes visitors, while employees can take a break in the Mumbai hot spot or seek inspiration in a travel trailer in Rye, Australia. Just like the listings they advertise, each space is uniquely personal and celebrates a healthy work-life balance.
Need another reason to apply for a job at Airbnb? Every employee gets $2,000 credit each year to stay at Airbnb accommodations!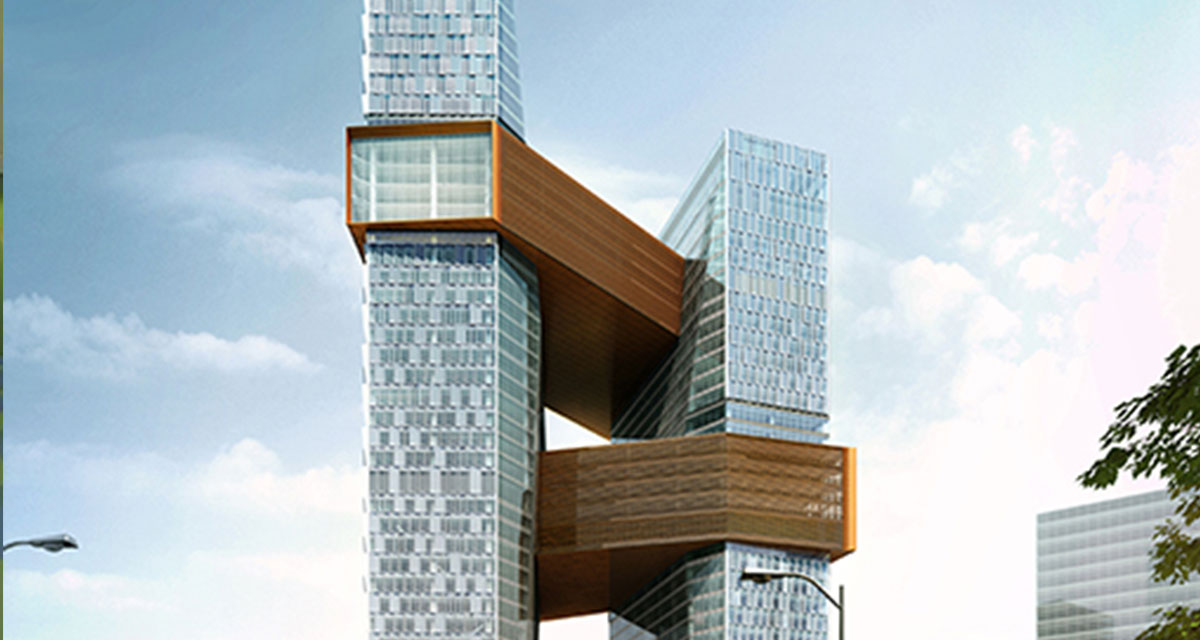 Tencent's HQ – fit for an internet giant
The media giant behind WeChat, Tencent, was once little known outside of China, but has grown into a household name around the world. Time to build a headquarters to reflect its new status! In 2014, Tencent opened its Seafront Towers HQ in Shenzhen, China. Two soaring – but linked – towers, the structure includes the latest energy-saving technology over 270,000 square meters, but also promotes interconnectivity with horizontal landscapes that give it the feel of a suburban tech campus.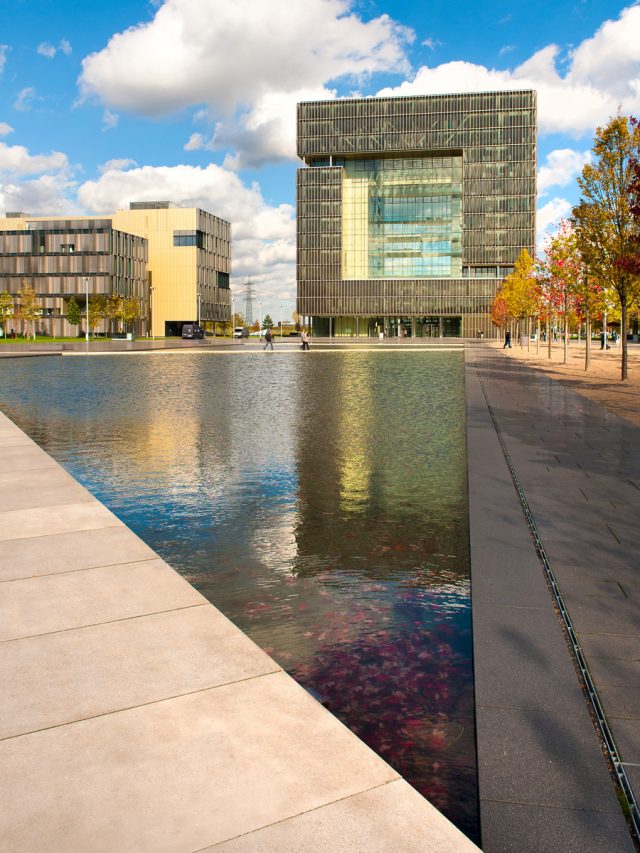 thyssenkrupp Elevator, Headquarters, Essen, Germany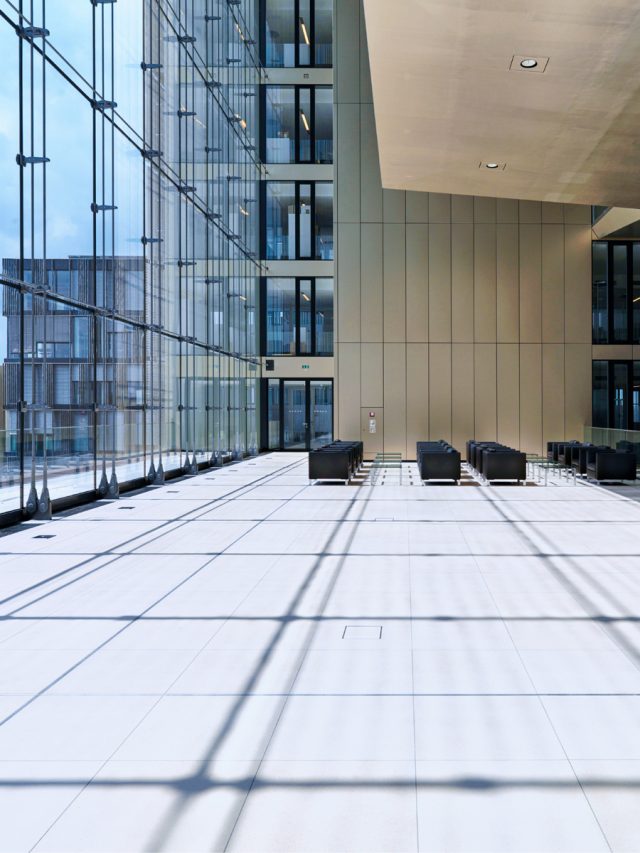 thyssenkrupp Elevator, Headquarters, Essen, Germany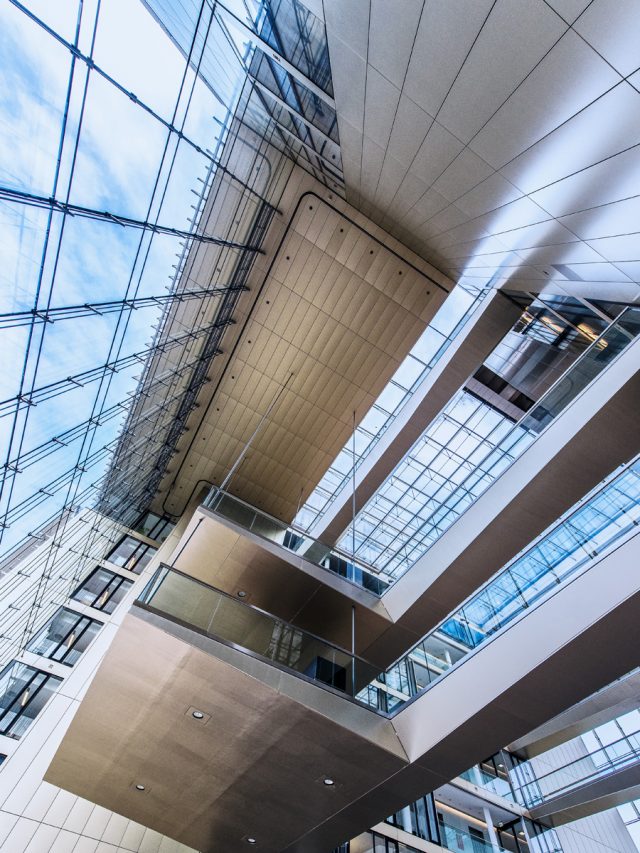 thyssenkrupp Elevator, Headquarters, Essen, Germany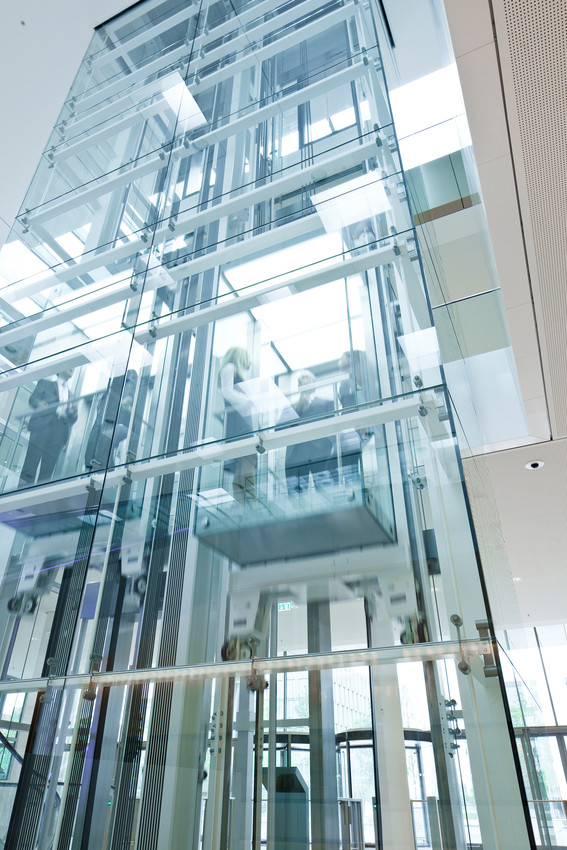 thyssenkrupp Elevator, Headquarters, Essen, Germany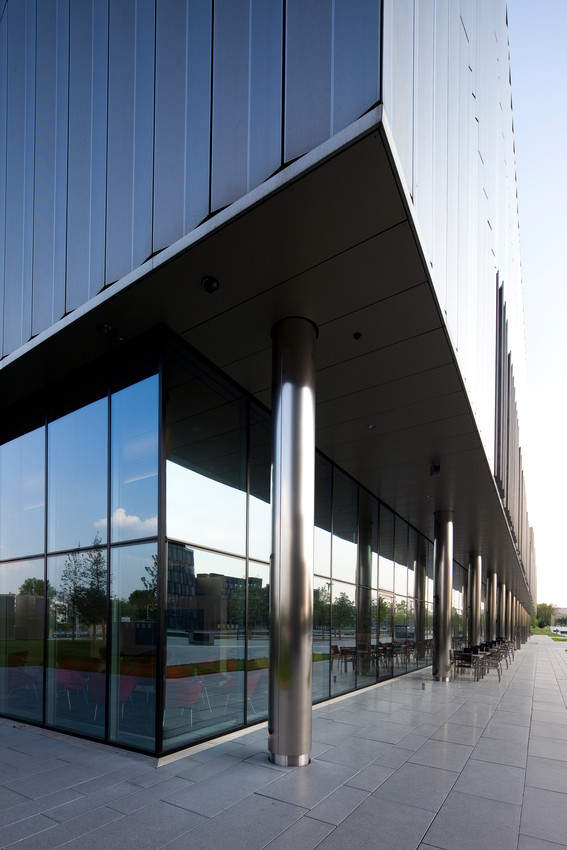 thyssenkrupp Elevator, Headquarters, Essen, Germany
Beautiful design is not enough
Environmental concern and sustainability are also part of the statement that many companies wish to make with these new buildings. Beautiful building design is made even more appealing when there is visible evidence that the company responsible for the building also cares about the planet.
For instance, Facebook's new HQ boasts a 9-acre rooftop park that provides both aesthetic and environmental benefits. Similarly, the gigantic atrium at Amazon's home office in Seattle offers a protected space for endangered plant species as well as recreation for the human species.
When futuristic corporate headquarters combine cutting-edge design with sustainability, a clear message of forward-thinking leadership is "built-in." It's a kind of message that consumers, employees, and the public respond well to.
Have you ever visited one of the buildings in this article or a similar type of headquarters? Let us know what kind of impression it left on you.
Image credits
Google Headquarters Google/Hayes Davidson, taken from archinect.com – image by: HayesDavidson