Buildings
Criss-cross, zig-zag and hash: an as-yet unnamed architectural design trend
Hash patterns, Xs, converging lines, and criss-crossing or zig-zag patterns – we've all seen modern buildings that use lines and angles in interesting ways, whether they are tightly organized or more random and haphazard. These zig-zagging lines and jutting angles may be a feature of the façade or part of the structure of a building. But what should we call these elements of architectural design and how can we break them down into subgroups?
Beacons of urban sustainability – Today's urban city planning creates future beacons for cities which convey the new messages of sustainability, green choices and living responsibly.
7244 views
Playful angles and criss-crossing lines
Architects love to show off their creativity by diverging from the typical shapes of rectangular skyscrapers, boxy apartment blocks, and square houses.
One way of doing this is to focus more on curviness, rounded corners and wavy lines. However, it's not necessary to abandon angles if you want to be creative. Many architects are playing with angles, zig-zags, and criss-crossing lines in exciting new ways.
Some point to the late starchitect Zaha Hadid and her firm as the ones who popularized this new approach to angles and lines in architecture. Yet you'll see in the examples below that many architects have played a role, each putting a new unique twist on traditional forms.
The hash or diamond pattern
Many buildings feature windows, frameworks, or glass façades arranged in a hash or diamond pattern. The pattern can be used on flat as well as curvy façades. When placed on curvy buildings, such as the MyZeil shopping center in Frankfurt, Germany, by Italian Architect Massimiliano Fuksas, the forms create a linear and geometric counterpoint to the curviness of sweeping waves of glass.
Twelve Architects' façade on a Sheffield university building  offers a striking example of the hash pattern on a square building. Its façade takes the basic diamond pattern and shakes it up with larger and smaller diamonds in a way that looks highly arranged and haphazard at the same time.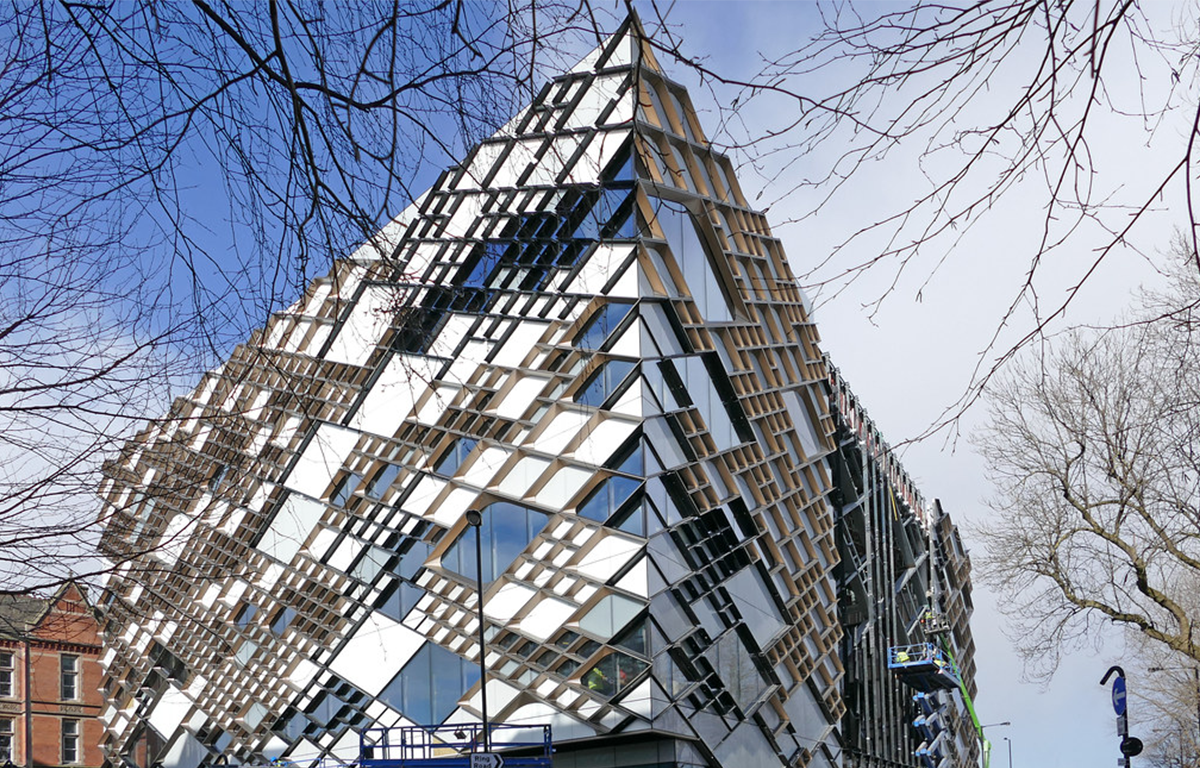 The 24th letter: Xs
The X appears on so many buildings not just because of its symmetrical beauty, but also because of its structural stability. The Bank of China Tower in Hong Kong features a different number of Xs on each side, which could be some of the biggest and tallest Xs on the planet.
"X-bracing" is usually a structural engineering tactic to transfer loads into exterior columns, thus reducing the lateral load and creating more space within a building. In addition to being functional, X-bracing can be used as a striking design feature, such as distinctive X bracing on the John Hancock Tower in Chicago.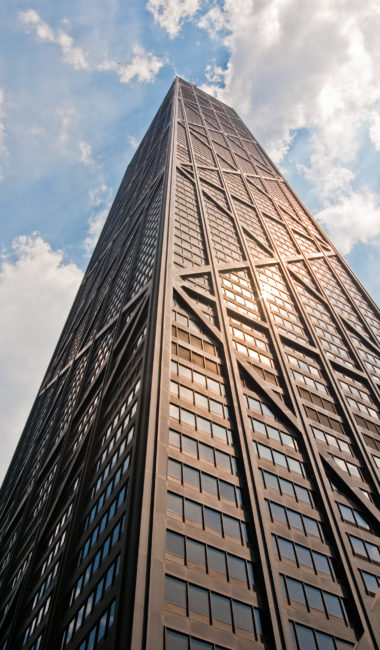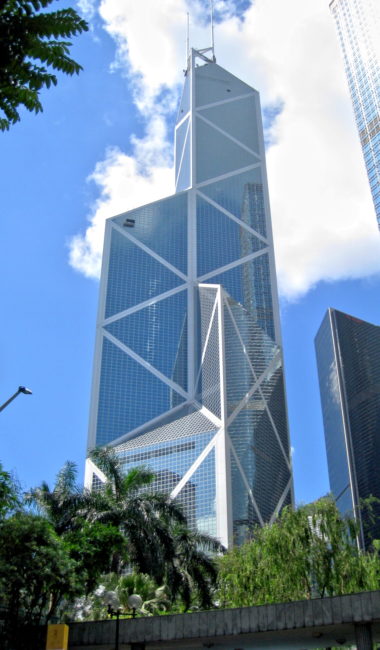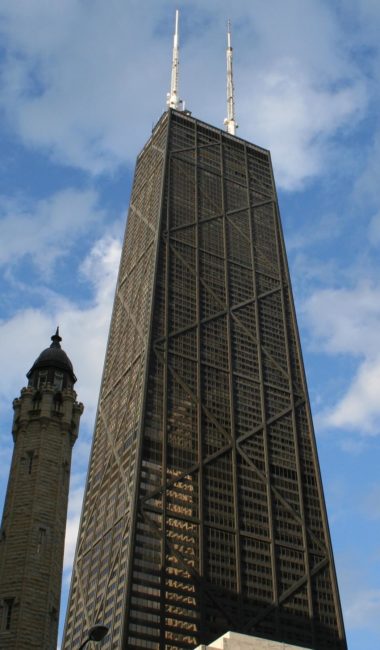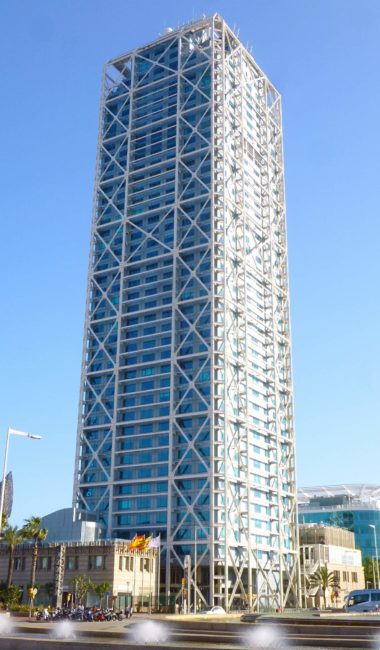 The Zig-Zag
Many buildings feature a zig-zag pattern on the façade or as a feature of the structure itself. BIG Architects, for example, have recently designed the Hotel des Horlogers, which is currently under construction in Le Brassus, Switzerland. Its zig-zagging, sloped roof lets skiers start their descent from the roof of the hotel and then continue down the slope.
Even skyscrapers feature zig-zags: Tour Carpe Diem in Paris's La Défense has a prominent zig-zag that sweeps left and right starting from the ground and rising up to the 36th floor. 
Mikado – Irregular intersecting lines
"Mikado" involves the incorporation of artistically arranged lines, which appear arbitrary from certain angles, like a group of Mikado sticks dropped on the ground. It can create an arresting visual effect on the façade of any building, accentuating even the plainest designs.
Mikado lines can also have a symbolic meaning. The lines on the Biblioteca Pública del Estado Juan José Arreola in Zapopan, Mexico, by Federico González Martínez represent the 17 indigenous languages still spoken in Mexico, along with 5 additional lines that represent languages that have since disappeared.
But far from being limited to the façade, the three-dimensional space within buildings can also be inspired by Mikado lines. Take for example the interior of the Tel Aviv Museum of Art, which offers a fresh interpretation of interior lines and spaces.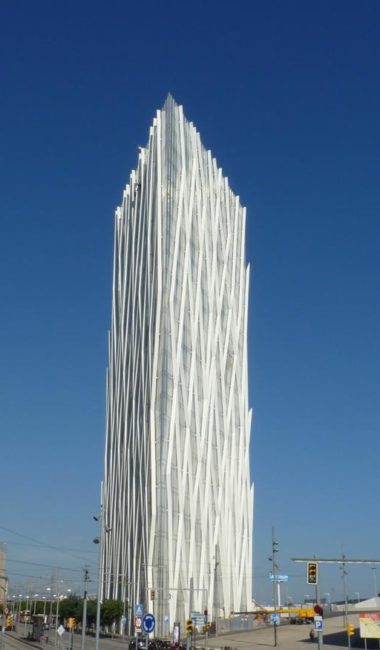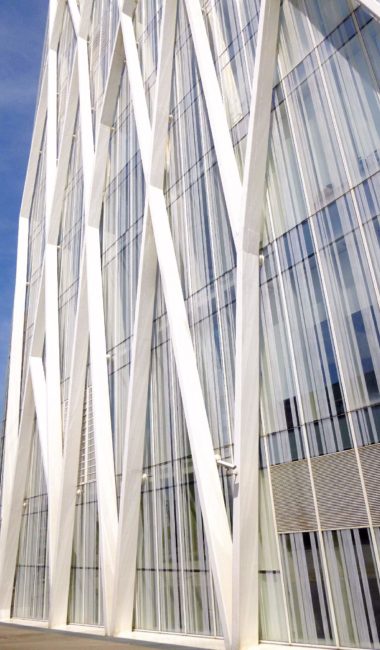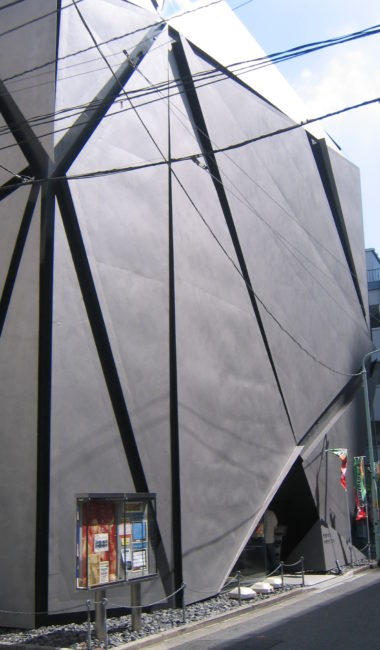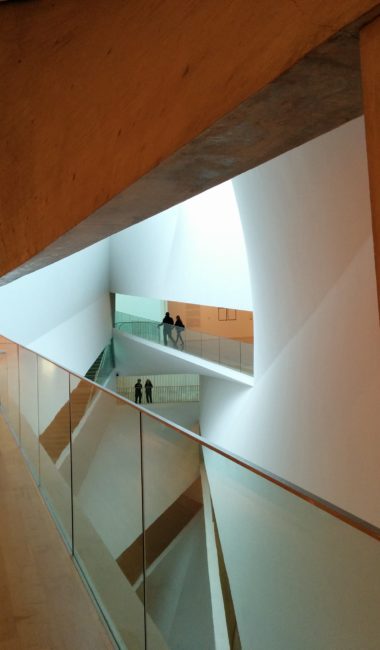 The Jut – Dramatically protruding & acute angles
Many buildings are starting to feature dramatic angles that jut out into open spaces or into the sky. These acute angles may simply provide shelter from the rain or sun at the entrance to a building, and sometimes they reach up and poke holes in the clouds.
Pointy balconies are featured on the front of the VM Houses by BIG and JDS in Orestad, Denmark, while the jutting roof of the Kilden Performing Arts Center by ALA Architects in Kristiansand, Norway, welcomes guests with a dramatic golden canopy.
Perhaps the most exciting example of a full-building jut is The Antwerp Port House by Zaha Hadid, completed posthumously in 2016.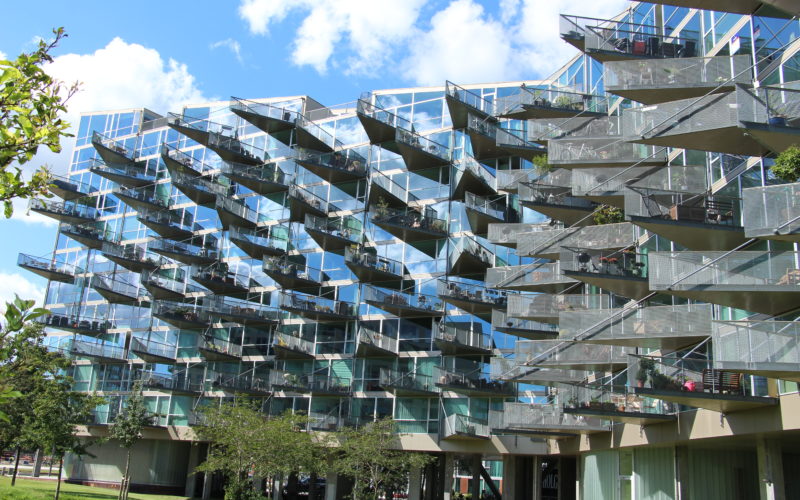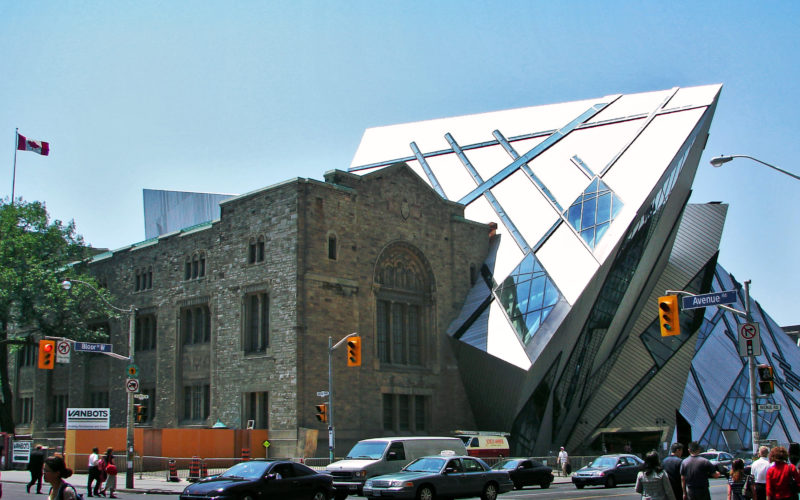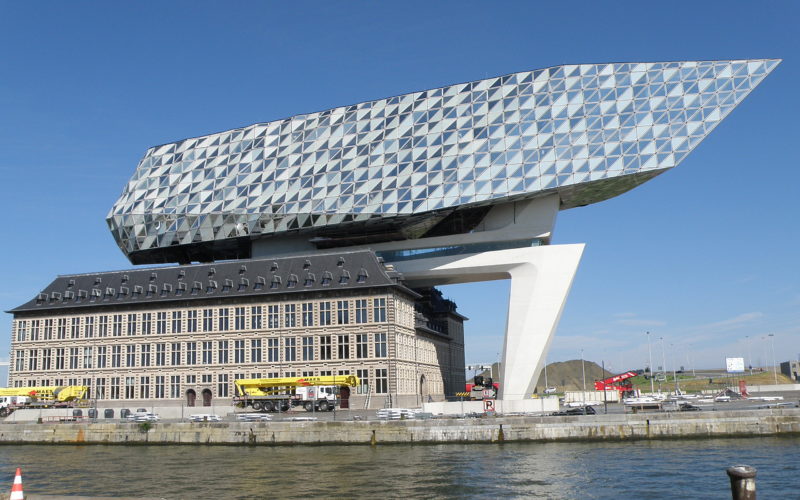 Structurally criss-crossed and zig-zagged
The most ambitious designs can be found in buildings whose structural elements actually cross or intersect with other structural elements. The Interlace in Singapore is an award-winning example of criss-crossing structures. Buildings like these, which lack a single, straight core, are perfect candidates for a MULTI system, in which multiple cabins can travel both vertically and horizontally.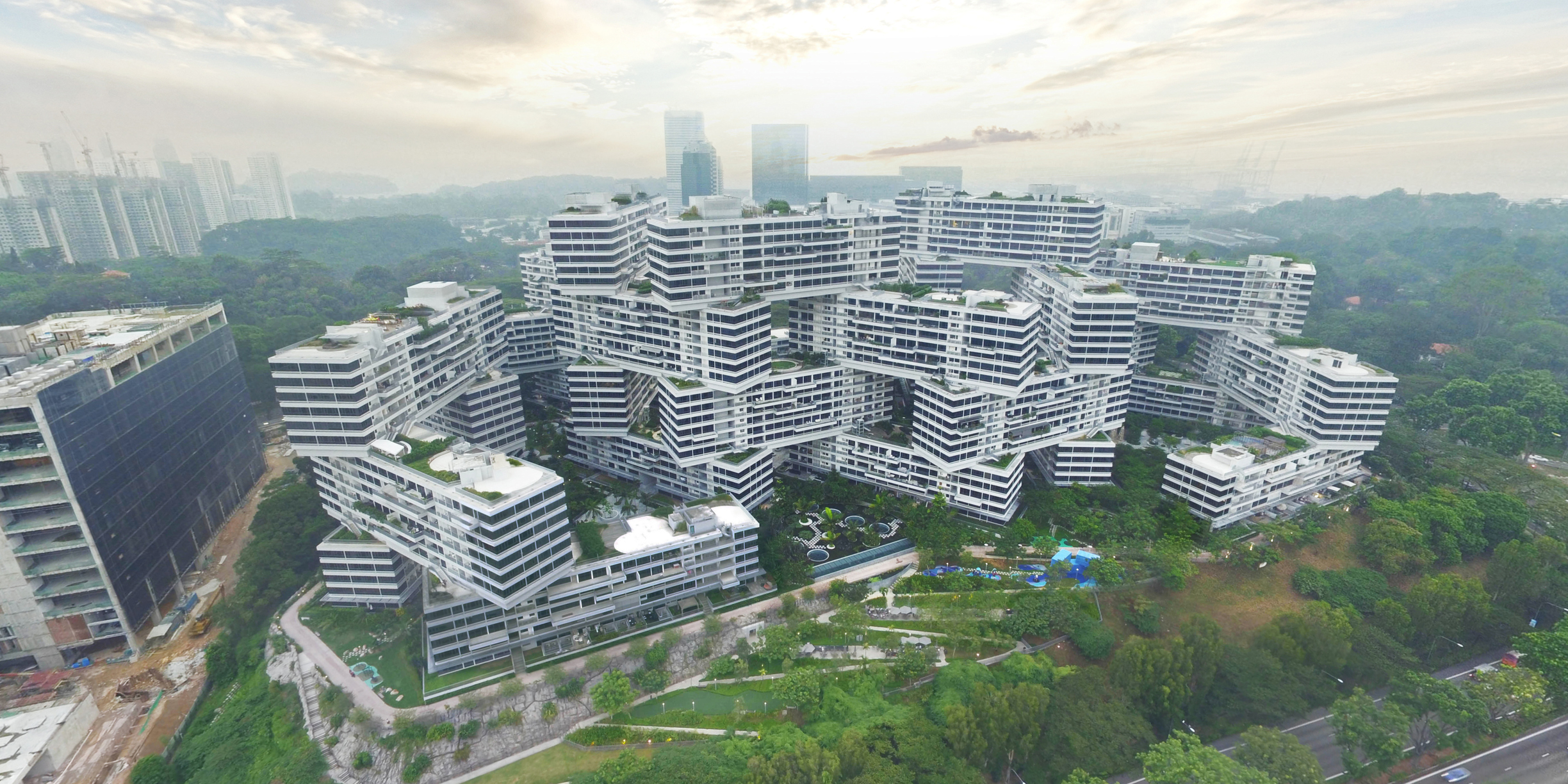 The Cross Towers by BIG in Seoul are a striking example of large structures that criss-cross and intersect at height in tall towers. The project resembles a small-scale version of the Hanging City Concept by Kostas Poulopoulos. The Cube Houses in Rotterdam by Piet Blom seemingly inter-connect, creating a zig-zagging roofline while sitting up on stilts.  Finally, the interior of the Dominion Office Building in Moscow, Russia, by Zaha Hadid Architects showcases stairways that criss-cross inside the atrium.
Image Credits:
The Diamond, University of Sheffield, photo by John Robinson, taken from flickr.com 
HK Bank of China Tower, photo by unknown, taken from wikimedia commons.org
John Hancock Tower Chicago, photo by PaulVIF, taken from wikipedia.org
Barcelona – Hotel Arts, photo by unknown, taken from wikimedia commons.org
Tel Aviv Art Museum, photo by Aleksandr Zykov, taken from wikimedia commons.org
John Hancock Center, photo by unknown, taken from wikimedia commons.org
Diagonal Zero Zero, photo by unknown, taken from wikimedia commons.org
Barcelona – Torre Diagonal ZeroZero, photo by unknown, taken from wikimedia commons.org 
Jimbocho theater, photo by unknown, taken from wikimedia commons.org 
VM House, photo by unknown, taken from wikimedia commons.org
Royal Ontario Museum, photo by Aviad2001, taken from wikipedia.org
Havenhuis Antwerpen, photo by Torsade de Pointes, taken from wikipedia.org