Buildings
A wealth of adjectives: Ways to describe amazing Chinese high-rise buildings
By completing 92 buildings over 200 meters tall in 2018, China built more skyscrapers in a single year than any other country ever. Although it built slightly fewer tall buildings in 2019, China continued to defend its lead with 57 new buildings over 200 meters tall, representing 45% of the world's total. With so much competitive construction, China is a creative architect's dream come true, with oodles of cities and companies trying to distinguish their buildings from all the rest. Below, URBAN HUB has a go at describing some of these amazing buildings with a single word.
Beacons of urban sustainability – Today's urban city planning creates future beacons for cities which convey the new messages of sustainability, green choices and living responsibly.
10288 views
Tall: Shanghai Tower
We'll start off with an easy one: tall. At 632 meters, Shanghai Tower is not only tall, but it's also megatall. It's the second-tallest building in the world and the world's tallest twisting tower. Six of the ten tallest buildings in the world are in China, as well as 2,177 buildings over 150 meters. For comparison, consider that the USA only has 807 such buildings.
The Shanghai Tower is at the center of the world's greatest cluster of supertall buildings, which includes the 492-meter Shanghai World Financial Center and the 420-meter Jin Mao Tower, as well as the iconic Oriental Pearl Tower, a 468-meter broadcasting tower with a 351-meter high observation deck.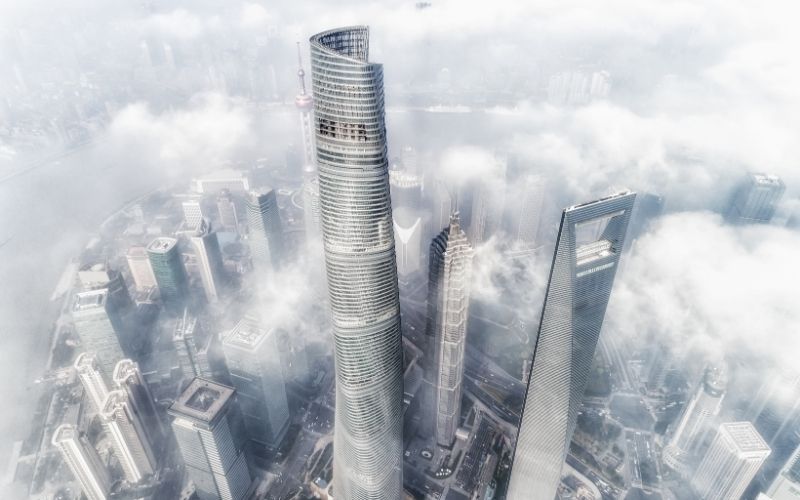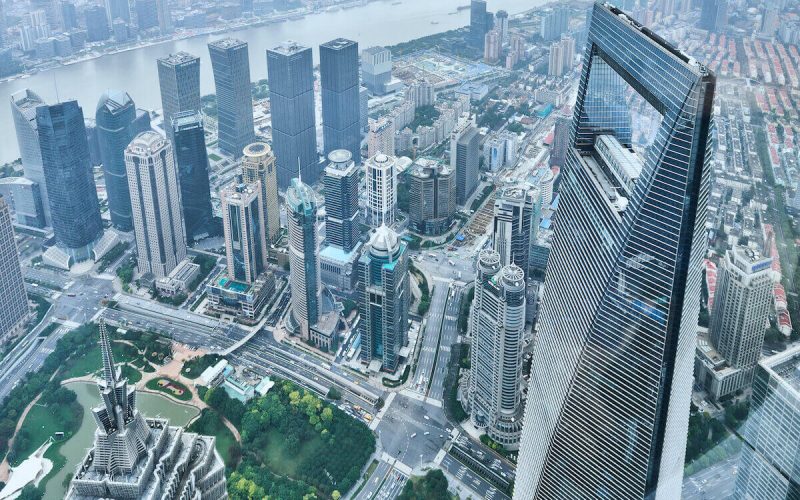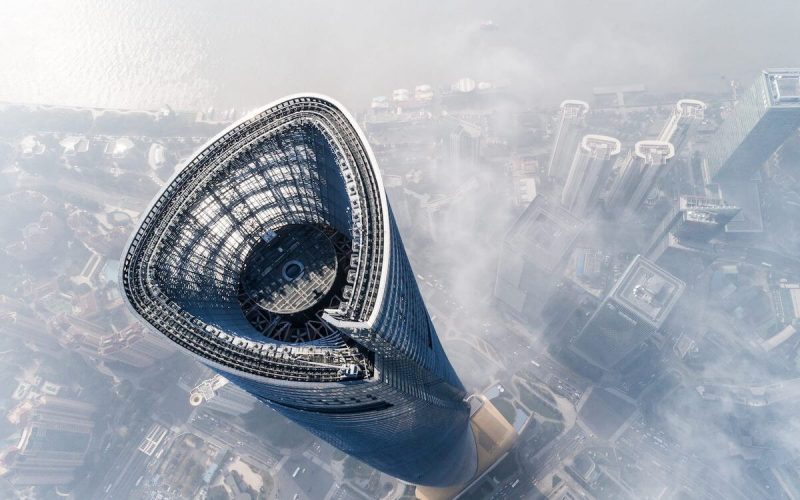 Horizontal: Raffles City Chongqing
Historically known as Chungking, the city of Chongqing is one of only four cities under direct central government administration (along with Beijing, Shanghai, and Tianjin). When complete, it will boast the world's newest and most ambitious skybridge – a feat of "horizontal" engineering.
Designed by Safdie Architects, the 280-meter long Crystal skybridge at Raffles City Chongqing is a multi-story construction atop four 250-meter tall towers and connecting with two adjacent 350-meter tall towers. Inside the 32.5-meter wide and 26.5-meter high skybridge, there are restaurants, swimming pools, walking paths, gardens, and a lot of good views over a booming city.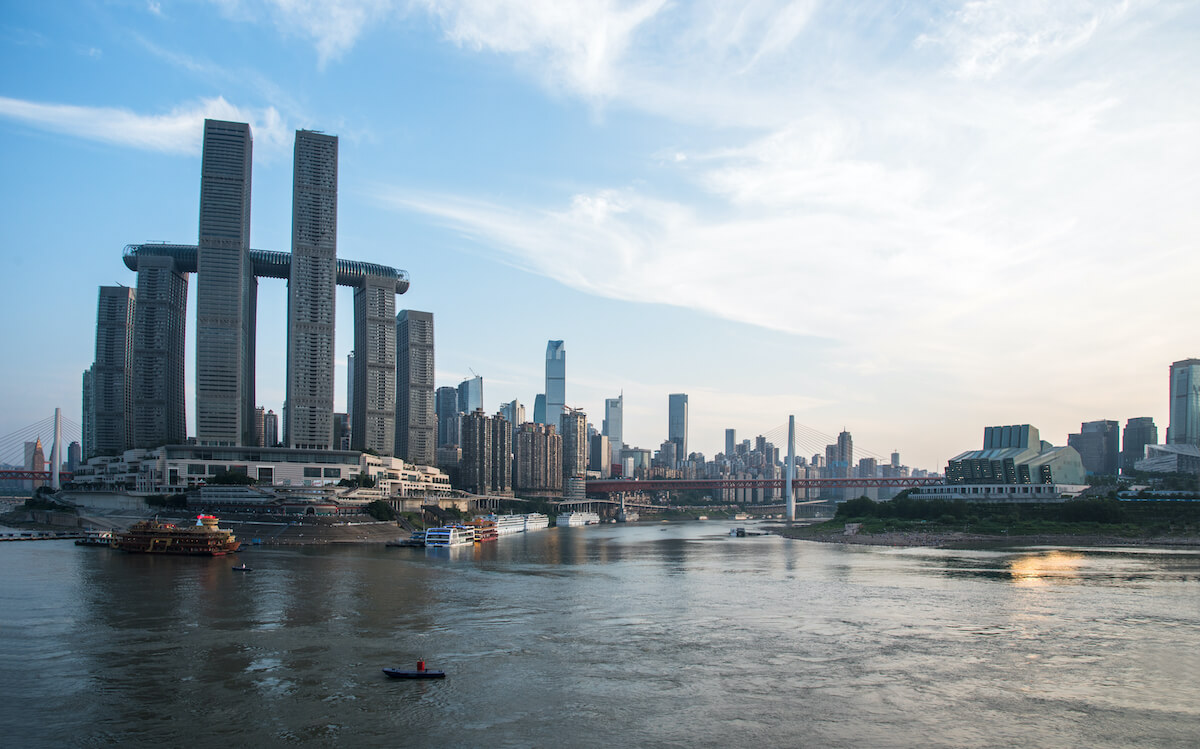 Circular: Guangzhou Circle
Although the 138-meter Guangzhou Circle building in Guangzhou has been compared to a donut, its circular shape and the hole in its middle are actually built in homage to ancient Chinese coins. This is fitting, as it houses the world's largest trading center for raw plastic material.
The symbolism doesn't end there. The building also references the Feng Shui tradition of geo-harmonic orientation, the number eight, and a historical ruling dynasty of this region of Guangdong province. Its reflection in the nearby Pearl River is also said to resemble an infinity symbol.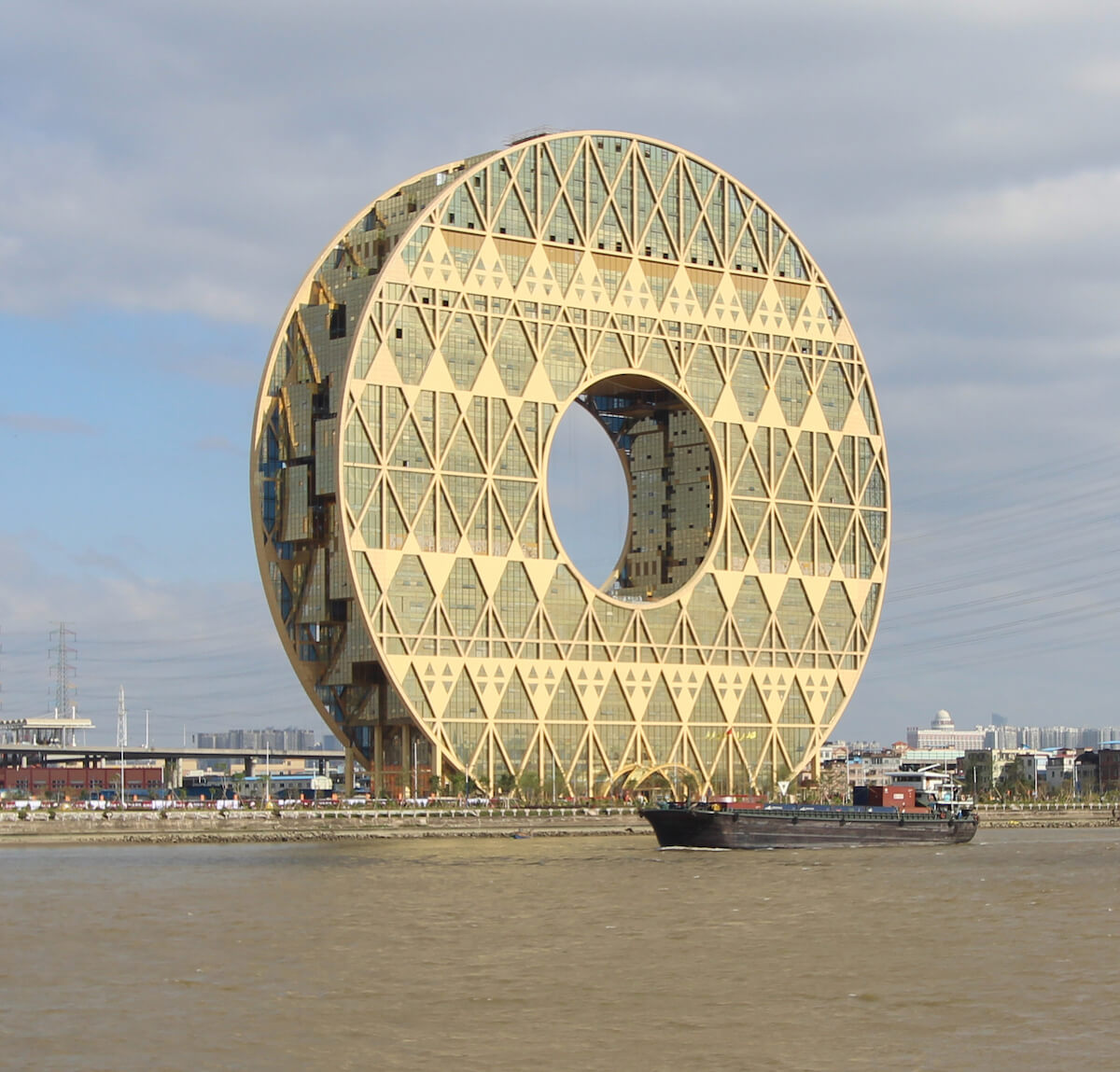 Square: Cube Tower Foshan
Also located in Guangdong Province and not far from Guangzhou, the city of Foshan is a growing city of over 7 million people. Its new, 160-meter tall Grand Theater, which is housed inside the Cube Tower, is part of a plan to distinguish itself from the many other large cities in the neighborhood. So, what makes this new theater special?
First, the design: It looks like nine gigantic cubes, each with a strikingly unique exterior made from welded steel. Second, it required some pretty advanced engineering to overcome the structural challenges of building it. And third, interior mobility solutions from thyssenkrupp Elevator ensure that the cultural experience here is always a moving one.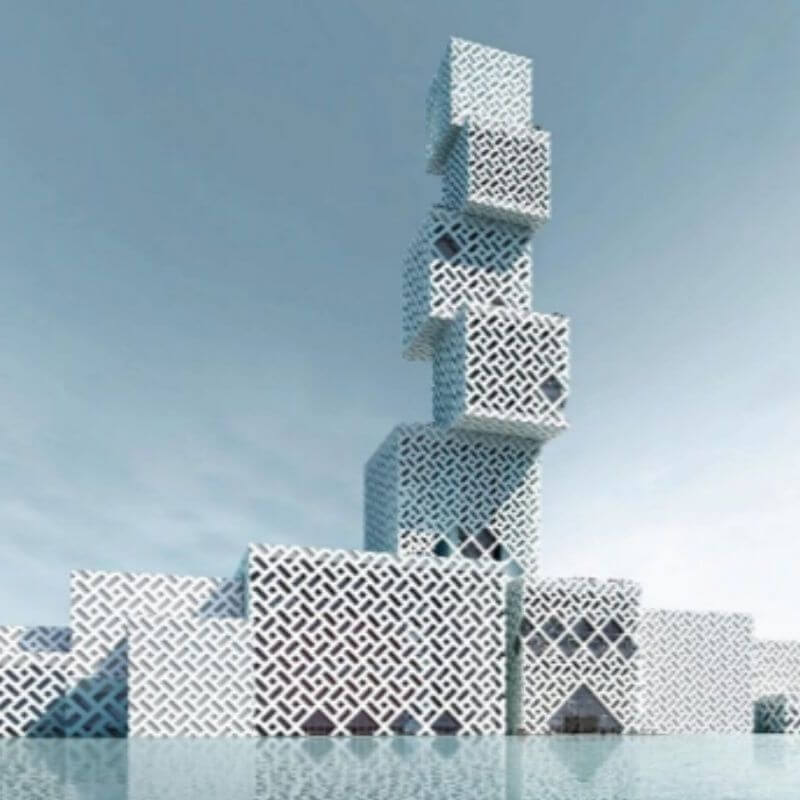 Prefabricated: Mini Sky City, Changsha
The casual observer may be forgiven for not immediately understanding the significance of this 204-meter tall building in the Hunan provincial capital of Changsha. It's tall, but not even super tall, and it has a fairly conventional look of steel and glass. What's different is that it took only 19 days to build it.
To do this, wealthy entrepreneur Zhang Yue developed a system for producing steel modules in his factories, in many cases with pre-installed electrical wiring, air ducts, and plumbing. Once at the construction site, these modules are simply hoisted into place and attached together. He even wants to build the world's tallest building in the same way.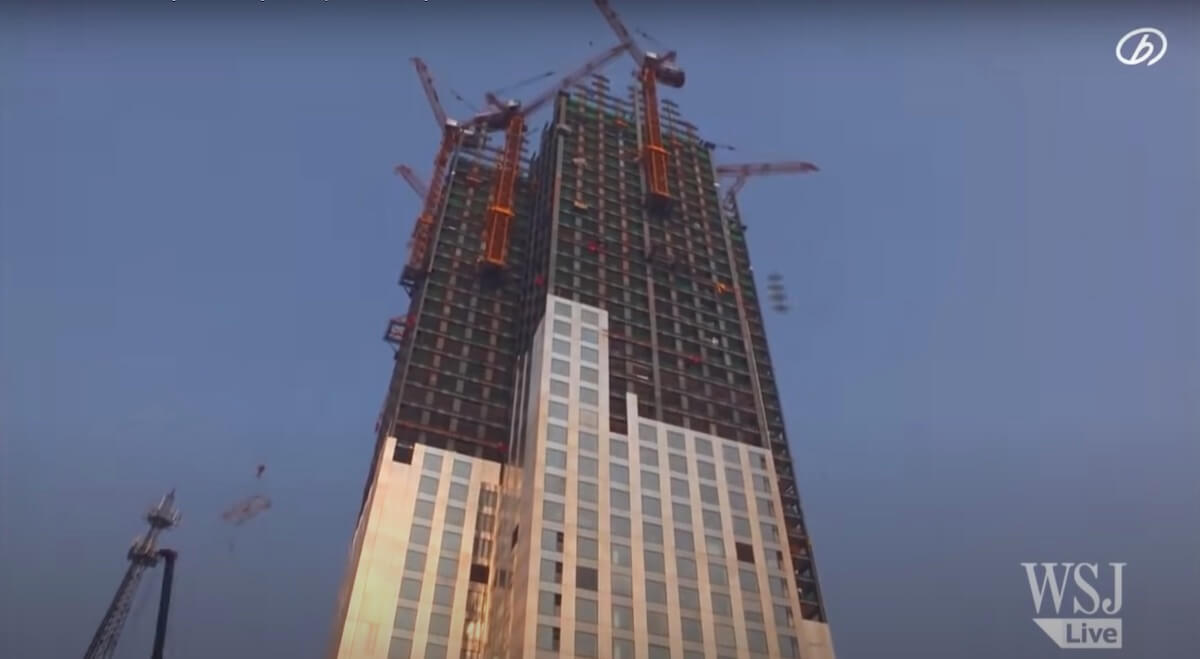 Is building three stories a day normal? That's the rate at which the 57-story Mini Sky City rose in Changsha, China. The use of modular, prefabricated components made this amazing speed of construction possible. You can watch it happen in this time-lapse video.
Wet: Liebian Building, Guiyang
The Liebian International Building in Guiyang, the capital of Guizhou province, stands only 121 meters tall – small, by Chinese standards. But there is something that distinguishes this otherwise ordinary high-rise from almost every other building in the world: a massive waterfall gushing from its heights and cascading to a public plaza below.
The 108-meter high stream is one of the largest artificial waterfalls in the world. It is produced by four pumps that push recycled water and rainwater up and out, to the delight of residents and tourists alike. When it was first turned on, though, alarmed residents inundated authorities with reports of a massive water leak. Now they know the truth!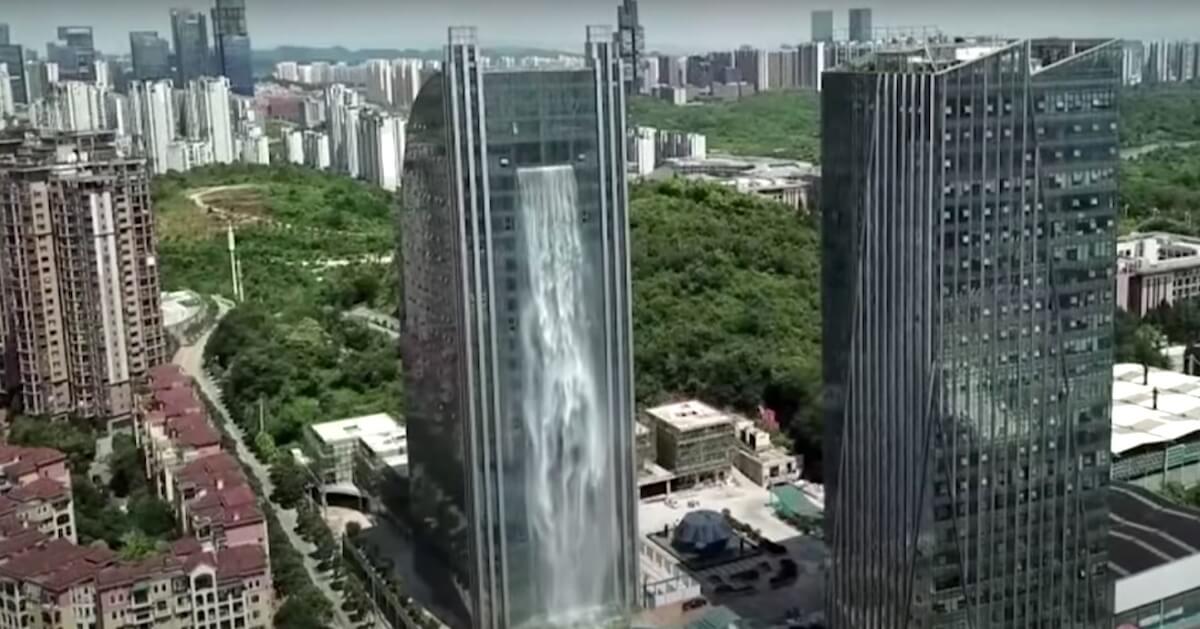 Hilly: Fake Hills, Beihai
What to build on a long, narrow seaside strip in the bustling port of Beihai? MAD, a Chinese "starchitect" firm, decided to build something unique for this city near the Vietnamese border in the Guangxi Zhuang Autonomous Region. The 492,000-square-meter Fake Hills residential complex is the amazing result.
Combining an 800-meter long "groundscraper" with heights of up to 120 meters, the building includes large built-in holes, valleys, peaks, and arches. The undulating rooftop offers residents and guests a common recreational space, with swimming pools, gardens, tennis courts, and great oceanfront views.
 

 

View this post on Instagram

 
Elevating: thyssenkrupp Elevator Test Tower, Zhongshan City
Zhongshan City, also in Guangdong Province, now boasts one of the tallest and most advanced elevator test towers in the world. Its 248 meters of height provides ample opportunity for mobility test trials for new products such as a new elevator that can travel up to 18 meters per second and the revolutionary mag-lev MULTI system, sometimes called "the Wonkavator" because it can move both vertically and horizontally.
The test tower, much like its sister in Rottweil, Germany, is also a laboratory for elevator safety, using an Active Mass Damper system both for keeping technicians in the tower safe and for mimicking the effects on elevators of tower swing caused by earthquakes or typhoons.