Buildings
A symbol of hope – equipping the tallest building in the Americas
Can a single skyscraper raise the spirits of a nation? At 104 stories and towering 1,776 feet above sea level, for many U.S. citizens and people around the world, One World Trade Center (1WTC) is indeed a symbol of hope. It stands for the unwavering optimism of a country that never stops looking forward, and dreaming big.
Big emotions ran high for everyone who worked on this iconic high-rise building. Helping connect 1WTC from the ground to the sky was no simple task. Meet the people who made this enormous feat possible – and see what still moves them.
Beacons of urban sustainability – Today's urban city planning creates future beacons for cities which convey the new messages of sustainability, green choices and living responsibly.
7491 views
"There probably won't be another job of this significance in our lifetime. Being involved in this project really isn't about me, it's about what One World Trade Center signifies for our country, for the people that work there, and for the people that lost their loved ones in 9/11."
Scott Lahmers
Technical Specialist | thyssenkrupp Elevator
Picture this: hoisting escalators up 100 floors
December 2012 marked a special moment for everyone working on the One World Trade Center (1WTC) in New York. Installing the last two escalators for the observation deck was an unforgettable experience for Technical Specialist Scott Lahmers. The escalators had to be hoisted up from the ground all the way to the 100th floor.
Because it was a cloudy day, it wasn't even sure the team would be raising the escalators that day. Fortunately, Scott Lahmers had his camera with him nonetheless and the pictures he took went viral.
The unusual perspective of seeing escalators floating in the sky captured people's attention. There was something majestic and solemn about them. The grand equipment seemed fragile in the winter's morning light. They told a story of hope against all odds. It was a piece of metal that symbolized so much about moving forward and looking up.
For Scott, the popularity of his pictures put him in a position he had never been in before: in the limelight of public attention. It was not a position he had been looking for – and not one he felt comfortable in. Still, he rose to the occasion and, when Flickr approached him about making a video, he said yes.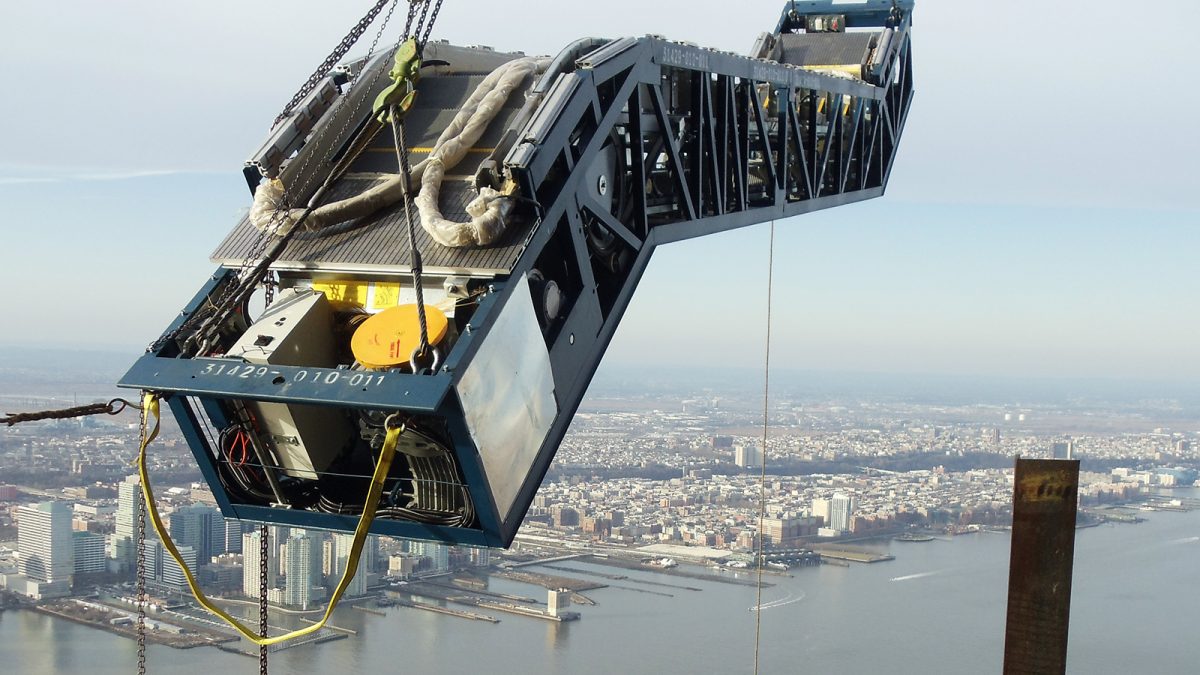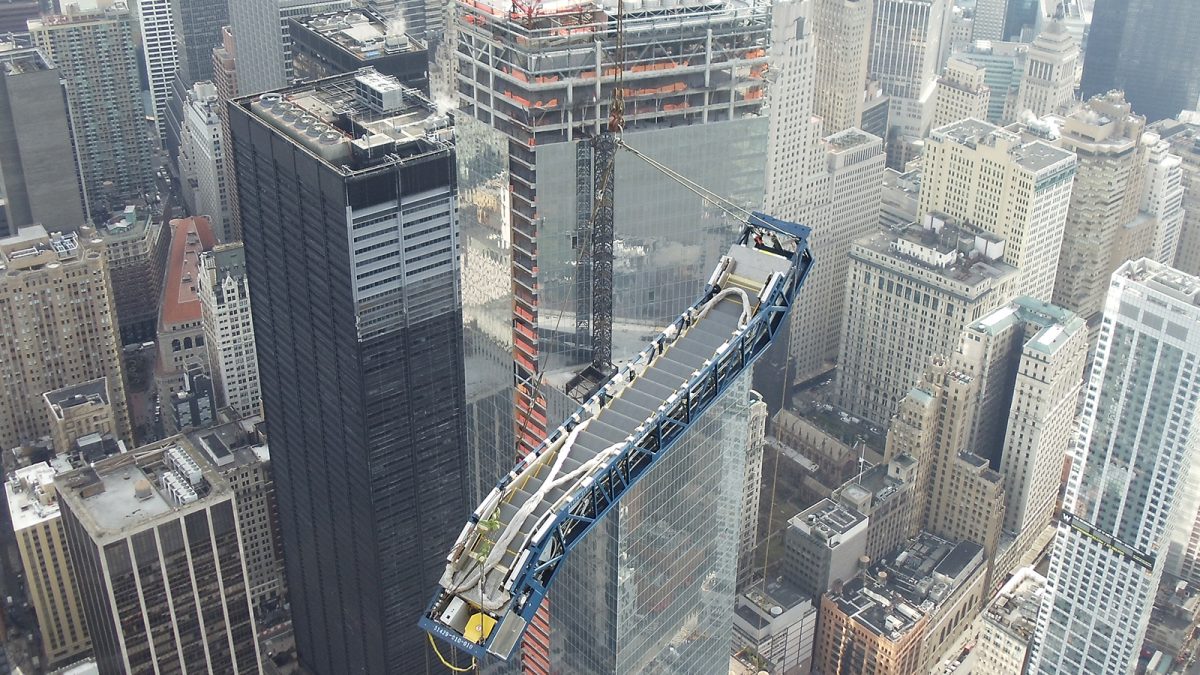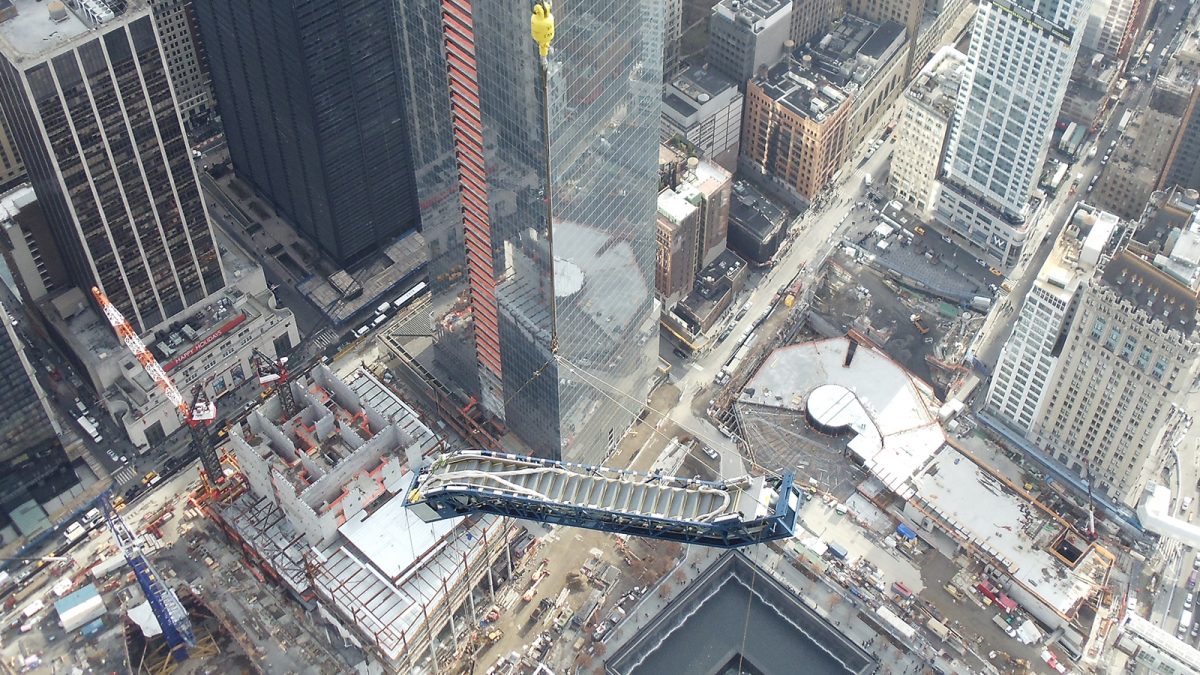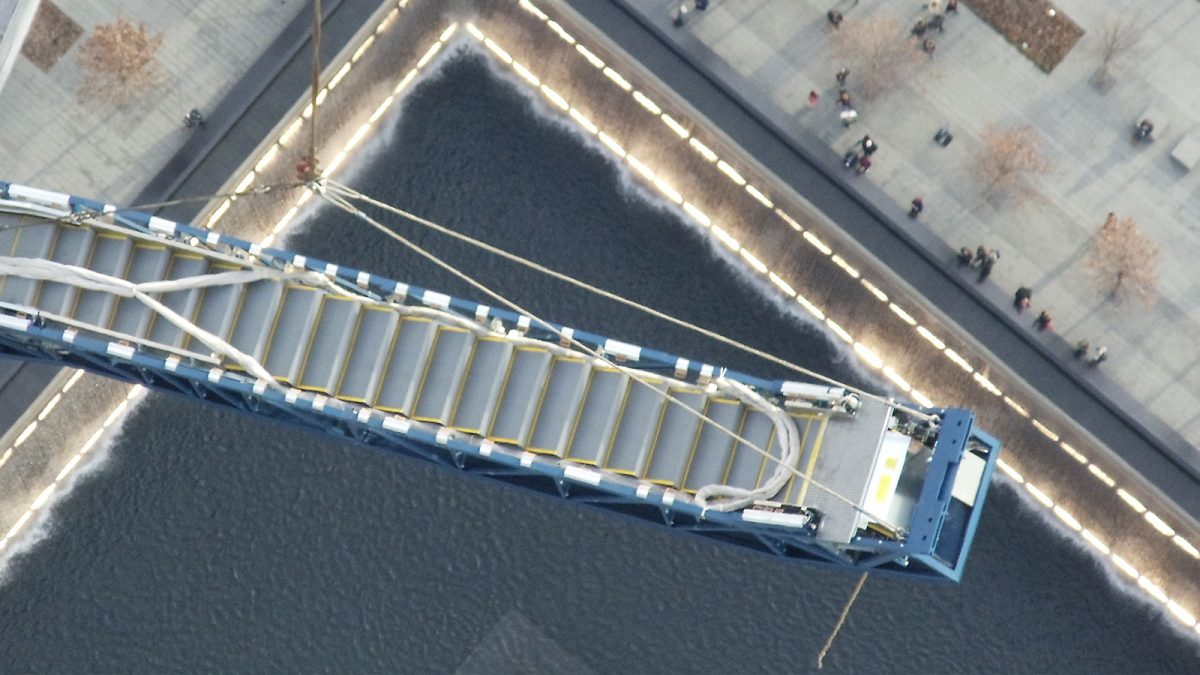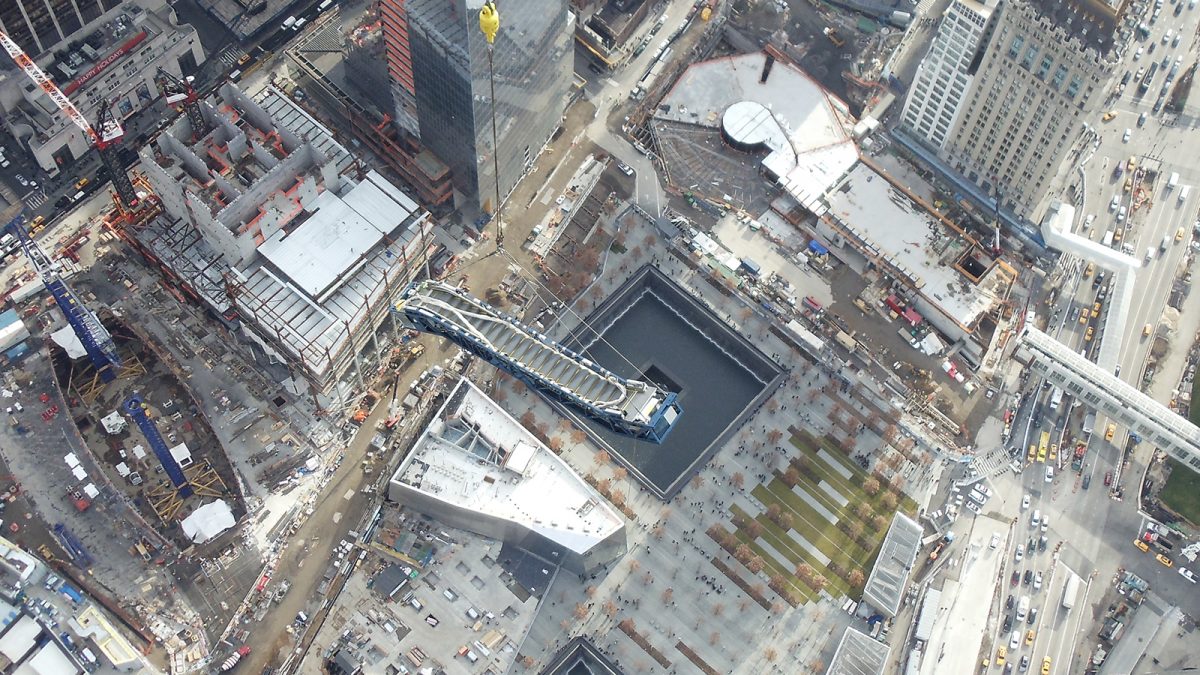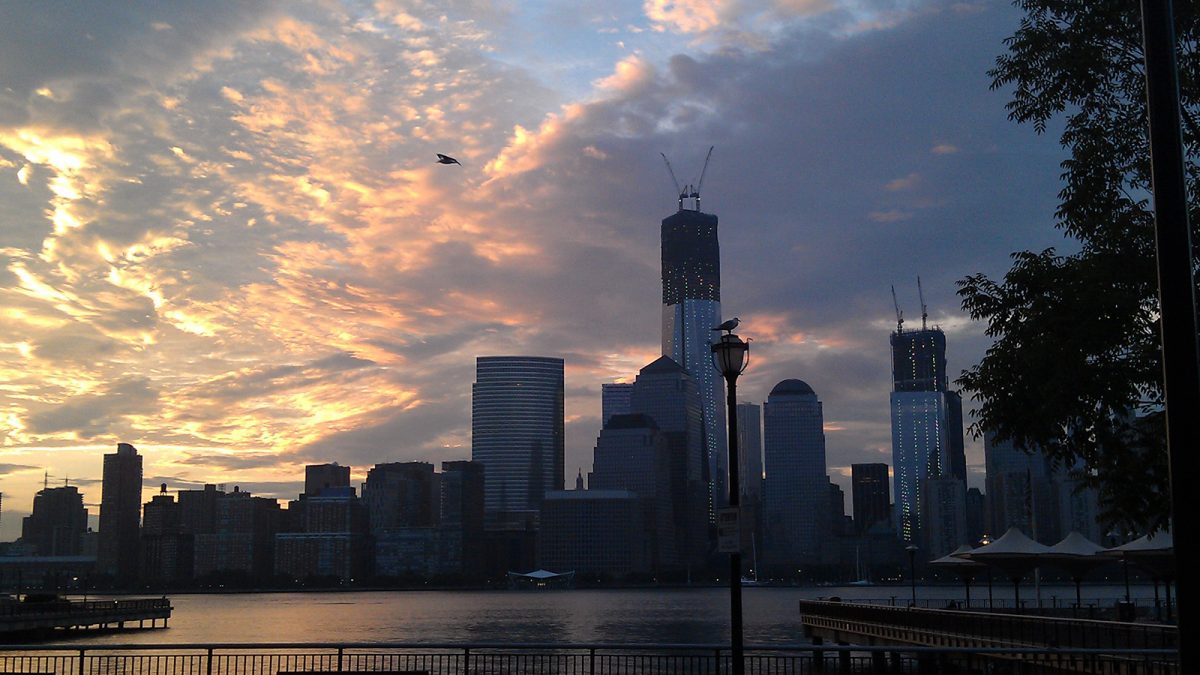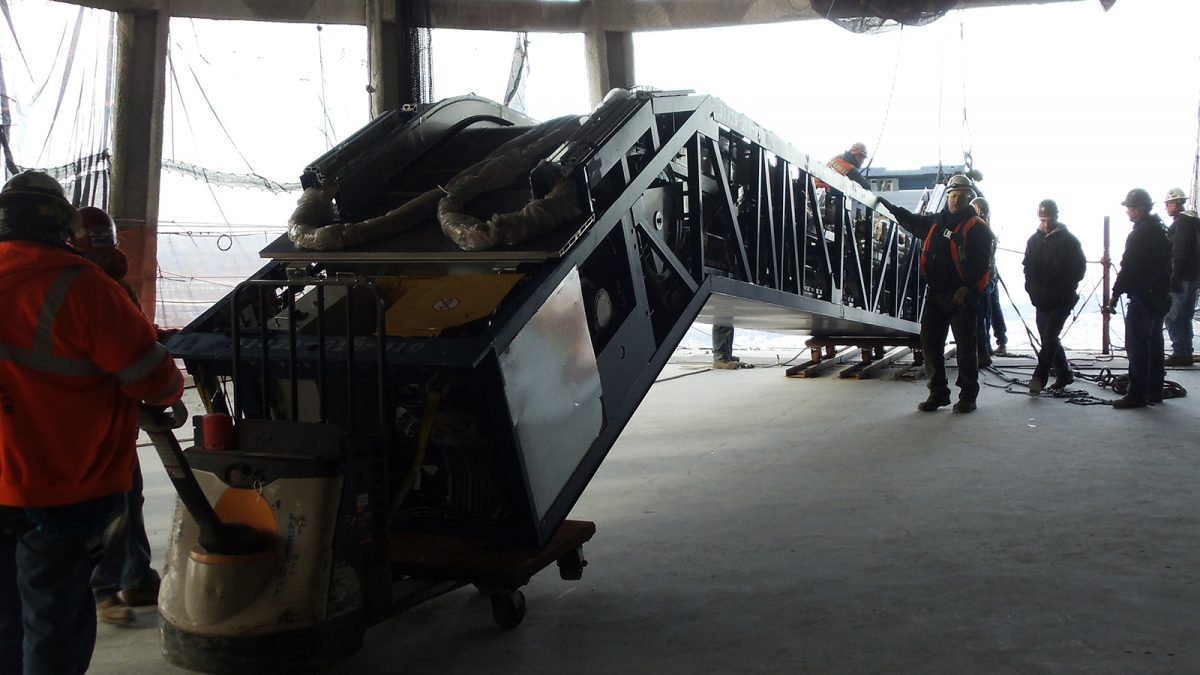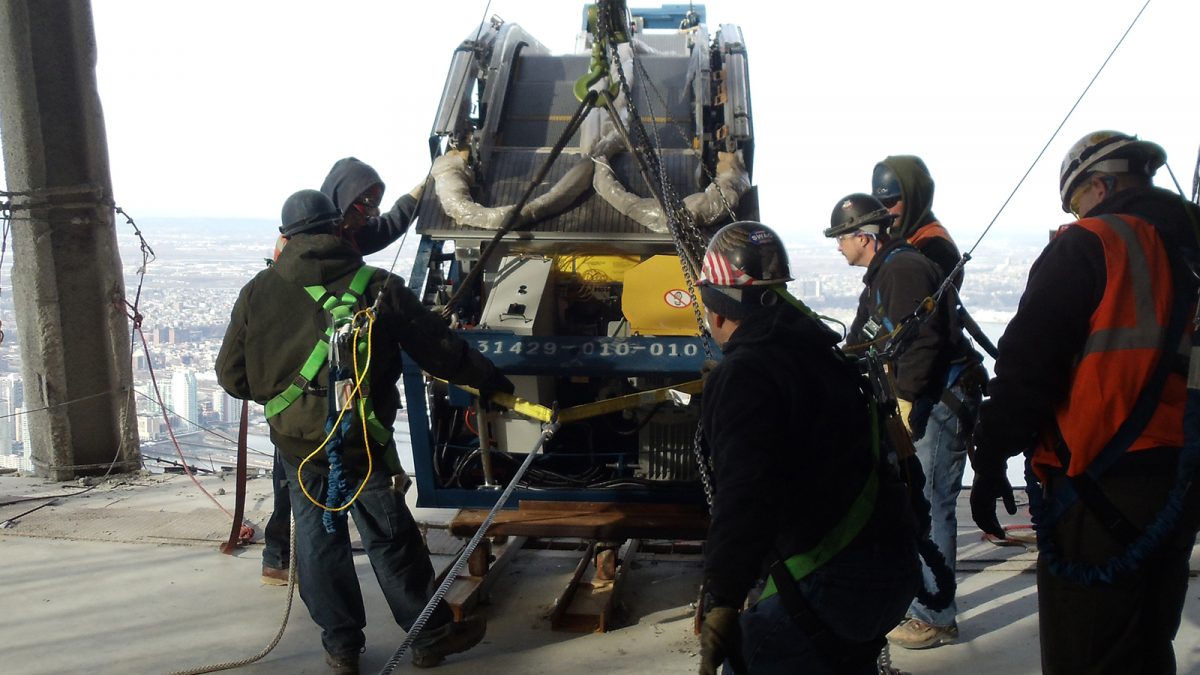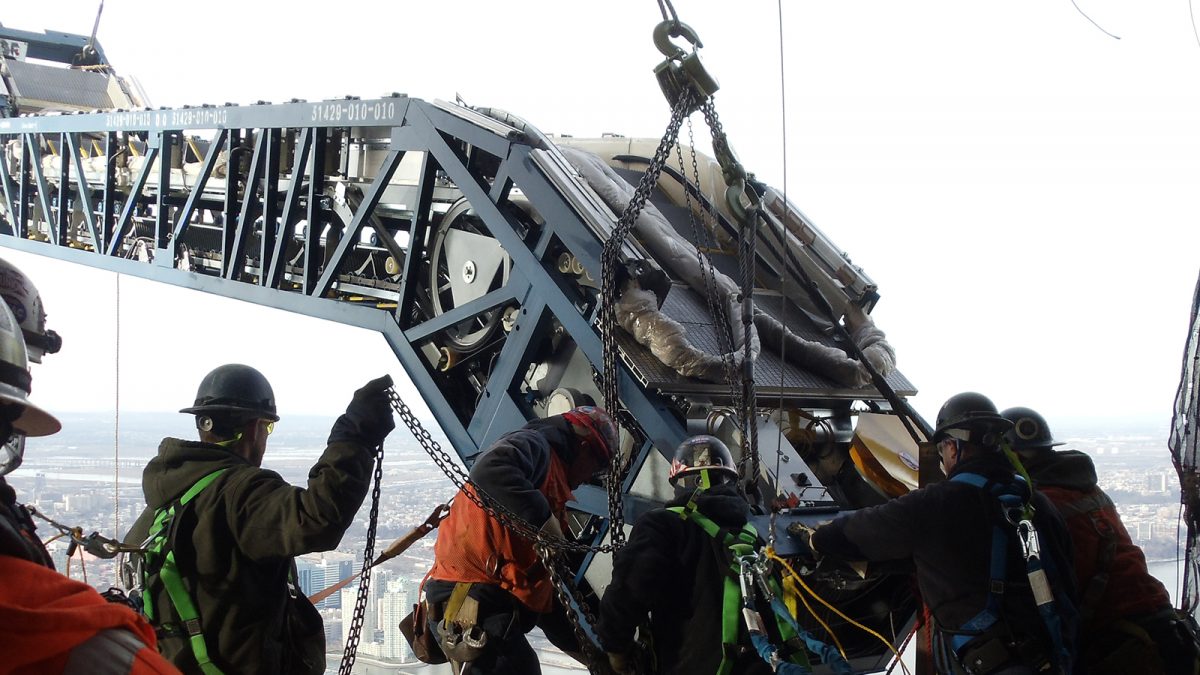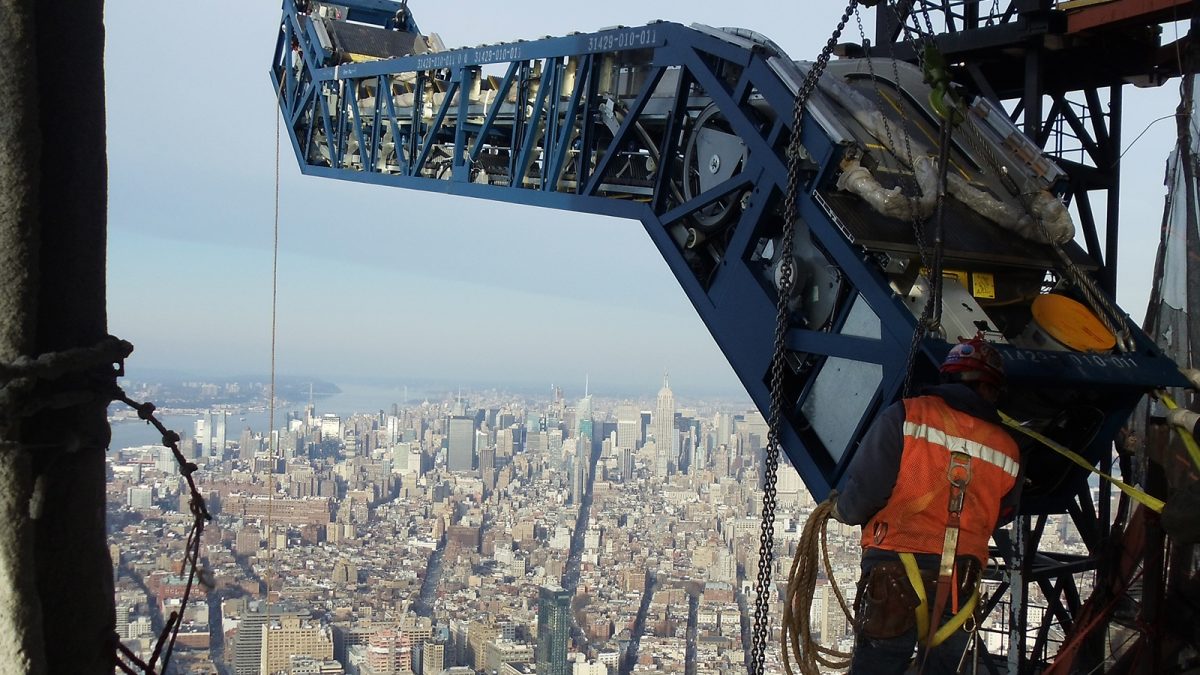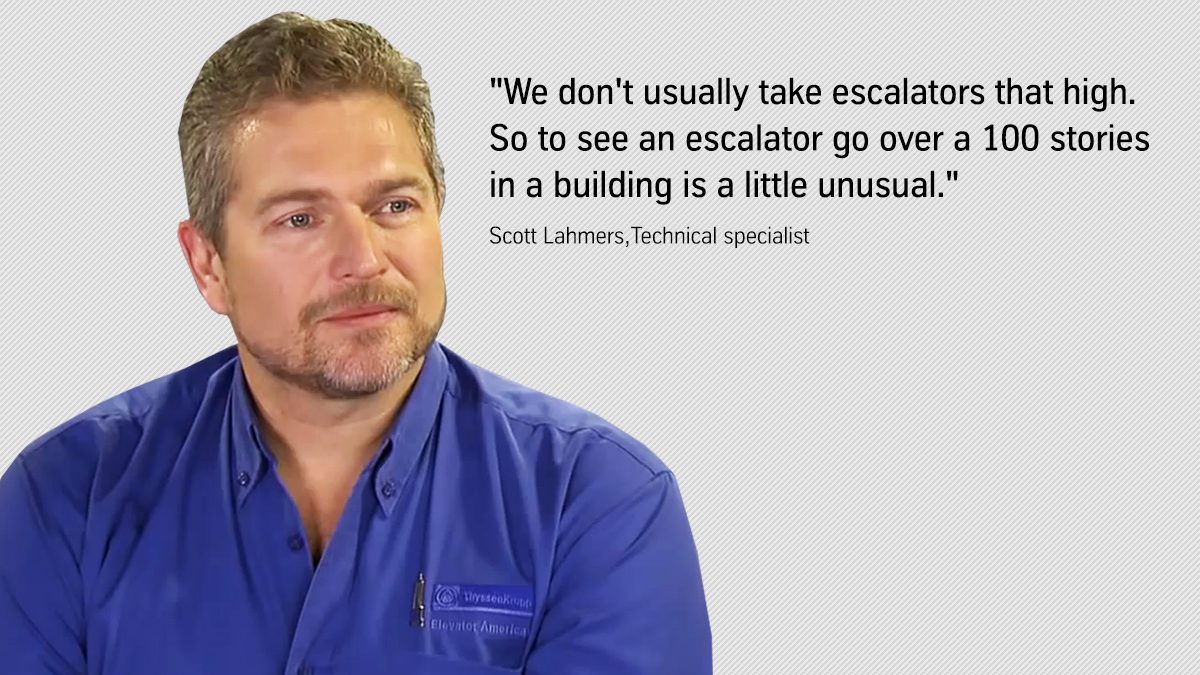 Scott's words captured the sentiment of many of his coworkers on the construction site. He shared their pride, their enthusiasm, their sense of being part of a larger whole.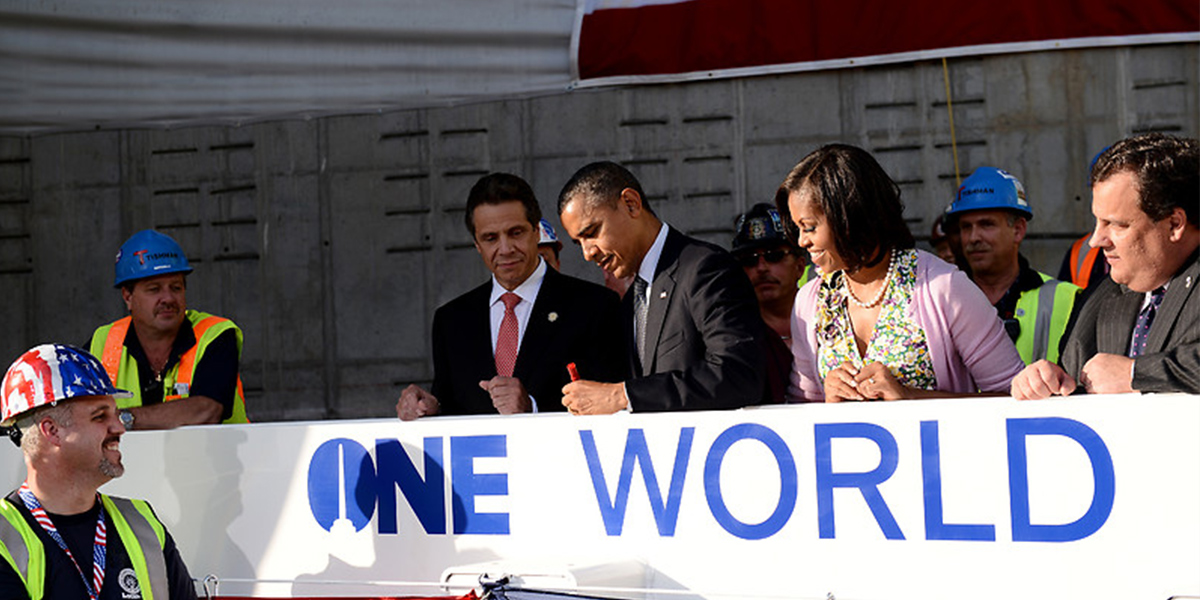 Finalizing the construction of 1WTC was the culmination of years of planning, construction and the collaboration of thousands of people. It was an opportunity to step back and reflect on the meaning of its completion. U.S. President Barack Obama was there to sign the last metal beam before it was built in. A monumental moment.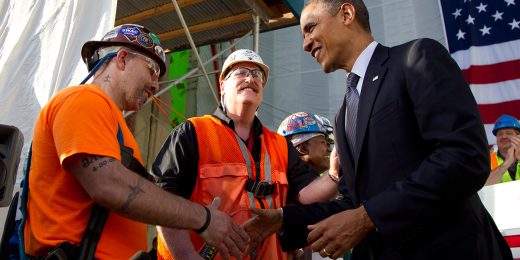 "I am just one of a lot of guys out here. I can't tell you how important it is to us for the President to recognize we're all putting everything we've got into this. It's a once in a lifetime thing, and I am glad I was there."
Michael DeNardo
Construction Superintendent 1WTC | thyssenkrupp Elevator
I shook Obama's hand
They chose different symbols to express their respect – President Obama a discrete American flag on his lapel, while Construction Superintendent Michael DeNardo wore stickers of hope and patriotism on his hard hat. But the two men couldn't have been more united in sharing their pride for the accomplishment that is 1WTC, each playing his vital role in its completion.
On 14 June 2012, President Obama visited the 1WTC site to sign one of the final steel beams to be added to the tower. That's when Mike had the opportunity to shake hands with the President, who thanked him and his team for their impressive work on the mega construction site.
These were the words President Obama wrote on the steel beam:We Remember. We Rebuild. We Come Back Stronger.
"The higher the building, the higher the demands on us engineers. Intelligent elevators are what make a building like this even possible."
Joe Braman
Regional Vice President New York | thyssenkrupp Elevator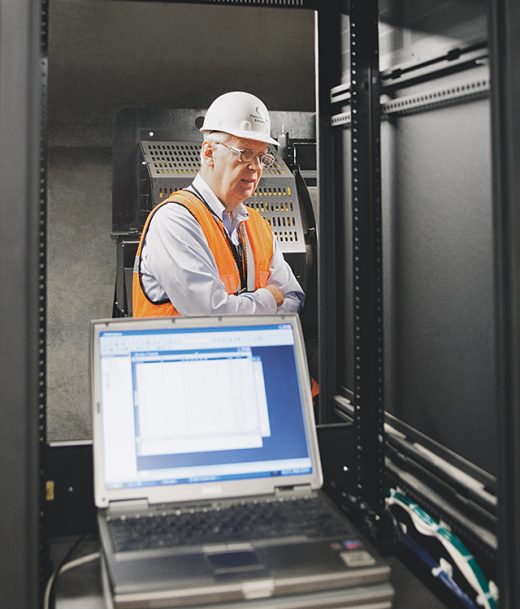 He peers into a gaping hole, hundreds of feet above the ground. It's hard to imagine that where Joe Braman, Regional Vice President New York, stands in this moment will soon be a vital artery through which 14,000 people pass every day. That's a number that means more than almost any other to Joe.
He can give you the figures and algorithms on how these state-of-the-art elevators can make faster trip times, minimize lobby crowds, even increase security by up to 90%. There is an intelligence at work here that has one purpose in mind: to serve people.
Although it may not be apparent as he inspects an empty elevator shaft alone, Joe Braman is a people person. He's grounded and inspired by a team that ranges from the cement specialist at the foundation, to the engineer on his laptop, to the workers taking their lunch break with one of the most spectacular views a building site can offer.
"Everyone contributes their expertise, and everything dovetails together", Joe says. He takes points to the stars and stripes stickers on his hard hat.. "We're all proud to be involved in this project. And we're doing our best to ensure that the tallest building in the western world gets the best elevators."
thyssenkrupp Remembers
1,000 thyssenkrupp employees in eight different countries take part in a charity run in memory of 9/11.
Take all the elevator cables in One World Trade Center, and they would stretch from New York to Baltimore. The network of thyssenkrupp's employees, however, spans the globe many times over, and its reach and embrace were felt when the "thyssenkrupp Remembers" team joined thousands of others in a charity run to raise money for the 9/11 Memorial and 9/11 Memorial Museum.
A moving opportunity for workers, executives and engineers to take to the streets in New York, Hawaii and Essen. And an impressive way to demonstrate how their joint commitment to 1WTC extends far beyond wires and cables.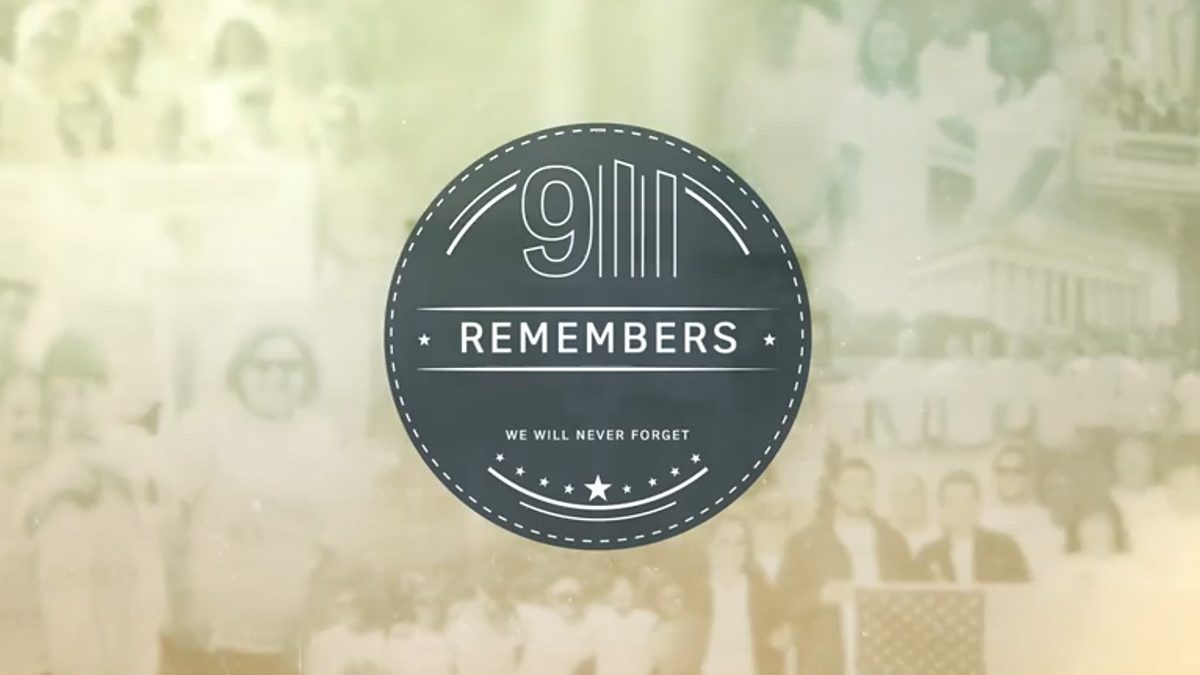 ®
A quick look at the facts – from top to bottom
Working on 1WTC was a memorable experience for everyone involved. The pride they took in their work stemmed from a mix of historical significance and technical prowess. Achievements like this are only possible by bringing people together from all over the world. Together we can say: "Yes, we did it!"